He began his career at Manchester City, making 245 appearances across all competitions in ten seasons, winning a Premier League title and an FA Cup.
On making his full England debut in November 2006, Richards became the youngest defender ever to be called up to the England squad. He has won 13 caps for England and played in the Great Britain squad for the 2012 Olympic football tournament.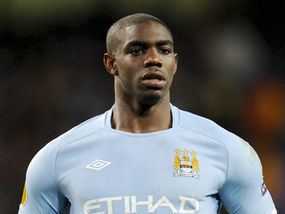 Richards was born in Birmingham, West Midlands, and played for the Leeds United youth system as a striker, but he was released when he was around eight years old. He also represented Leeds Schools FA (Leeds City Boys) at a young age. He later played for the Oldham Athletic youth system, moving to Manchester City as a 14-year-old, with Oldham reputedly having a 20% sell on clause. In July 2001 Manchester City reportedly tried to buy out the clause, but Oldham refused. He also attended the Brazilian Soccer Schools scheme and retains strong links with the programme, with his father Lincoln actually running a Brazilian Soccer School in Chapeltown, Leeds.
He made his first-team debut on 22 October 2005 against Arsenal, coming on as a substitute for Danny Mills in the 85th minute of a 1–0 defeat at Highbury. His first goal came on 19 February 2006, heading in a last-minute corner to earn a 1–1 draw at Aston Villa in the fifth round of the FA Cup.
In July 2006, Manchester City rejected a bid of £5 million for Richards from Tottenham Hotspur. On 25 July 2006 he signed a new four-year contract, quashing rumours of a move away from the City of Manchester Stadium. Throughout 2007, Richards was linked with a move away from City, Stuart Pearce said "I am not actively looking to sell Micah because he has a great future here. Whatever offers come in for him, it is going to take a ridiculously big offer to get him out of this football club. I would love to see Micah stay here, captain the club, and maybe be here for 10 years and carry the club on his back if he can. He is good enough to do it. I have not worked with anyone so good and so young." Richards was nominated for the PFA Young Player of the Year Award at the end of the 2006–07 season.
He captained the team for the first time on 16 September 2007 against Aston Villa in the absence of teammate Richard Dunne, making Richards the youngest ever City first team captain, beating the 21-year-old Steve Redmond. In February 2008, he signed an improved contract to last until June 2013. On 17 July 2008, Richards played his first full match back from injury in the 2–0 win against EB/Streymur in the first qualifying round of the UEFA Europa League. Richards was nominated for a second time for the PFA Young Player of the Year Award at the end of the 2007–08 season.
On 22 March 2009, he netted his first goal of the 2008–09 season with a header in a man of the match performance giving a 1–0 victory over Sunderland at the City of Manchester Stadium. On 11 July 2009 Eurosport reported he had been diagnosed with swine flu while on holiday in Cyprus. He was kept in isolation after his trip to Ayia Napa. Richards started for City as they beat Stoke City 1–0 at Wembley Stadium in the 2011 FA Cup Final.
Manchester City won the Premier League in 2011–12, and Richards was nominated for the club's internal player of the year award. Richards finished the season with five assists – the most of any defender in the Premier League. City won the league again in 2013–14, but with Richards having lost his place in the team to Pablo Zabaleta he made only two league appearances and missed out on a Premier League winner's medal.
On 10 June 2015, Richards was released by Manchester City.
On 1 September 2014, Richards signed for Fiorentina on a season-long loan. The loan fee was £3.5m rising to £4.7m should the transfer had made permanent at the end. Seventeen days after signing, Richards made his Fiorentina debut in a Europa League match against Guingamp, coming on as a substitute for former City teammate Stefan Savić in a 3–0 win. On 28 September, Richards made his first Serie A start for Fiorentina against Torino. Richards chose not to remain at Fiorentina; he only made 10 appearances in the league and a further seven in European competitions as manager Vincenzo Montella switched to a 3–5–2 formation after Richards had arrived.
On 17 June 2015, it was announced that Richards had signed for Aston Villa on a free transfer after agreeing a four-year contract. He was named their on-field captain for the upcoming Premier League season on 5 August, and on his debut three days later, Villa won 1–0 away to Bournemouth. On 28 November, he scored his first goal for Villa, heading an equaliser in a 2–3 home loss to Watford. He made his first start of the 2016–17 Championship season in a 1–1 draw at Wolves in October 2016, which was also Steve Bruce's first match in charge of the club, but has been sidelined since then with a knee injury.
In November 2006, Richards received a call-up to the England squad for a friendly against the Netherlands after playing only 28 professional club matches. He had previously won three caps for the England under-21 team, and was chosen to start the match on 15 November 2006 against the Netherlands after regular right back Gary Neville withdrew through injury. It made him England's youngest-ever defender, breaking the record previously held by Rio Ferdinand. He scored his first international goal in the Euro 2008 qualifier against Israel on 8 September 2007 at Wembley Stadium. Richards played regularly during Steve McClaren's time as England manager, making 11 appearances. However, following McClaren's sacking in November 2007, Richards fell out of favour. In Fabio Capello's four years in charge of the England team, Richards played only once, as a substitute against France in November 2010. Upon Capello's resignation in February 2012, Richards spoke of his frustration: "To be frozen out of your international side is hard to take sometimes. Everyone wants to play for their international team, especially when you're playing in a team that's doing so well. I didn't get a chance under Capello. I don't know why. I always asked the question, but I never got an answer."
For most of his exile from the senior team, Richards was still young enough to be eligible for the under-21s, and played regularly. He was called up for the UEFA Under-21 Championship held in Sweden, where he scored the winning goal against Finland as England went through the group stages undefeated. England reached the final of the competition, but lost 4–0 to Germany. Richards played in four of England's five matches, including the final. During qualifying for the 2011 tournament, Richards captained the team. However, he had to withdraw from the squad for the finals due to injury.
Following Capello's resignation in February 2012, Richards gained an immediate recall to the England team. Caretaker coach Stuart Pearce had coached Richards at both Manchester City and for the under-21s, and selected him to play against the Netherlands. However, when new coach Roy Hodgson named his squad for Euro 2012, Richards was omitted. Hodgson explained his decision by saying "It was going to be one of Phil Jones or Micah Richards and I chose Jones."
On 28 June 2012, Richards was confirmed as one of the three over-aged players selected by manager Stuart Pearce for Great Britain at the 2012 Summer Olympics, alongside Craig Bellamy and Ryan Giggs.
As of match played 7 May 2017
As of match played 29 February 2012
As of match played 29 February 2012. England score listed first, score column indicates score after each Richards goal.
Manchester City
Premier League: 2011–12
FA Cup: 2010–11