1936
Fourth Place. 1948
1967 1991 2011
1983
Fourth Place. 1955 1959 1971 1975 1987
1965 1975 2014
1991 2001 2016
1987 2003
Fourth Place. 1967 1989 1997 2004 2006
2013
Fourth Place.2015
2006 2007 2009 2013
Fourth Place. 2015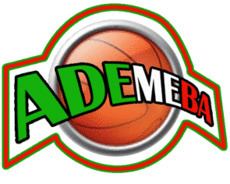 Until the late 1960s, team Mexico was a major force at the world stage. The team won the bronze medal at the 1936 Summer Olympics, finished 4th at the 1948 event and 5th in 1968.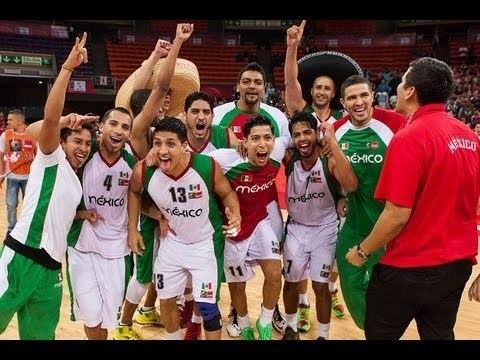 At the FIBA Americas Championship 2009 in San Juan, Puerto Rico, Mexico finished 7th, ahead of Panama, Venezuela and the United States Virgin Islands.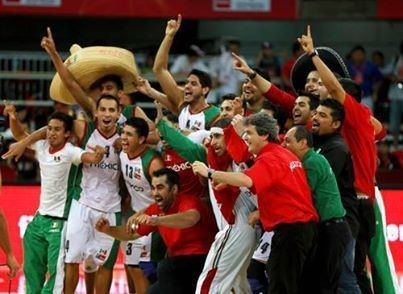 On individual performances, Gustavo Ayon finished among the tournament's top performers in steals (3rd), blocks (3rd) and minutes per game (9th).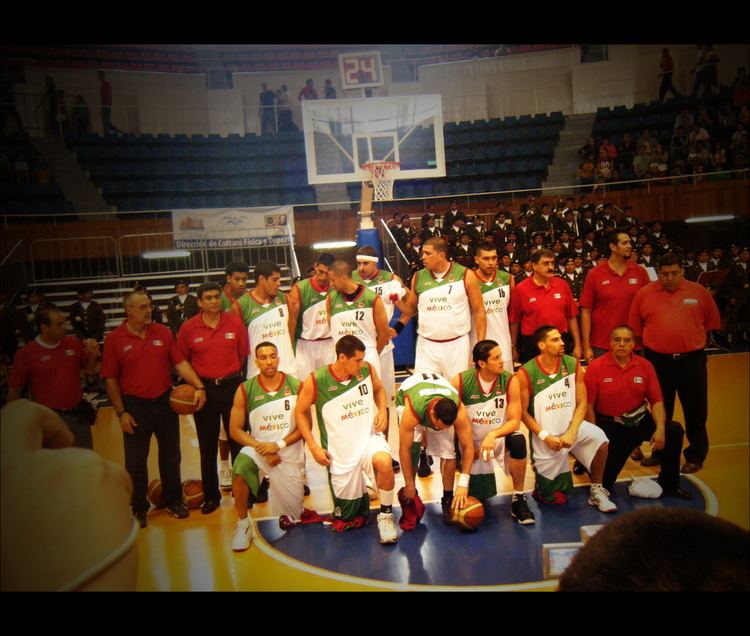 Both Eduardo Najera and Earl Watson expressed their interest in representing Mexico internationally. However, neither received permission by their NBA teams to participate at the FIBA Americas Championship 2009 in San Juan, Puerto Rico.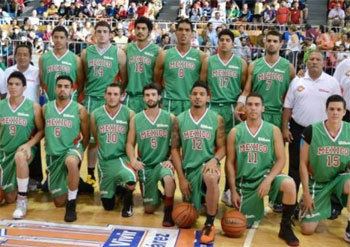 Mexico took part in the FIBA Americas Championship 2013 to replace Panama, who were disqualified. To the surprise of many they beat hosts Venezuela in their opening game and advanced to the second round with wins over Paraguay and the Dominican Republic. They later finished top of the eight-team second round group and a semi-final win over heavy favourites Argentina saw them through to the final.
On 11 September 2013, they beat Puerto Rico 91-83 in the Gold medal game to win the FIBA Americas Championship. Inside player Gustavo Ayon was voted as the tournament's Most Valuable Player.
The surprising gold medal at the 2013 FIBA Americas Championship secured Mexico a spot at the 2014 FIBA World Cup in Spain. This marked the first qualification to the Basketball World Cup in 40 years.
At the 2014 FIBA World Cup, the Mexicans won two of their five preliminary round games against Korea and Angola which earned them a playoff spot for the first time in their history. They would, however, come unstuck against eventual champions USA.
Especially noteworthy was Mexico's 3 point field goal percentage, which was one of the highest among all the teams at the event.
Due to Mexico's strong performances of late, the country gained the right to host the 2015 FIBA Americas Championship.
Mexico National Basketball Team players.
Guillermo Vecchio – 2003
1951: 8th place
1955: 4th place
1959: 4th place
1963: 7th place
1967: Silver medal (Mexico finished second only to Team USA.)
1971: 4th place
1975: 4th place
1979: 8th place
1983: Bronze medal (This competition was memorable for Mexico taking a 20–4 lead against a Team USA squadron that featured Michael Jordan, Chris Mullin, Sam Perkins, Michael Cage, Ed Pinckney, Mark Price, and Wayman Tisdale. Team USA later came back for an 11-point win: 74–63. Team USA won the Gold, Brazil won the Silver, and Mexico beat Canada for the Bronze medal.)
1987: 4th place
1991: Silver medal (Mexico finished ahead of a Team USA squadron that featured Grant Hill, Christian Laettner, Thomas Hill, Walt Williams, Clarence Weatherspoon, Tracey Murray, Jimmy Jackson, Terry Dehere, Adam Keefe, Eric Montross, and Tony Bennett. Puerto Rico won the Gold, Mexico won the Silver, and Team USA won the Bronze medal.)
1995: 5th place
1999: Did not participate
2003: 5th place
2007: Did not participate
2011: Silver medal (Mexico beat Team USA 71–55 in their semifinal game and lost to Puerto Rico 74–72 in the Gold Medal game.)
2015: 8th place
1965 Gold Medal
1967 4th place
1975 Gold Medal
1987 Bronze Medal
1989 4th place
1991 Silver Medal
1997 4th place
2001 Silver Medal
2003 Bronze Medal
2004 4th place
2006 4th place
2008 5th place (Coach Nolan Richardson)
2010 6th place
2014 Gold Medal
2016 Silver Medal
2007: Silver medal
2009: Silver medal
2011: Silver medal
2013: Bronze medal
2006: Champions
2007: Champions
2009: Champions (Coach: Nolan Richardson)
2013: Champions
2015 4th place
1990: Champions (2nd place = Poland, 3rd place = USA)
2010: Silver medal
2014: 5th place
2015: Silver medal
1936 Olympic Games: finished 3rd among 21 teams (Bronze Medal Team)
Jesus Olmos, Alfonso Rojo, Carlos Borja, Silvio Hernandez, Rodolfo Choperena, Jose Pamplona, Andres Gomez, Greer Skousen, Raul Fernandez, Victor Borja, Luis Ignacio de la Vega, Francisco Martinez
1948 Olympic Games: finished 4th among 23 teams
Hector Guerrero, Jose de la Cruz Cabrera, Jorge Cardiel, Emilio Lopez, Ignacio Romo, Rodolfo Diaz, Angel Acuna, Isaac Alfaro, Jose Rojas Herrera, Jorge Gudino, Francisco Galindo, Alberto Bienvenu, Josue Neri, Fernando Rojas Herrera
1952 Olympic Games: finished 9th among 23 teams
Hector Guerrero, Jose de la Cruz Cabrera, Jorge Cardiel, Jose Rojas Herera, Carlos Jose Bru Villarreal, Emilio Lopez, Jose Pioquinto Soto Villanueva, Fernando Rojas Herrera, Sergio Olguin Fierro, Ruben Almanza Garcia, Rolando Rubalcava Pena, Jose Meneses Luna, Filiberto Manzo Hernandez
1959 World Championship: finished 13th among 13 teams
Carlos Quintanar, Hector Aizpuro, Edmundo Marquez, Arturo Escalera, Felipe Manzo, Armando Herrera, Daniel Cuevas, Ignacio Chavira, Jaime Rodriguez, Jose Maria Lozano, Hugo Orozco, Jorge Renteria, (Coach: Agustin Garcia)
1960 Olympic Games: finished 12th among 16 teams
Carlos Quintanar, Guillermo "Billy" Wagner, Hector Aizpuro, Armando Herrera, Gayle "Chato" Bluth, Jose Maria Lozano, Ignacio Chavira, Urbano Zea, Eulalio Avila, Cesar Herrera, Guillermo Torres, Alberto Almanza (Coach: Enrique "Kiki" Romero)
1963 World Championship: finished 9th among 13 teams
Carlos Quintanar, Manuel Raga, Carlos Vega, Guillermo Torres, Ricardo Pontvianne, Urbano Zea, Humberto Camero, Luis Enrique Grajeda, Mario Pena, Rafael Heredia, Jaime Castillo, Ruben Izaguirre (Coach: Pedro Barba Ramos)
1964 Olympic Games: finished 12th among 16 teams
Carlos Quintanar, Manuel Raga, Luis Enrique Grajeda, Ricardo Pontvianne, Mario Pena, Armando Herrera, Eulalio Avila, Alberto Almanza, Rafael Heredia, Miguel Arellano (Coach: Agustin Garcia Arreola)
1967 World Championship: finished 8th among 13 teams
Carlos Quintanar, Manuel Raga, Arturo Guerrero, Ricardo Pontvianne, Rafael Heredia, Eulalio Avila, Raul Palma, Antonio Ayala, Alejandro Guzman, Miguel Arellano, Fernando Tiscareno, Ricardo Monreal (Coach: Lester Lane)
1968 Olympic Games: finished 5th among 16 teams
Carlos Quintanar, Manuel Raga, Arturo Guerrero, Ricardo Pontvianne, Luis Enrique Grajeda, Rafael Heredia, Antonio Ayala, Alejandro Guzman, John Hatch, Miguel Arellano, Oscar Asiain, Fernando Tiscareno (Coach: Lester Lane)
1974 World Championship: finished 9th among 14 teams
Manuel Raga, Ricardo Pontvianne, Arturo Guerrero, Raul Palma, Antonio Ayala, Jesus Garcia, Ricardo Monreal, Guillermo Marquez, Jesus Alvarado, Manuel Saenz, Gustavo Hernandez, Oscar Asiain (Coach: Pedro Barba Ramos)
1976 Olympic Games: finished 10th among 12 teams
Manuel Raga, Arturo Guerrero, Antonio Ayala, Manuel Saenz, Jesus Garcia, Samuel Campis, Hector Rodriguez, Gabriel Nava, Ruben Alcala, Jorge Flores, Rafael Palomar, Anastasio Reyes (Coach: Carlos Jose Bru)
2013 FIBA Americas: finished 1st among 10 teams (Gold Medal Team)
Jorge Gutierrez, Orlando Mendez, Román Martínez, Hector Hernandez, Gustavo Ayón, Paul Stoll, Jovan Harris, Noe Alonso, Fernando Benitez, Lorenzo Mata, Pedro Meza, Jesus Gonzalez (Coach: Ramón Diaz)
2014 Centrobasket Championships: finished 1st among 10 teams (Gold Medal Team)
Jorge Gutierrez, Román Martínez, Hector Hernandez, Gustavo Ayón, Paul Stoll, Noe Alonso, Pedro Meza, Francisco Cruz, Marco Ramos, Gabriel Giron, Rodrigo Zamora, Adam Parada
2014 FIBA World Cup: finished 14th among 24 teams
Jorge Gutierrez, Román Martínez, Hector Hernandez, Gustavo Ayón, Paul Stoll, Orlando Méndez-Valdez, Pedro Meza, Francisco Cruz, Marco Ramos, Israel Gutiérrez, Rodrigo Zamora, Adam Parada (Coach: Sergio Valdeolmillos)
2015: Under Armour