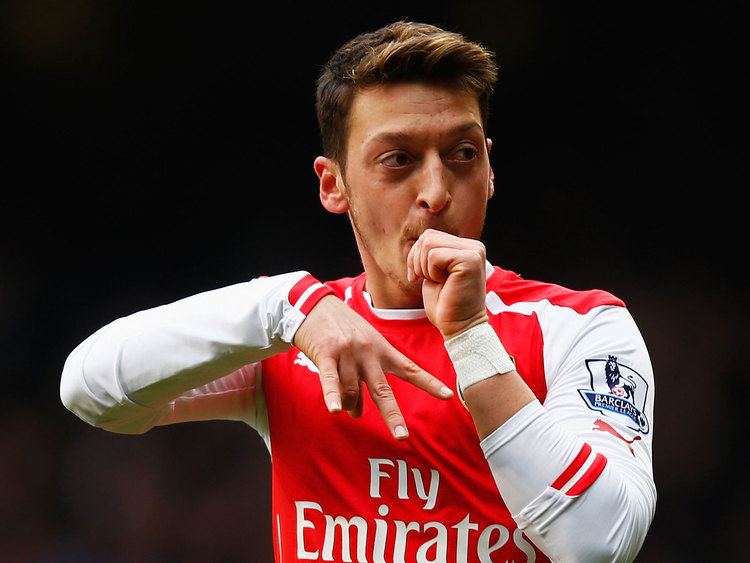 Özil began his youth career playing for various clubs in Gelsenkirchen and then played five years for Rot-Weiss Essen.
In 2005, Özil moved to the youth system of Schalke 04. He was deployed a midfielder and wore 17 as his squad number, after starting as a playmaker and central attacking midfielder in the place of the suspended Lincoln in Ligapokal matches against Bayer Leverkusen and Bayern Munich. Upon making the first team at Schalke, he was described as "the next big thing". However, soon after declining an offer from Schalke 04, claiming that a yearly salary of €1.5 million would not be enough, he eventually fell out with club management and moved on to Werder Bremen in January 2008. This led to Mirko Slomka, the then-Schalke 04 manager, claiming that Özil would not play another match for Schalke 04.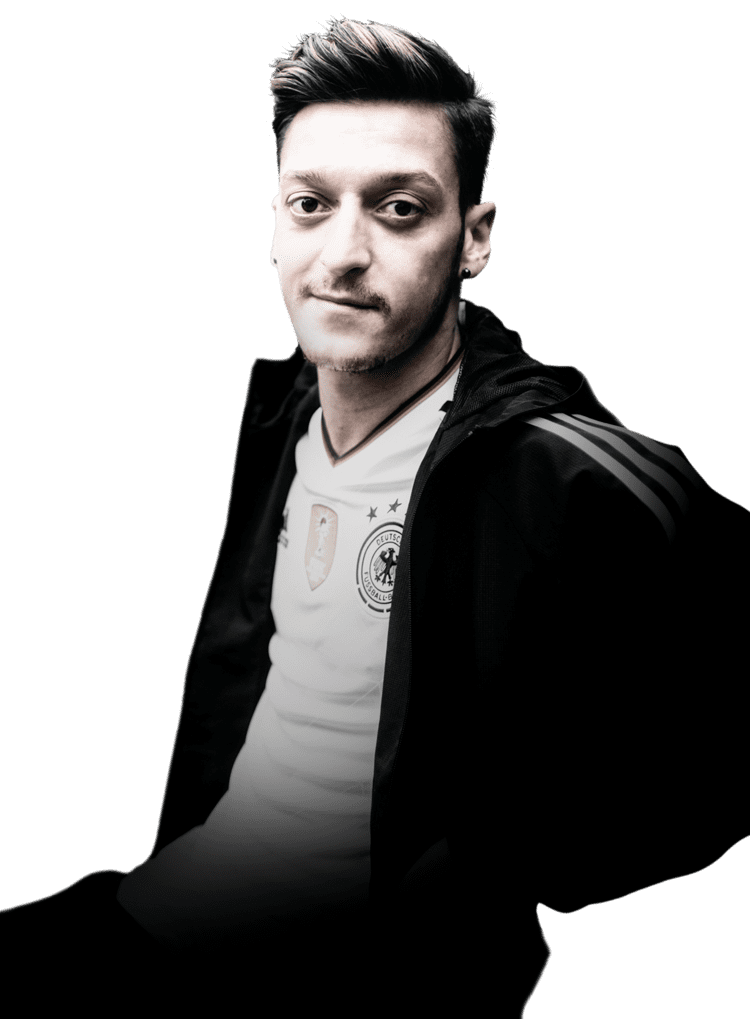 On 31 January 2008, Özil moved to Werder Bremen for a reported fee of €5 million, signing a contract with the German club until 30 June 2011. Other than Werder Bremen, Hannover 96 and VfB Stuttgart were reportedly interested as well in binding Özil to their respective clubs, however did not want to pay such a high transfer fee. After transferring to Werder Bremen, Özil got the jersey number 11. On 26 April 2008 (30th match day) Özil scored the go-ahead goal in the 33rd minute against Karlsruher SC, to put his team up 2–1. This was Özil's very first Bundesliga goal. He played in twelve games throughout the second half of the season, six times playing in the starting formation, becoming second with Werder Bremen in the Bundesliga at the end of the 2007–08 season.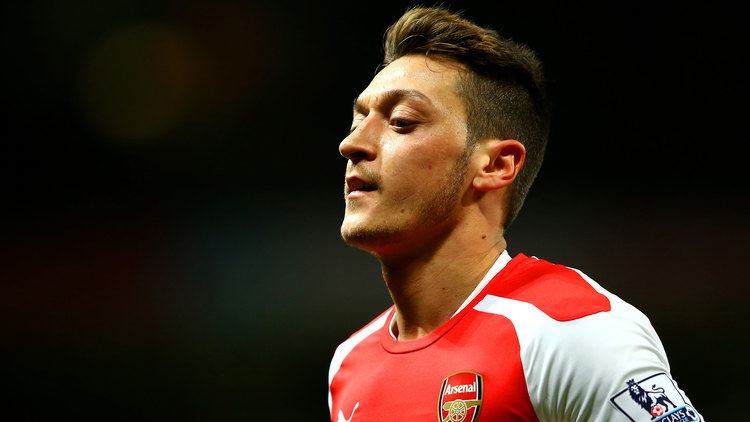 Although Bremen failed to get going in their 2008–09 Bundesliga season, eventually finishing a disappointing tenth, Özil managed to make a significant impact in most games and came away with a respectable three goals and 15 assists that highlighted his attacking credentials. He helped lead the North German club to the 2009 DFB-Pokal with the winning goal in a 1–0 victory over Bayer Leverkusen in Berlin. He also excelled in Europe where he led Werder Bremen to the final of the last ever UEFA Cup, losing out to Shakhtar Donetsk of Ukraine.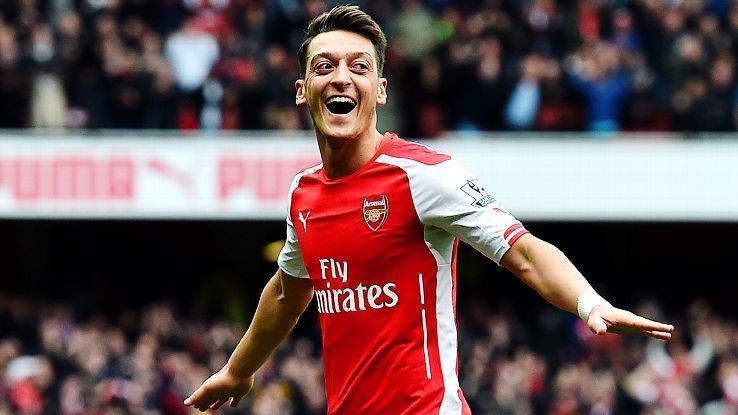 In the 2009–10 season, Özil became the key playmaker of Werder Bremen, stepping into the shoes of Brazilian Diego who had left for Juventus, was named the best player of the first leg of the 2009 Bundesliga season. On 1 May 2010, the 33rd match day, Özil played his 100th Bundesliga game, scoring the 1–0 lead in a 2–0 win against his former club Schalke 04. Özil went on and led Werder Bremen to become third in the league and again to the DFB-Pokal final, however this time it was lost against Bayern Munich by 0–4. In his second season, Bremen finished a respectable third, with Özil contributing 9 goals and 17 assists in 31 league fixture appearances. During the 2009–10 season, Özil was also declared as the "best player of the first half of the season".
Due to his performances in the 2010 FIFA World Cup, Özil ensured his place among Europe's top young talents. He was sought by teams like Barcelona, Arsenal and Real Madrid. English striker Wayne Rooney was one of the many admirers Özil had garnered with his performances in the World Cup, and had even asked Manchester United manager Sir Alex Ferguson to sign the German playmaker. There were reports claiming that a deal was struck for a transfer to Barcelona, but Werder Bremen denied the reports and on 17 August 2010, the team announced that they had reached an agreement with Real Madrid for Özil's transfer. The transfer fee is believed to have been in the region of €15 million. Upon signing, Özil said, "When the offer came in to join Real Madrid, there is no decision to make. Let's be honest – you don't refuse this club. I was in no rush to leave Werder Bremen, but this is one club you say yes to. They are an institution, a club with a fantastic history, stadium and squad full of world-class players. The prospect of performing at the Bernabéu is so awesome you jump straight in." Özil made his debut on 22 August in a friendly match against Hércules, which Real Madrid won 3–1. His jersey numbers were changed often before the season started. He was given the number 26 in the pre-season and 19 for his debut. But following the transfer of Rafael van der Vaart to Tottenham Hotspur, he was given the vacant 23.
Özil was brought in to back up teammate Kaká, but due to his surgery, Özil obtained a starting role. He then made his La Liga debut for Real Madrid as a substitute for Ángel Di María in the 62nd minute against Mallorca, which Real Madrid drew 0–0.
He made his season debut in the Champions League on 15 September. He got his first assist with Real Madrid in the 74th minute against Ajax after he crossed for a Gonzalo Higuaín goal.
He walked off the pitch as a second-half substitute to standing ovations in his first two games as a starter at the Santiago Bernabéu Stadium. His first goal came in a league match against Deportivo de La Coruña on 3 October 2010, in a 6–1 victory. Özil's first Champions League goal with Real came in the 14th minute against Milan on 19 October 2010. On 22 December, he made his debut in the Copa del Rey, scoring once in an 8–0 victory over Levante.
He finished the season with 25 assists, the highest for any player in any major European competition that season. Özil's performances for Real Madrid during his first season were praised by media, fans and players.
Özil began wearing the number 10 shirt for Real Madrid in 2011–12, signalling manager José Mourinho's intent to use the German international as his main playmaker. On 14 August 2011, Özil scored his first goal against Barcelona in El Clásico in the first leg of the 2011 Supercopa de España. On 17 August 2011, he was sent off in the last minute of the second leg of the 2011 Supercopa after an altercation with Barça forward David Villa. Özil expressed his desire to end his football days at the club in an interview with German magazine kicker, saying, "I'd like to end my career at Real Madrid. I know it will be difficult because I have many more years ahead of me and many younger and good players will also be out there, but I want to be part of that future. I know what I'm capable of, and I'm convinced, I'll stay at Real Madrid many years."
Özil was on the short-list of the FIFA Ballon d'Or award.
He finished atop the La Liga assists chart, with 17 assists. On 2 May 2012, he helped Real Madrid to clinch a record 32nd La Liga title as he assisted Real's first goal and scored the second goal against Bilbao, which Real Madrid later won by 3–0. Eleven days later, Özil scored two goals in the final game of the regular season against Mallorca, once again consolidating his excellent performance with the club. The win made Real the first club in the Spanish top flight to ever reach 100 points in a single season. His fine form with Real Madrid and German national team saw him earn nomination for UEFA Best Player in Europe Award, in which he finished tenth, being the youngest player to feature in the Top 10.
With arrival of Luka Modrić before the start of the season, some in the media claimed Özil was unhappy at Real Madrid, but he later rejected such talk and claimed he was happy at the club and looking forward to competing for his place. After the start of the season, he added the Supercopa de España title to his honours. In league play, he provided an important assist to Cristiano Ronaldo who equalised in a 2–2 draw against Barcelona at Camp Nou. On 6 November, Özil scored a crucial 89th-minute free-kick to rescue a draw for Real Madrid and secure a point against Borussia Dortmund. He continued his fine form in the league as he scored another brace against Real Valladolid to rescue Real Madrid in a 3–2 win. He then went on to finish the season with 29 assists, although Real Madrid did not win any silverware except for the Supercopa de España, Özil's performance was praised. At the end of the season, Özil had 26 assists, more than any other player in the leagues.
On 2 September 2013, Özil agreed to join English side Arsenal. Both the fee paid for Özil as well as the contract duration were undisclosed, but they are believed to be around £42.5 million (€50 million) for a five-year deal. The transfer makes him the most expensive German football player of all time. Özil was assigned the number 11 shirt and the centre-attacking midfield role by the team. Contract leaks in January 2016, however, have revealed that the record fee was actually broken down to £37.4 million (€44 million then) with remaining £5.1 million (€6 million then) split evenly over six years from July 2014 subject to Champions League qualification. A buy-back option also allows Real Madrid a 48-hour first option on Özil should Arsenal agree a sale for their playmaker to another Spanish club.
Özil said of the transfer, "At the weekend, I was certain I would stay at Real Madrid but afterwards I realised I did not have the faith from the coach or the bosses. I am a player who needs this faith and that is what I have felt from Arsenal, which is why I have joined." In Özil's first press conference, he said: "I would have come here for free, that wouldn't have been a problem." Özil additionally stated that Arsène Wenger played an important role in his decision: "When I spoke to Arsène Wenger on the phone, he was full of respect, and as a player, I need that." Several Real Madrid players were dissatisfied with Özil leaving the club, including Cristiano Ronaldo, who said, "He was the player who best knew my moves in front of goal ... I'm angry about Özil leaving."
Özil made his debut for Arsenal in their league game away to Sunderland on 14 September 2013. He assisted Olivier Giroud's goal in the 11th minute of the match as they went on to win 3–1. Three days after that, he made his Champions League debut for Arsenal against Marseille. Just over three weeks after making his debut for Arsenal, he made his home debut against Stoke City in a 3–1 victory. He was involved in all three goals, with two assists and a free kick which was saved but fell into Aaron Ramsey's path. He scored his first goal for Arsenal, a brilliantly controlled finish from a Ramsey cross, in a 2–0 win against Napoli in the Champions League. On 19 October, he scored his first two Premier League goals during the 4–1 home win against Norwich City. Özil played in all six of Arsenal's games in November. The German playmaker provided the cross for Jack Wilshere's second goal against Marseille and gave further assists for Aaron Ramsey and Mathieu Flamini in the 3–0 win over Cardiff City. Özil missed the chance to score his fourth Arsenal goal when he saw his penalty in the win over Marseille saved by Steve Mandanda.
In October, Özil was again short-listed for the FIFA Ballon d'Or award, along with former teammate Cristiano Ronaldo. Özil was also featured on the UEFA Team of the Year. Özil began December with two goals in as many games against Hull City and Everton. A minor shoulder injury forced him out of the final game of December in a win against Newcastle United. After the 6–3 defeat at Manchester City in which he made another assist, Özil was involved in an altercation with teammate Per Mertesacker, who was angry with Özil's failure to thank the travelling supporters, an omission for which he subsequently apologised via Facebook.
Özil started four of Arsenal's six games in January. The playmaker missed Arsenal's victory over Cardiff City on New Year's Day with a shoulder injury before returning to make a late appearance from the bench against Tottenham Hotspur in the FA Cup. The 25-year-old produced a slide-rule pass for Lukas Podolski to score his first goal against Coventry City and provided the ball for Santi Cazorla's goal against Southampton at the end of the month to take his assist tally to 10.
February was a difficult month for Özil, as he struggled to reach the heights he showed in his first few months at the club. The German playmaker pulled off a brilliant piece of skill to win a penalty against Bayern Munich in the Champions League knockout phase, but his spot-kick was saved by Manuel Neuer. Speaking before the draw with Manchester United, Arsène Wenger spoke about Özil, saying, "He has done well, he is adapting as well to the Premier League – we have seen it before [that it takes time]. I wouldn't like to put too much pressure on him because he has been a top-class player until now. He didn't have the best of games [at Liverpool] (a 5–1 loss, where Özil was the centre of attention due to a bad performance) but that can happen. He works very hard to adapt to the physical level of the Premier League and for me he is an exceptional player."
On 8 March, Özil scored his first goal of 2014 in a 4–1 FA Cup quarter-final win over Everton. Özil was showing signs of old form and started in Arsenal's second leg Champions League last 16 clash with Bayern Munich. He was substituted at half-time, and the reasoning behind it was that Özil had suffered a hamstring injury and will face a month out, missing key fixtures against Chelsea and Manchester City.
On 20 April, Özil made an instant impact with a lively display against Hull when he returned to the Arsenal team in a 3–0 win. He then returned to goalscoring form with Arsenal's second in their 3–0 win over Newcastle United, and then assisted Olivier Giroud's header. Manager Wenger praised Özil's impact upon his return, saying, "Mesut Özil is very important for the team. He's been missed while he's been injured. We've missed some very important players in an important period of the season. We're really pleased to have people like him back in the team and performing at the top level because that's what we need."
Özil played all three of Arsenal's remaining fixtures during the last month of his debut season in England. The German playmaker came off at half-time in extra-time of Arsenal's 2014 FA Cup Final victory over Hull at Wembley Stadium. Speaking before the FA Cup final, Per Mertesacker praised his compatriot's impact on the side during his first season in England. "You could see from the start that he is one of the best players in Europe," said Mertesacker. "His contributions and assists are vital for any club so we are happy to have him back." Özil completed his maiden season at Arsenal with 13 assists and seven goals in all competitions spanning a course of 40 games.
Özil returned to club training in the middle of August after participating in Germany's 2014 FIFA World Cup win in Brazil. On 23 August, Özil made his first appearance of the season in the 2–2 draw with Everton at Goodison Park. On 27 August, he played a part in Alexis Sánchez's winning goal in the second leg of the Champions League qualification play-off against Beşiktaş, playing a one-two with Jack Wilshere in the build-up to the goal. On 20 September, Özil opened the scoring and assisted Danny Welbeck in a 3–0 victory against Aston Villa at Villa Park. Özil featured in the three following games and started in Arsenal's Champions League group stage victory against Galatasaray, providing an assist for Alexis Sánchez in a 4–1 win. On 8 October, the DFB declared that Özil would be sidelined for between 10 and 12 weeks with a left knee injury obtained during a 2–0 defeat at Chelsea three days prior to the international break. The prognosis would rule him out of the remainder of Arsenal's Champions League group matches, as well as four international fixtures.
On 11 January 2015, Özil made his first appearance in three months as a 73rd-minute substitute in a 3–0 win against Stoke City. He scored on his return to the starting line-up in Arsenal's 3–2 win at Brighton & Hove Albion in the fourth round of the FA Cup on 25 January, latching onto a pass from Tomáš Rosický before scoring Arsenal's second goal. In his first Premier League start of the year, Özil scored once and provided an assist for Olivier Giroud as Arsenal beat Aston Villa 5–0 at home on 1 February. The following week, Özil scored the opening goal in the Gunners' 2–1 North London derby defeat to Tottenham at White Hart Lane. On 4 April, he scored the second goal for his team in a 4–1 win over Liverpool. After a 3–1 win over Hull, manager Arsène Wenger praised him by saying, "Overall his influence was very strong."
Özil followed up his fine form with two assists for Alexis Sánchez in a 2–1 win against Reading in the 2014–15 FA Cup semi-final on 18 April. Özil started in the 2015 FA Cup Final as Arsenal beat Aston Villa in a commanding 4–0 victory on 30 May, concluding his second season at Arsenal with 5 goals and 7 assists in 31 appearances across all competitions.
After scoring during a pre-season game against Lyon, Özil received praise from his manager, with Wenger calling for him to have his best season yet in Arsenal colours. On 2 August 2015, Özil started for Arsenal in the 2015 FA Community Shield, where the Gunners beat league champions Chelsea 1–0 at Wembley Stadium. A week later, he made his first appearance of the Premier League season in Arsenal's 2–0 opening day defeat to West Ham United.
Özil scored his first goal of the 2015–16 season in a 3–0 home victory over Manchester United on 4 October. He had earlier assisted Alexis Sánchez to give the Gunners the lead in the sixth minute of the match. Özil was named man of the match in a 3–0 win at Watford's Vicarage Road on 17 October, supplying assists for Sánchez and Olivier Giroud. On 20 October, Özil scored his first Champions League goal of the season in Arsenal's 2–0 group stage home win over Bayern Munich.
He set a new Premier League record being the first player to assist in six consecutive matches when setting up Kieran Gibbs' for 1–1 in the derby versus Tottenham on 8 November 2015. He then extended that run to seven straight games with an assist against West Bromwich Albion, before scoring his second Champions League goal of the season in a three-goal victory at home to Dinamo Zagreb. He then scored for the second game in a row when he clipped in the opener in a 1–1 draw at Norwich. Özil continued his run of good form by providing four assists in the next three games, against Aston Villa, Manchester City and Sunderland, helping his team win all three matches. On 28 December 2015, Özil assisted the first goal and scored the second in a 2–0 win against AFC Bournemouth, creating nine scoring chances in total – the most in a single Premier League game by any player during the season.
On 24 January 2016, Özil played his 100th game for the Gunners in a 1–0 home defeat against Chelsea in the Premier League. The next Premier League game against Southampton at home on 2 February saw Özil creating 10 chances – beating the previous record, 9 created and held by him during the season. This proved in vain, however, as the match ended 0–0 with the Gunners slumping into fourth as they failed to score in three consecutive Premier League games. He then ended the Gunners' barren goal-scoring run in the Premier League with the opener against AFC Bournemouth in a 2–0 away win on 7 February. Özil delivered his 17th assist in the Premier League from a free kick for Danny Welbeck to head in the winner deep into stoppage time as Arsenal came from behind to beat league leaders Leicester City 2–1 on 14 February.
After a 2–0 home defeat to Barcelona in the Champions League, Özil scored and assisted in a 3–2 defeat at Old Trafford to Manchester United as the Gunners lost further ground in the title race. Özil started in the 2–1 Watford in the FA Cup, where he set up Danny Welbeck for Arsenal's consolation goal with a backheel assist, and three days later in a 3–1 defeat to Barcelona in the Champions League as Arsenal crashed out in successive cup competitions in March.
Özil assisted Olivier Giroud's second goal in Arsenal's last Premier League match of the season against Aston Villa in a 4–0 home victory as the Gunners finished second ahead of fierce rivals, Tottenham Hotspur. That was Özil's 19th assist of the season in the league, a record only beaten by Thierry Henry with 20 in 2002–03 in Premier League history. Özil ended his third season at Arsenal with 8 goals and 20 assists in all club competitions, which won him the Arsenal Player of the Season award.
Özil missed Arsenal's opening day defeat to Liverpool, after his excursions at UEFA Euro 2016 meant he was not match-fit. However, he started his first game of the new season for his club in a 1–3 away win at Watford, in which he scored his first goal of the campaign, heading in an Alexis Sánchez cross to score Arsenal's third of the afternoon. On 19 October 2016 in a Champions League game against Ludogorets Razgrad, Özil assisted Theo Walcott and scored his first professional career hat-trick after volleying in a cross from Lucas as Arsenal went on to win 6–0.
Eligible to play for either Germany or Turkey, Özil chose to play for his country of birth. In September 2006, he was called up for the Germany under-17 team. He was a member of the German under-21 team from 2007. On 29 June 2009, Özil was selected the man of the match in a 4–0 win over England during the U-21 European Championship final.
He made his debut for the senior side during a friendly match against Norway on 11 February 2009. He scored his first goal for the senior team in his third appearance, another friendly, against South Africa on 5 September in Leverkusen at the BayArena.
Özil was selected for Germany's squad for the 2010 FIFA World Cup in South Africa, starting in all of the team's matches. Özil provided an assist for Cacau's goal to the 4–0 final score against Australia in Germany's first group game. He scored a left-footed half-volley from the edge of the penalty area against Ghana in the final group game, ensuring Germany progressed to the second round as group winners.
On 27 June 2010, Özil played in Germany's win over England in the last 16 match, setting up the fourth goal with a cross to Thomas Müller as Germany triumphed 4–1. During the quarter-final match against Argentina, he assisted the second goal for Miroslav Klose with a cross to ensure the 4–0 final score for the Germans. FIFA announced that he was among the ten tournament players nominated for the Golden Ball.
Özil was one of the leading forces in Germany's qualification for UEFA Euro 2012, scoring five times during the campaign as Germany won all ten of its games to top their group. Özil also confirmed his reputation as a decisive passer, as he provided seven assists, more than any European international during Euro 2012 qualification. When asked about his country's chances at Euro 2012, Özil simply replied, "We have the potential to beat anyone and we have what it takes to win the title."
On 29 February 2012, Özil was recognised as Germany's best international of the year for 2011 prior to kick-off at a friendly against France in Bremen. Özil's Germany were drawn with the Netherlands, Denmark and Portugal into Group B at Euro 2012, widely touted as the "Group of Death."
Özil registered two assists, created nine chances, and claimed the Man of the Match award in Germany's 4–2 quarter-final win over Greece. He then scored Germany's only goal (a penalty) in their 2–1 loss to Italy in the semi-finals. His performance at Euro 2012 earned him two Carlsberg Man of the Match Awards. He finished the tournament as the joint-highest assist provider (3) and was named in the UEFA Euro Team of the Tournament.
Özil ended the 2014 FIFA World Cup qualification campaign as Germany's top scorer with eight goals.
Following an injury to Marco Reus in a warm-up game, Özil was moved from his customary number 10 role into the left-winger position for the majority of the tournament. He started all seven of Germany's 2014 FIFA World Cup games, and helped Germany make history by becoming the first European team to win the World Cup in South America. Özil scored the decisive goal in the 119th minute of Germany's 2–1 round of 16 victory over Algeria, a match widely praised as one of the most entertaining of the tournament. Özil then provided an assist for Sami Khedira in Germany's 7–1 semi-final win over Brazil. The goal Özil assisted, with a clever pass, made the score 5–0 to Germany after just 29 minutes. The shocking nature of the 5-goal flurry generated worldwide astonishment.
In the final, Özil played 120 minutes before being replaced by Arsenal teammate Per Mertesacker. Germany were crowned World Champions with a 1–0 win. After the trophy was presented to the Germany team, UEFA President Michel Platini asked Özil for his match shirt as a souvenir, and Özil obliged.
Özil led the tournament in passes completed in the final-third (171), was ranked joint-second in chances created (17), behind only Lionel Messi (23), and ranked second overall in possessions won in the final-third (6).
On 12 June 2016, Özil completed the full 90 minutes of Germany's opening Euro 2016 match against Ukraine which Germany won 2–0. He assisted Bastian Schweinsteiger's goal in the 92nd minute. On 21 June 2016, Özil completed 99% of his passes, created six chances and claimed the Man of the Match award in Germany's win over Northern Ireland. Five days later, Özil started in Germany's 3–0 round of 16 win over Slovakia. In the 13th minute of the match, he had a penalty effort saved by goalkeeper Matúš Kozáčik. On 2 July 2016, Özil scored the leading goal against Italy in the quarter-finals to give Germany a 1–0 advantage, before Italy later equalised through Leonardo Bonucci's penalty. Germany, however, emerged as the victorious side after winning the penalty shoot-out 6–5, despite Özil failing to convert his penalty kick after hitting the goal post.
A quick, creative and technical player, Özil excels in an advanced playmaking role, as a winger on either flank, or as an attacking midfielder through the centre of the pitch. During the 2010 FIFA World Cup, he was also deployed in a new role which was later described as a false-10 or central winger, due to his tendency to drift from the centre into a wide position when in possession of the ball; he has also been deployed in a more advanced role, where he usually functions as a second striker, as he often drops into deeper positions, from which he can link the midfield with the attack and initiate passing moves. An elegant left-footed player, his main attributes are his vision, his control, movement, passing range, and accurate crossing ability, which allow him to get into good attacking positions, create chances, and provide many assists for his team-mates.
Due to his creative ability and offensive prowess as a playmaker, Özil has been called "assist-king" in the media. As of January 2016, Özil has the best ratio of assists per game in the history of the Premier League. Germany under-21 manager Horst Hrubesch once said, "We in Germany are prone to rave about foreign players. We praise Wayne Rooney to the heavens, likewise Ronaldo or Messi. But we have our own Messi. Our Messi is Özil." In the UEFA Euro 2012 qualifier against Belgium, he scored a goal which has been described as a "work of art." Germany coach Joachim Löw hails Özil for his "genius moments" and his performance without the ball.
Former Real Madrid midfielder Xabi Alonso described Özil as "the kind of player you don't find these days," adding, "He understands the game, sees things, combines and thrives between the lines, unlocking teams." José Mourinho, who coached Özil for a time at Real Madrid said, "Özil is unique. There is no copy of him – not even a bad copy." Assistant coach of the Germany national football team Hans-Dieter Flick said, "We are proud to have him in our team. When he has the ball, you can feel the excitement and astonishment among the fans." Former Netherlands and Milan forward Ruud Gullit described Özil as a "technically perfect" player who has "total control of the ball" and a "great imagination." Former Germany teammate Phillip Lahm said of Özil "His vision is probably the best I have ever seen... He is a dream for strikers.", while Mario Gómez called Özil "probably the most brilliant footballer we have or ever had". Despite his reputation as an offensive playmaker, Özil has also drawn criticism at times for his lack of physicality and his low defensive work-rate off the ball.
His nicknames have included "der Rabe" (the Raven, or in Spanish, "El Cuervo") – playing on his smart and opportunistic style of play, and at Werder Bremen "der neue Diego" (the new Diego), in reference to Brazilian Diego, whose playmaker role he inherited, "German Messi" and "German Zidane." At Real Madrid, he was supposedly called "Nemo" – in reference to the clownfish Nemo from the Pixar movie Finding Nemo.
Özil is a third-generation Turkish-German, who, in reference to his game, concludes, "My technique and feeling for the ball is the Turkish side to my game. The discipline, attitude and always-give-your-all is the German part." Despite his Turkish descent, his entire life he has been committed to Germany. According to Özil's own words and the majority of sources, his ancestors are ethnic Turks from Devrek, Zonguldak in northwestern Turkey. However, there are sources that claim Özil's ancestors are ethnic Kurds.
Özil is a practising Muslim. He recites from the Quran before his matches. Talking to the Berlin-based daily Der Tagesspiegel, Özil said, "I always do that before I go out [on the pitch]. I pray and my teammates know that they cannot talk to me during this brief period." He observes fasting during the Islamic month of Ramadan, but he has admitted that: "Because of my job I cannot follow Ramadan properly. I do it only the few days I can, only when I have a free day. But other than that it's impossible, because you have to drink and eat a lot to stay at peak fitness." In May 2016, he performed Umrah pilgrimage to Mecca.
In 2010, Özil received the Bambi award for being a prime example of successful integration within German society.
Özil started dating singer Mandy Capristo in 2013. The relationship ended in October 2014, following reports of Özil being involved with another woman. On 12 November 2015, Özil and Capristo appeared together at the Bambi awards ceremony in Berlin. An Instagram photo uploaded by Özil used the hashtag #OziStoIsBack, suggesting that the couple is back together.
As part of the BigShoe project, Özil donated his 2014 World Cup winnings, an estimated £240,000, to pay for 23 sick Brazilian children to have medical surgery as a "personal thank you for the hospitality of the people of Brazil."
In May 2016, international media covered Özil's visit to the Zaatari refugee camp in Jordan, home to around 80,000 people displaced as a result of the Syrian civil war. Özil toured the camp as well as playing with children, signing autographs and handing out football shirts.
In 2013, Özil signed a sponsorship deal with German sportswear and equipment supplier Adidas. He has appeared in commercials for Adidas Predator boots with other star players such as Lionel Messi, Gareth Bale, Luis Suárez and Robin van Persie. In August 2015, Özil starred in the "Create Your Own Game" commercial for Adidas alongside Messi, Bale, Thomas Müller and James Rodríguez. The video of the advert was viewed over 38 million times in its first 14 days on YouTube. In 2013, Özil launched his own logo.
His autobiography, The Magic of the Game / Gunning for Greatness, was released in March 2017.
As of 5 February 2017
As of match played 11 October 2016
As of match played 31 August 2016. Germany score listed first, score column indicates score after each Özil goal.
Werder Bremen
DFB-Pokal: 2008–09
Real Madrid
La Liga: 2011–12
Copa del Rey: 2010–11
Supercopa de España: 2012
Arsenal
FA Cup: 2013–14, 2014–15
FA Community Shield: 2015
Germany
FIFA World Cup: 2014; Third place 2010
UEFA European Under-21 Championship: 2009
Germany Player of the Year Award: 2011, 2012, 2013, 2015, 2016
Bundesliga top assists: 2009–10
FIFA World Cup top assists: 2010 (shared)
FIFA World Cup Golden Ball Nominee: 2010
FIFA World Cup 2010 Man of the Match: Ghana vs Germany
UEFA Champions League top assists: 2010–11
La Liga top assists: 2011–12
UEFA European Championship top assists: 2012 (shared)
UEFA European Championship Team of the Tournament: 2012
UEFA Team of the Year: 2012, 2013
Premier League top assists: 2015–16
Arsenal Player of the Season: 2015–16
UEFA Best Player in Europe Award: 10th place 2012
FIFA Ballon d'Or: 2010 (13th place), 2011 (11th place), 2012 (14th place), 2013 (16th place)