Mercenary for Justice is an action film starring Steven Seagal, and also starring Luke Goss and Roger Guenveur Smith. It was released direct-to-video on April 18, 2006. Principal photography was on location in Cape Town, South Africa.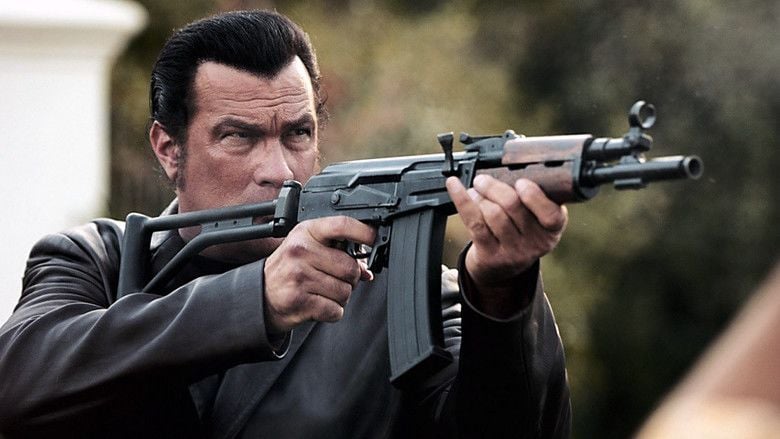 CIA dirty deeds man John Dresham (Luke Goss) and Black Ops organiser Anthony Chapel (Roger Guenveur Smith) hire John Seeger (Steven Seagal) and his crew for a mission in the French-controlled Galmoral Island in Southern Africa. They tell them they are helping the locals when in reality they just want to get rich on oil and diamonds.
John gets steamed when the mission goes wrong. Some of his soldiers take the French Ambassador (Rudiger Eberle) and his family hostage for leverage and later blow them all up. The French close in on them, his best friend Radio Jones (Zaa Nkweta) is killed, and Maxine Barnol, his spy posing as a journalist, suggests CIA involvement.
John heads back to the U.S.A. and goes to the home of Radio's wife Shondra (Faye Peters), tells her the news, and then promises her that he'll take care of her and her young son Eddie (Tumi Mogoje). While there he kills two of Dresham's men sent to kill him and discovers Dresham's implication.
Chapel again hires the team of mercenaries, kidnapping Shondra and Eddie to force John into cooperating. The mission involves rescuing Kamal Dasan, the son of prominent gun runner Ahmet Dasan (Peter Butler), who has been arrested and thrown into the Randveld Prison outside of Cape Town, South Africa, and is due to be transferred to the States.
Dresham discovers the job but not its object and when he bumps into Maxine he forces her to work for him instead of Chapel. Maxine leads him to believe that the target is the safe of the bank of South Africa and Dresham uses his CIA influence to be shown round the security installation. Maxine listens attentively and takes photos.
John leads Dresham in circles but when the mercenaries break into the prison Kamal isn't there any more and the bad elements of the team get killed. Next stop the bank. In the safe John persuades the Greeks to arrest Kamal's father, then escapes making sure Dresham will be arrested too.
Finally, with a few faithful members of his team, John rescues Shondra and Eddie and kills Chapel and his guards.
Steven Seagal....John Seeger
Jacqueline Lord....Maxine Barnol
Roger Guenveur Smith....Chapel
Luke Goss....Dresham
Adrian Galley....Bulldog
Michael Kenneth Williams....Samuel
Langley Kirkwood....Kreuger
Jeannie de Gouveia... Bank assistant
Director: Don E. FauntLeRoy
A sequel titled The Mercenary: Absolution has been announced with a planned release of 2014-15.