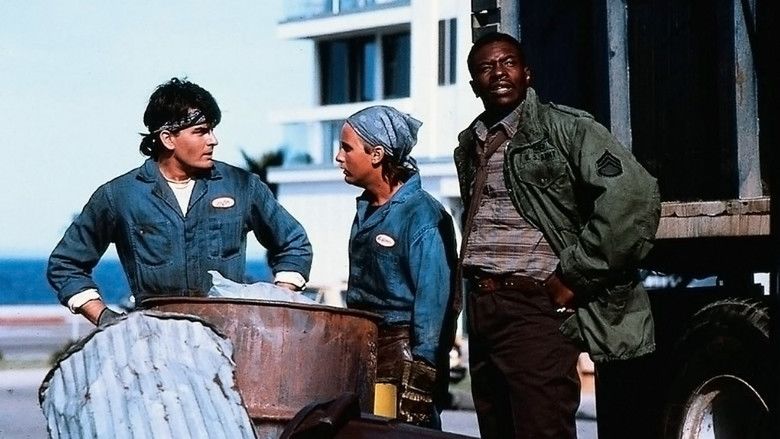 Carl Taylor (Sheen) and James St. James (Estevez) are a pair of troublemaking garbagemen who dream of owning a surf shop. The two uncover an illegal toxic dumping operation in their own city, Las Playas. The film begins with the pair collecting trash as they usually do, by tossing garbage cans in the street and making noise that disturbs the residents. One of the local cops, Mike, hassles them frequently, but Carl and James seem to have gotten used to this treatment and shrug it off.
After work, the pair spy on a woman living across the street with a telescope; they discover that she is being mistreated by a man who is with her. Determined to right the wrong, Carl shoots the man in the rear with a pellet gun. He and James both hide and laugh. Moments later, the man - a city councilman named Jack Berger (Darrell Larson), who's running for mayor - is strangled and ends up found the next day by Carl and James in a yellow drum. They decide that turning in the body would implicate themselves, as they had shot him earlier.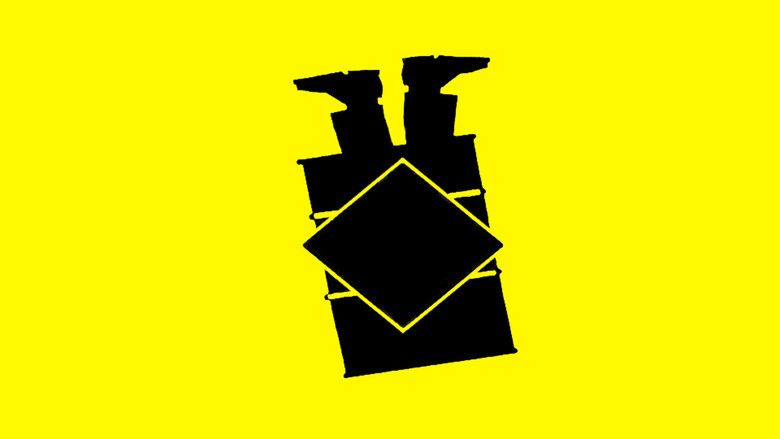 Carl and James ask the advice of crazed Vietnam War vet Louis Fedders (Keith David), who helps them to stash the body after reassuring them that the man died by strangulation, not any shooting. Carl goes over to meet Susan Wilkins (Leslie Hope), the woman who they saw with Jack the night before. Louis ends up exacerbating the situation when he kidnaps a pizza delivery man who sees James with the body.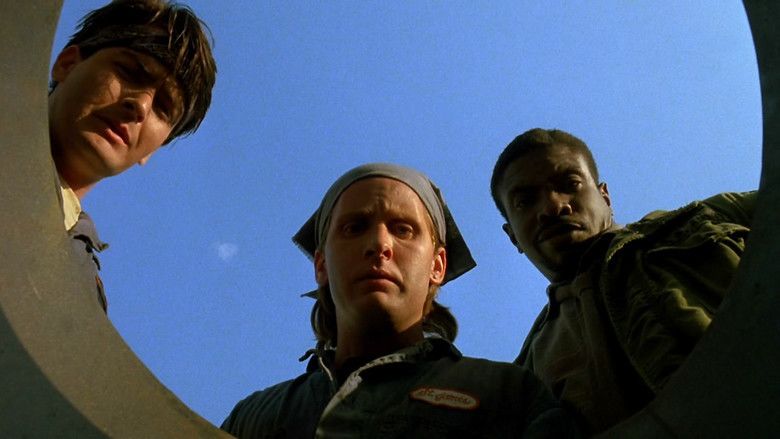 James, Louis, the pizza man and the stiff end up leaving the apartment to follow Carl and Susan, but they are pulled over by Mike and his partner, Jeff. Louis, however, uses the pellet gun to get them out of trouble and to cuff Mike and Jeff together in a compromising position at a playground. Meanwhile, Carl and Susan are discovered by Biff and Mario, the hitmen who had killed Jack. The couple are eventually stuffed into cans and set to be disposed of in a lake that serves as an illegal toxic dump for a local businessman, Maxwell Potterdam III, who was also the man who had Jack killed.
Carl and Susan manage to escape from the cans and reunite with the others. The group fights the toxic dump workers and brings down Potterdam.
Charlie Sheen – Carl Taylor
Emilio Estevez – James St. James
Keith David – Louis Fedders
Leslie Hope – Susan Wilkins
Dean Cameron – Pizza Man
John Getz – Maxwell Potterdam III
Hawk Wolinski – Biff
John Lavachielli – Mario
Geoffrey Blake – Frost
Cameron Dye – Luzinski
John Putch – Mike
Tommy Hinkley – Jake
Darrell Larson – Jack Berger
Sy Richardson – Walt Richardson
Troy Evans – Captain Dalton
Jim "Poorman" Trenton – Narrator
Jennifer Badham- Flake Girl
Christina Eliason- Stewardess
The original screenplay was tentatively titled Clear Intent and slated to star another Brat Packer alongside Estevez. The majority of the movie was shot in Redondo Beach and Hermosa Beach in California.
Considering its relatively small production budget, Men at Work did well in theaters, grossing $16,247,964 USD, $3,184,311 of that within the first week.
The critical reception for the film was negative to mixed reviews. Men at Work currently holds a 29% rating on Rotten Tomatoes based on 24 reviews.
Men at Work (Rhino/Wea, July 18, 1990)
"Wear You to the Ball" - UB40
"Super Cool" - Sly & Robbie
"Big Pink House" - Tyrants in Therapy
"Feeling Good" - Pressure Drop
"Back to Back" - Blood Brothers
"Take Heed" - Black Uhuru
"Here and Beyond" - Sly & Robbie
"Truthful" - Blood Brothers
"Reggae Ambassador" - Third World
"Give a Little Love" - Ziggy Marley & the Melody Makers
"Playas Dawn" - Stewart Copeland
"Pink Panther No. 23" - Stewart Copeland