Melissa Adaleigh McIntyre (born May 31, 1986) is a Canadian actress. She is best known for her role as Ashley Kerwin on the television series Degrassi: The Next Generation.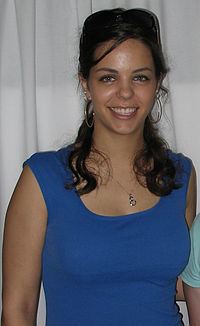 McIntyre was a participant in many community theatre plays as a small girl. Some of the plays that she participated in were The Wizard of Oz and The Secret Garden.
McIntyre made her television debut at age eleven in the 1997 series, Timesweep, where she played an extraterrestrial being. In 1998, she was cast in another television show, Real Kids, Real Adventures.
McIntyre was also a radio actress, as she played the lead character in Disco Does Not Suck, a show that had a relatively long stay on the airwaves. She took some time off during 1999 to participate mainly in theatre, but in 2000 McIntyre, then thirteen years old, returned to television, voicing the character "Cornflower" in the cartoon series Mattimeo: A Tale of Redwall.
In 2001 McIntyre reached national fame in Canada. She was cast in Degrassi: The Next Generation, a sequel to the popular mid-1980s series Degrassi High. Degrassi: The Next Generation proved to be extremely popular among Canadian teenagers. McIntyre played Ashley Kerwin, one of the leading characters of the series. McIntyre is a member of a high school music band in the show, and appears sporting both long and short hair in the series.
For Degrassi, she was credited as a lead regular through season's 1-4 (2001–2005). During the fifth season, McIntyre was written off and said that her character moved to England to succeed in her music career. However, she returns to Degrassi in the season five finale and appears through season 6 and half of season 7, but only as a supporting character. Despite being a recurring character through season's 6-7, she still played a major role in the show. In the middle of season 7, McIntyre's character was permanently written off Degrassi, when her character Ashley and her on/off on-screen boyfriend Craig moved away to go on tour for their music careers.
McIntyre's fame did not immediately cross over to the United States. However, in 2002, the show's rights were bought by Nickelodeon and began to play on The N, now known as TeenNick), a channel geared towards teenagers. The show then began to rise in popularity in the U.S. as well.
McIntyre, as well as the rest of the Degrassi: The Next Generation cast, was nominated in 2003 and 2006 for the Young Artist Award Best Young Ensemble Performance in a TV Series (Comedy or Drama). They won the award in 2002.
After a lengthy absence from the public eye, Melissa resurfaced in mid-2012 as one of three harmony singers in former INXS vocalist JD Fortune's band, simply called Fortune. The band had its debut concert performance at the Stone Pony club in Asbury Park, NJ.