Full Name

مهران کریمی ناصریMehran Karimi Nasseri

Movies

The Films of Melissa & Hamid

Died

12 November 2022 (aged 76) Paris Charles de Gaulle Airport, France

Other names

Sir Alfred Mehran

Hair colour

Salt and pepper

Education

University of Bradford

Parents

Abdelkarim, Simon

Similar

Zahra Kamalfar, Hamid Rahmanian, Tom Hanks
Retraso a de gaulle de 18 a os mehran karimi nasseri caso 9
Mehran Karimi Nasseri (مهران کریمی ناصری pronounced [mehˈrɒn kʲæriˈmi nɒseˈri]; born 1942), also known as Sir, Alfred Mehran, is an Iranian refugee who lived in the departure lounge of Terminal One in Charles de Gaulle Airport from 26 August 1988 until July 2006, when he was hospitalized for an unspecified ailment. His autobiography has been published as a book, The Terminal Man, in 2004. His story was the inspiration for the 2004 Tom Hanks movie The Terminal.
Contents
Popular Videos - Mehran Karimi Nasseri
Early life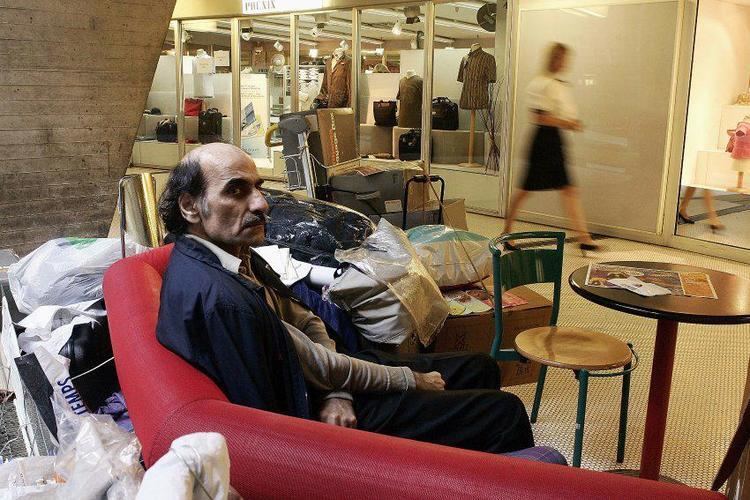 Nasseri was born in the Anglo-Persian Oil Company settlement located in Masjed Soleiman, Iran. His father was an Iranian physician working for the company. Nasseri stated that his mother was a nurse from Scotland working in the same place. He arrived in the United Kingdom in September 1973, to take a three-year course in Yugoslav studies at the University of Bradford.
Life in Terminal 1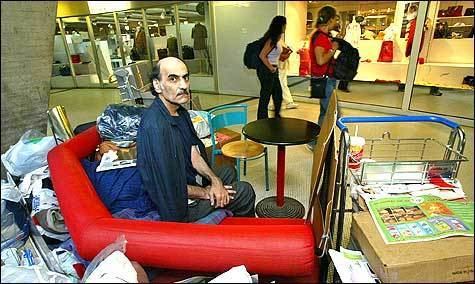 Nasseri claims he was expelled from Iran in 1977 for protests against the Shah and after a long battle, involving applications in several countries, was awarded refugee status by the United Nations High Commissioner for Refugees in Belgium. This allegedly permitted residence in many other European countries. However, this claim has been disputed, with investigations showing that Nasseri was never expelled from Iran.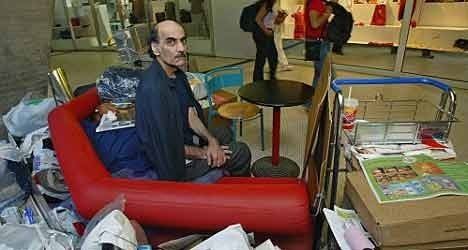 Having claimed to have one British parent, although he has produced no evidence to support this claim, he decided to settle in the UK in 1986, but en route there in 1988, his papers were lost when his briefcase was allegedly stolen. (Others indicate that Nasseri actually mailed his documents to Brussels while onboard a ferry to Britain, lying about them being stolen.) Despite this setback, he boarded the plane for London but was promptly returned to France when he failed to present a passport to British immigration officials. He was initially arrested by the French, but then released as his entry to the airport was legal and he had no country of origin to be returned to; thus began his residency at Terminal 1.
His case was later taken on by French human rights lawyer Christian Bourget. In 1992, a French court ruled that, having entered the country legally, he could not be expelled from the airport, but it could not grant him permission to enter France.
Attempts were then made to have new documents issued from Belgium, but the authorities there would only do so if Nasseri presented himself in person. However, under Belgian law a refugee who voluntarily leaves a country that has accepted him cannot return. In 1995, the Belgian authorities granted permission for him to return, but only if he agreed to live there under supervision of a social worker. Nasseri refused this on the grounds of wanting to enter the UK as originally intended.
Both France and Belgium offered Nasseri residency, but Nasseri refused to sign the papers as they listed him as being Iranian (he wanted it to be British), and did not show his preferred name, "Sir, Alfred Mehran". His refusal to sign the documents that would give him his freedom was much to the frustration of his lawyer, Bourget. When contacted about Nasseri's situation, his family stated that they believed he was living the life he wanted.
In 2003 Spielberg's DreamWorks production company paid US$250,000 to Nasseri for the rights to his story, but ended up not using his story in the subsequent movie, The Terminal.
Nasseri's stay at the airport ended in July 2006 when he was hospitalized and his sitting place dismantled. Towards the end of January 2007, he left the hospital and was looked after by the airport's branch of the French Red Cross; he was lodged for a few weeks in a hotel close to the airport. On March 6, 2007, he transferred to an Emmaus charity reception-centre in Paris's 20th arrondissement. Since 2008 he has continued to live in a Paris shelter.
During his 18-year-long stay at Terminal 1 in the Charles de Gaulle Airport, Nasseri had his luggage at his side and spent his time reading, writing in his diary, or studying economics. He received food and newspapers from employees of the airport, visits from journalists eager to tell his story, and letters of support.
Autobiography
In 2004 Nasseri's autobiography, The Terminal Man, was published. It was co-written by Nasseri with British author Andrew Donkin, and was reviewed in the UK's Sunday Times as being "profoundly disturbing and brilliant".(subscription required)
Documentaries and fictionalizations
Nasseri's story provided the inspiration for the 1994 French film Tombés du ciel, starring Jean Rochefort, internationally released under the title Lost in Transit. The short story "The Fifteen-Year Layover", written by Michael Paterniti and published in GQ and The Best American Non-Required Reading, chronicles Nasseri's life. Alexis Kouros made a documentary about him, Waiting for Godot at De Gaulle (2000). Glen Luchford and Paul Berczeller made the Here to Where mockumentary (2001), also featuring Nasseri. Hamid Rahmanian and Melissa Hibbard made a documentary called Sir Alfred of Charles De Gaulle Airport (2001).
Nasseri was reportedly the inspiration behind the character Viktor Navorski, from the 2004 Steven Spielberg movie The Terminal; however, neither publicity materials, nor the DVD "special features" nor the film's website mentions Nasseri's plight as an inspiration for the film. Despite this, in September 2003, The New York Times noted that Steven Spielberg had bought the rights to his life story as the basis for The Terminal. The Guardian indicates that Spielberg's DreamWorks production company paid US$250,000 to Nasseri for rights to his story and report that, as of 2004, he carried a poster advertising Spielberg's film draping his suitcase next to his bench. Nasseri was reportedly excited about The Terminal, but it was unlikely that he would ever have had a chance to see it in theatres.
Nasseri's story was also the inspiration for the contemporary opera Flight by British composer Jonathan Dove, which won the Helpmann Award at the Adelaide Festival Theatre in March 2006.
References
Mehran Karimi Nasseri Wikipedia
(Text) CC BY-SA