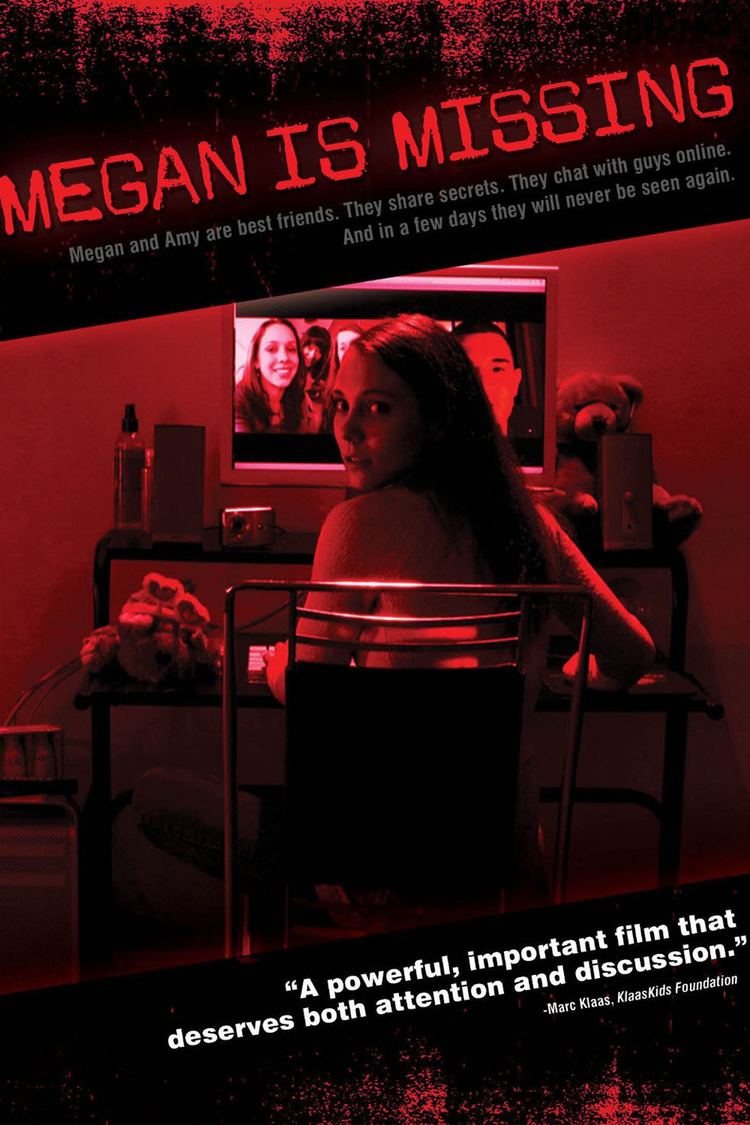 Megan Stewart, 14, and Amy Herman, 13, are best friends. Megan carries the front of being the most popular girl in school and a straight-A student, but this masks a lifestyle of hard partying, drugs, alcohol, and indiscriminate sex. Amy, unpopular and socially awkward, clings to her relationship with Megan as a lifeline to social acceptance. Together, these two girls forge a deep friendship based on their mutual needs and regularly communicate by web chat cameras or cell phone. As Megan seeks friends who are different from her usual posse of sycophants, she is introduced by a friend online to a 17-year-old boy named Josh in a chat room. Megan and Josh bond quickly and Megan finds herself intrigued and attracted to him. One day, Megan goes to meet Josh in person behind a diner, and she is never seen again. Police investigate into her disappearance, but soon begin to give up after finding little to no leads and begin to assume she simply ran away.
However, Amy believes otherwise and talks online with Josh to find out if he knows about Megan's fate. She finds his answers regarding Megan suspicious. After seeing security footage of Megan's kidnapping, Amy tells the police about Josh and his possible involvement in Megan's disappearance, which re-sparks the investigation. Josh says that he is watching her and tells her to shut her mouth or else. Soon after, however, Amy visits her favorite spot and begins to record a video diary. Right before the video cuts, someone is seen about to grab her. The police start to investigate Amy's disappearance and find her video camera in a garbage can near her favorite hiding spot.
The last twenty minutes are unedited footage found on the camera. Josh is holding the camera and unlocks a large door in what appears to be a basement. This is where he has been hiding Amy, in her underwear and is chained to the wall. He makes her eat food in a dog bowl before he violently rapes her. He comes back again later and apologizes and says he will let her go. He then shows her a barrel and tells her to get in it so she won't know where he lives when they leave. After Josh opens up the barrel, Amy runs away screaming as she sees Megan's rotting corpse inside. Josh grabs Amy and forces her into the barrel along with Megan's body before locking it. He loads the barrel into the car and then drives to a forest, where he digs a large hole as Amy screams and begs for her life. Josh pushes the barrel in the hole and fills it up before walking away, leaving Amy to die.
The film concludes with a clip of Megan and Amy relaxing on her bed together, talking about their plans for the future.
Amber Perkins as Amy Herman
Rachel Quinn as Megan Stewart
Dean Waite as Josh
Jael Elizabeth Steinmeyer as Lexie
Kara Wang as Kathy
Brittany Hingle as Chelsea
Carolina Sabate as Angie
Trigve Hagen as Gideon
Rudy Galvan as Ben
April Stewart as Joyce Stewart
John Frazier as Bill Herman
Tammy Klein as Louise Herman
Lauren Leah Mitchell as Callie Daniels
Jon Simonelli as Detective Simonelli
Craig Stoa as Leif Marcus
In October 2011, the New Zealand Censorship Board (OFLC) banned Anchor Bay's release of this film by classifying it as 'objectionable'. They claimed that it contained sexual violence and sexual conduct involving young people to such an extent and degree, and in such a manner that if it was released it would be 'injurious to the public good'. They went on to say that it relished in the spectacle of one girl's ordeal, including a three-minute rape scene. They also stated that it sexualized the lives of young teenage girls to a 'highly exploitative degree'.
Critical reception for Megan Is Missing was mostly negative, with the Oklahoma Gazette calling the film "annoying" and "dull". Beyond Hollywood and DVD Verdict also panned the film, with Beyond Hollywood calling it "majorly disappointing" and DVD Verdict stating that they "[wished] this disc had been missing from the box". HorrorNews.net gave a more positive review, saying that the first portion of the film "really works", although they felt that the final twenty-two minutes "went a little overboard".
Criticism was directed at the acting, writing, cinematography, directing, and font choices, as well as numerous production mistakes; for example, the boom mic can be seen in several shots and director Michael Goi can be heard saying "Action!" during one scene.