Directed by

C. V. Sridhar

Produced by

T. A. Durai Raj

Music by

T. Chalapathi Rao

Starring

Gemini GanesanPadminiTambaram LalithaK. A. ThangaveluT. R. Ramachandran

Cinematography

A. VincentP. N. Sundaram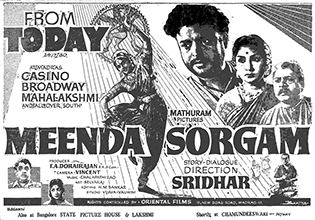 Meenda Sorgam (தமிழ்: மீண்ட சொர்க்கம், English: Overcoming Heaven) is 1960 Indian Tamil-language romantic musical film written and directed by C. V. Sridhar and produced by T. A. Durai Raj and distributed by Madhuram Pictures. The film's soundtrack was composed by T. Chalapathi Rao. The film stars Gemini Ganesan, Padmini and Tambaram Lalitha in lead roles with K. A. Thangavelu T. R. Ramachandran, Manorama and K. Nadarajan portraying supporting roles. The film did not do well as expected, as it was thought to be to highbrow and idealistic.
Contents
Plot
Nirmala (Padmini) is a poor but talented young dancer who falls in love with a rich man's son Sekar (Gemini Ganesan), but he is forced to marry a rich man's daughter Prathiba (Tambaram Lalitha). Nirmala promises to her lover that she will never dance in public. Due to various circumstances, Sekar's house is up for auction, and in order to save him, she performs in public. With the money thus earned, she saves his house, but Sekar is unaware of this. When he learns the truth, he begins searching of her, and in the meantime, Prathiba, who is now reformed, commits suicide. Sekar meets Nirmala, who is on the verge of committing suicide, and they are reunited.
Cast
Gemini Ganesan as Sekar
Padmini as Nirmala
Tambaram Lalitha as Prathiba
K. A. Thangavelu as Sachithanandham Pillai
T. R. Ramachandran as Gopu
K. N. Kamalam as Kamalam
Manorama as Sachu
K. Nadarajan as Nirmala's dance Teacher
K. Sairam as Azhagu
P. S. Venkatachalam as Duraisamy
Reception
Gemini Ganesan performance was impressive in this film, but he seemed a bit old to play that role. Padmini excellent as always dancer role. K. A. Thangavelu as rich man with a wayward son T. R. Ramachandran played his role to perfection. The film onscreen presentation superb! with fine direction by C. V. Sridhar. The brilliant performance by Padmini, her amazing dance numbers. Gemini Ganesan acting and the melodic music and excellent cinematography by A. Vincent.
Soundtrack
Music composed by T. Chalapathi Rao and lyrics written by Kannadasan, Subbu Arumugam and P. S. Gopalakrishnan. Singers are A. M. Rajah, Seerkazhi Govindarajan, M. L. Vasanthakumari, P. Suseela, Jikki & S. Janaki.
The songs such as Kalaiyae En Vazhkaiyin Thisai Maatrinai (lyrics by Kannadasan and voice by A. M. Rajah) and other song Aadum Arul Jothi (a captivating classical Bharathanatiyam dance sequence by Padmini with M. L. Vasanthakumari lyrics and choreographed by P. S. Gopalakrishnan, a famed Nattuvanar) were well received.
References
Meenda Sorgam Wikipedia
(Text) CC BY-SA