Birth name

Scott Cameron Despres




Role

Book




Billed weight

220 lb (100 kg)




Name

Maverick Wild







Born

September 4, 1970 (age 45) Utica, New York, United States (

1970-09-04

)


Residence

Westminster, Massachusetts




Website

Maverick Wild on Myspace




Ring name(s)

Maverick Wild Maverick Wilde Scott Despres Dan Dubiel




Billed height

5 ft 11 in (1.80 m)




Originally published

January 1, 2008



02 10 1997 road to superbrawl vii part 11 maverick wild vs kevin sullivan w jimmy hart
Scott Cameron Despres (born September 4, 1970) is an American professional wrestler, trainer and promoter. Known by the ring name Maverick Wild, he was one of the top stars of the New England independent circuit during the 1990s and early 2000s as a mainstay for International World Class Championship Wrestling, the Century Wrestling Alliance, Chaotic Wrestling and New England Championship Wrestling. He is a former Chaotic Wrestling Heavyweight Champion and 2-time NECW Heavyweight Champion. Despres is the second-longest reigning NECW champion of all time; Max Bauer had a 22-month reign before losing the title to Brandon Locke in 2010.
Contents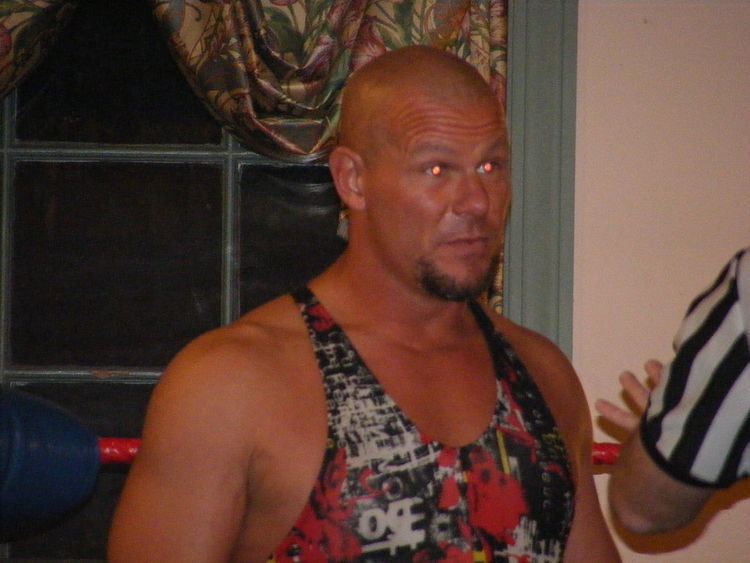 In 2003, Despres started Front Row Wrestling which became the sole wrestling promotion in the state of New Hampshire after the close of Steve Bradley's Wrestling Federation of America. He later became co-owner of Eastern Wrestling Alliance with fellow wrestler Dr. Reginald Heresy. As one-half of the tag team Mind Over Matter, the two are former EWA Tag Team Champions.
Early in his career, Despres was a regular preliminary wrestler for both World Championship Wrestling and the World Wrestling Federation during the early-to mid 1990s. He has also wrestled in a number of independent promotions along the East Coast of the United States including MXW Pro Wrestling, the National Wrestling Alliance, Pro-Wrestling WORLD-1, Ring of Honor and Top Rope Promotions. In his near-20 year career, he has held almost every major championship in the New England region. In 2010, he was inducted into the New England Pro Wrestling Hall of Fame with a number of other longtime regional and independent stars.
He appeared on the 2/10/97 WCW Monday Nitro in a loss against The Taskmaster Kevin Sullivan.
Early life and career (1988–1993)
Scott Cameron Despres was born in Utica, New York on September 4, 1970. He and his family later moved to Ashburnham, Massachusetts where he graduated from Oakmont Regional High School in 1988. It was during high school that Despres first became interested in professional wrestling when, in his sophomore year, Despres' younger brother Danny was hit by a car. While Danny was hospitalized with broken arms and legs, the two looked through wrestling magazines when Despres visited him. Despres began attending local wrestling matches with high school friends and soon developed an interest in becoming a wrestler himself. He started training with Brian Walsh, a local wrestler from Braintree, and spent twice a week in Walsh's basement gym. Without a ring or crash mats, Despres was taught the older European-style of wrestling. He also started weightlifting three to four times a week.
Despres made his professional wrestling debut in mid-1988. He used the name "Maverick Wild", a ring name he would use for the majority of his career, facing other younger wrestlers in the Bedford area during the next two years. He also worked part-time at his father's roofing company which he used to help support himself. In September 1988, he became the first heavyweight champion of Joe Eugenio's New England Wrestling Association. He would win the title twice more, as well as the NEWA Interstate Championship, during the next three years.
In 1991, Despres got his first big break working for promoter Joe Savoldi in International World Class Championship Wrestling. Among his first opponents was Flex Lavender. In the summer of 1993, he started wrestling as a preliminary wrestler for the World Wrestling Federation appearing for shows in the Northeastern United States and the Maritimes in Canada. He would be one of many future New England indy stars used by promoter Vince McMahon during this time and which provided their first national television exposure.
On May 25, 1993, he made his WWF debut being pinned by Mr. Hughes in Sydney, Nova Scotia. He and Ralph Mosca also lost to The Headshrinkers (Fatu and Samu) when Samu pinned Despres after being hit with their diving headbutts finisher. On July 19, Despres faced Bastion Booger on WWF Monday Night Raw in Booger's WWF debut. He was pinned by Booger using his sit-down splash. On July 27, he wrestled Adam Bomb at the Crete Civic Center in Plattsburgh, New York and, on August 18, Doink the Clown at the Memorial Auditorium in Lowell, Massachusetts. These matches were later aired on WWF Wrestling Challenge and WWF Superstars between June and September. His last regular WWF appearance was a tag team match with Dan Dubiel against The Quebecers (Jacques and Pierre) on the August 21st edition of WWF Superstars.
Return to the Independent circuit (1993–1999)
Soon after leaving the WWF, Despres went back to traveling the New England indy circuit for the next few years. After the close of IWCCW in the mid-1990s, Despres was one of many former stars that joined Tony Rumble's Century Wrestling Alliance. Both he and Rick Fuller made their CWA debuts in Chelsea, Massachusetts on December 6, 1996. Despres beat Jose Valenzuela in the second match of the night. On February 10, 1997, Despres made his World Championship Wrestling debut facing Kevin Sullivan (with Jacqueline and Jimmy Hart) on WCW Monday Nitro. During the match, he was physically attacked outside the ring twice, and again after the match, by Sullivan's valet and female wrestler Jacqueline.
During the next several years, he competed for many different promotions including World Independent Wrestling and Main Event Wrestling in New Hampshire, and Primal Conflict Wrestling and United Wrestling Federation in Massachusetts. Despres also remained a top competitor for the Century Wrestling Alliance and later when it became NWA New England. At the "NWA New England Inaugural Event", he challenged Erich Sbraccia for the NWA New England Heavyweight Championship at the Good Times Emporium in Somerville, Massachusetts on May 9, 1998.
New England Championship Wrestling (2000–2002)
Following the death of Tony Rumble in 1999, Despres was one of many former regulars who joined Sheldon Goldburg's New England Championship Wrestling. In 2000, he wrestled NWA UK Hammerlock wrestler Doug Williams, their matches being featured on "Best of Doug Williams", and also faced Tarzan Taylor and Fred Curry, Jr. in Green Mountain Wrestling in late 2001. On August 10, Despres appeared for NECW's one year anniversary "Birthday Bash" supercard at the Good Time Emporium in Somerville, Massachusetts. It was co-sponsored by Budweiser and WBCN, and featured independent starts from around the country as well as from Canada and the United Kingdom. On October 26, 2001, Despres defeated Bob Evans in Somerville for the NECW Heavyweight Championship. Despres re-lost the title to Evans in Somerville two months later.
Eastern Wrestling Alliance (2002–2003)
Spending early-2002 in NECW and GMW, on August 24, 2002, Despres made a one-time appearance for Ring of Honor at "ROH Invades Boston" where he wrestled Alex Arion. Two months later in Somerville, he and Arion faced each other in a tag team match with "The Alpha Male" Justin Powers and Slyk Wagner Brown respectively. Also that year, Despres began competing for the Eastern Wrestling Alliance in Maine.
It was there that he formed a successful tag team with Dr. Reginald Heresy called Mind Over Matter. On November 9, he and Dr. Reginald Heresey won the EWA Tag Team Championship in Portland, Maine and successfully defended the titles against The Elements of Suicide at Portland's Stevens Avenue Armory on December 14. Six days later, he also regained the NECW Heavyweight title by defeating Arion in a first blood match in Revere, Massachusetts on December 20, 2002. Despres was helped in his victory by Steve Bradley who, disguised throughout the event as Santa Claus, attacked Arion with a fork. Ending Arion's then ten-month reign, he would set his own record remaining champion for over 16 months.
On February 22, 2003, Despres and Dr. Heresy lost the EWA Tag Team titles to The Elements of Suicide (Onyx Brownsville and Cinna Flatbush) in a three-way Tables, Ladders, and Chairs match with Kid Krazy & Frankie Armadillo. Splitting up shortly after, Despres returned to New Hampshire for a few months to compete for the All-Star Wrestling Association (AWA). On March 1, he defeated Brian Fury by submission at one of their shows at St. Stansilus Hall in Nashua.
He also started Front Row Wrestling that same year. His promotion was a rival of Steve Bradley's Wrestling Federation of America, and after its close, it became the only promotion in New Hampshire. His promotion eventually became affiliated with Eastern Wrestling Alliance and the National Wrestling Alliance.
New England Championship Wrestling (2003–2004)
Despres successfully defended his NECW title at the Columbus Lodge in Hamden against Alex Arion at "Wild Abandon" on June 14 and Bob Evans at "Over the Line" on August 23; he had lost to Evans in a non-title match the previous month. Also that summer, he won the 2003 New England Invitational (NEI) 8 Tournament, held on June 28, which saw Despres beat Adam Booker and Luis Ortiz and "Hurricane" John Walters in the finals. In August, on NECW's 3rd anniversary show, he met the top three contenders to his NECW title, Bob Evans, Alex Arion and Antonio Thomas, in a 4 way, 45 minute Iron Man match. This match was the first of its kind held by the promotion and later inspired the creation of NECW's annual IRON 8 tournament.
In the fall of 2003, Despres faced his former tag team partner Dr. Heresy defeating him for the EWA Heavyweight Championship on September 5 in Southbridge, Massachusetts. He lost the title three months later to Antonio Thomas in Ludlow, Massachusetts.
On February 8, 2004, Despres faced Jason the Legend in the opening match of an event for Pro Wrestling World-1 in Fall River, Massachusetts. Later released on video cassette by RF Video, the show also featured Dr. Heresy, John Walters, Slyk Wagner Brown, Homicide, CM Punk, Ricky Landell, Rapid Fire Maldonado, Mega, The Christopher Street Connection, Jack Victory, Jerry Lynn, Steve Corino, Spanky Masato Tanaka, Yoshihito Sasaki, C. W. Anderson, Simon Diamond, Justin Credible and Low Ki.
On April 25, 2004, his 16-month title reign came to an end when he lost the NECW Heavyweight Championship to Michael Sain in Somerville, Massachusetts. On May 1, he wrestled Kenn Phoenix at an EWA show at the Elks Lodge in Ludlow, Massachusetts. A week later, he entered the 2004 New England Invitational (NEI) 8 Tournament on May 8 but lost to Cueball in the opening rounds.
Chaotic Wrestling (2004–2006)
Despres made his debut in Chaotic Wrestling in the summer of 2004. On June 25, he headlined a Chaotic show at the Polish-American Veterans Club in Lowell, Massachusetts wrestling a 4-way submission style match against Arch Kincaid, John Walters and Mike Kruel. He won the match, and the Chaotic Wrestling Heavyweight Championship, by defeating Kincaid. In a rematch with Kincaid two months later, he defeated him in a dog collar match. On August 29, he and Walters appeared in the main event of "A Fight Worth Fighting", a benefit show for the Christopher Litchfield "We Can Beat It" cancer fund, in which their match was officiated by special guest referee Mick Foley.
Despres successfully defended his title against Dr. Heresy, Chase Del Monte and Andre Lyonz in Lowell during the late summer and fall of 2004. On January 8, 2005, he defeated Luis Ortiz with Tom Prichard as special guest referee. On February 18, he wrestled John Walters to a time-limit draw in a 30 min. Iron Man match and pinned him within two minutes after the match went into overtime. The next month, Despres lost the Chaotic Wrestling Heavyweight title to Brian Black on March 18. Black immediately gave up the title, however, announcing he was leaving the promotion due to signing a developmental contract with World Wrestling Entertainment.
With the title vacated, a tournament was held to decide the new champion. Despres defeated Mike Collucci via disqualification in the April 1 qualifying matches but Mike Kruel ended up winning the tournament two months later. He did score victories over Mighty Mini and Psycho during the summer.
Semi-retirement (2006–2009)
Despres cut back his ring scheduled considerably during the next three years due to various injuries as well as to concentrate on his duties as a promoter for Front Row Wrestling and the Eastern Wrestling Alliance. On January 6, 2006, Despres lost to Mike Kruel in a 4-way match involving Chase Del Monte and Brian Milonas at a Chaotic Wrestling show in Lowell. On August 25, he wrestled "Hurricane" John Walters in MXW Pro Wrestling. In December 2006, he was profiled by the Worcester Telegram & Gazette and discussed his training and early career. He also critical of wrestling's influence via the internet warning that many unqualified people were training wrestlers and putting them at risk for serious injury.
In the late summer and fall of 2007, Despres made a few appearances for Chaotic Wrestling. On September 7, 2007, at "Summer Chaos", he lost to his former tag team partner Dr. Reginald Heresy at the Polish American Veterans Club in Lowell, Massachusetts. On February 8, 2008, Despres was a guest on the internet radio show Rumble Radio Online. During his interview, he told several humorous stories about wrestling personalities in New Hampshire. He also recalled strange or unusual booking ideas by promoter Jeff Costa including his attempt to hold wrestling's first match in 3D. On March 15, 2008, he lost to Mikaze in a match for the EWA Heavyweight Championship in Orange, Massachusetts.
Recent years (2009–present)
Returning to action in early-2009, Despres began teaming with "Tough Talk" Tony Spencer in FRW and on the indy circuit. At a February 20 show for FRW in Rindge, New Hampshire, he and Spencer lost a tag team match to Steven Marriot & Shawn Sharpe. He also returned to McCarthy Elementary School once more where, on March 13, he lost to North Shore Wrestling's Ethan Masters. That summer, however, he and Spencer had a falling out. The two men faced each other at an FRW show at the American Legion Hall in Rochester on May 8. The Lobsterman and Joey Eastman were the cornermen respectively.
On May 30, Despres entered NECW's 6th annual "IRON 8 Tournament" at the National Guard Armory in Quincy, Massachusetts. He defeated rookie Davey Loomis in the opening rounds by pinned him with a rolling prawn hold and eventually advanced to the finals. There, he faced Antonio Thomas, Ken Doane and then NECW Heavyweight Champion Brandon Locke in a 45-minute four-way match. Despres sustained a serious facial laceration and, after the match was won by Thomas, received medical attention at ringside.
He was scheduled to team with Loomis against the NECW Tag Team Champions The Crown Jewels when the promotion returned to Quincy on July 11, however a back injury kept Despres from competition for several weeks. His spot on the team was taken by J.T. Flash, a protege of WWE Hall of Famer Jimmy "Superfly" Snuka. Later that year, at an interpromotional show for the All-Star Wrestling Association and Front Row Wrestling, he took part in a mixed tag team match with Kimaya against Bruiser Costa & Mistress Belmont in Plymouth, New Hampshire on October 17, 2009.
On January 23, 2010, Despres appeared with Tony Spencer at John E. McCarthy Elementary School in Peabody, Massachusetts for No Limit Pro where he defeated Billy King. He returned to the school a month later where he was the cornerman for Spencer in his match against Billy King. In the semi-main event, Despres lost to NLW Heavyweight Champion Sonny Goodspeed via disqualification. During this time, he also began wrestling in a number of National Wrestling Alliance-affiliated promotions. On April 10, he defeated his former tag team partner Dr. Reginald Heresey in front of a sold-out crowd in Plymouth, New Hampshire for NWA Liberty States Wrestling. A week later, he and a number of longtime independent stars were inducted into the New England Pro Wrestling Hall of Fame at a special ceremony held at Brightridge Club & Brotherhood of the Holy Ghost Charity in East Providence, Rhode Island. Among the inductees included Paul Richard, Kevin Hughes, Billy Black, Sonny Goodspeed, Dave Dwinell, Tony Ulysses, Bull Montana, Dr. Reginald Heresey, Mr. Biggs, John Rambo, Kenny Casanova, Danny Davis, DC Drake, The Duke of Dorchester, Jimmy Snuka, Larry Zbyszko, The Public Enemy (Rocco Rock & Johnny Grunge) and promoters Tom, Mario and Angelo Savoldi.
On May 8, he and Maverick Wild, Jr. won the NWA Massachusetts Tag Team Championship from the Shellnannigans at the John E. McCarthy Arena in Peabody, Massachusetts. At the end of the month, Despres won the NWA Liberty States Heavyweight Championship from Antonio Thomas American Legion Hall in Rochester, New Hampshire. On June 12, 2010, he again defeated Thomas in a three-way match with Todd Sople at John E. McCarthy High School in Peabody.
In wrestling
Finishing moves
Full nelson slam
Championships and accomplishments
Chaotic Wrestling
Chaotic Wrestling Heavyweight Championship (1 time)
Eastern Wrestling Alliance
EWA Heavyweight Championship (1 time)
EWA Tag Team Championship (1 time) - with Dr. Reginald Heresy
Green Mountain Wrestling
GMW Television Championship (2 times)
New England Championship Wrestling
NECW Heavyweight Championship (2 times)
New England Wrestling Association
NEWA Heavyweight Championship (3 times, first)
NEWA Interstate Championship (1 time)
NWA Liberty States
NWA Liberty States Heavyweight Championship (1 time, current)
NWA Massachusetts Tag Team Championship (1 time, current) - with Maverick Wild, Jr.
New England Pro Wrestling Hall of Fame
Class of 2010
Ringside Wrestling / World Independent Wrestling
WIW Americas Championship (1 time)
WIW Junior Heavyweight Championship (1 time)
WIW Americas Tag Team Championship (1 time) - with Sonny Goodspeed
World Independent Wrestling
WIW Heavyweight Championship (3 times)
References
Maverick Wild Wikipedia
(Text) CC BY-SA