Mathias Hubert Paul Cormann (; [maˈtiːas ˈkɔʁman]; born 20 September 1970) is an Australian politician who has served as a Liberal senator for Western Australia since 2007. Cormann has been the Minister for Finance, first in the Abbott Government and then in the Turnbull Government, since 18 September 2013.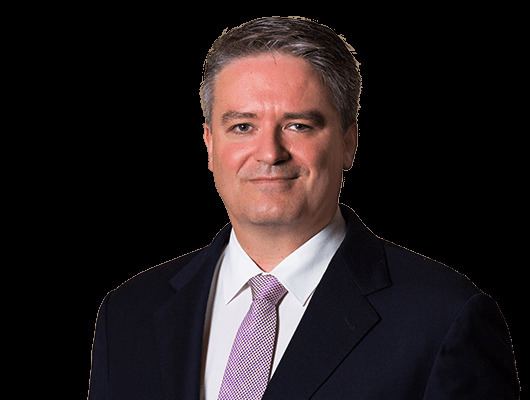 On 20 September 2015 Prime Minister Malcolm Turnbull promoted Cormann to the position of Deputy Leader of the Government in the Senate; and in February 2016 he assumed additional responsibilities as the Special Minister of State in the First Turnbull Ministry, after acting in the role since December 2015.
Born in the German-speaking town of Eupen in eastern Belgium, Cormann graduated with a Bachelor of Law degree from the Katholieke Universiteit Leuven (Catholic University of Leuven). As part of his university studies Cormann participated in a one-year student exchange program at the University of East Anglia in Norwich in 1993–94, where he first learnt to speak English. At the age of 21, he became a councillor in his local area with the Christian Social Party. Following a visit to Perth in 1994, he migrated to Australia permanently.
Aged 21, Cormann joined the Christlich Soziale Partei (CSP) in Raeren, where he served as a municipal council member. From 1994 to 1996, Cormann served as an assistant to Member of the European Parliament Mathieu Grosch.
He joined the Liberal Party in Western Australia and took on a job as ministerial chief-of-staff, then senior adviser to then-Premier of Western Australia, Richard Court. He then moved to federal politics, working for two years as a senior adviser to then Minister for Justice and Customs Chris Ellison. Between 2003 and 2008, Cormann was the state senior vice-president of the Liberal Party in Western Australia. He was also acting general manager of HBF, a WA-based health insurance company, until resigning in May 2007 to contest a Senate seat.
Cormann's preselection for the coveted third position on the Liberal Senate ticket for the 2007 election was all but assured, at the expense of controversial Senator Ross Lightfoot, who withdrew from the preselection race and resigned from politics when he realised the numbers were against him. On the ABC's Stateline program on 27 April 2007, Lightfoot stated that he considered Cormann (although he stopped short of naming him) an "inappropriate person" to replace him. Lightfoot's main complaint was that there were "more appropriate people" to succeed him "who have served the party longer" and "who have been in the country longer".
When Senator Ian Campbell unexpectedly announced his planned resignation on 4 May 2007, Cormann was quickly preselected by the party to fill the resulting casual vacancy. Campbell formally resigned on 31 May 2007. Cormann was sworn in on 20 June 2007 and served the remaining four years of Ian Campbell's term until 2011. On 21 August 2010 Cormann was re-elected for a further six-year term as Senator for Western Australia and again on 2 July 2016.
In Opposition, Cormann served as Shadow Parliamentary Secretary for Health Administration (2008–09), Shadow Minister for Employment Participation, Apprenticeships and Training (2009–2010) and as Shadow Assistant Treasurer and Shadow Minister for Financial Services and Superannuation (2010–2013). In the Senate he chaired the Fuel and Energy Select Committee (2008–2010) and the Scrutiny of New Taxes Committee (2010–2011).
Cormann personally opposes same-sex marriage, and is "pushing for a postal vote plebiscite to be held before a parliamentary vote on the issue".
Cormann, a Roman Catholic, is married to Hayley, a lawyer. They have two daughters.
Cormann became an Australian citizen on Australia Day in 2000, which resulted in the automatic loss of his Belgian citizenship. This was re-confirmed prior to nominating for preselection as a candidate for the Senate.