The Raymond A. Mason School of Business is the business school at the College of William & Mary in Virginia. The school, named after alumnus and founder of Legg Mason, Raymond A. "Chip" Mason, in 2005, was ranked in the top 20 MBA programs in 2007 and the top 10 undergraduate programs among public universities. The school offers Full-time MBA, Part-time MBA, Executive MBA, Masters in Accounting and Undergraduate Business Degrees.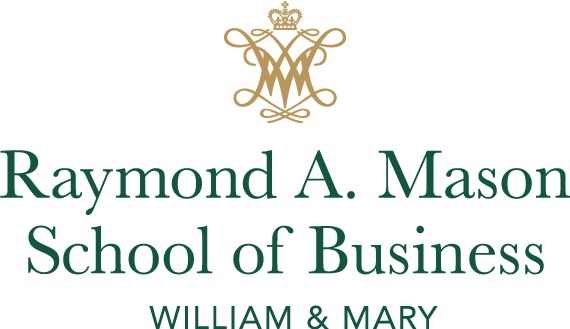 In 1919, William & Mary President Julian A.C. Chandler established the Department of Business while expanding the College's sphere of services. The study of business grew in popularity over the 20th Century, with substantial growth after the end of World War II.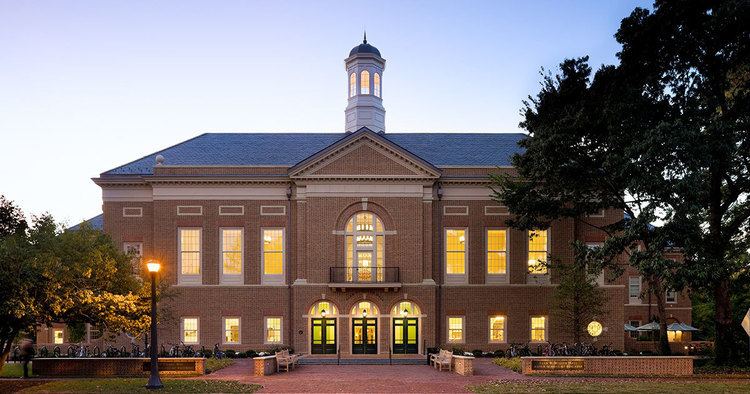 The College established the Master of Business Administration (MBA) Program in 1966. In 1968 the Department of Business became the School of Business, and in 1971, the College's Board of Visitors approved the addition of the Bachelor of Business Administration (BBA) undergraduate degree. One in six undergraduate students at the College major or minor in business, making it the most popular major on campus.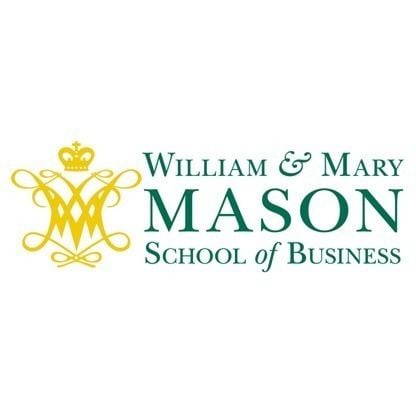 The Mason School of Business is an AACSB-accredited school of business. Students are immersed in real business situations throughout the undergraduate and graduate business education programs. Each year, accounting masters take a 5-day field trip to meet with professionals in the field.
The full-time MBA program, a 21-month program offering instruction in entrepreneurship, finance, general management, marketing, information technology and operations management. The program hosts a distinguished speaker series, organizes visits to various corporations, and facilitates internal and external case competitions, as well as cultural festivities, philanthropy and sustainability initiatives.
William & Mary's graduate business program the Raymond A. Mason School of Business ranked #55 (#25 among public universities) in the 2010 edition of the U.S. News rankings. Mason's MBA program was ranked #49 by Forbes in 2008, #40 nationally by the Financial Times in 2008 and #17 nationally by the Wall Street Journal.
The Online MBA combines William & Mary's world-class faculty, small classes, and a global community of peers into a flexible, online program for working professionals. With the William & Mary mobile app and online courseroom, students can access coursework from anywhere, providing the flexibility needed to accommodate life's demands. William & Mary's AACSB-accredited Online MBA prepares students with the critical thinking skills necessary to tackle today's business challenges and the innovative perspective needed to design tomorrow's solutions.
For the working professional, the school's Executive and Professional Programs (EPP) provides graduate business and continuing business education (non-degree) in a variety of formats:
The Flex MBA, established in 1985, is located at the Peninsula Center in the Oyster Point area of Newport News; the Executive MBA program, established in 1986, is a 20-month program for executives with classes on every two weeks on Friday and Saturday.
The Master's in Accounting program (MAcc), is a one-year program that provides the necessary credit hours and curricular requirements to be eligible to sit for the CPA exam.
As of mid-2015, the program ranked #20 nationally according to LinkedIn. The site bases its rankings on recent graduate's success in landing desirable accounting jobs.
The MS in Business Analytics is a new 1-year, accelerated program designed to give students the analytic expertise that employers need to harness the strategic insights from big data.
The Bachelor's in Business Administration program (BBA) is a two-year program within the College of William & Mary that provides undergraduate business education in five majors: Accounting, Finance, Marketing, Operations & Information Systems Management, and Process Management & Consulting. Students who major in Business are also eligible to concentrate (mini-major) in any of the major fields, plus Entrepreneurship. It additionally provides minors in the above-mentioned majors and Management.
According to 2014 rankings, the undergraduate program ranked #32 by U.S. News & World Report and #22 by Bloomberg.
The business school is housed on the main campus of William and Mary in Williamsburg. The Mason School of Business moved into its new building, Alan B. Miller Hall, in fall 2009. Miller Hall was named for William & Mary alumnus, Alan B. Miller, whose accomplishments are described below. It is located at the Corner of Ukrop Way and Jamestown Road at the western edge of campus. The building was designed by Robert A.M. Stern in the Georgian style.
One benefit the school offered is unlimited access to a group of more than 100 senior business executives coming from 20 different industries called Executive Partners or EPs. The Executive Partner Program consists of active, semi-retired and retired business executives that will be students' career coaches and advisors, inside and outside classroom.
In addition to providing students with insight and advice on career development such as career goals and skill building, Executive Partners also enhance students' in-class experience serving as guest lecturers. They actively contribute in specialized classes in the second year of MBA program both in content and delivery where they share not only their experience but also their professional network by inviting other business professionals as guest speakers and taking students on site visits to major corporations.
Beyond that, these EPs are also playing a role as hosts for international students, allowing the international students to gain knowledge about American culture and hands-on cultural experiences through activities like Thanksgiving Dinner and Super Bowl party.