Years active

1982 – present




Albums

Tsuki no Mado




Spouse

Yayako Uchida (m. 1995)





Role

Actor




Name

Masahiro Motoki




Music group

シブがき隊 (1982 – 1988)









Full Name

Motoki Masahiro (本木雅弘)




Born

21 December 1965 (age 49) (

1965-12-21

) Okegawa, Japan


Awards

Asian Film Award for Best Actor2009 DeparturesJapanese Academy Award for Best Newcomer1990 226Japanese Academy Award for Best Actor1993 Sumo Do, Sumo Don't2009 DeparturesBlue Ribbon Award for Best Actor1993 Sumo Do, Sumo Don't2009 DeparturesHochi Film Award for Best Actor1992 Sumo Do, Sumo Don'tJapanese Professional Movie Award for Best Actor1992 Bang!Kinema Junpo Award for Best Actor2009 DeparturesMainichi Film Concours for Best Actor1999 The Bird People in ChinaNikkan Sports Film Award for Best Actor1999 The Bird People in ChinaTokyo International Film Festival (Best Actor)1993 Last SongYokohama Film Festival (Best Actor)1993 Sumo Do, Sumo Don't




Children

Kyara Uchida, Gento Uchida, Utah Uchida




Movies and TV shows

Departures, Saka no Ue no Kumo, The Emperor in August, Sumo Do - Sumo Don't, The Longest Night in S


Similar People

Yayako Uchida, Kyara Uchida, Tsutomu Yamazaki, Kirin Kiki, Yuya Uchida
2009 asia pacific screen awards performance by an actor masahiro motoki okuribito departures
Masahiro Motoki (本木 雅弘 Motoki Masahiro, born December 21, 1965 in Okegawa, Japan) is a Japanese actor. He portrayed protagonist Daigo Kobayashi in Departures, which won the 81st Academy Awards for Best Foreign Language Film. His performance earned him the Award for Best Actor at the 2009 Asia Pacific Screen Awards, at the 3rd Asian Film Awards and at the 32nd Japan Academy Prize.
Contents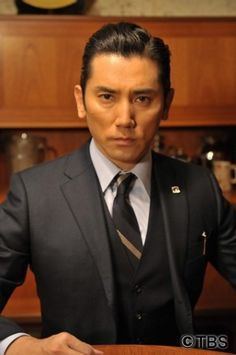 本木雅弘、ブルーリボン助演男優賞にオロオロ?「僕はつまらない俳優」 「第58回ブルーリボン賞」授賞式 #Masahiro Motoki #Blue Ribbon Award
Career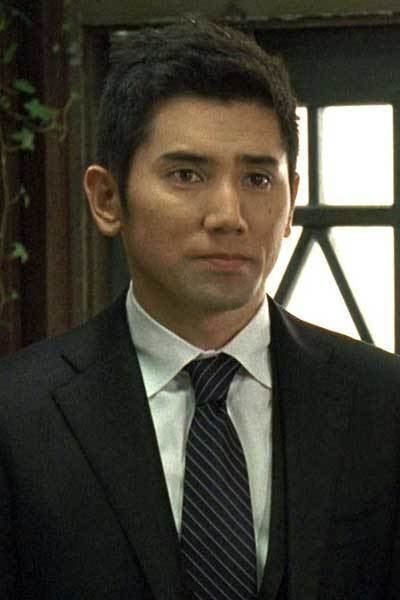 Motoki started his entertainment career as a member of boy band Shibugaki Tai (シブがき隊, Shibugakitai) (name of the group is abbreviation of tough (渋い, Shibui) kids (ガキ, gaki), which makes it an homonym of astringent persimmon (渋柿, Shibugaki)) that made a debut in 1982 under the management of Johnny & Associates. They were top idols for a good part of the eighties in Japan.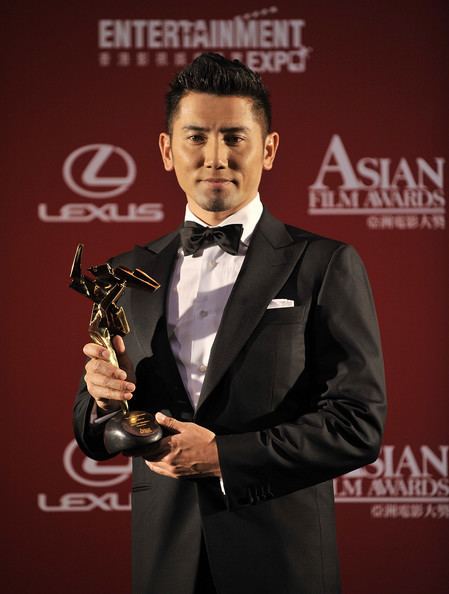 When the band broke up, he turned to acting. His first main role in film was as a Zen monk in comedy Fancy Dance (ファンシイダンス, Fanshii Dansu) directed by Masayuki Suo. Motoki again starred in Suo's next film Sumo Do, Sumo Don't (シコふんじゃった。, Shiko Funjatta.) which practically introduced Motoki to the audience outside Japan. He then worked with directors such as Takashi Miike (The Bird People in China (中国の鳥人, Chūgoku no Chōjin)) and Shinya Tsukamoto (Gemini (双生児, Sōseiji)).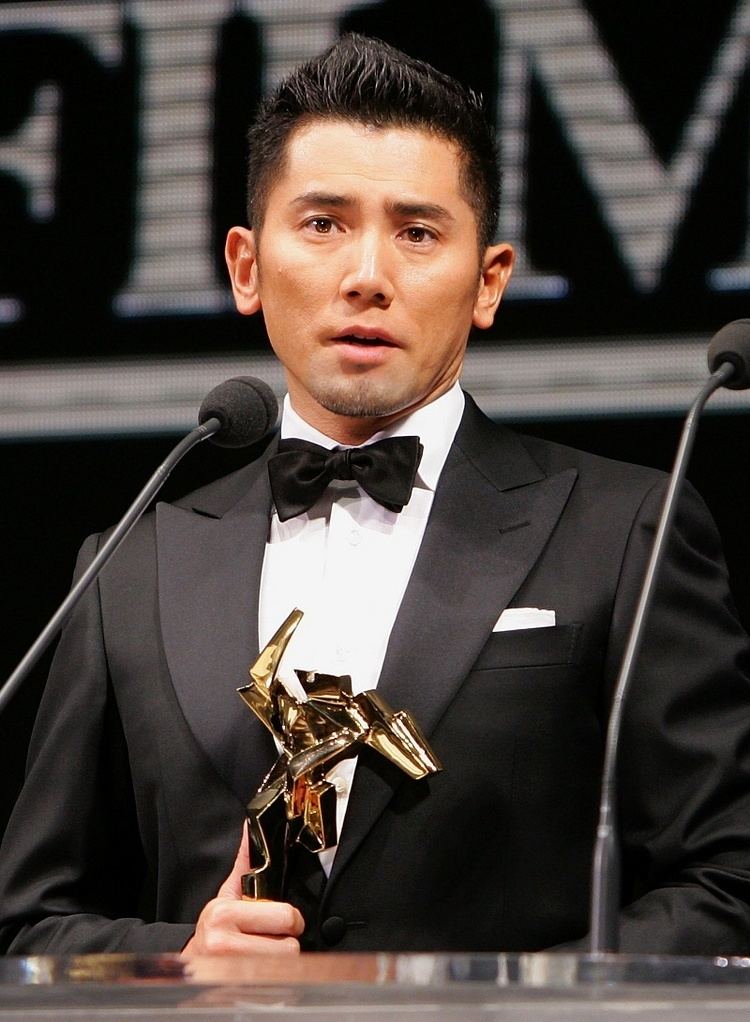 His breakthrough on the international stage came with the 2008 film Departures (おくりびと, Okuribito) directed by Yōjirō Takita. He played cellist-turned-mortician protagonist in this dramatic film which received the Best Foreign Language Film award at the 81st Academy Awards, as well as six acting awards for Motoki. The film project started from Motoki's idea after he read a book written by an encoffinment professional.
Family
He married essayist and musician Yayako Uchida, the daughter of actress Kirin Kiki and rock'n roll singer Yuya Uchida, in 1995. He adopted his wife's surname as a mukoyōshi, thus his legal name on the official registry is now Masahiro Uchida. They currently have three children.
Filmography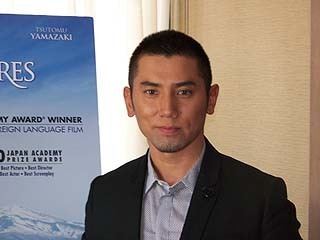 Shibugakitai Boys & Girls (

シブがき隊 ボーイズ & ガールズ

,

Shibugakitai Bōizu & Gāruzu) (1982)
Third-class High school boys (

三等高校生

,

Santō Kōkōsei) (1982)
Headphone Lullaby (

ヘッドフォン・ララバイ

,

Heddofon Rarabai) (1983)
Barrow Gang BC (

バロー・ギャングBC

,

Barō Gyangu BC) (1985)
Four Days of Snow and Blood (

226

,

Nī Nī Roku) (1989)
Raffles Hotel (

ラッフルズホテル

,

Raffuruzu Hoteru) (1989)
Fancy Dance (

ファンシイダンス

,

Fanshii Dansu) (1989)
Beppin no machi (

べっぴんの町

,

Beppin no machi) (1989)
Balloons (

ふうせん

,

Fūsen) (1990)
Heat Wave (

陽炎

,

Kagerō) (1991)
Bang! (

遊びの時間は終わらない

,

Asobi no jikan wa owaranai) (1991)
Sumo Do, Sumo Don't (

シコふんじゃった。

,

Shiko Funjatta.) (1992)
Dioxin from fish!! (

魚からダイオキシン!!

,

Sakana kara Daiokishin!!) (1993)
Last Song (

ラストソング

,

Rasuto songu) (1993)
The Mystery of Rampo (

RAMPO

,

Ranpo) (1994)
The Five (

GONIN

,

Gonin) (1995)
Shall We Dance? (

Shall we ダンス?

,

Sharu Wī Dansu?) (1996)
Tokiwa: The Manga Apartment (

トキワ荘の青春

,

Tokiwasō no Seishun) (1996)
BUGS (

BUGS

,

Baguzu) (1997)
The Bird People in China (

中国の鳥人

,

Chūgoku no Chōjin) (1998)
Gemini (

双生児

,

Sōseiji) (1999)
Richard Sorge - Spy of Fire (

スパイ・ゾルゲ

,

Supai Zoruge) (2003)
Ganryujima (

巌流島

,

Ganryūjima) (2003)
Tekkon Kinkreet (

鉄コン筋クリート

,

Tekkon Kinkurīto) (2006) (voice only)
The Longest Night in Shanghai (

夜の上海

,

Yoru no Shanhai) (2007)
Departures (

おくりびと

,

Okuribito) (2008)
Tenkū no Hachi (

天空の蜂

,

Tenkū no Hachi) (2015)
The Emperor in August (

日本のいちばん長い日

,

Nihon no Ichiban Nagai Hi) (2015) - Emperor Hirohito
The Long Excuse (

永い言い訳

,

Nagai Iiwake) (2016) - Sachio Kinugasa
Television appearances
Sempachi Sensei (

2年B組仙八先生

,

Ni nen B gumi Sempachi Sensei) (1981)
Himitsu no Akko-chan (

ひみつのアッコちゃん

,

Himitsu no Akko chan) (1987)
Tale of an announcer's woes (

アナウンサーぷっつん物語

,

Anaunsā Puttsun Monogatari) (1987)
Easier than a kiss (

キスより簡単

,

Kisu Yori Kantan) (1987)
I wanna hold your hand (

抱きしめたい!

,

Dakishimetai!) (1988)
Love in paradise (

恋のパラダイス

,

Koi no Paradaisu) (1990)
Taiheiki (

太平記

,

Taiheiki) (1991)
Is Mom beautiful!? (

ママってきれい!?

,

Mama tte Kirei!?) (1991)
Invisible You (

あなただけ見えない

,

Anata Dake Mienai) (1992)
News na aitsu (

ニュースなあいつ

,

Nyūsu na Aitsu) (1992)
Journey to the West (

西遊記

,

Saiyūki) (1993)
One day, tell me you love me (

いつか好きだと言って

,

Itsuka suki da to itte) (1993)
Otama & Kozo (

お玉・幸造夫婦です

,

Otama Kōzō Fūfu desu) (1994)
White love story (

最高の片想い

,

Saikou no Kataomoi) (1995)
Since I met you (

君と出逢ってから

,

Kimi to Deatte Kara) (1996)
Tokugawa Yoshinobu (

徳川慶喜

,

Tokugawa Yoshinobu) (1998) - Tokugawa Yoshinobu
The chuckles of neighbours (

隣人は秘かに笑う

,

Rinjin wa Hisoka ni Warau) (1999)
Style! (

スタイル!

,

Sutairu!) (2000)
Black Jack (

ブラックジャック

,

Burakku Jakku) (2000)
A Wednesday Love Affair (

水曜日の情事

,

Suiyōbi no Jōji) (2001)
Prince Shotoku (

聖徳太子

,

Shōtoku Taishi) (2001)
The Happy Prince (

幸福の王子

,

Kōfuku no Ōji) (2001)
Iron Chef: Japan Cup 2002 (

料理の鉄人

,

Ryōri no Tetsujin) (2002)
87% (

87%

,

Hachijū-nana pāsento) (2005)
The Dining Table at Natsume's (

夏目家の食卓

,

Natsume ke no Shokutaku) (2005) - Natsume Sōseki
On the Single Bed Tonight (

今夜ひとりのベッドで

,

Kon'ya Hitori no Beddo de) (2005)
Saka no Ue no Kumo (

坂の上の雲

,

Saka no Ue no Kumo) (2009) - Akiyama Saneyuki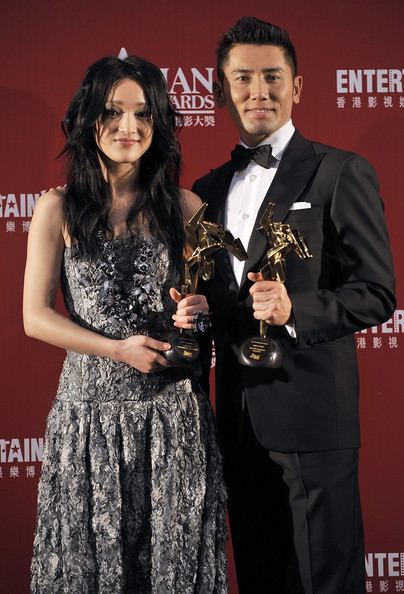 References
Masahiro Motoki Wikipedia
(Text) CC BY-SA