Name

Mary Makepeace








Fox21 news interview with mary lou makepeace
Mary Lou Makepeace is an American politician and the former mayor of Colorado Springs, Colorado. She was the first woman to hold that position.
Contents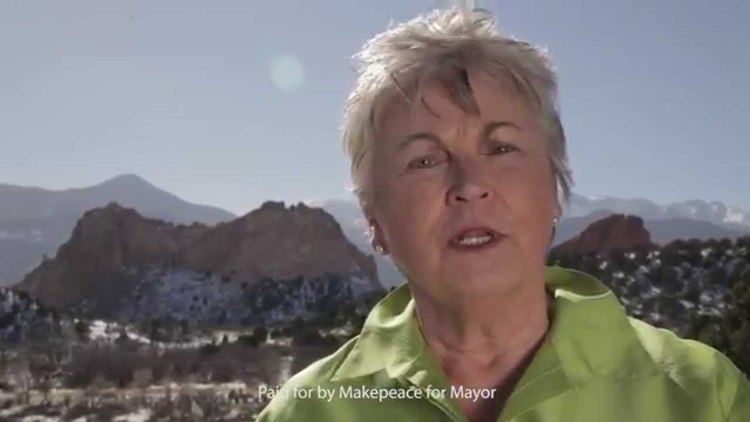 Mary lou makepeace 4 mayor tv spot 1 whistle while we work
Mayor of Colorado Springs
Mary Lou Makepeace, Colorado Springs' first female mayor, was elected in 1997 and re-elected in 1999. As mayor in a Council-Manager form of government, she led a 9-member city council, served as chairman of the board of Colorado Springs Utilities and provided oversight to the city owned Memorial Hospital. Makepeace was known for her open and innovative leadership. She initiated the successful Springs Community Action Program (SCIP) engaging hundreds of citizens in prioritizing capital improvements needs in the city resulting in citizen approval of the largest bond .
Post Mayor Career
Term limited in 2003, she joined the Gill Foundation becoming the Executive Director of the Gay & Lesbian Fund for Colorado, distributing millions of dollars to nonprofits across the state of Colorado.
She continued her affiliation with philanthropy and nonprofit organizations in the Pikes Peak area when she became Executive Director of the highly successful Indy Give! campaign raising over $1 million in the last two months of 2013.
She currently is on the faculty of the political science department at UCCS.
Expanded Description
Her resume' includes serving as executive director of Leadership Pikes Peak, adjunct faculty at the Center for Creative Leadership, caseworker at the El Paso County of Social Services, executive director of the Community Council of the Pikes Peak Region, and executive director of STAY, a child placement agency.
Other experiences include teaching at the American School in Tananarivo, Madagascar, Assistant to the Defense Attache' at the American Embassy in Prague, Czechoslovakia, following the Soviet invasion, and as adult education officer at Ramstein Air Force Base in Germany.
Mary Lou has served on a variety of state, local and national committees including the Board of Governors of Colorado State University, Colorado Space Advisory Committee, the Policy Advisory Council of the America Power Association, the Energy Committee of the U.S. Conference of Mayors. She is a founding board member of Artemis Women and the Women's Chamber of Southern Colorado.
She attended the Harvard University Program for State & Local Government. She earned a Masters of Public Administration from the University of Colorado Colorado Springs and her bachelor's degree in journalism and political science from the University of North Dakota.
She was inducted to the Colorado Women's Hall of Fame in 2009. Other recognition includes the Athena Award, Colorado College Community Diversity Award, Denver Business Journal's Outstanding Woman in Business, Colorado Springs Chamber of Commerce Outstanding Community Service Award, The Mary Jean Larson Community Service Award and numerous others. She has lived, worked and raised her family in Colorado Springs since 1973.
Awards
2009: Colorado College, Community Diversity Award
2008: Colorado Women's Hall of Fame Inductee
2007: Greater Colorado Springs Chamber of Commerce: ATHENA Award
2006: Denver Business Journal: Outstanding Woman in Business, "Nonprofits and Public Entities" sector
Articles
The Gazette: Mayor Mary Lou Makepeace was a Downtown Colorado Springs Champion, Dec. 18, 2013
CausePlanet.org: Altering the Course of History: Collaborations Make Good, Sept. 5, 2008
Colorado Springs Business Journal: Bringing an End to Discrimination: Good for Business, June 13, 2008.
CausePlanet.org: Advancing equality: From the Lobby to the Legal Ease, Your Work Environment Says a Lot, October 15, 2007.
CausePlanet.org: Collaborate and improvise for organizational change, July 17, 2007.
CausePlanet.org: Looking at Diversity in a New Way, April 2, 2007.
Denver Business Journal: Advancing Latino Education is Good for Business, January 5, 2007.
Denver Business Journal: Arts and Cultural Events Can Help Drive Your Business Success, July 7, 2006.
Denver Business Journal: Strategies and Business-Like Approaches Help with Fundraising, October 14, 2005.
References
Mary Lou Makepeace Wikipedia
(Text) CC BY-SA