Active from

1946






Similar

Jerry Lewis, Rat Pack, Dean Paul Martin, Bob Hope, Sammy Davis Jr
Martin and Lewis were an American comedy duo, comprising singer Dean Martin and comedian Jerry Lewis. They met in 1945 and debuted at Atlantic City's 500 Club on July 25, 1946; the team lasted ten years to the day. Dean Martin is the stage name of Dino Paul Crocetti, born June 7, 1917 in Steubenville, Ohio, while Jerry Lewis is the stage name of Joseph Levitch, born March 16, 1926 in Newark, New Jersey. Martin died on December 25, 1995.
Contents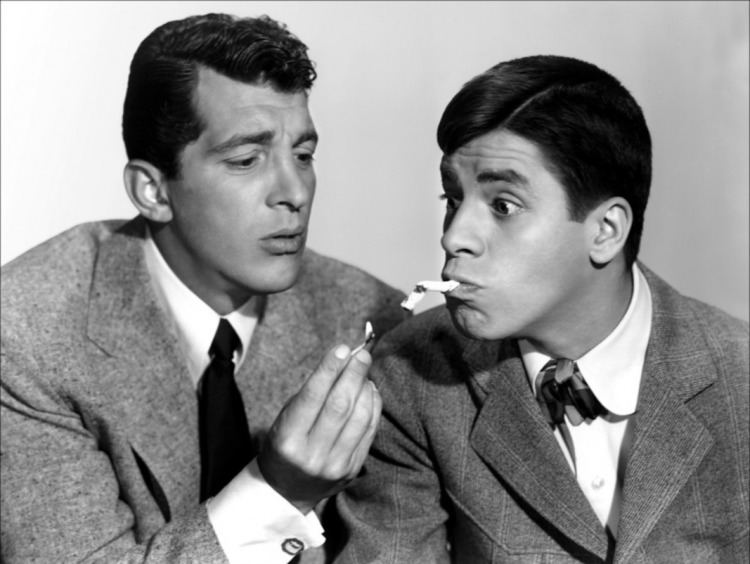 Before they teamed up, Martin was a nightclub singer, while Lewis did a comedy act lip-synching to records. They performed in nightclubs, and, starting in 1949, on radio. Later they branched out into television and films. In their early radio days they performed as Martin and Lewis but later became hugely popular as Dean Martin and Jerry Lewis. These full names helped them launch successful solo careers after parting.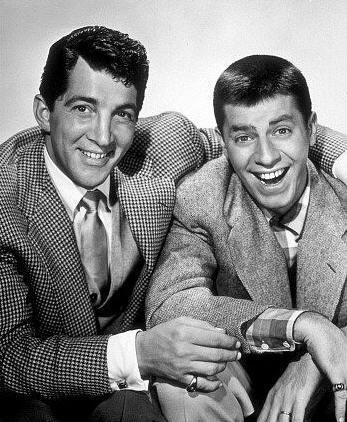 Nightclubs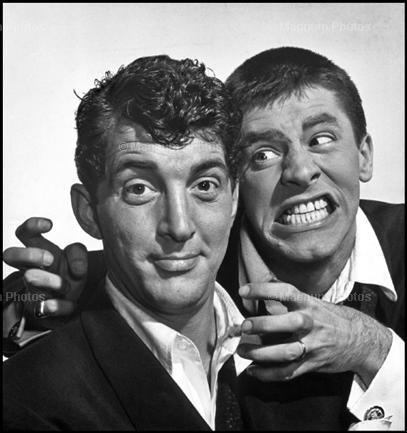 In 1945, Dean Martin met a young comic named Jerry Lewis at the Glass Hat Club in New York, where both men were performing. Martin and Lewis debuted at Atlantic City's 500 Club on July 25, 1946, when Lewis suggested to the club owner that Martin would be a good replacement for the scheduled singer who was unavailable. The duo were not well received. The owner, Skinny D'Amato, threatened to terminate their contract if the act did not improve. Martin and Lewis disposed of pre-scripted gags and began improvising. Dean sang, and Jerry dressed as a busboy, dropping plates and making a shambles of Martin's songs and a mockery of the club's decorum. They performed slapstick and delivered vaudeville jokes to great fanfare.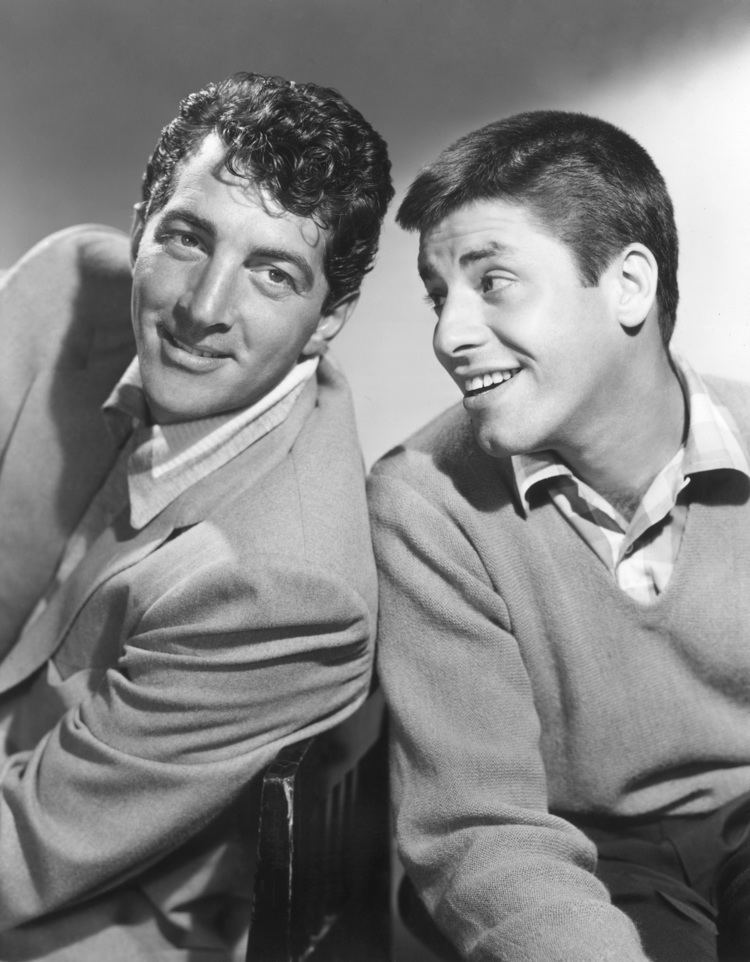 Their success at the 500 Club led to a series of well-paying engagements along the Eastern seaboard, culminating with a triumphant run at New York's Copacabana Club. The audience were convulsed with laughter by Lewis interrupting and heckling Martin while he was trying to sing, and ultimately by the two of them chasing each other around the stage and having as much fun as possible.
Radio, television, and films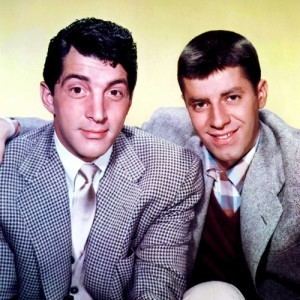 An NBC radio series commenced in 1949; it lasted until 1953. Martin and Lewis made a key appearance on the first episode of Ed Sullivan's show, Toast of the Town, in June 1948, although they may have appeared on TV earlier on Hour Glass, the first TV variety show which aired from May 1946 - March 1947, during the time the duo first paired up formally. On October 3 and 10, 1948, the team were stars on the first two episodes of the NBC live television variety show Welcome Aboard – kinescope survives of this live TV broadcast in UCLA Film and Television Archive. On April 3, 1949 they debuted on their TV version of their "Martin & Lewis" radio show on the NBC-TV network, with guest Bob Hope, with their inaugural program drawing lackluster reviews in the April 30, 1949 issue of Billboard magazine.
Also in 1949, Martin and Lewis were signed by Paramount producer Hal Wallis as comedy relief for the film My Friend Irma.
Martin was thrilled to be out of New York City, a place he had developed a lifelong discomfort for because of its tall buildings—suffering as he did from claustrophobia, Martin avoided elevators, and having to climb multiple flights of stairs in Manhattan's skyscrapers was not his idea of fun. Even when Martin's success allowed him to lease an apartment in a Manhattan highrise building, he chose one on the third floor. He liked the fact that California, because of its earthquakes, had few tall buildings.
Their agent, Abby Greshler, negotiated for them one of Hollywood's best deals: although they received only a modest $75,000 between them for their films with Wallis, Martin and Lewis were free to do one outside film a year, which they would co-produce through their own York Productions: their first starring feature was the independently produced At War with the Army (1950). They also had complete control of their club, records, radio and television appearances, and it was through these endeavors that Martin and Lewis earned millions of dollars. They made regular appearances on NBC's Colgate Comedy Hour during the 1950s.
Although there had been a number of hugely successful film teams before, Martin and Lewis were a new kind of team. The fun they had together set them apart from everything else being done at the time. Both were talented entertainers, but the fact that they were such good friends on and off stage took their act to a new level. Lewis later offered an explanation for their explosive, exponential success:
"Who were Dean's fans? Men, women, the Italians. Who were Jerry's fans? Women, Jews, kids. Who were Martin and Lewis' fans? All of them... You had fans that didn't care that Jerry was on or that Dean was singing. Because if Dean was singing, that was Martin and Lewis. If Jerry was goin' nuts, that was Martin and Lewis."
Martin and Lewis were the hottest act in America during the early '50s, as well as the highest paid act in show business according to a 1951 LIFE Magazine article the duo was featured in while on their most successful movie tour promoting That's My Boy. The tour was so successful, audience members wouldn't leave their seats, so Martin and Lewis began doing "free shows" afterwards on fire escapes, or out their dressing room windows, jamming the streets with adoring fans hoping to catch a prize - a hat, a shoe, maybe an autograph. Unfortunately however the pace and the pressure soon took their toll. Dean usually had the thankless job of the straight man, and his singing had yet to develop into his unique style of his later years. The critics praised Lewis, and while they admitted that Martin was the best partner he could have, most of them claimed that Lewis was the real talent of the team and could succeed with anyone. It is worth noting that Lewis always praised his partner, and while he appreciated the attention he was getting, he has always said with complete conviction that the act would never have worked without Martin. In the book Dean & Me Lewis calls Martin one of the great comic geniuses of all time.
After five years at Paramount, Dean Martin was becoming tired of scripts limiting him to colorless romantic leads while the stories centered on the antics of Jerry Lewis. Martin also noticed that Lewis was playing comedy scenes for pathos and greed and staging more of the action himself, having lost vision of what their comedy team-up was all about in the first place. The last straw came when Look gave Martin and Lewis a cover photo—and cropped Martin out of the picture, humiliating Martin. Martin dutifully fulfilled the rest of his movie contract, but put less and less enthusiasm into his work and becoming increasingly disillusioned about his partnership with Lewis, leading to escalating arguments with Lewis. The two finally could not possibly work together, especially when Martin angrily told his partner that he was "nothing to me but a fucking dollar sign." Martin left the act at his first opportunity, on July 25, 1956, ten years to the day after their first official teaming. Hollywood or Bust was their final film, released in late 1956.
After the split
Martin's career arguably reached new heights after the team split up, as a recording artist for the Capitol and Reprise labels, as a movie actor (Rio Bravo, The Young Lions and the Matt Helm series), as a member of Frank Sinatra's Rat Pack (Ocean's 11, Sergeants 3, Robin and the 7 Hoods), and with his own hugely successful 1960s–70s television variety series, The Dean Martin Show. Lewis made a succession of commercially successful films on his own (The Nutty Professor, The Bellboy), at one point becoming Paramount Pictures' biggest star.
According to Lewis, the two did not talk for twenty years, to which Lewis commented, "the stupidity of that, I can not expound on. The ignorance of that is something I hope I'll always forget." The two men reconciled privately in the later years of Martin's life. In 1976, Martin made a surprise appearance on Lewis's annual Labor Day telethon for the Muscular Dystrophy Association, orchestrated by mutual friend Frank Sinatra. According to Lewis, the two spoke "every day after that". In 1960, four years after they split, Martin and Lewis briefly reunited. Both were performing their own separate acts at the Sands Hotel in Las Vegas, a club they frequently played while they were together. Lewis caught Martin's closing act and Martin introduced his former partner to the audience, bringing him on stage. For about 15 minutes, they joked a bit and sang a duet of "Come Back to Me". However, the reunion was never duplicated. Later in 1960, when Lewis was rushing to finish The Bellboy and too exhausted to perform his stage act, Martin generously replaced him.
In 1987, when Dean's son Dean Paul Martin was killed in a plane crash, Jerry attended the funeral unannounced. He did not walk up to Martin, for he did not want any reporters to catch them together, according to Lewis's 2005 memoir Dean & Me and Deana Martin's 2004 book Memories Are Made of This. Later when Dean found out about it, he called Jerry and talked to him for about an hour. In 1989, the two reunited for the last time at Bally's Hotel and Casino in Las Vegas, where Dean was doing a week of shows, on Dean's 72nd birthday. Lewis presented him with a birthday cake, thanked him for all the years he gave joy to the world and finally joked, "Why we broke up, I'll never know." This would be the last public reunion of the duo before Martin's death in 1995.
The animosity between Martin and Lewis after the split was legendary but Lewis published an affectionate memoir of his partnership with Martin called Dean & Me: A Love Story in 2005. Also in 2005, the film Where the Truth Lies was loosely based upon the collaboration and sudden split of Martin and Lewis.
Biopic
Martin and Lewis is a 2002 biographical CBS television movie which portrays the lives of Dean Martin and Jerry Lewis. Directed by John Gray and starring Jeremy Northam as Martin and Sean Hayes as Lewis, the film depicts the years from 1946 to 1956, spanning the timeframe from the beginning until the end of their partnership.
Legacy
In 2016 a tribute show called "Dean and Jerry: What Might Have Been", starring Derek Marshall (Dean Martin) and Nicholas Arnold (Jerry Lewis), started touring North America.
References
Martin and Lewis Wikipedia
(Text) CC BY-SA