Name

Martin Eberhard




Role

Engineer








Born

May 15, 1960 (age 55) (

1960-05-15

)

Berkeley, California




Alma mater

University of Illinois at Urbana Champaign




Known for

co-founder of Tesla Motors




Education

University of Illinois at Urbana–Champaign




Similar People

Marc Tarpenning, JB Straubel, Elon Musk, Nikola Tesla, Max Levchin




Organizations founded

Tesla Motors



Designing media martin eberhard
Martin Eberhard (born May 15, 1960) is an American engineer and business executive. He co-founded Tesla, Inc. (then Tesla Motors) in 2003, serving as CEO until 2007. Eberhard was ranked among the top 24 innovators of 2007 by Fortune Magazine. Also in 2007, Business 2.0 Magazine ranked Eberhard number 32 of the 50 people "who matter now".
Contents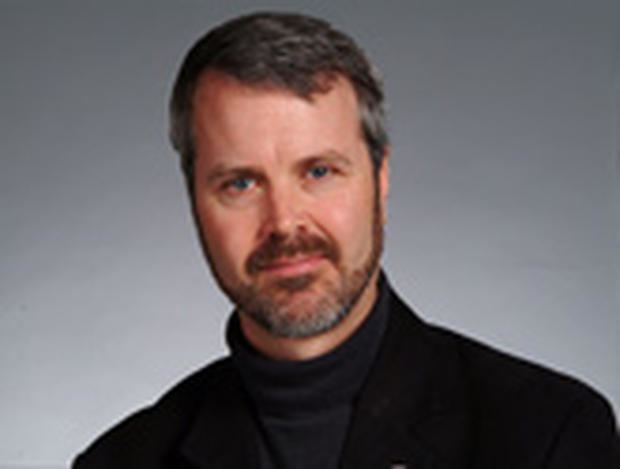 Martin eberhard alternative energy for the electric car
Early life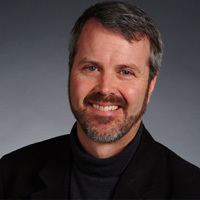 Eberhard was born in Berkeley, California on May 15, 1960. He grew up in Kensington, California, attending Kensington Hilltop Elementary School there. He attended junior high school and high school in adjacent El Cerrito until the middle of 11th grade, when his family moved to Elmhurst, Illinois. He graduated from York Community High School in 1978.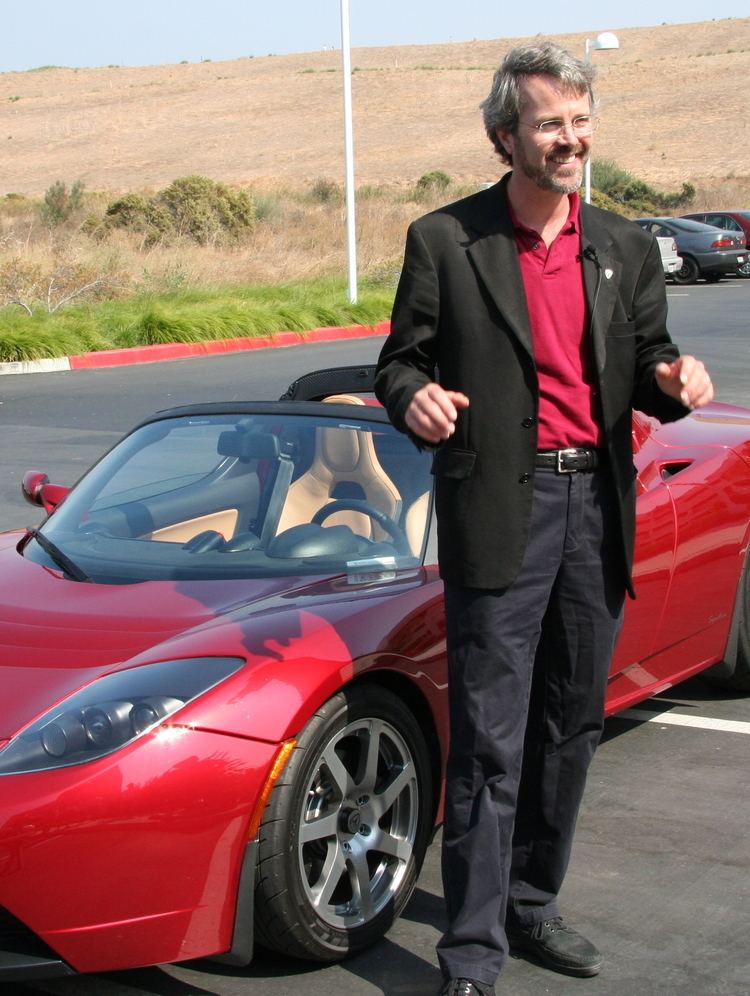 Eberhard received his undergraduate degree in computer engineering in 1982, from the University of Illinois at Urbana-Champaign. He subsequently earned his Masters Degree in electrical engineering in 1983 from the same school.
Early career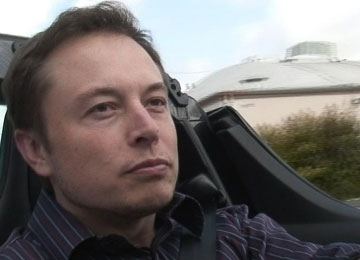 Eberhard began his career as an electrical engineer at Wyse Technology, where he designed the WY-30 ASCII computer terminal as his first product. Later, Eberhard co-founded and founded start-up companies Network Computing Devices, Inc. (making X Window-based network terminals) and NuvoMedia that created one of the first e-book readers, the Rocket eBook.
Tesla Motors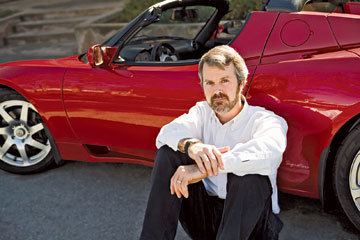 Eberhard's interest in sports cars, dependence on oil imported, and global warming led him to found Silicon Valley's first automobile company. In 2003 Eberhard co-founded (with Marc Tarpenning) and became the first CEO of Tesla Motors, an electric car company in San Carlos, California. Eberhard drives the second of Tesla Motors Founder's Series Roadsters cars, which is the first series of the Tesla Roadster. The Tesla Roadster is a battery electric sportscar with 244 miles (393 km) (EPA) range.
On November 30, 2007 Tesla released a press release titled "Martin Eberhard, Co-founder of Tesla Motors, to Transition to Advisory Board." According to the Tesla Motors Club forum and CNN Money, Martin was asked to leave, but the reason for being asked is not publicly available.
On January 7, 2008, the New York Times reported that Tesla Motors issued a statement explaining that the co-founder and former chief executive, Martin Eberhard, "has transitioned from the board of directors and executive management of the company to the advisory board." On January 7, 2008, Eberhard confirmed that he was no longer employed in Tesla Motors and was only a shareholder in the company. He said he planned to start another company entirely in the green tech field. Eberhard maintained a blog at teslafounders.com that had his version of Tesla's history while he had a lawsuit against Elon Musk for libel until he dropped his lawsuit in August 2009; the blog was deleted afterwards and it is assumed there was a settlement between the parties.
2010-2015
In 2010, Martin Eberhard confirmed to Autoblog Green that he was doing work with Volkswagen, but no further details have been provided.
Later, he worked at Lucid Motors, a startup funded by LeEco and others which was created to compete with Tesla, until 2015.
inEVit
In 2017, Eberhard founded inEVit in a bid to supply major OEMs with electric drivetrains and power storage solutions.
Quotes
"A key element to be a successful entrepreneur is a certain amount of naiveté, because if you actually know how hard the problem is when you set out, you don't do it." - Stanford University, 10/10/07
"We're not just juggling a lot of balls. We're juggling knives and chainsaws and burning things. We have to catch every one of them, and we have to catch them by their handles."
"Without plug-in capability, a hybrid is just a gasoline-powered car with some fancy hardware"
Personal life
He is married to Carolyn Eberhard and they met at University of Illinois where they have been annual donors to the university's College of Engineering since 1984.
References
Martin Eberhard Wikipedia
(Text) CC BY-SA