Nationality

British


Name

Mark Wing-Davey




Awards

Obie Award for Direction




Years active

1974–2013




Parents

Anna Wing, Peter Davey


Occupation

Actor and director




Partner

Anita Carey


Alma mater

Cambridge University


Role

Actor








Born

30 November 1948 (age 74) (

1948-11-30

) London, England, UK


Education

University of Cambridge, Woolverstone Hall School


Movies and TV shows

The Hitchhiker's Guide to t, Breaking Glass, The Glittering Prizes, The Grey Zone, An Englishman Abroad



Similar

Anna Wing, Geoffrey McGivern, Sandra Dickinson
Interview with mark wing davey director of the school for wives
Mark Wing-Davey (born 30 November 1948) is a British actor and director.
Contents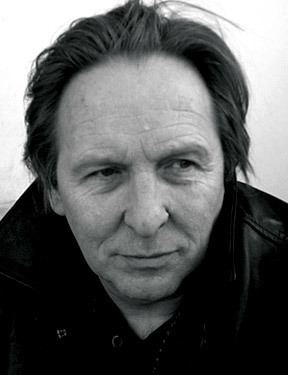 Mark Wing Davey Message to BFI Hitchhiker's Guide to the Galaxy event
Early life and career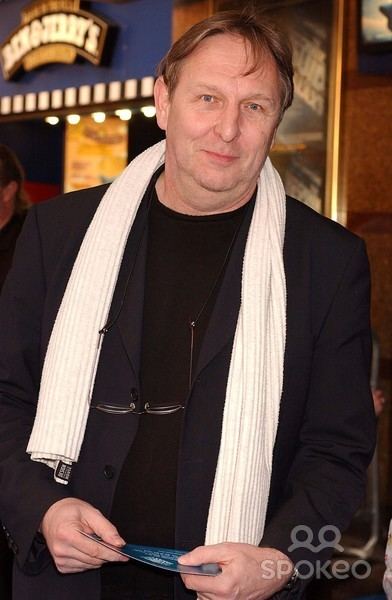 The son of actor and actress Peter Davey and Anna Wing, Wing-Davey attended Woolverstone Hall School before attending the University of Cambridge, where he was a member of the Footlights between 1967 and 1970.
He had a featured role in the 1976 miniseries The Glittering Prizes. This role was later cited as the reason for his being cast in arguably his most memorable role, that of the two-headed Galactic President, Zaphod Beeblebrox, in the radio and TV versions of The Hitchhiker's Guide to the Galaxy, written by Douglas Adams. He played a barrister in some episodes of the ITV television series Crown Court, King Henry V in Episode 3 of James Burke's Connections, a record company executive in Breaking Glass (1980) and an accountant in Absolutely Fabulous.
In the 1983 television production of Alan Bennett's An Englishman Abroad, Wing-Davey played the title role in the Shakespeare Memorial Theatre's 1958 Moscow staging of Hamlet. He works mainly in theatre now as a performer, director and teacher. He has many directing credits, including James Stock's Star-Gazy Pie and Sauerkraut (Royal Court Theatre, 1995) and Caryl Churchill's Mad Forest, for which he won an Obie award. He was the first Artistic Director of The Actors Centre, London.
In 2003, he returned to the role of Zaphod Beeblebrox for the Above the Title production of the Hitchhiker's Guide Tertiary to Quintessential Phase radio dramas for BBC Radio 4. More recently he has provided the voice of Judge Ghis in the English version of Final Fantasy XII. Wing-Davey directed the off-Broadway production of Unconditional by Brett C. Leonard at The Public Theater. It was put up by Philip Seymour Hoffman's theater group, LAByrinth Theater Company, of which he is a member. It opened in February 2008.
In May 2008, New York University's Tisch School of the Arts announced that Wing-Davey had been named Chairman of, and arts professor in, the School's Graduate Acting Program. He reprised the role of Zaphod Beeblebrox in 2012 for a live tour of The Hitchhiker's Guide to the Galaxy. Also in 2012, Wing-Davey directed the world premiere of Brett C. Leonard's "Ninth and Joanie" in a LAByrinth Theater Company production. In 2013, he conceived and directed William Shakespeare's Pericles, Prince of Tyre at Berkeley Repertory Theatre.
Filmography
Actor
2016
The Hitchhiker's Guide to the Galaxy Radio Show Live
as
Zaphod Beeblebrox
2014
Fort Tilden
as
Harper's Dad (voice)
2006
Final Fantasy XII (Video Game)
as
Judge Magister Ghis (English version, voice)
1997
The Bill (TV Series)
as
Martin Blackmore
- Stolen Thunder (1997) - Martin Blackmore
1997
Absolutely Fabulous: Absolutely Not! (Video)
as
Accountant Malcolm
1994
Absolutely Fabulous (TV Series)
as
Malcolm
- Poor (1994) - Malcolm
1992
The Good Guys (TV Series)
as
Waterfield
- Verschwinden (1992) - Waterfield
1991
One Against the Wind (TV Movie)
as
Col. Miles Grant, Leggat's CO
1988
Chelmsford 123 (TV Series)
as
Clupeus / Triconus
- Something Beginning with E (1990) - Clupeus
- Vidi, Vici, Veni (1988) - Triconus
1990
Chillers (TV Series)
as
Tom
- A Bird Poised to Fly (1990) - Tom
1989
Resurrected
as
Major Dunbar
1989
Screen Two (TV Series)
as
Dr. Powell
- Virtuoso (1989) - Dr. Powell
1988
Tumbledown (TV Movie)
as
Adjutant Stewart Inglis
1988
The Comic Strip Presents (TV Series)
as
Party Guest
- Didn't You Kill My Brother? (1988) - Party Guest
1988
Ten Great Writers of the Modern World (TV Mini Series documentary)
as
Franz Kafka
- Franz Kafka's 'The Trial' (1988) - Franz Kafka (voice)
1987
A Sort of Innocence (TV Series)
as
Headmaster
- Episode #1.6 (1987) - Headmaster
1985
Juliet Bravo (TV Series)
as
John Thorpe
- Talk to Me (1985) - John Thorpe
1985
Dempsey and Makepeace (TV Series)
as
Mark Savory
- Armed and Extremely Dangerous (1985) - Mark Savory
1984
Big Deal (TV Series)
as
Vivian Clifford
- Fighting Chance (1984) - Vivian Clifford
1984
Weekend Playhouse (TV Series)
as
Roland
- Not That Kind of People (1984) - Roland
1984
A Winter Harvest (TV Series)
as
Patrick Ashurst
- Rough Weather (1984) - Patrick Ashurst
- The Drift (1984) - Patrick Ashurst
- The Lie of the Land (1984) - Patrick Ashurst
1983
An Englishman Abroad (TV Movie)
as
Hamlet
1983
Richard III (TV Movie)
as
Sir James Tyrrel
1976
Crown Court (TV Series)
as
Jocelyn Simpson / Defence Counsel
- None of Your Business: Part 1 (1983) - Defence Counsel
- Pigmented Patter: Part 3 (1976) - Jocelyn Simpson
- Pigmented Patter: Part 2 (1976) - Jocelyn Simpson
- Pigmented Patter: Part 1 (1976) - Jocelyn Simpson
1983
The Third Part of Henry the Sixth (TV Movie)
as
Earl of Warwick
1983
The Second Part of Henry the Sixth (TV Movie)
as
Earl of Warwick
1983
The First Part of Henry the Sixt (TV Movie)
as
Earl of Warwick
1981
The Hitchhiker's Guide to the Galaxy (TV Series)
as
Zaphod Beeblebrox
- Episode #1.6 (1981) - Zaphod Beeblebrox
- Episode #1.5 (1981) - Zaphod Beeblebrox
- Episode #1.4 (1981) - Zaphod Beeblebrox
- Episode #1.3 (1981) - Zaphod Beeblebrox
- Episode #1.2 (1981) - Zaphod Beeblebrox
1980
ITV Playhouse (TV Series)
as
Bill Richards
- New Girl in Town (1980) - Bill Richards
1980
A Question of Guilt (TV Series)
as
Edwin / Edwin Bartlett
- Adelaide Bartlett: Part 8 (1980) - Edwin
- Adelaide Bartlett: Part 7 (1980) - Edwin Bartlett
- Adelaide Bartlett: Part 6 (1980) - Edwin
- Adelaide Bartlett: Part 5 (1980) - Edwin Bartlett
- Adelaide Bartlett: Part 4 (1980) - Edwin
- Adelaide Bartlett: Part 3 (1980) - Edwin
- Adelaide Bartlett: Part 2 (1980) - Edwin Bartlett
- Adelaide Bartlett: Part 1 (1980) - Edwin Bartlett
1980
Breaking Glass
as
Fordyce
1978
Connections (TV Mini Series documentary)
as
Henry V
- Distant Voices (1978) - Henry V
1975
Play for Today (TV Series)
as
Brian / Ben Good
- Stronger Than the Sun (1977) - Brian
- The After Dinner Game (1975) - Ben Good
1976
Meetings, Bloody Meetings (Video short)
as
Businessman
1976
The Glittering Prizes (TV Mini Series)
as
Mike Clode
- A Double Life (1976) - Mike Clode
- A Past Life (1976) - Mike Clode
- A Love Life (1976) - Mike Clode
- An Early Life (1976) - Mike Clode
1976
Red Letter Day (TV Series)
as
Terry
- Ready When You Are, Mr. McGill (1976) - Terry
1976
Out of the Trees (TV Movie)
1975
Thriller (TV Series)
as
Cater
- The Fear is Spreading (1975) - Cater
1974
Horizon (TV Series documentary)
as
Joey's Father
- Joey (1974) - Joey's Father
Producer
2011
Candlesticks (Short) (executive producer)
Thanks
2009
Leaves of Grass (the director wishes to thank)
Self
2005
Inside 'The Hitchhiker's Guide to the Galaxy' (TV Movie documentary)
as
Self
2004
Ultimate Sci-Fi Top 10 (TV Mini Series documentary)
as
Self
1993
The Making of 'The Hitch-Hiker's Guide to the Galaxy' (Video documentary)
as
Self
1981
Ask Aspel (TV Series)
as
Self
- Episode #14.1 (1981) - Self
References
Mark Wing-Davey Wikipedia
(Text) CC BY-SA