Preceded by

Kathleen Sebelius




Name

Mark Parkinson




Preceded by

John Moore




Role

Former Governor of Kansas





Spouse(s)

Stacy Abbott




Party

Democratic Party




Children

Alex Sam Kit




Succeeded by

Sam Brownback






Born

June 24, 1957 (age 58) Wichita, Kansas, U.S. (

1957-06-24

)


Political party

Republican Party (Before 2006) Democratic Party (2006–present)




Alma mater

Wichita State University University of Kansas




Education

University of Kansas School of Law, Wichita Heights High School, Wichita State University, University of Kansas




Previous offices

Governor of Kansas (2009–2011), Lieutenant Governor of Kansas (2007–2009)
Mark V. Parkinson (born June 24, 1957) is the president and chief executive officer of the American Health Care Association (AHCA) and the National Center for Assisted Living (NCAL). A former Republican, Parkinson is currently a member of the Democratic Party. He was the 45th Governor of Kansas and a member of both the Kansas House of Representatives and the Kansas Senate.
Contents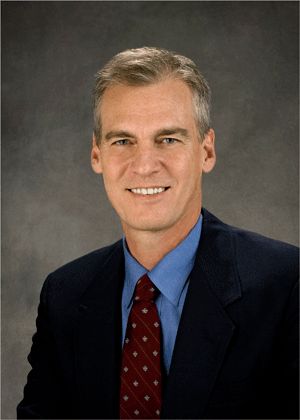 Early life and career
Parkinson was born in Wichita, Kansas, into a family which has its roots in Scott City, where they still own a farm. Parkinson graduated from Wichita Heights High School before graduating summa cum laude from Wichita State University in 1980 and finishing first in his class at the University of Kansas Law School in 1984. Parkinson then entered private practice, forming his own law practice of Parkinson, Foth & Orrick. In 1996, Parkinson left his law practice to develop elder care facilities.
Political career
Parkinson entered Kansas politics as a Republican in 1990. He served in the Kansas House of Representatives from 1991 to 1992 and the Kansas Senate from 1993 to 1997. From 1999 to 2003 he was Chairman of the Kansas Republican Party. In 2004 he served as chairman of the Shawnee Area Chamber of Commerce board, and in 2005, served as the "Chair of the Chairs" of the six Chambers of Commerce in Johnson County.
Party switch
In May 2006, Governor Kathleen Sebelius announced that Parkinson had switched parties and was her running mate for her reelection campaign, succeeding retiring lieutenant governor John E. Moore (also a former Republican who had switched parties shortly before he joined a ticket with Sebelius). Parkinson's business experience and track record of working with both Republicans and Democrats were the reasons Sebelius gave for choosing him.
The Kansas Republican Party immediately labeled Parkinson a hypocrite, citing 2002 quotes where Parkinson called Sebelius a "left-wing liberal Democrat" and claimed that any Republicans who supported her were "either insincere or uninformed." Parkinson responded to the criticism by saying he had doubted Sebelius four years earlier, but came to believe she provided "independent leadership" for the state. He stated: "In an age where leaders duck responsibility and dodge their mistakes let me be the first to say: I was wrong." Some viewed his switch as opportunism; others felt his decision was another example of the bitter divide between moderates and conservatives in the Kansas Republican Party, and that the move encouraged more moderate Republican voters to move closer to the Democratic Party.
As of present date Parkinson is the only man to serve as delegate for both RNC and DNC elections. Parkinson is also the only Democratic Governor to succeed a Democratic Governor in Kansas history.
Ascension to governor
In March 2009, Barack Obama announced Governor Sebelius as his nominee for U.S. Secretary of Health and Human Services. Sebelius resigned following her confirmation April 28, 2009, and Parkinson was sworn in as Governor of Kansas the same day. Parkinson stated he would not be a candidate for Governor in 2010. Parkinson was succeeded by outgoing Republican United States Senator Sam Brownback
During his term as governor, Kansas developed a comprehensive energy policy and a ten-year transportation plan for maintaining the state's infrastructure. Citing his bipartisan support and ability to move the state forward in challenging economic times, The Topeka Capital-Journal named Parkinson "Kansan of the Year" in 2009.
Elder care
Parkinson is currently president and chief executive officer of the American Health Care Association (AHCA) and the National Center for Assisted Living (NCAL), which represents more than 12,000 non-profit and proprietary skilled nursing centers, assisted living communities, sub-acute centers and homes for individuals with intellectual and developmental disabilities.
Recognitions
In late 2010, Parkinson was honored by the Kansas Advocates for Better Care (KABC) for his work in elder care. Governor Parkinson received the organization's second annual Caring Award, which is given to recognize exemplary contributions of leadership in providing quality care for frail elders and persons with disabilities in Kansas.
As President and CEO of AHCA/NCAL, Parkinson was recognized by CEO Update as a Top Association CEO of 2013. Parkinson has been recognized as a Top Association Lobbyist by The Hill newspaper in 2013 and in 2014.
References
Mark Parkinson (Kansas politician) Wikipedia
(Text) CC BY-SA