Covid-19
Mario Pavone




Bassist








Blue Dialect, Arc Trio, Street Songs, Trio Arc




Thomas Chapin, Tyshawn Sorey, Marty Ehrlich, Matt Mitchell, Hotep Idris Galeta




University of Connecticut



Mario Pavone (born November 11, 1940) is an American jazz bassist.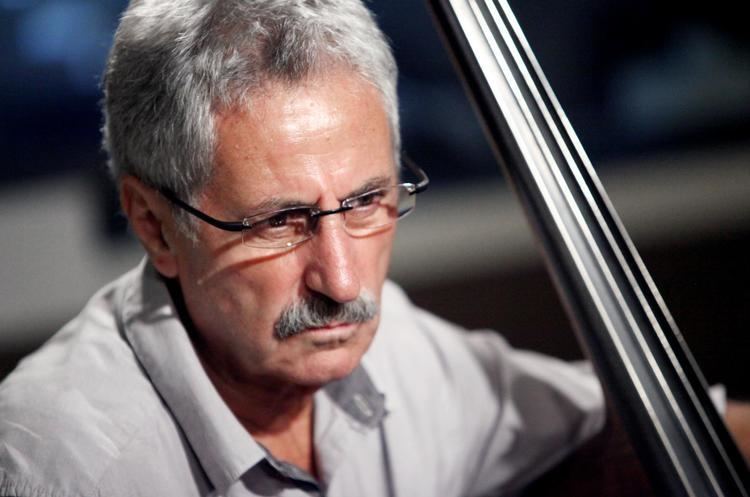 He grew up in Waterbury, Connecticut and began performing in 1965. He was a member of Paul Bley's trio during 1968-72, and Bill Dixon's trio during the 1980s. He also performed with such musicians as Barry Altschul, Wadada Leo Smith, and Gerry Hemingway. Pavone recorded his first album as a leader in 1979, and has since recorded over a dozen albums under his name. Pavone co-led a group with Anthony Braxton in the early 1990s, with Braxton on piano rather than his usual saxophones. In 1980 he began an 18-year musical relationship with saxophonist Thomas Chapin. Along with drummer Michael Sarin, the group recorded seven albums for Knitting Factory Records, which also released an eight-CD box set of these albums plus a live recording following Chapin's death in 1998.
Since Chapin's death, Pavone has led many of his own groups, performing widely throughout North America and Europe. He also co-led a group with Michael Musillami. His groups have included, among others: Michael Sarin, Matt Wilson, Gerald Cleaver, Peter Madsen, Joshua Redman, Tony Malaby, Dave Douglas, Steven Bernstein, George Schuller, Craig Taborn and Jimmy Greene.
Digit (Alacra, 1979)
Shodo (Alacra, 1981)
Sharpeville (Alacra, 1988)
Toulon Days (New World/Countercurrents, 1992)
Duets (1993) (Music and Arts, 1993) with Anthony Braxton
Seven Standards 1995 (Knitting Factory, 1994) with Anthony Braxton
Song for (Septet) (New World/Countercurrents, 1995)
Dancer's Tales (Knitting Factory, 1997)
Remembering Thomas (Knitting Factory, 1999)
Op-Ed (Playscape, 2000) with Michael Musillami
Motion Poetry (Playscape, 2001) with Michael Musillami
Totem Blues (Knitting Factory, 2001)
Pivot (Playscape, 2002) with Michael Musillami
Mythos (Playscape, 2002)
Orange (Playscape, 2003)
Boom (Playscape, 2004)
Deez to Blues (Playscape, 2006)
Trio Arc (Playscape, 2008) with Paul Bley
Ancestors (Playscape, 2008)
Arc Suite T/Pi T/Po (Playscape, 2010)
Arc Trio (Playscape, 2013)
Street Songs (Playscape, 2014)
Blue Dialect (Clean Feed, 2015)
Vertical (Clean Feed, 2017)
Chrome (Playscape, 2017)
With Samm Bennett
Knitting Factory Tours Europe 1991 (Knitting Factory, 1991)
With Sangeeta Michael Berardi
Divine Song (New Pulse Artists, 1979)
With Paul Bley
Canada (Radio Canada, 1968)
Dual Unity (Freedom, 1972) with Annette Peacock
With Anthony Braxton
Six Standards (Quintet) 1996 (Splasc(H), 1996 [2004]) with Dave Douglas
With Thomas Chapin
Third Force (Knitting Factory, 1990)
Insomnia (Knitting Factory, 1991)
Anima (Knitting Factory, 1992)
Menagerie Dreams (Knitting Factory, 1994)
Haywire (Knitting Factory, 1996)
Sky Piece (Knitting Factory, 1998)
Nightbird Song (Knitting Factory, 1992 [1999])
Alive (Knitting Factory, 1990-96 [1999]) - 8CD compilation
Ride (Playscape, 1995 [2006])
With the Creative Improvisers Orchestra
The Sky Cries the Blues (CMIF, 1982)
With Bill Dixon
November 1981 (Soul Note, 1982)
Thoughts (Soul Note, 1987)
Son of Sisyphus (Soul Note, 1990)
With Vernon Frazer
Sex Queen of the Berlin Turnpike (Woodcrest, 1988)
With Motation
Live at the Hillside (Alacra, 1988)
With Michael Pavone
Trio (Playscape, 2001)
With Dan Rose
Close Opposites (Alacra, 1979)
Mario Pavone Wikipedia