Covid-19
Marie Collonville







Marie Collonvillé (born 23 November 1973 in Amiens) is a French heptathlete.
She was the first-ever IAAF-recognised world record holder in the women's decathlon; the event was officially recognised from 1 January 2005, and her mark of 8160 set in Talence on 26 September 2004 was broken by Austra Skujytė on 15 April 2005.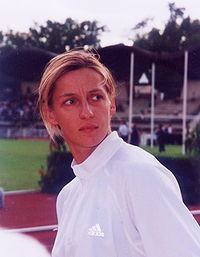 She was a regular competitor at the annual Hypo-Meeting.
100 metres – 12.54 (2006)
200 metres – 24.71 (1997)
800 metres – 2:10.90 (1999)
100 metres hurdles – 13.52 (2000)
High jump – 1.94 (1997)
Long jump – 6.44 (2006)
Shot put – 12.73 (2006)
Javelin throw – 49.14 (2004)
Heptathlon – 6350 (1997)
Decathlon – 8150 (2004)
Marie Collonvillé Wikipedia