Nationality

German




Name

Maria Koepcke





Education

University of Kiel




Fields

Ornithology






Born

15 May 1924 Germany (

1924-05-15

)


Died

December 24, 1971, Amazon rainforest, Amazonas, Brazil




Spouse

Hans-Wilhelm Koepcke (m. 1950)




Books

The Birds of the Department of Lima, Peru
Maria Koepcke (or Köpcke) (1924-1971), was a German-born ornithologist who worked in Peru as the head of the bird and mammal department of the Natural History Museum in Lima
Contents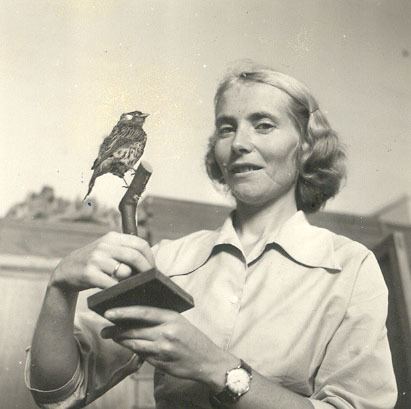 Koepcke, originally Maria Emilie Anna von Mikulicz-Radecki, was born and educated in Germany, earning a PhD in Zoology from Kiel University in 1949. She then moved to Peru, where she married zoologist Hans-Wilhelm Koepcke in 1950. Together they collaborated on much of their scientific work and publications, and had a daughter named Juliane who also became an ornithologist. Maria Koepcke was a successful Neotropical ornithologist at a time when South American ornithology was largely male-dominated (although there were others like Emilie Snethlage).
Death
On Christmas Eve 1971, Koepcke traveled with her 17-year-old daughter on LANSA Flight 508 from Lima to Pucallpa to join her husband for a holiday. The plane encountered a severe thunderstorm, was hit by lightning, and disintegrated above the Amazon Rainforest. Seated next to each other, the Koepkes were separated in mid-air (with Juliane remaining belted to their row of three seats), and both survived the fall. Coming to rest in different areas of the jungle floor, Maria was badly injured and died several days later as did all the rest of the 92 passengers other than Juliane. Juliane survived despite sustaining a broken collar bone and an injury in the right eye. After eleven days traveling through the jungle, Juliane managed to reach a shelter that belonged to lumbermen, and was rescued on 3 January 1972.
Maria Koepcke was a member of the Deutsche Ornithologen-Gesellschaft from 1951 and a corresponding member from 7 October 1971.
Juliane returned to Germany in March 1972, where she fully recovered from her injuries, continued her studies, and became a PhD zoologist like her parents. Juliane returned to Panguana, the nature reserve founded by her parents, to study butterflies for her dissertation, and again to study the behavior of bats for her PhD. Juliane continues to return to Peru often, accompanied by her husband, where together they continue the conservation legacy of her parents.
Koepcke is commemorated in the names of:
Koepcke's screech owl, Megascops koepckeae
Koepcke's hermit, Phaethornis koepckeae
Selva cacique, Cacicus koepckeae
Sira curassow, Pauxi koepckeae
A Peruvian lizard, Microlophus koepckeorum (genitive plural), along with her husband
Journals
Niethammer, G. (1974). "Maria Koepcke geb. Mikulicz-Radecki". Journal of Ornithology. 115: 91. doi:10.1007/BF01647319.
Rea, Amadeo M. & Kostritsky, B. León (1973). "Obituary: Maria Emilie Anna von Mikulicz-Radecki Koepcke"

(PDF)

. Auk. 90 (3): 735–736. doi:10.2307/4084200.
Vuilleumier, François (1995). "Five Great Neotropical Ornithologists: An Appreciation of Eugene Eisenmann, Maria Koepcke, Claës Olrog, Rodulfo Philippi, and Helmut Sick"

(PDF)

. Ornitología Neotropical. 6 (2): 97–111.
References
Maria Koepcke Wikipedia
(Text) CC BY-SA