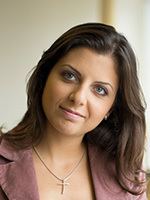 Simonyan was born in the southern Russian city of Krasnodar into an Armenian family. Both of her parents are descendants of Armenian refugees from the Ottoman Empire. Her father's family, originally from Trabzon, settled in Crimea during the Armenian Genocide of 1915. During World War II, they were deported to the Urals along with thousands of other Hamshen Armenians. Her father was born in Yekaterinburg (Sverdlovsk). Her mother was born in Sochi to an Armenian family that had fled the massacres of the Armenians in the late 19th century. Her family owns a restaurant in Moldovka town in Adlersky City District, Sochi. She is from a working-class family and decided at an early age she wanted to become a journalist. She first worked for the local newspaper, and then for a local television station while studying journalism at Kuban State University.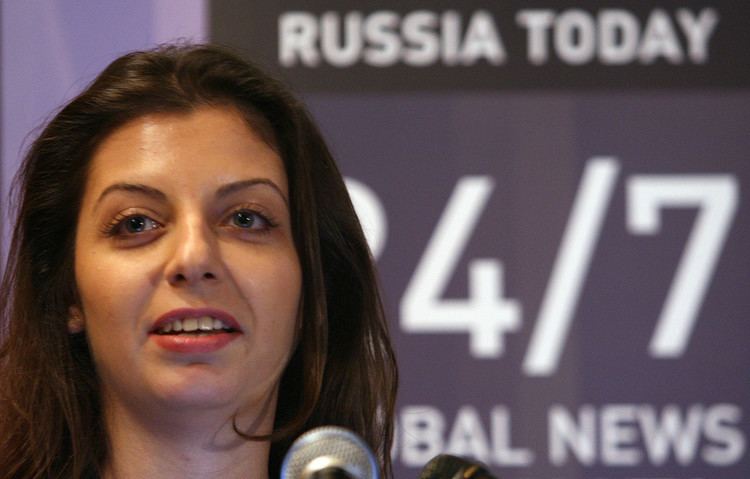 In 1996, Simonyan spent a year in Bristol, New Hampshire, as part of Future Leaders Exchange student exchange program. She says during that time she discovered Russians and Americans "are so much alike in terms of culture, in terms of family values, ways of life, reactions, sense of humor".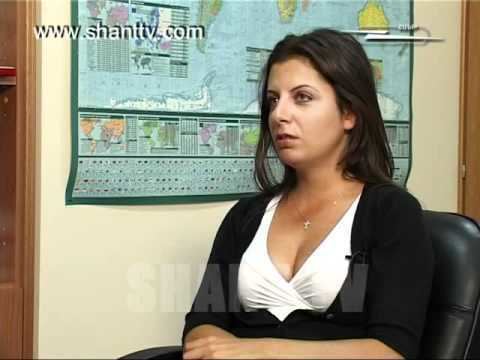 Simonyan covered the Second Chechen War and serious flooding in Russia's south for her local television station, receiving an award for "professional courage". In 2002, she became a regional correspondent for Russia's national Rossiya television channel and covered the 2004 Beslan school hostage crisis. Simonyan, one of the first journalists to arrive at the scene, witnessed the killing of 334, 186 of them children. She told an interviewer "It was the worst thing that ever happened to me," and that she cried frequently while trying to write about it. She then moved to Moscow and joined the Russian pool of Kremlin reporters.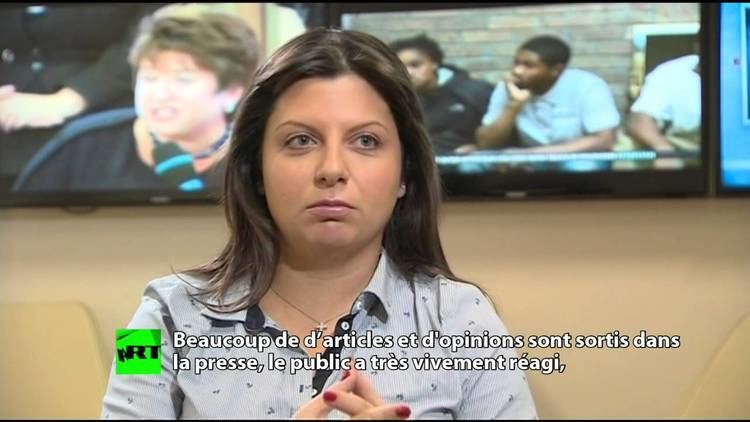 She was the first Vice-President of the Russian National Association of TV and Radio Broadcasters and a member of The Civic Chamber of the Russian Federation. In 2010, her first book, Heading to Moscow! was published.
Simonyan was only 25 when appointed editor-in-chief of RT in 2005, but had been working in journalism since she was 18. She stated in a 200 interview that "her age often leads people to make assumptions about how she got her job." Andrei Richter, the director of the Moscow Media Law and Policy Institute and a journalism professor at Moscow State University, suggests that she was "appointed because she is well-connected." Some sources describe her as a Kremlin loyalist who is close to Vladimir Putin. She admits that Vladimir Putin once sent her flowers. When asked about the flowers incident Simonyan explained, "At a press conference, where President Putin was talking with the President of Tajikistan. It was my twenty-fifth birthday, which is a special anniversary. The other journalists were talking about it, the President heard them, and that was how I received the flowers. It was very spontaneous. I don't think that you can call it a presidential high regard". Simonyan has explained to reporters that after the fall of the Soviet Union many older Soviet journalists were not wanted by new media enterprises which preferred less experienced young journalists, thus the youth of most of the staffers.
RT started broadcasting on 10 December 2005 with a staff of 300 journalists, including approximately 70 from outside Russia. Simonyan frequently addresses media questions about RT's journalistic and political stands. At its launch, Simonyan stated that RT's intent was to have a "professional format" like the BBC, CNN and Euronews that would "reflect Russia's opinion of the world" and present a "more balanced picture" of Russia. She also told a reporter that the government would not dictate content and "Censorship by government in this country is prohibited by the constitution." She later told The Moscow Times that RT started to grow once it became provocative and that controversy was vital to the station. She said that RT's task was not to polish Moscow's reputation. The station has however been criticised repeatedly in the west for perceived bias. Symonyan has been quoted as saying: "There is no objectivity – only approximations of the truth by as many different voices as possible".
She discussed her views of RT's coverage of the 2008 South Ossetia war, where Russia backed South Ossetia against the country of Georgia, with The Washington Times. She stated that among English speaking channels, only RT was giving the South Ossetian side of the story. She rejected the allegation of Will Dunbar, an RT correspondent who left after alleging RT was downplaying Russian bombing raids, and denied his claims of censorship. She stated that compared to some other stations, "We are not making a secret out of the fact that we are a Russian station, and, of course, we see the world from a Russian point of view. We are being much more honest in that sense."
On 31 December 2013, she was cross-appointed as editor-in-chief of the new government owned news agency Rossiya Segodnya and serves as editor-in-chief of both organizations concurrently.
She is married to the journalist and producer Andrey Blagodyrenko. She gave birth to their daughter, Mariana, in August 2013.
In September 2014, Margarita gave birth to a son Bagrat, whose father is film director Tigran Keosayan.
Simonyan is fluent in Russian and English. She stated in a 2012 interview that she regrets not knowing Armenian, but explained that it is because her family never spoke Armenian at home due to dialectal differences.
Order of Friendship (2007)
Movses Khorenatsi medal (2010)
Order For Merit to the Fatherland 4th class (2014)