Márcio Navarro (pronounced ; born September 17, 1978) is a Brazilian professional mixed martial artist and professional kickboxer. Navarro was the International Sport Karate Association (ISKA) light middleweight oriental rules world champion. Navarro also is an instructor at Valor Martial Arts in Wichita, Kansas.
Contents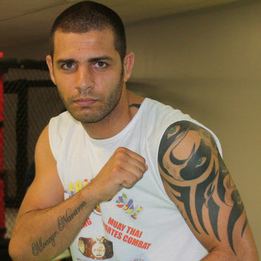 Thomas schulte vs marcio navarro
Kickboxing career
Navarro began training in kickboxing in 1992. He won the vacant ISKA light middleweight oriental rules world championship belt on September 21, 2012 defeating Thomas Longacre by split decision (49-48, 48-49 and 49-48). He later vacated the title because he was not defending it due to focusing on mixed martial arts.
MMA career
Navarro began his MMA career in 2008 with TKO victory over Sandro Vieira da Silva in his hometown of Indaiatuba, Brazil. Shortly after the fight, he moved to the United States. Navarro fought his first fight in the United States on November 9, 2008 against Adam Sohayda in Orange County, California. He won the fight by TKO in the 2nd round. On October 29, 2011 fought Rudy Bears on Bellator LVI in the Local Feature Fights. Navarro defeated Bears by split decision. Navarro has fought 29 fights in his career winning 15. Navarro fought Donnie Bell at Bellator CIII and lost via submission by rear neck crank. Navarro fought in his third Bellator fight at Bellator CXIII against Bobby Cooper and lost the fight via unanimous decision, extending his losing streak to four fights. Navarro broke his losing streak with a 1st-round knockout of local fighter Demian Papagni. He fought his fourth Bellator fight at Bellator 130 against Cody Carrillo. Carillo gave a verbal submission from multiple punches.
Personal
Navarro is married with four children. Navarro teaches kickboxing, MMA, Capoeira, Brazilian Jiu-Jitsu, and fitness classes at Valor Martial Arts in Wichita, Kansas.
References
Marcio Navarro Wikipedia
(Text) CC BY-SA