Length

724 km




Basin area

30,844 km²




Basin area

30,844 km²




Mouth

Godavari River






- location

Kandhakurthi, Telangana, India
The Manjeera also spelled Manjiira is a tributary of the river Godavari. It passes through the states of Maharashtra, Karnataka and Telangana. It originates in the Balaghat range of hills near Ahmednagar district at an altitude of 823 metres (2,700 ft) and empties into the Godavari River. It has a total catchment area of 30,844 square kilometres (3,084,400 ha).
Contents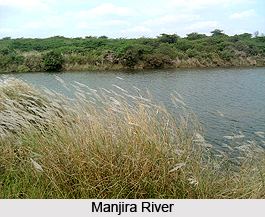 Tributaries
Manjara is the main river which Its origin is near the Gaukhadi Village of Beed district. The river flows from the northern boundaries of the Osmanabad district and cutting across the Latur district goes to Karnataka State, Telangana & finally Andhra Pradesh. It flows on the Balaghat plateau along with its tributaries: Terna, Tawarja and Gharni. The other three tributaries of Manjara are Manyad, Teru and Lendi which flow on the northern plains.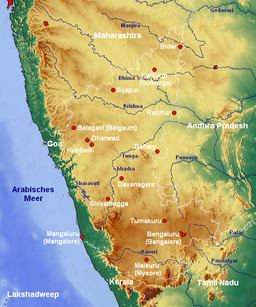 Terna River :This is the main tributary of Manjara which flows on the southern boundary of the Ausa taluka .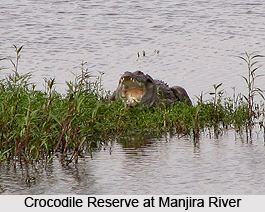 Manyad : This river takes its origin at Dharmapuri in Beed district and flows through the Ahmadpur taluka into Nanded district.
Lendi : The river has its origin in Udgir taluka and flowing through the Ahmadpur taluka joins the Tiru river in Nanded district .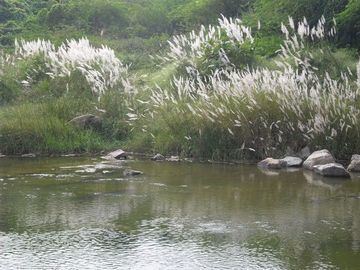 Gharni : The river has its origin near Wadval and flows through Chakur taluka.
Tawarja : Tawarja originates near Murud in Latur taluka and joins the Manjara river at Shivani on the Latur-Ausa boundary.
Nizam Sagar was constructed across the Manjra River between Achampeta and Banjapalle villages of the Nizamabad district in Telangana, India. The most outstanding feature of the project is the gigantic masonry dam sprawling across the river for 3 kilometers with a motorable road of 14 feet width.
The Singur Reservoir on Manjra River in Medak District is the main drinking water source for the Medak and Nizamabad districts as well as the adjoining twin cities of Hyderabad and Secunderabad. Manjra river is also serving for Bidar city.
In the late 20th and early 21st centuries the upper reaches of the Manjira in Maharashtra suffered environmental degradation which increased run-off, as opposed to ground water recharge, and increased erosion and silting.
Manjira river between achampeta and banjapalle villages
References
Manjira River Wikipedia
(Text) CC BY-SA