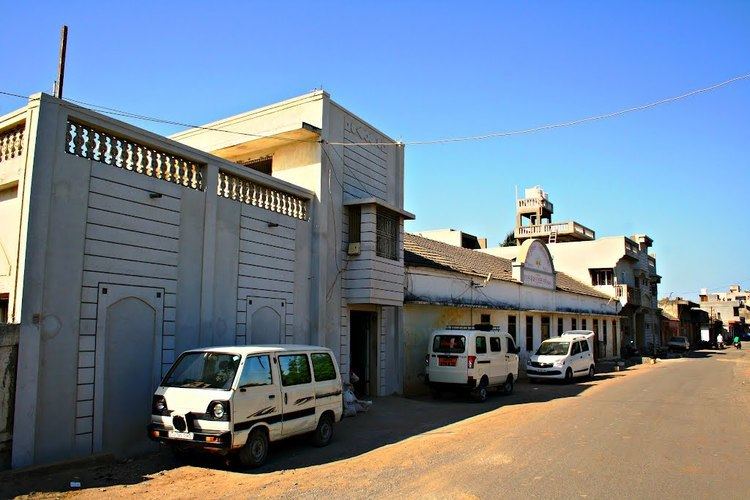 Bantva Manavadar was a princely state of British India. Founded in 1733, it became a British protectorate in 1818. On 25 September 1947, it acceded to the newly formed Pakistan. However, Indian forces entered the area on the grounds that the state was a vassal of the Junagadh state, which was itself a vassal of the Baroda state that had acceded to India. Subsequently, after a successful plebiscite, the state was absorbed into the Union of India on 15 February 1948.
It was also known as the Asia's third center for cotton ginning. It contained almost around more than 75 ginning factories of cotton. List of Companies of cotton market holding the top positions.
1. Ramji Parbat & Co. 2. Nutan Ginning & Pressing Factory. 3. Patel Nathalal Vasram & Co.
Manavadar Has also two persons who are very clever and Intelligent. Mr. Panara and Mr. Pravinbhai Raval. Manavaar State had get expenses of their further education. Mr. Panara Became an Engineer and Mr. Pravinbhai Raval became a Doctor.
Mr. B. L. Raval was also a grateful character of Manavadar. He was born in a Poor Brahman family and became a prestigious advocate after a huge life straggle. He was an Evidence of Holly Raghulirdas Bapu. Mr. B. L. Raval was great Civil and Criminal lawyer in this aria. He was the master of food adulteration act. Now his office is running by his son Mr. Nimish B. Raval Advocate & Notary.
Manavadar is located at 21.5°N 70.13°E / 21.5; 70.13. It has an average elevation of 24 metres (78 feet).
As of 2001 India census, Manavadar had a population of 27,559. Males constitute 52% of the population and females 48%. Manavadar has an average literacy rate of 82%, higher than the national average of 59.5%: male literacy is 76%, and female literacy is 63%. In Manavadar, 12% of the population is under 6 years of age.
It has developed cotton industry and cotton and groundnut are the most cash crops of the area. The town was famous once upon a time due to its vegetable ghee industries, but in winds and sweeps of economic reform in India, all three units has been closed. Manavadar taluk have big towns or villages like Bantwa, Nanadiya, Khambhla, Nakara,Pajod, Jilana, Sardargadh (List of Indian Princely States), Mitdi, Limbuda, Indra, Sherdi, Bhimora, Galvav, Sanosara,Koyalana(Ghed), Zinzari, Chudva, Khadiya, Vadala, Sitana, Bhitana, padaradi (Ghed)(પાદરડી-ઘેડ) etc.
1. Pipleshwar Mahadev
2. Ram Mandir
3. Mahadevya
4. Gayatri Mandir
5. Pusti marg Haveli
6. Swaminarayan Mandir
9. Hadamtadi Hanuman Mandir
10. Dudheshvar Mahadev
11. Chaitanya Hanuman Mandir
12. Ganesh Mandir.
13. Kastabhanjan Mandir
14. Jalaram Mandir
15. Vasupujya Jain Mandir
16. Mashru Family Devbapa
17. Akshar Purshotam Mandir(Anoopam Mission) ammanavadar.blogspot.com
18. maneshvar mahadev mandir
19. Trambkeshvar mahadev mandir
20. Ramdevpir Mandir
21. chetany hanumanji maharaj(b/h gaytri temple)
22. B. L. Raval - Advocate's Office,±
1. Nikunj Chhelana Cyber Secure Group(Anoopam Mission)
2.State Bank Of India (Diwan Para)
3.Bank Of Baroda
4.ICICI Bank
5.HDFC Bank
6.AXIS Bank
7.Union Bank Of India
8.Bank Of India mamata dabhadkar 9.Vijya Bank
10.Dena Bank
11.Junagadh District Co-Operative Bank
12.Veraval Mercantile Bank
13.Keshav Bank
14.state bank of india (gnadhi chowk)
1.Rajput seva samaj Station road manavadar
2.Shree Veshnav Variya Prajapati Samaj Vadi
3.Shree Jalaram Temple
4.Shree Patel Samaj
5.Girnara(Jogia) Parajia Soni Samaj Vadi
6.satwara samaj bus station road
7.Shree Sorthiya Ahir Samaj (Bh.Gaytri Temple)
8.SHREE Sorathiya rabari samaj.(railway station road)
9. Bramha samaj, bh gaytri temple.
10.Shree Sorathiya Prajapati Samaj Vadi
11.shree ghediya koli seva samaj manavadar
12.shree lohana samaj vibhag - 1
13.shree lohana samaj vibhag - 2
Manavadar is very famous for a sweet named Kuvar-pak. This sweet is prepared from [Aloe Vera], Sugar, Ghee and Milk. It is generally being prepared in the winter season. It was invented by a person called Vanabapa and their family members.
now available in JAY BAJARANAG FARSAN HOUSE (Chandubhai gathiya wala) and Vanabapa kuwarpakwala.