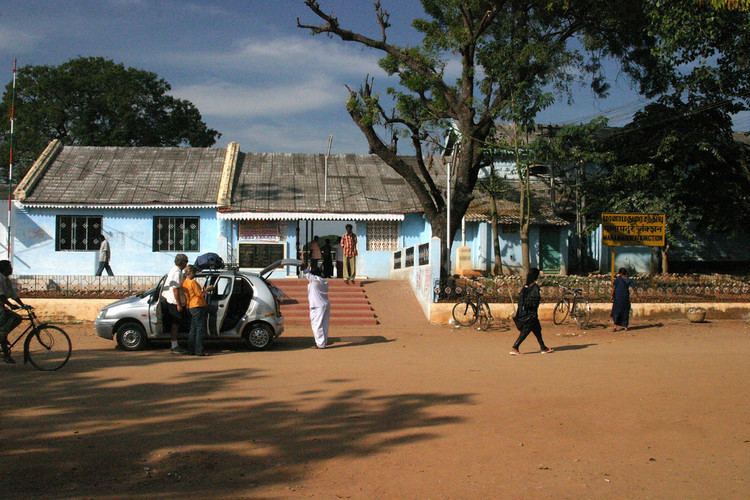 Manamadurai is located at 9.7°N 78.48°E / 9.7; 78.48. It has an average elevation of 121 metres. The Vaigai river flows from north to south through Manamadurai and divides the town into Eastern bank and Western bank.The Town Municipalities Cover an area of revenue villages Keelamelkudi,Kalkurichi,Udaikulam,Thayapuram,Sipcot,Seikalathur,Othakadai,Moongilurani Ramnagar,Maangulam,Kombukaranenthal,Pattatharechi,Pattar street,Valanaadu,Kalpiravu,Panikaranenthal,Athanoor,Keelapasalai,New vasantha nagar,Keppanoor,sangamangalam,Annavasal,Comes under Town Municipality. The functions of the municipality are devolved into six departments: general administration/personnel, Engineering, Revenue, Public Health, city planning and Information Technology (IT). All these departments are under the control of a Municipal Commissioner who is the executive head.
As of 2011 India census, Manamadurai had a population of 62,257. Males constitute 50% of the population and Females 50%. Manamadurai has an average literacy rate of 77% : Male literacy is 82%, and Female literacy is 72%. In Manamadurai, 10% of the population is under six years of age.town has 18,406 households
Manamadurai falls under Manamadurai State assembly constituency and Sivaganga Loksabha constituency.
Railway line between Rameswaram and Manamadurai became country's first green train corridor. This city is famous for manufacturing Ghatam musical instrument, Clay Pots, Clay Horse and Other clay items.
The 'Chithirai Thiruvizha' festival is celebrated every year in the Tamil month Chithirai for 10 days. The 'Sandanakoodu urus' festival is celebrated every year at Panjbeer Dargah.
The State Industries Promotion Corporation of Tamil Nadu (SIPCOT) Limited is situated in Sivagangai road, which is major employment source for people in and around Manamadurai..Manamadurai was famous for production of jasmine flowers. This industry has dwindled over time due to the destruction of gardens throughout the city. Bricks, Brick tiles and Pot making centres are major industries in Manamadurai.
SIPCOT has allocated 70 acres (280,000 m2) of land to the India's No. 3 electronic goods seller Videocon near Manamadurai to set up its manufacturing unit for refrigerators, washing machines and television sets. Company had plans to introduce a battery assembly line at this facility. This industry is first of its kind in the volume of Rs.2,000 crore in south Tamil Nadu and comes as a boon to the skilled unemployed youth in South Tamil Nadu.
Government Hospital, Thayamangalam Road
Government Veterinary Hospital
The Leprosy Mission Hospital , Dayapuram
Dr. Jayapal Nursing Home
Dr. Sivaraj Hospital
Dr. Balammal Hospital
Dr. Sundarajan Hospital
Unnamalai Ammal Hospital
Dr. Rathnakumar Hospital
Dr. Revathi Hospital
The Manamadurai Bus terminus is situated at Western bank of the city close to Mana Madurai - Rameswaram Highway. It is well connected to major cities like Madurai, Trichy, Chennai and Rameswaram.
The Manamadurai Junction railway station is situated in Southern part of the city at the Western Bank. It is a major stopping for all the trains running between Rameshwaram - Madurai, Rameswaram - Chennai and Virudhunagar - Karaikudi.
Manamadurai Head post office, since 1972, a majestic departmental building in front of Gandhi statue in the eastern bank.
Manamadurai Taluk Office, Thayapuram.
Manamadurai Union Office, Udaikulam.
Town Municipality Office, Central Market.
Manamadurai Town North Police Station, Alagar Koil Street.
Manamadurai Town All Women Police Station, Annamalai nagar.
Manamadurai Town Traffic Police Station, Sipcot.
Manamadurai Taluk Police Station, Sipcot
Manamadurai Town South police station,
Opp.to bus stand.
Deputy superintent office _Manamadurai camp office.
Matha college of nursing
Matha school of nursing
Matha college of arts and science
Matha teacher training institute
Matha college of physiotherdpy
Matha ITI
Amirtha Nursing College
Matha College of Teacher Education
Seikalathur Kamatchi Amman Polytechnic College
Apollo computer education ltd
CSC Computer education ltd, near Ananthavalli amman kovil st.
Sunsoft computers
Baba Matriculation School, 1A, Mettu St.
Baba Nursey & Primary school, 183-B, Adhanoor Road
CSI High School for the deaf & dumb, Near Gandhi silai
CSI High School, Near Travellers banglow,
Govt. Elementary school, Burma colony
Good Will Matriculation School, Bye Pass Road
Govt. Girls Higher Secondary School, Near Travellers banglow, Anbu Nagar
Kannar Theru Elementary School, Alagar kovil Theru
Muthu Ameena Muslim (M.A.M) Nursery & Primary School, 113/7, Kannar Street
O.V.C Elementary School
O.V.C Higher Secondary School, Near Old Bus stand
R.C. St. Cesilia's middle school
R.C High School
Ralay Nursery school, Moongiloorani
St. Mary's higher secondary school, Rajagambiram
St. Joseph matriculation school, Appan Perumal Kovil St., West Bank
Seventh Day Adventist Nursery & Primary School, Rajam Nagar, Pappamadai, Muthanendal
Seventh Day Adventist Matriculation Higher Secondary School, Sipcot
Suriya Narayana Shastri Primary School, Near Pal Pannai, East Bank
Tourism industry is one of the major revenue generators for Manamadurai. There are various places of interest.
In the Perumal Temple, Hanuman is enshrined with the highly unusual feature of a crown on his head, reflecting the local belief that Hanuman was crowned here before leaving for Lanka. According to one account, the name of the town is derived from the Hanuman's visit, which in Tamil is described as Vanara Veera Madurai, which has become Manamadurai. The crowned Hanuman is enshrined near the entrance of the Vaishnavite Veera Alagar Koil temple on the east bank of the river.
Panchabhutheswaram, known as Vedhiyanendal vilakku, 5 km from Manamadurai is on old ramanathapuram road, the route in which Lord Rama went to Sri Lanka to confront Ravanan. This place is known for its hard cut-rock(granite) temple dedicated to Shri Maha Panchamukha Prathyangira Devi. It houses the big deity of shri Maha Panchamukha Prathyangira Devi. There are two more sannidhies for Lakshmi Ganapathi and Sornagarshna Bhairavar. Kumbhabhishekham was performed on 24 June 2010. Sahasra Sandi Maha Yagnam was also performed during 25 June 2010 to 29 June 2010. It has come in a total area of about 5.5 acres (22,000 m2). Soon within the temple premises, ten more sannidhies are going to come for Dasamaha Vidya. Non-stop annadharmam right from 2000 since inception. Every Amavasai, people were various parts of Tamil Nadu and other states visit the temple
Sri Somanathar temple is an ancient Shiva temple with Devi Anandavalli which also houses the Maha Samadhi of the great saint Sadasiva Brahmendra.
Thirukalayanam festival is celebrated every year in this temple. Festival resembles the celebration done in Madurai Meenakshi amman temple. But Thirukalyanam will take place at early morning in Madurai and late evening in Manamadurai.
Alagar Aatril Irangudhal festival is also yearly event will take place after few days from Thirukalyanam.
Part of Indian ancient history, the 10 days festival is celebrated in the town, where people from Manamadurai and surroundings come to Vaigai river to participate overnight celebration. Notably Giant wheels, Children games, Dance events, Bike Stunts, Drama events, Crackers and Rockets - Thunder show.
Idaikattur is 16 km ahead of Manamadurai city. The site is famous for Thiru Iruthaya Andavar Church, which is believed to be built by angels of god.
This unique church of the sacred heart of Jesus was built in 1894 AD by a French missionary Fr. Ferdinand Celle SJ. This is a replica of the Rheims Cathedral in France. Since the church was said to be built by angels, Fr. Ferdinand Celle SJ has placed 153 depictions of angels in and around the church He has depicted the relics of forty saints in four elliptical shaped wooden bowls, which rest over the wooden heart in the main altar portion.
Thayamangalam situated near Manamadurai, known for yearly Panguni festival.
Saint Thirugnanasambandhar was invited to Madurai by Queen Pandimadevi Mangayarkarasi for the prosperity of Saivam religion. Saint Appar said that as the day of Sambandar's visit falls on star of Bharani and it is auspicious for travelling. Bharani is also the best time for Conducting homam and setting up brick kiln etc. as this day is suitable for Agni (fire). He started his travel after worshiping God and Goddess by singing Kolaru Padhipaggam. He fought for the freedom of Saivam against the Jainism. Based on the belief in the concept that "each day is a good day", he did Navasakthi Homam and Vinayaka Pooja on the 15th day of Panguni and celebrated 10 days festival from the 16th day of Panguni at Thayamangalam. Pongal festival is being celebrated on the 7th day ( 22nd day of Panguni), Milk pot festival and Flower Pallakku on the Panguni 23rd day. The festival will be completed on 25th day of Panguni after celebrating Devasthana Theertha vari function
The Holy Paanch peer (Anjanamar) Five Shuhadaas Dargah is located near Kannar street, Manamadurai in Sivaganga District. The Panchpeer durgah is at Kannar road, on the Manamadurai-Ilayangudi State Highway. The Graves of Five Martyrs who came with Badusha Sulthan Syed Ibrahim Shaheed of Ervadi is found here.