Country

Japan




Population

340,291 (2010)




Area

311.64 km2


Region

Kanto




Mayor

Ryu Yamamoto (since February 2012)




Colleges and Universities

Gunma University, Maebashi Kyoai Gakuen College, Gunma Prefectural College of Health Sciences, Meiwa Gakuen Junior College, Maebashi Institute of Technology



Maebashi (, Maebashi-shi) is a city on the island of Honshu in Japan and is located in the Northern Kanto region. It is the capital city of Gunma Prefecture.
As of March 2015 population data, it has an estimated population of 339,491 and a population density of 1,089.37 persons per km². Since its merge with the village of Fujimi in 2009, the city covers an area of about 311.64 km². It was the most populous city within Gunma Prefecture until Takasaki merged with nearby towns between 2006 and 2009.
Maebashi is known to be the "City of Water, Greenery and Poets" because of its pure waters, its rich nature and because it gave birth to several Japanese contemporary poets, such as Sakutaro Hagiwara.
Maebashi hosted the 1999 IAAF World Indoor Championships.
Contents
Map of Maebashi
Walk01 maebashi gunma japan
Gunma flower park maebashi
History
1892 - Maebashi City was founded.
1901 - A portion of Kamikawabuchi Village was merged into Maebashi.
1945 - On 5 August approximately 64.2% of the urban core of the city was destroyed by B-29 air raids following the dropping of propaganda leaflets warning of the impending attacks.
1951 - A portion of Kaigaya Village was merged into Maebashi.
1954 - Kamikawabuchi Village, Shimokawabuchi Village, Azuma Village, Minamitachibana Village, Kaigaya Village, Haga Village, Motosoja Village and Soja Village were merged into Maebashi.
1957 - A portion of Jonan Village was merged into Maebashi.
1960 - A portion of Tamamura Town and another portion of Jonan Village were merged into Maebashi.
1967 - Jonan Village (remaining portions) was merged into Maebashi.
2004 - Mayor Masao Takagi was elected.
On December 5, 2004 - The town of Ogo, and the villages of Kasukawa and Miyagi (all from Seta District) were merged into Maebashi.
On May 5, 2009 - The village of Fujimi (from Seta District) was merged into Maebashi. Seta District was dissolved as a result of this merger.
Geography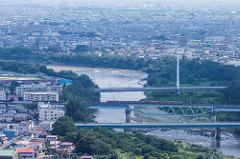 Maebashi is located at the foot of Mt. Akagi in the northeast corner of the Kanto Plain.
It is also surrounded by Mt. Haruna and Mt. Myogi.
Two rivers run through the city: the Tone River, Japans second-longest, and the Hirose River.
Also, Maebashi is farthest from the sea (about 120 km) among all Japanese prefectural capitals.
Economy
The air conditioning system and compressor manufacturing company Sanden Corporation as well as the tofu and tofu products company Sagamiya Foods have manufacturing sites in the city.
Festivals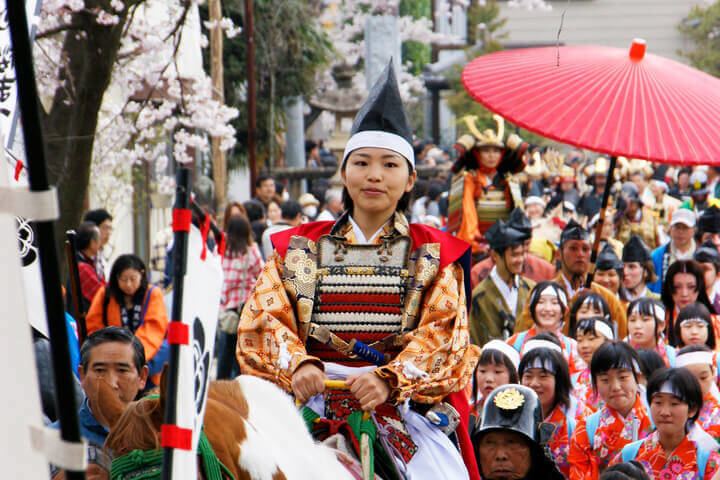 Ogo Gion Festival
References
Maebashi Wikipedia
(Text) CC BY-SA
(,)http://farm8.static.flickr.com/7412/9810297136_c3fff22a99_m.jpg(,)http://www.tmyun.com/mid/yun_9472.jpg(,)http://upload.wikimedia.org/wikipedia/commons/thumb/f/f4/Gunma-Pref-Maebashi-HighSchool-2013012601.jpg/1024px-Gunma-Pref-Maebashi-HighSchool-2013012601.jpg(,)https://c2.staticflickr.com/8/7079/7120297225_8803a10706.jpg(,)http://upload.wikimedia.org/wikipedia/commons/thumb/1/11/Maebashi_Ikuei_High_School.JPG/1280px-Maebashi_Ikuei_High_School.JPG(,)http://cache4.asset-cache.net/gc/119701039-cherry-blossom-trees-and-moss-pink-gettyimages.jpg%3Fv%3D1%26c%3DIWSAsset%26k%3D2%26d%3DxYUEjiba90Fme8olQEIz4JoM5mL2%252BRqmxCKFmyeMTJA%253D
(,)https://www.visitgunma.jp/img/en-h2-sightseeing-area6.png(,)http://media-cdn.tripadvisor.com/media/photo-s/01/40/96/f3/caption.jpg(,)http://www.japan-guide.com/blog/sakura14/g/140409_gunma_19.jpg
(,)https://www.visitgunma.jp/cms/sightseeing_image_dir/sightseeing_211.JPG(,)http://www.gunmajet.net/wp-content/uploads/2013/07/numata-tengu.jpg(,)http://www.dominiqueeugene.com/gallery/d/702-5/5%2BIwabitsu%2Bfestival%2Baug_98.jpg