Jordan


39.440 km2


1921




Madaba Governorate




Mustafa Al-Maayya




84,600




American University of Madaba, Madaba University




Mount Nebo, Madaba Map, Main Hot Springs, Mount Pisgah



Madaba (Arabic: ?) is the capital city of Madaba Governorate in central Jordan, with a population of about 60,000. It is best known for its Byzantine and Umayyad mosaics, especially a large Byzantine-era mosaic map of the Holy Land. Madaba is located 30 kilometres (19 miles) south-west of the capital Amman.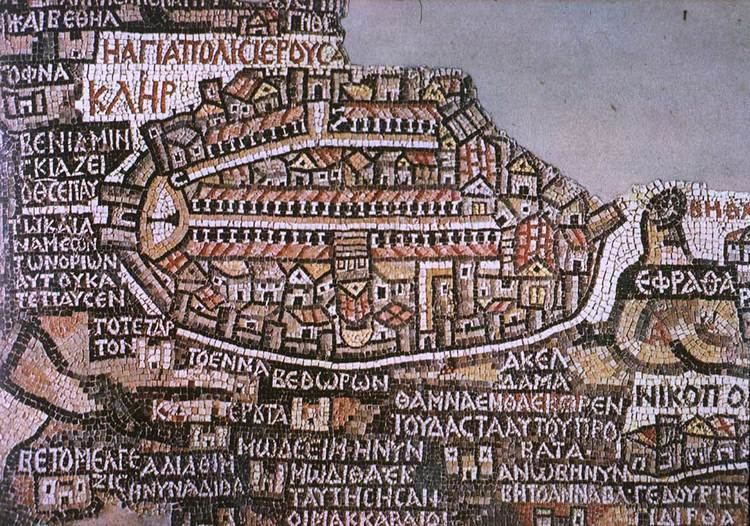 Madaba dates from the Middle Bronze Age.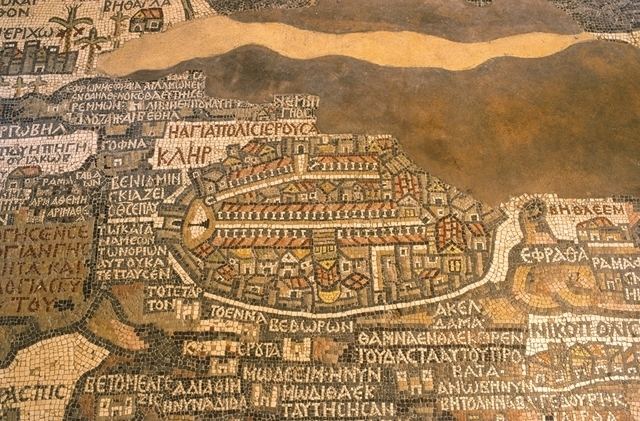 The town of Madaba was once a Moabite border city, mentioned in the Bible in Numbers 21:30 and Joshua 13:9.
During its rule by the Roman and Byzantine empires from the 2nd to the 7th centuries, the city formed part of the Provincia Arabia set up by the Roman Emperor Trajan to replace the Nabataean kingdom of Petra.
The first evidence for a Christian community in the city, with its own bishop, is found in the Acts of the Council of Chalcedon in 451, where Constantine, Metropolitan Archbishop of Bostra (the provincial capital) signed on behalf of Gaiano, "Bishop of the Medabeni."
During the rule of the Islamic Umayyad Caliphate, it was part of the southern Jund Filastin.
The resettlement of the city ruins by 90 Arab Christian families from Kerak, in the south, led by two Italian priests from the Latin Patriarchate of Jerusalem in 1880, saw the start of archaeological research. This in turn substantially supplemented the scant documentation available.
The Catholic Churchs list of titular sees uses the spelling "Medaba", traditional in reference to the ancient bishopric centred on this city, while at the same time referring to the modern city as Madaba".
Madaba's main attraction is its Byzantine mosaics, drawing many visitors, especially since the creation of an archaeological park. They cover the floors of houses and churches dating from the site's earliest period of habitation.
The nearby site of Umm ar-Rasas, south-east of Madaba on the edge of the semi-arid steppe, started as a Roman military camp and grew to become a town from the 5th century. It also has very large and well-preserved mosaics.
At the southern entrance to Madaba, near the King's Highway, is the Church of the Apostles. The ruins of this Byzantine church date to 578 CE, and are currently being restored. It includes a mosaic known as the "Personification of the Sea", depicting a woman emerging from the sea, surrounded by mythical aquatic creatures and a hodgepodge of rams, bulls, parrots and exotic vegetation. The mosaic was signed by a mosaicist named Salamanios.
Madaba Wikipedia
(,)http://upload.wikimedia.org/wikipedia/commons/c/c7/Madaba_map.jpg(,)http://www.petramoon.com//wp-content/uploads/2014/10/35.jpg(,)http://www.netours.com/images/stories/jordan/jordan_center/madaba/madaba_map_jm.jpg(,)http://www.bibleistrue.com/qna/bethlehemmadaba.jpg
(,)https://c1.staticflickr.com/7/6049/6261344900_9ccf4e7737_b.jpg(,)https://c1.staticflickr.com/7/6175/6261346406_d012a10139_b.jpg(,)https://c1.staticflickr.com/7/6060/6261342462_14e9da34c2_b.jpg(,)https://c1.staticflickr.com/7/6155/6260811845_b497d29a6d_b.jpg(,)http://www.madabaplains.org/hisban/editor/images/1st%2520pic(map)%2520%2520copy.jpg(,)http://cache.graphicslib.viator.com/graphicslib/thumbs674x446/2268/SITours/private-tour-mount-nebo-madaba-and-the-dead-sea-day-trip-from-amman-in-amman-145423.jpg(,)http://footage.framepool.com/shotimg/qf/481092470-mount-nebo-madaba-dead-sea-mountain-panorama.jpg(,)https://c1.staticflickr.com/7/6155/6261336598_7df58d67f8_b.jpg(,)http://footage.framepool.com/shotimg/qf/258608181-mount-nebo-madaba-dead-sea-mountain-panorama.jpg(,)http://cache2.asset-cache.net/gc/148807177-landscape-near-mount-nebo-madaba-gettyimages.jpg%3Fv%3D1%26c%3DIWSAsset%26k%3D2%26d%3DLWrUahn5HopBzMXEbDyDm14046Qsers893PZ9z4MuSHOKn2YQD1crtThCk0Oaj3PqW9yghlDWz%252FqnUqOaZUUcg%253D%253D(,)https://c2.staticflickr.com/4/3802/9019832698_3976872cab.jpg(,)http://1.bp.blogspot.com/-XnC8ZBiqKzk/U5ojs5S4PYI/AAAAAAAAEG8/wyK6YNCNm8k/s1600/121-%2BA%2Bview%2Bof%2BJordan%2Blandscape%2Bfrom%2Bthe%2Bway%2BMount%2BNebo,%2BJordan,%2BDec%2B27,%2B2013,%2B3.49PM.jpg(,)http://previews.123rf.com/images/morenosoppelsa/morenosoppelsa1109/morenosoppelsa110900225/10486067-Wadi-Al-Mujib-Dam-Located-100-kilometres-south-of-Amman-between-the-governorates-of-Madaba-and-Karak-Stock-Photo.jpg(,)https://farm4.static.flickr.com/3354/3434288253_3783a7860f.jpg(,)http://2.bp.blogspot.com/-zME05yEtCTM/U5ojyT36MsI/AAAAAAAAEHE/JoKMRyzeCx0/s1600/123-%2BA%2Bview%2Bof%2BJordan%2Blandscape%2Bfrom%2Bthe%2Bway%2BMount%2BNebo,%2BJordan,%2BDec%2B27,%2B2013,%2B3.55%2BPM.jpg
(,)http://nogarlicnoonions.com/wp-content/uploads/2014/05/Haret_Jdoudna_Restaurant_Madaba04.jpg(,)http://ilovebagsandshoes.com/wp-content/uploads/2013/01/Madaba7-1024x684.jpg(,)http://media-cdn.tripadvisor.com/media/photo-s/01/53/dc/b1/the-restaurant.jpg(,)http://media-cdn.tripadvisor.com/media/photo-s/02/6c/74/0f/filename-tr-madaba-p1000112.jpg(,)http://media-cdn.tripadvisor.com/media/photo-s/03/5b/03/74/it-is-amaizing-3-i-like.jpg(,)http://media-cdn.tripadvisor.com/media/photo-s/05/96/ed/35/haret-jdoudna.jpg(,)http://madaba.phpbag.com/sites/all/themes/madaba/images/images/620x378/10.jpg(,)http://trekhound.com/wp-content/uploads/2008/03/15-03-07_1907.jpg(,)http://media-cdn.tripadvisor.com/media/photo-s/01/7c/8d/f1/haret-jdoudna.jpg(,)http://media-cdn.tripadvisor.com/media/photo-s/03/58/e2/c0/bawabit-madaba.jpg(,)http://www.bridgeandtunnelclub.com/bigmap/outoftown/jordan/madaba/madaba/1301-09-11.jpg
(,)http://www.onthegotours.com/blog/wp-content/uploads/2012/03/6745682671_36cb4fb77d_b.jpg(,)http://www.yallatours.com/blog/madaba/map_detail.jpg(,)http://emilybenjamin.com/wordpress/wp-content/uploads/2011/04/IMG_1837.jpg(,)http://www.foodwinetravel.com.au/wp-content/uploads/2013/04/Postcard-6-Madaba-Jordan.jpg(,)http://static.sacred-destinations.com/img/090/gohistoric_20090_m.jpg
(,)http://international.visitjordan.com/portals/0/madaba-culture.jpg(,)http://www.memphistours.co.uk/files/large/1069737515_Madaba,%2520Mount%2520Nebo.jpg(,)http://jordantimes.com/uploads/repository/ecb786b18f32c42bc5f4c950eb149fe74aeee7d7.jpg(,)http://uk.memphistours.com/Jordan-Guide/photo/Madaba.jpg(,)http://international.visitjordan.com/portals/0/History-Culture-Madaba.jpg(,)http://cache1.asset-cache.net/gc/492651869-jordan-middle-east-madaba-st-georges-church-gettyimages.jpg%3Fv%3D1%26c%3DIWSAsset%26k%3D2%26d%3DX7WJLa88Cweo9HktRLaNXrHrEWDqR%252Brfb4OSMuDhsNg1waMxiY8MnrRtiNbFxyT6P4i48Mv3PBPzSS0lPT0qDw%253D%253D(,)http://www.petra.gov.jo/library/634676850441956697.jpg(,)http://www.memphistours.co.uk/files/large/844506480_Madaba,%2520Mount%2520Nebo3.jpg(,)http://uk.visitjordan.com/portals/19/Madaba-History-Culture.jpg(,)http://www.memphistours.co.uk/files/large/554562432_Madaba%2520-%2520Mosaic2.jpg(,)http://www.memphistours.co.uk/files/large/463696047_Madaba,%2520Mount%2520Nebo1.jpg(,)http://www.jitours.com/uploaded/products/Church_of_St_George_Madaba_Jordan_5675.jpg(,)http://www.easyvoyage.co.uk/images/attractions/1950/960x384/2348.jpg(,)http://international.visitjordan.com/portals/0/Madaba-Mosaic.jpg
(,)http://www.responsibletravel.com/imagesclient/jordanDTG-sculpureMosaicsMadaba.jpg(,)http://international.visitjordan.com/portals/0/madaba1.jpg(,)http://www.pttjo.com/pttjo/images/stories/v%25202.jpg(,)http://www.mariamhotel.com/images/madabamain.jpg(,)http://media-cdn.tripadvisor.com/media/photo-s/07/54/cd/d4/madaba-archaeological.jpg(,)http://www.jordanjubilee.com/images2/madaba/mosaics/xdetail_stm.jpg(,)http://aum.edu.jo/en/images/stories/location/madaba.jpg(,)http://www.jordanjubilee.com/images2/madaba/mosaics/xdetail_stm2.jpg(,)http://www.touristjordan.com/wp-content/uploads/2014/11/03_Madaba.jpg(,)http://www.jordanjubilee.com/images/mtnebo/mosaic.jpg(,)http://www.tuchmantravelguide.com/images/jordan-madaba.jpg