The game plays as a tactical role-playing game, with turn based battles taking place on a grid.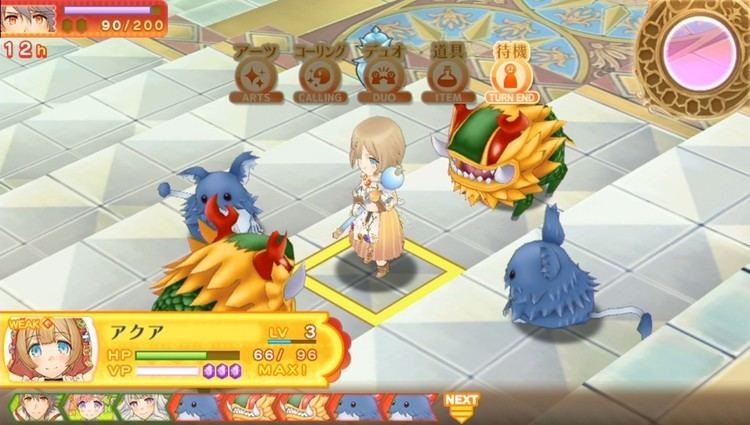 The game will feature multiple endings, based on the player's actions, each one being drastically different from the other.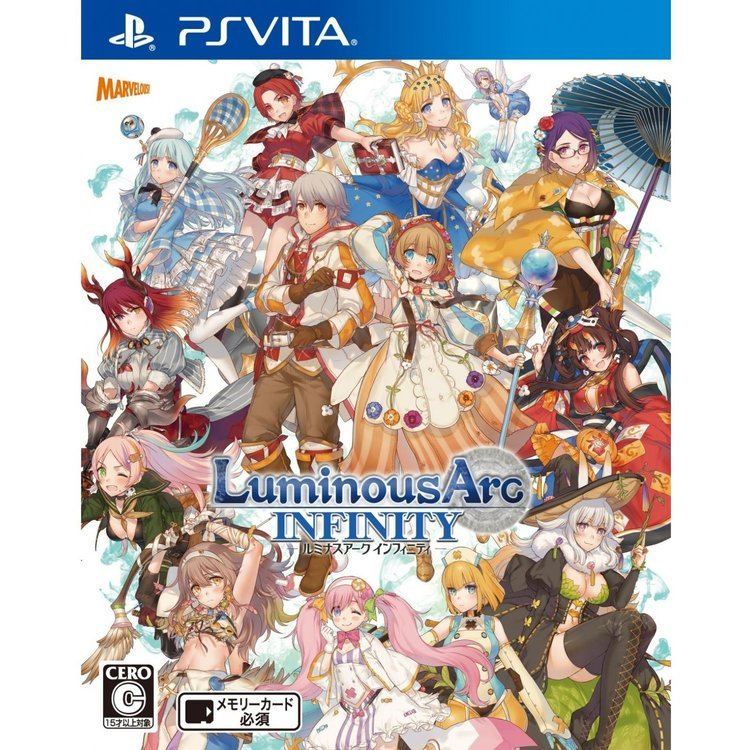 Seed (シード, Shīdo)
Voiced by: Nobuhiko Okamoto (Japanese)
Height: 171 cm/Weight: 53 kg
A youth keytone specialist from the floating city Floatier (フローティア, Furōtia). It's hard to see his motivation, and he doesn't show his true feelings to someone else, though his sense of justice is unusually strong. During childhood, his birthplace Floating Castle Fonrex (フォーンレクス浮遊城, Fōnrekusu Fuyū-jō) was destroyed, and he was saved and taken to Floatier.
He has received a curse named Sand's Curse (砂の呪い, Suna no Noroi).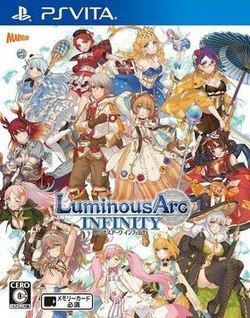 Aqua (アクア, Akua)
Voiced by: Yū Serizawa (Japanese)
Age:17 years old/Height: 159 cm/Weight: 47 kg/B-cup
Seed's foster little sister, a keytone specialist assistant. Her sentiments is very similar to her brother's, though she also has a childish side (only a little). By moving the fountain's Lapis found in Floatier, she is able to cure Seed.
Her Lapis Burst is named Lapis Gazer (ラピスゲイザー, Rapisu Geizā).
Palsh/Pulse (パルス, Parusu)
Voiced by: Misaki Kuno (Japanese)
Age: Unknown/Height: 146 cm/Weight: 36 kg/A-cup (in the middle of volume increasing plan)
A genius inventor who has become an idol from Barrierbar (バリアバール, Bariabāru) Kingdom. Very devoted to invention, she won't care about surrounding troubles in order to get the things she is interested in.
Her Lapis Burst is named Lapis Command (ラピスコマンド, Rapisu Komando).
Violet (ヴァイオレット, Vaioretto)
Voiced by: Yukana (Japanese)
Age: 807 years old/Height: 164 cm/Weight: 52 kg/H-cup
A witch that has lived for a very long time. Has high magic power and possesses both intellect and beauty. She lives in Radia Ruin (ラディア・ルイン).
Her Lapis Burst is named Lapis Tree (ラピスツリー, Rapisu Tsurī).
Brigitta Earl Age (ブリジッタ・アール・アージュ, Burijitta Āru Āju)
Voiced by: Maaya Uchida (Japanese)
Age: 18 years old/Height: 155 cm/Weight: 45 kg/C-cup
High Empress of Earl Age (アール・アージュ, Āru Āju) Empire. Received education as a High Empress, she is blessed with both grace and dignity.
Her Lapis Burst is named Lapis Break (ラピスブレイク, Rapisu Bureiku).
Feilang (フェイラン, Feiran)
Voiced by: Satomi Arai (Japanese)
Age: 19 years old/Height: 150 cm/Weight: 42 kg/E-cup
A girl from Oni (鬼) clan, hailed from Tao (タオ). Has a strong sense of justice. In the Oni clan where it is said that the members lose their human form when doing evil deeds, she is one of the few members that keeps her human form.
Her Lapis Burst is named Lapis Dragon (ラピスドラゴン, Rapisu Doragon).
Rana (ラナ)
Voiced by: Ayaka Ōhashi (Japanese)
Age: 18 years old/Height: 183 cm/Weight: 58 kg/AA-cup
A girl living in Morocca (モロッカ, Morokka) Republic. Shy with strangers, she is also bad at emotional expressions.
Her Lapis Burst is named Lapis Storm (ラピスストーム, Rapisu Sutōmu).
Hisoka (ヒソカ)
Voiced by: Ayane Sakura (Japanese)
Age: 17 years old/Height: 162 cm/Weight: 48 kg/C-cup
A girl living in Shelvania (セルバニア, Serubania). Has a cheerful and energetic personality, although she harbors a dark past.
Her Lapis Burst is named Lapis Assault (ラピスアサルト, Rapisu Asaruto).
Kasumi (カスミ)
Voiced by: Aya Uchida (Japanese)
Age: 25 years old/Height: 159 cm/Weight: 49 kg/G-cup
A woman who studied all kind of curses in the world. She had previously taught Seed and others as a teacher.
Her Lapis Burst is named Lapis Slash (ラピススラッシュ, Rapisu Surasshu).
Ziorker/Jioka (ジォーカー, Jiōkā)
Voiced by: Aoi Yūki (Japanese)
Age unknown/Height: 171 cm/Weight: 53 kg/F-cup
A quiet knight with a lot of information. Because she has been possessed by demon, she does not appear old, thus it is hard to identify her as an elderly person just by her looks. In addition, when her demon side comes out, her personality undergoes a drastic change.
Her Lapis Burst is named Lapis Flare (ラピスフレア, Rapisu Furea).
C-9 (シーナ, Shīna)
Voiced by: Mariya Ise (Japanese)
Age: 13 years old (though programmed to act like 18)/Height: 160 cm/Weight unknown/D-cup
Full name Android SX-C9 (アンドロイド・SX-C9). An android produced by Pulse in order to act as a replacement for her mother (Pulse has no family members). She is affectionate towards Pulse, but cold towards other human beings.
Her Lapis Burst is named Lapis Iron (ラピスアイアン, Rapisu Aian).
Alto (アルト, Aruto)
Voiced by: Kanae Itō (Japanese)
Age: 16 years old/Height: 154 cm/Weight: 47 kg/B-cup
A girl living in Brie Soleil (ブリエ・ソレイユ, Burie Soreiyu). A hardworker with a cautious personality. Contrary to her boyish look, her movements are bad. Because of her personality, she often inadvertently create a wall to distance herself from others. In addition, she excels in the ability of accurately comprehend the song of the Lapis.
Her Lapis Burst is named Lapis Meteor (ラピスメテオ, Rapisu Meteo).
Sopra (ソプラ, Sopura)
Voiced by: Satomi Satō (Japanese)
Age: 16 years old/Height: 152 cm/Weight: 43 kg/B-cup (still growing)
A girl living in Brie Soleil. A genius, has a very high ability to hear the tune of the Lapis, her motor nerves are good as well. On the other hand, her living skills are low, if Alto is not there, she might as well can't do anything.
Her Lapis Burst is named Lapis Blizzard (ラピスブリザード, Rapisu Burizādo).
Hogwood (ホグウッド, Hoguuddo)
Voiced by: Jouji Nakata (Japanese)
A famous keytone specialist living in Floatier. The father of Aqua, also Seed's teacher and foster father.
William Earl Age (ウィリアム・アール・アージュ, Wiriamu Āru Āju)
Voiced by: Rikiya Koyama (Japanese)
Father of Brigitta, also the Minister of the Empire. Once served as the leader of the knights, he is also known as the "Knight of the Dawn".
Rurushante (ルルシャンテ)
Voiced by: Ryōko Shintani (Japanese)
A fairy maid serving Brigitta. She respects Brigitta from the core of her heart.
Cai Lan (カイラン, Kai Ran)
Voiced by: Fumihiko Tachiki (Japanese)
An elder from the Oni clan called Old Sage of the Jousei Valley (浄仙渓の老師, Jōsen Kei no Rōshi). He serves as the king of Tao, he intends to unite Oni and humans.
Ze Luo (ジールォ, Jī Ruo)
Voiced by: Makoto Furukawa (Japanese)
Elder brother of Feilang, also the chief of Oni clan. Hates human, he opposed Cai Lan's way of cooperating with them.
Karakara (カラカラ)
Voiced by: Yūki Ono (Japanese)
The young leader of Sylphen (シルフェン, Shirufen) clan. From the many idols appearing one after another from the tribes, he became the chief of the Morocca Republic.
Raji Sol (ラジ・ソール, Raji Sōru)
Voiced by: Michihiro Ikemizu (Japanese)
The speaker of Shelvania. Has a deep greed, and prefers high-handed approach.
Pretre (プレートル, Purētoru)
Voiced by: Ai Orikasa (Japanese)
The head of Saintuaire (サンクチュエール, Sankuchuēru) in the urbans of Brie Soleil. Also serves as the director of Soirée (ソワレ, Soware) Academy. Although she is unmarried, she pours her heart and soul in order to educate the children.
Aswad (アスワド, Asuwado)
Voiced by: Mamoru Miyano
Leader of the mysterious organization Amadeus (アマデウス, Amadeusu). Even though he trusts his brethren, he doesn't forgive hostility.
Libra (リブラ, Ribura)
Voiced by: Ayako Kawasumi
Helped Seed and the others in a place that has been attacked by monsters, a travelling peddler. A mysterious and elusive girl.
Elvio (エルヴィオ, Eruvio)
Voiced by: Noriaki Sugiyama
King of knights governing the mountainous nation Windel (ウィンデル, Uinderu). Sincere, and highly popular with publics.
Arch (アーチ, Āchi)
Voiced by: Shin-ichiro Miki
King of Barrierbar Kingdom. He himself is an inventor, and has high opinion of Pulse's talent, as he supports her inventions.
Konpei (コンペイ)
Voiced by: Yukana
A pet kept in Floatier. Its appearance is similar to a fox. In particular, it has a good relationship with Aqua.
Kopin (コピン)
Voiced by: Tsubasa Yonaga
Spirit lifeforms of mystery. It has different appearance for each attribute.
The Luminous Arc series of games started as a trilogy of tactical role-playing games: Luminous Arc, Luminous Arc 2, and Luminous Arc 3. All three entries were developed by Imageepoch, published by Marvelous Entertainment, and released between 2007 and 2009 on the Nintendo DS handheld video game platform. Outside of some rumors of the series moving to the PlayStation Portable, which never materialized, the series laid dormant until 2014. The game was first announced in August 2014, as part of the "Sony Computer Entertainment Japan Asia Press Conference 2014", Sony's pre-Tokyo Game Show conference. However, the game would not be developed by Imageepoch, but rather Felistella, as Imageepoch was going through financial troubles that eventually lead to their closure in 2015. Similarly, Felistella had previously taken over in continuing the Summon Night tactical role-playing game series of games with Summon Night 5, on behalf of Flight-Plan, who had closed in 2012. The game's producer was announced to be Yoshifumi Hashimoto, producer of the Rune Factory series of video games.
The game was released on August 6, 2015 in Japan. The game has not been announced for release in English or any other regions yet.