Operational




ZVV




1954




Felsenegg, Adliswil




Elevated




Switzerland




2






Adliswil, canton of Zürich




lowest: 497 m (1,631 ft) highest: 804 m (2,638 ft)




Sihltal Zürich Uetliberg Bahn




Felsenegg, Üetliberg, Albis, Buechenegg Pass, Albis Pass
Luftseilbahn Adliswil-Felsenegg is a cable car in the canton of Zürich in Switzerland. Its name is abbreviated to LAF and owned by the Luftseilbahn Adliswil-Felsenegg LAF AG; the tramway usually is commonly called Felseneggbahn.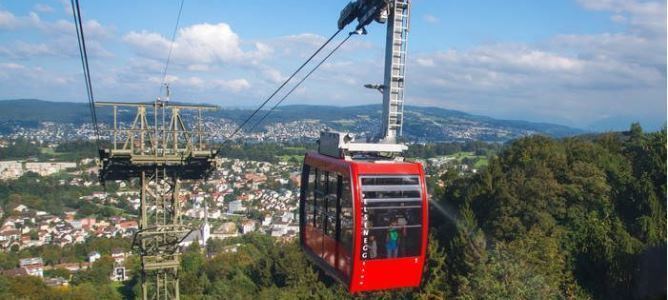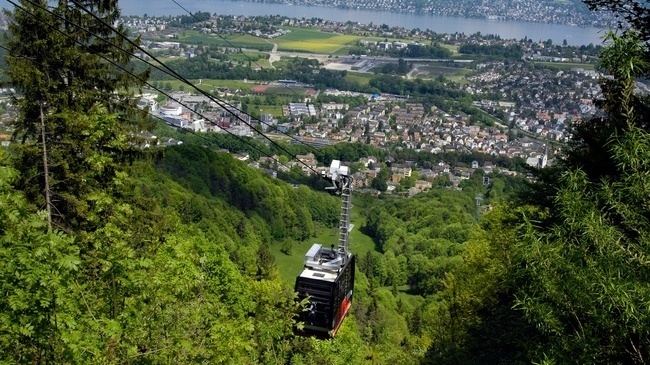 LAF is a cable car between the municipality of Adliswil in the Sihl Valley and the Felsenegg mountain in the district of Horgen, operated by the SZU (Sihltal Zürich Uetliberg Bahn), organized as an Aktiengesellschaft. The lower station is located in the municipality of Adliswil, the mountain station is situated on Felsenegg nearby the Felsenegg-Girstel TV-tower.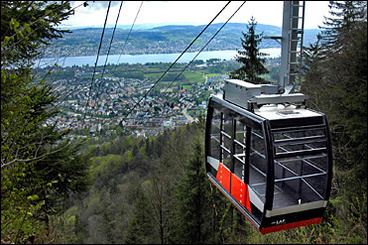 On December 30, 1954, LAF was given to operational service; it was built within seven months for one million Swiss francs by the Swiss company Von Roll in Berne. Not just for nostalgic reasons, the provider used the former two cabins of the so-called "Landi-Schwebebahn 1939" (Landi = Swiss national exhibition) across the Lake Zürich. The cabins for 30 passengers had been constructed by SIG Neuhausen. Renewals of the infrastructure have been done in 1960, 1967, 1980, and in 1996/97. In 1972, Felsenegg station was bought by the owner; in 1977 the majority of the share holder value went into the property of the Swiss Denner AG. Established in May 1990, the Zürcher Verkehrsverbund (ZVV) first was an elaborate web of railway lines, among them the SZU including Felseneggbahn and Zimmerbergbus. Its 50-year anniversary the Felseneggbahn celebrated in 2004 when the provider planned a complete renewal according to the conditions for the license given by the Swiss government.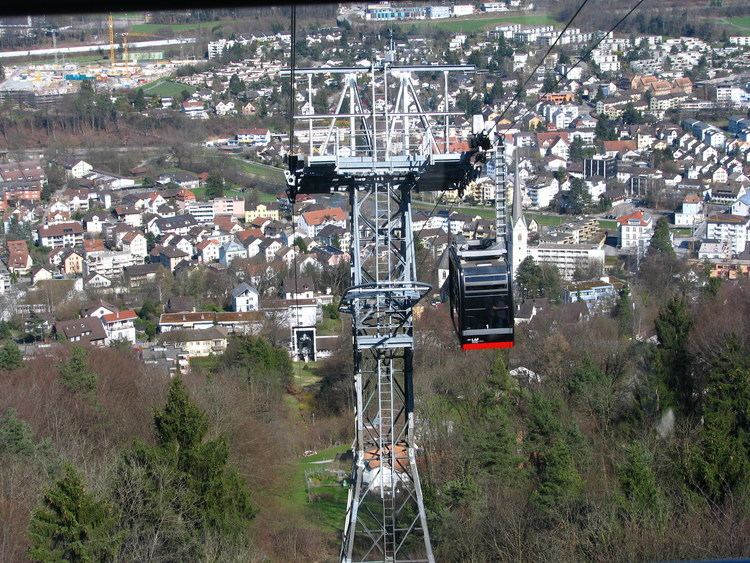 The complete renewal resulted in costs of 3.5 million Swiss francs, financed by the municipality of Adliswil and the city of Zürich (300,000 each), by the Zürcher Verkehrsverbund (2 million), by fundraising in the public and by sponsoring. The renewal included the cable car control and monitoring, the carriers and the guy ropes buffer. The fifty-year-old cabins were replaced by more comfortable, spacious and "sleek" cabins constructed by CWA Constructions SA. The new cable car cabins also necessitated an increase in the streamlining of the masts and carrying ropes. Also renewed were the valley and mountain stations and their technical infrastructure between February 4 and 30 April; the Luftseilbahn Adliswil-Felsenegg was re-opened on 1 May 2008. On 31 March 2010, the 10th million passenger used the cableway.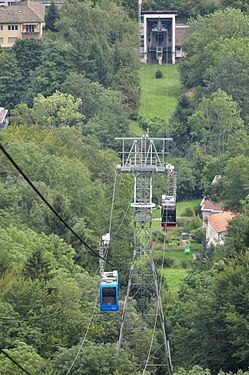 The cable car has a single tower (45 m) between Adliswil and Felsegg mountain and a total diagonal length of 1,048 m (3,438 ft). The drive is done by a DC electro engine with 100 kW in the valley station. The average speed of the two cabins is 6 m/s.
Cabins: 2, 30 passengers each
Capacity: 690 passengers per hour
Elevation Valley Station: 497 m
Elevation Mountain Station: 804 m
Horizontal Length: 1048 m
Height difference: 307 m
Average inclination: 34,1 0%
Maximum inclination: 80,5 0%
Number of Towers: 1
Tower height: 45 m
Maximum height from the ground: 60 m
Largest spanfield: 552 m
Average speed: 6 m/s
Diameter suspension rope: 39 mm
Diameter pushing rope: 62 mm
Drive: DC engine, 100 kW (max 185 kW)
Luftseilbahn Adliswil-Felsenegg Wikipedia