Lucille "Lucy" van Pelt is a character in the syndicated comic strip Peanuts, written and drawn by Charles Schulz. She is the older sister of Linus and Rerun. Lucy is characterized as a crabby, bossy and opinionated girl who bullies other characters in the strip, particularly Linus and Charlie Brown.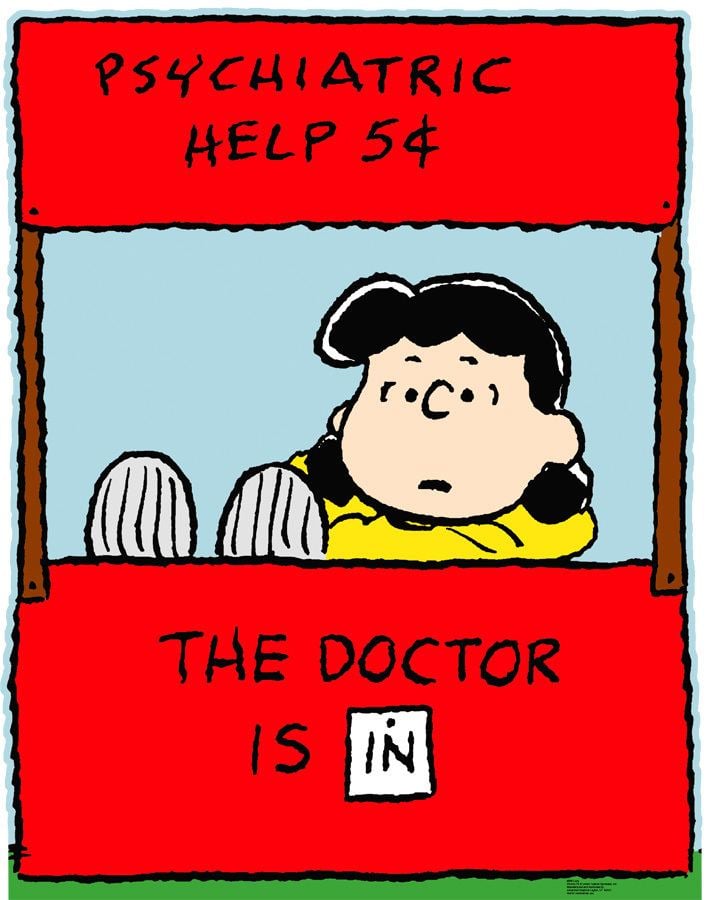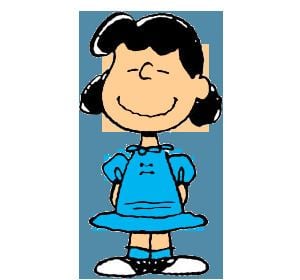 Lucy is characterized as very loud-mouthed, violent, aggressive, temperamental, and dumb at rare times (She showed Linus how to plant a rose and did the wrong way and thinks Charlie Brown's true facts as false facts). She often mocks other characters such as Snoopy, his owner Charlie Brown and even her younger brother Linus van Pelt.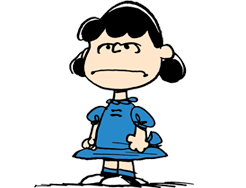 While she is not cold-hearted, and technically one of the main protagonists of the series, she can be quite antagonistic, often playing the villain role in a number of stories. She is also characterized as vain, as she believes she is beautiful and thinks she is perfect (though she once admitted complaining is the only thing she can do).
Christopher Caldwell has said about the character: "Lucy is no 'fussbudget.' She's an American nightmare, a combination of zero brains, infinite appetites and infinite self-esteem, who is (for that reason) able to run roughshod over all her playmates. At her best, she is the most terrifying character in the history of comics [strips]."
While she often bullies and makes fun of characters like Charlie Brown, he still thinks of Lucy as a good friend and deep down, Lucy does have a fondness of him, with a couple of times that she said that "he's full of surprises." She has a strong unrequited crush on Schroeder.
Lucy also has a psychiatric booth, parodying the lemonade stand operated by many young children in the United States. Here, she pretends to be a psychiatrist and tells her opinions on problems for five cents to the other characters in the strip, most frequently an anxious Charlie Brown; this "advice" is usually completely useless and nonsensical.
A sign on the front of the booth declares that "The Doctor is" in or out, depending on which side of the "In/Out" placard is displayed. In A Charlie Brown Christmas, Lucy reverses the placard from displaying its "Out" side to reveal the words "Real In". Another time, on the title panel of a Sunday strip, it showed Lucy chewing gum, and the sign read "The Doctor is Preoccupied."
On Charlie Brown's baseball team Lucy plays right field (or occasionally center field), and is characterized as a bad player, who, when temporarily kicked off the team, turns to heckling the games. Lucy has a knack for coming up with a nonsensical excuse for every fly ball she misses, such as "The moons of Saturn got in my eyes" or "I think there were toxic substances coming from my glove, and they made me dizzy." Other times, she finds an excuse to have one-sided conversations with Charlie Brown at the pitcher's mound, often over some trivial thing she noticed, which usually result in Charlie Brown blowing his top and yelling at her to "Get back in rightfield where you belong!" Once, Charlie Brown berated her for letting fly balls drop, telling her he would not brook any more excuses; Lucy caught the ball cleanly, and tossed it back to him on the mound silently, after which he admitted he was actually looking forward to her next excuse.
In a series of strips that later became part of the 2003 TV special Lucy Must Be Traded, Charlie Brown, Charlie Brown traded Lucy to Peppermint Patty's baseball team for Marcie (and a pizza), but once Patty discovered what a terrible player Lucy really was, she traded her back. Even on the diamond, Lucy flirts with Schroeder, who plays catcher on Charlie Brown's team.
The third new character in Peanuts after Violet and Schroeder, Lucy made her debut on March 3, 1952. She was originally a goggle-eyed toddler who continually annoys her parents and the older kids, but aged up over the next two years so that by 1954, she was the same age as Charlie Brown (the early strips with toddler-age Lucy were not reprinted until after Charles Schulz's death). Schulz then altered Lucy's eyes to have the same appearance as that of the other characters, except for small extra lines around them which were also sported by her two siblings.
Lucy has short, black hair and wears a blue dress with blue socks and saddle shoes until the 1970s when Schulz began showing the strip's female characters in pants and shirts in order to keep their outfits more contemporary. By the late 1980s, she had switched to this look permanently.
Lucy frequently pulls the football away from Charlie Brown right as he is about to kick it. The first occasion on which she did this was November 16, 1952 (Violet unintentionally did the same thing a year before because she was afraid Charlie Brown would accidentally kick her), but unlike subsequent stunts, Lucy first pulled the ball away because she did not want Charlie Brown to get it dirty (he took a second try in the same strip, only to trip over it at the end). The football strips became an annual tradition, and Schulz did one every year for the rest of the strip's run. One infamous example of this is the animated special It's Your First Kiss, Charlie Brown, where her actions (she pulled the ball away four times) cost the school football team a win in the Homecoming game, yet Charlie Brown is blamed even though he is clearly not at fault. Charlie Brown did in fact kick the football in the September 12, 1956 strip, but with Schroeder holding the ball.
Lucy was named after Louann van Pelt, a former neighbor of Charles Schulz in Colorado Springs and, according to David Michaelis of Time Magazine, was modeled after Schulz's first wife, Joyce.
Karen Mendelson (1963)
Tracy Stratford (1963, 1965)
Sally Dryer (1966–1968)
Pamelyn Ferdin (1969–1971)
Robin Kohn (1972–1973)
Melanie Kohn (1974–1975, 1977)
Sarah Beach (1976)
Linda Jenner (1976)
Lynn Mortensen (1976)
Michelle Muller (1977–1979)
Laura Planting (1980)
Debbie Muller (1980)
Kristen Fullerton (1980-1981)
Sydney Penny (1981)
Angela Lee (1983)
Heather Stoneman (1984–1985)
Jessica Lee Smith (1984-1985)
Melissa Guzzi (1986)
Tiffany Billings (1986-1988)
Ami Foster (1988)
Erica Gayle (1988–1989)
Jennifer Banko (1990)
Marne Patterson (1992)
Molly Dunham (1993)
Jamie Cronin (1995-1997)
Rachel Davey (2000)
Lauren Schaffel (2002)
Serena Berman (2002–2003)
Ashley Rose Orr (2003)
Stephanie Patton (2006)
Michelle Creber (2008-2009)
Grace Rolek (2011)
Hadley Belle Miller (2015)
Bella Stine (2016)