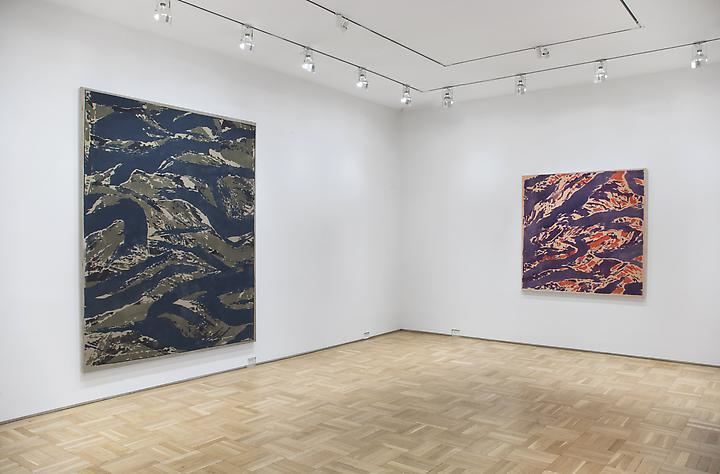 Smith graduated with a BFA from the Cooper Union School of Art in 2011.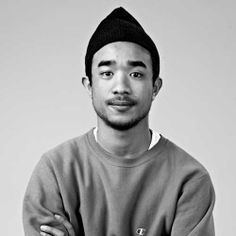 Artsy estimates in 2014 Smith generated a total of 3.7 million at auction that year.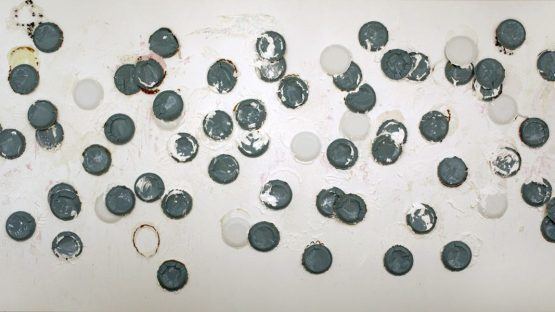 Smith is associated with other young painters such Oscar Murillo, and Jacob Kassay whose work has appreciated rapidly and are favored by collectors for investment-ready fare. A work from Smith's 2011 Cooper Union graduate show was resold in November 2013 for $389,000. In February 2014, his work Two Sides of the Same Coin sold for £224,500 at a Sotheby's, London auction. Lucien Smith is represented by Moran Bondaroff in Los Angeles, CA.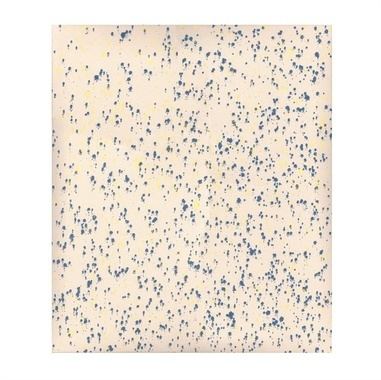 In 2011, Smith has executed a suite of abstractions he calls Rain Paintings, which he creates by spraying fire extinguishers filled with paint.
Smith finds an increasingly derisive manner in which to defy painterly conventions. The artist literally gives representation a cream pie in the face. Affixing aluminum tins and dripping white paint to canvas. Recalling an AbEx-like resignation to materials and gravity, as well as the playful undertones of Andy Warhol's piss paintings and Richard Prince's joke paintings, Smith's Pie Paintings operate on a formal and conceptual level.
In 2014, Smith produced Tigris, a show of 11 camouflage-patterned abstract paintings. The exhibit was called "undistinguished" and "a shrewd career move." Smith's interest in nature has evolved to include loose brushstrokes fluttering across canvases as if to evoke the movement of rivers. Named after an ancient body of water, the works in Tigris convey an organic sensibility. Smith's process of pouring paint onto the canvas is reminiscent of pouring water, evoking the movement of rivers and rain.
Ship of Fools, Appointment Only, Los Angeles, CA, 2017.
Allergic to Morning, Moran Bondaroff, Los Angeles, CA, 2016.
Vicious Cycles, Surf Lodge, Montauk, NY, 2016.
Tigris, Skarstedt Gallery, New York, NY, 2014.
Nature is my Church, Salon 94, New York, NY, 2013.
Scrap Metal, Bill Brady / KC, Kansas City, MO, 2013.
A Clean Sweep, Suzanne Geiss, Co., New York, NY, 2013.
Good Vibrations, Half Gallery, New York, NY, 2012.
Seven Rain Paintings, OHWOW Gallery, Los Angeles, CA, 2012.
Needle in the Hay and Cripple Creek, Ritter-Zamet, London, UK, 2011.
Imagined Nostalgia, Cooper Union, New York, NY, 2011.

MIDTOWN, Curated by Jeanne Greenberg and Michele Maccarone, Lever House, New York, 2017.
Intimate Paintings, Half Gallery, New York, NY, 2015.
Matters of Pattern, Skarstedt, New York, NY, 2015.
Prospect New Orleans, Curated by Franklin Sirmans, Contemporary Arts Center New Orleans, New Orleans, LA, 2014.
Next, Arsenal, Montréal, Canada, 2014.
ANAMERICANA, Curated by Vincenzo de Bellis, American Academy in Rome, Rome, Italy, 2013.
The Writing is on the Wall, Jonathan Viner, London, UK, 2013.
Sunsets and Pussy, with Ed Ruscha, Betty Tompkins and Piotr Uklanksi, Marianne Boesky, New York, NY, 2013.
Merci Mercy, curated by Christine Messineo, 980 Madison Avenue, New York, NY, 2013.
Beyond the Object, Brand New Gallery, Milan, IT, 2013.
It Ain't Fair 2012, OHWOW Gallery, Miami Beach, FL, 2012.
Homebody, The Stillhouse Group, Brooklyn, NY, 2011.
It Ain't Fair: Materialism, OHWOW Gallery, Miami, FL, 2011.
Objects that Love You Back, curated by Grear Patterson, Stillhouse, New York, NY, 2010.
It Ain't Fair 2010, OHWOW Gallery, Miami, FL, 2010.
New Deal, curated by Kyle Thurman and Matt Moravec, Art Production Fund Gallery, New York, NY, 2009.
May Flowers, curated by Scott Keightley, New York, NY, 2009.
I want a little sugar in my bowl, curated by Terence Koh, ASS Gallery, New York, NY, 2009.
Stillhouse, Seven Eleven Gallery, New York, NY, 2009.