Louis de Rouvroy (16 January 1675 – 2 March 1755), Duke of Saint-Simon, styled duc de Saint-Simon, was a French soldier, diplomat and a noted diarist; he was born in Paris (Hotel Selvois, 6 rue Taranne, today at 175 Bvd. Saint-Germain).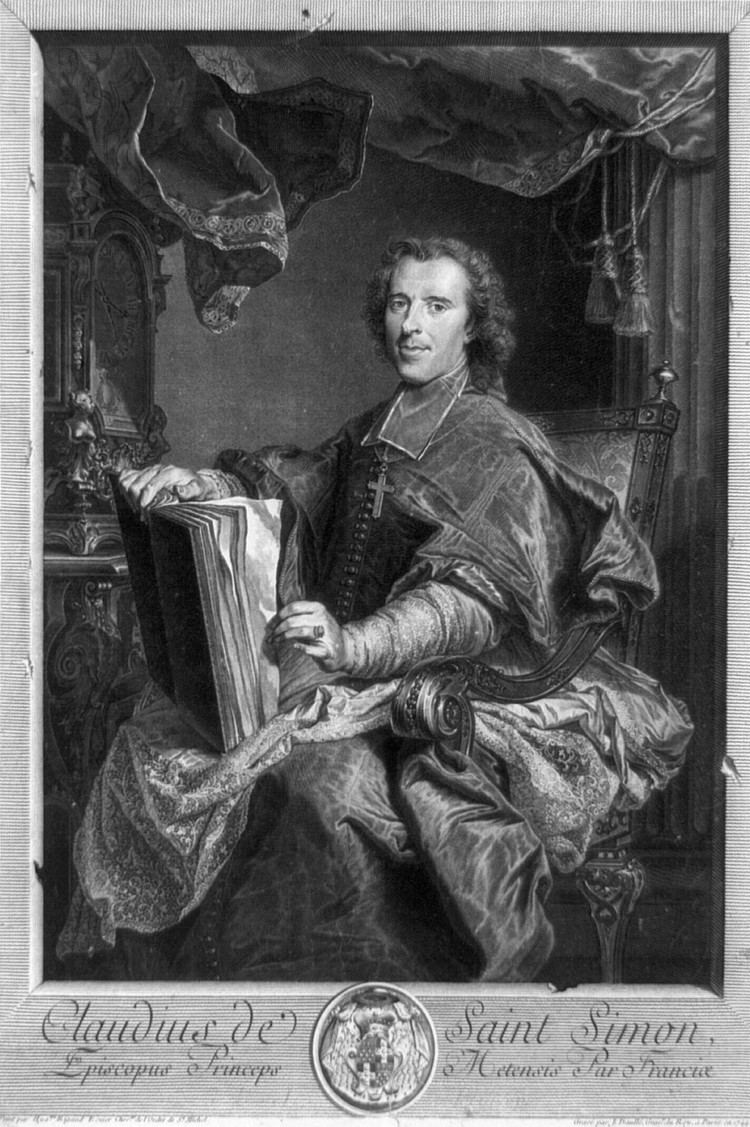 The family's ducal peerage (duche-pairie), granted to his father Claude de Rouvroy (1608–1693), served as both perspective and theme in Saint-Simon's life and writings.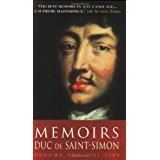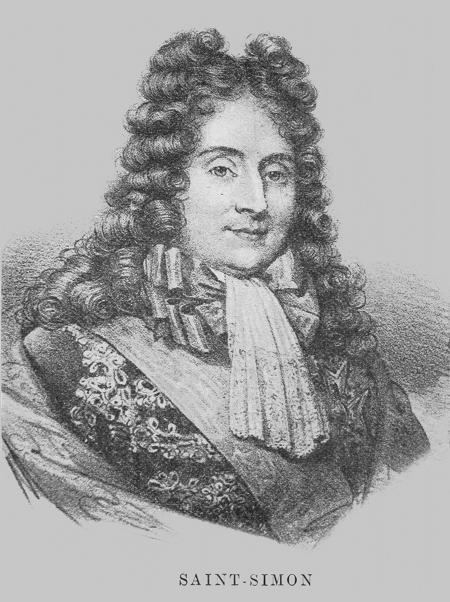 Men of the noblest blood (in Saint-Simon's view) might not be and, in most cases were not, peers in France. Derived at least traditionally and imaginatively from the douze pairs (twelve peers) of Charlemagne, the peerage of France was supposed to be, literally, the chosen of the noblesse, deemed thereafter to incarnate the French nobility par excellence. Their legal pre-eminence derived from hereditary membership in the Parlement of Paris, the highest of France's judicial and quasi-legislative assemblies. Strictly speaking, a French peerage (usually attached to a dukedom) was granted in favour of a designated fief rather than upon the titleholder per se. Had Saint-Simon succeeded in his lifelong ideal and ambition of conversion of France's peers into a Great Council of the Nation, history might have followed a different course.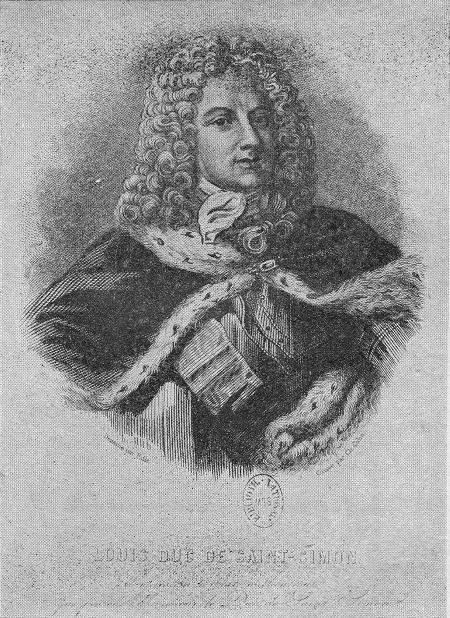 The family's principal seat, where Saint-Simon's Memoires were written, was at La Ferte-Vidame, bought by his father shortly after his elevation to the dukedom. The castle brought with it the ancient, entailed title, Vidame de Chartres, borne as a courtesy style by the Duke's only son until he was eighteen: As it had been attributed to an elderly character in the well-known court novel La Princesse de Cleves, published in 1678, just three years after Saint-Simon's birth, his arrival at court as a young man may have been less inconspicuous than otherwise.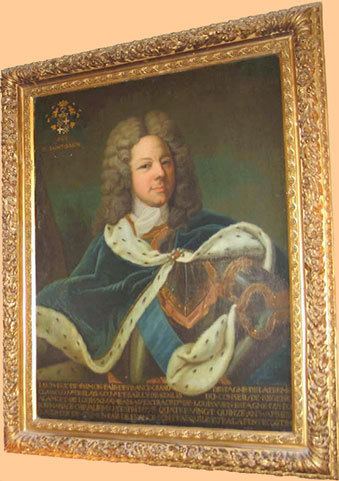 His father, Claude, the first duke, was a tall and taciturn man who was keen on hunting. Louis de Saint-Simon was the opposite; garrulous, much shorter, and prefering life indoors. His father had been a favorite hunting companion of Louis XIII. King Louis had appointed his father as Master of Wolfhounds before granting him a dukedom in 1635 at a relatively young age; he was 68 when Louis was born. Saint-Simon ranked thirteenth in the order of precedence among France's eighteen dukes.
His mother, Charlotte de L'Aubespine, daughter of Francois, marquis de Hauterive by his wife, Eleonore de Volvire, marquise de Ruffec, descended from a distinguished family, noble since at least the time of Francis I. She was a formidable woman whose word was law in the family, and became more so in extreme old age. Her son Louis was well educated, largely by her, for whom Louis XIV and Queen Marie-Therese stood sponsor. After further tuition from the Jesuits, he joined the Mousquetaires gris in 1692, serving at the Siege of Namur and at the Battle of Neerwinden. Then he embarked upon his life's mission by pronouncing upon the precedence among French peers, much against the orders and interests of Francois-Henri de Montmorency, duc de Luxembourg, his victorious general.
Saint-Simon fought in a couple more military campaigns, although not under Luxembourg. In 1695 he married Marie-Gabrielle de Durfort, daughter of Guy-Aldonce, duc de Lorges, a marshal of France, later serving under the Duke's command. He seems to have regarded her with a respect and affection unusual between husband and wife in that era; and she sometimes succeeded in suppressing his pompous ideals.
As he did not receive further promotion in the army, he resigned his commission in 1702, thereby incurring Louis XIV's displeasure. He kept his position at court but only with difficulty, and then immersed himself in court intrigue at Versailles, tapping a collection of informants, the likes of dukes as well as servants, which later yielded him the benefit of an extraordinary amount of privileged information.
Saint-Simon, for his own part, appears to have played only an intermediate role in court life. Having previously served in London, he was nominated as ambassador to Rome in 1705, but the appointment was cancelled before he departed. At last he attached himself to Philippe II, Duke of Orleans, Louis XIV's nephew and the future regent. Though this was hardly likely to ingratiate him with Louis, it at least gave him the status of belonging to a definite party and it eventually placed him in the position of friend to the acting chief of state. He also allied himself with Louis, Duke of Burgundy, the Dauphin's son and next heir to the French throne.
Saint-Simon loathed "the bastards," Louis XIV's illegitimate children, and not, apparently, entirely because they were accorded ceremonial precedence above France's peers. The Saint-Simon that is revealed through the Memoires had many enemies, and a hatred reciprocated by many courtiers. However, it should be remembered that these reminiscences were written 30 years after the facts, by a disappointed man, and that Saint-Simon had maintained congenial or at least courteous relations with the majority of his fellow courtiers.
The death of Louis XIV seemed to have given Saint-Simon a chance of realizing his hopes. The Duke of Orleans became regent and Saint-Simon was appointed to his Regency Council. But no steps were taken to carry out his "preferred vision" of a France ruled by the noble elite, exposing how little real influence he had with the Regent. He was somewhat gratified by the degradation of "the bastards" in 1718 and, in 1721, he was appointed ambassador extraordinary to Spain so as to facilitate the marriage of Louis XV and Infanta Mariana Victoria of Spain (which, however, never took place). Whilst in Spain he did, however, secure a grandeeship (which later devolved upon his second son) and, despite having caught smallpox, he was quite satisfied with his efforts there: two ducal titles (grandees were recognised in France as dukes). Saint-Simon was not eager, unlike most other nobility, to acquire profitable functions, and he did not use his influence to repair his finances, which were even further diminished by the extravagance of his embassy.
After his return to France he had little to do with public affairs. His own account of the cessation of his intimacy with Orleans and Guillaume Dubois, the latter having never been his friend, is, like his account of some other events of his own life, rather vague and dubious. But there can be little doubt that he was eclipsed, and even expelled from the chateau de Meudon by Cardinal Dubois. He survived for more than thirty years; but little is known of the rest of his life. His wife died in 1743, his eldest son a little later; he had other family troubles, and he was loaded with debt; the dukedom in which he took such pride ended with him, and his only granddaughter was childless.
He died in Paris on 2 March 1755, having almost entirely outlived his own generation and exhausted his family's wealth, though not its notoriety: A distant relative, Claude Henri de Rouvroy, comte de Saint-Simon, born five years after the Duke's death, is remembered as an intellectual forerunner of socialism.
All his possessions, including his writings, were seized by the Crown on his death, and it is thought a large part of his Memoires disappeared.
It can be said that the actual events of Saint-Simon's life, long as it was and exalted as was his position, are neither numerous nor noteworthy. Yet he posthumously acquired great literary fame. He was an indefatigable writer, and he began very early to record all the gossip he collected, all his interminable legal disputes over precedence, and a vast mass of unclassified material. Most of his manuscripts were retrieved by the Crown and it was long before their contents were fully published: partly in the form of notes in the marquis de Dangeau's Journal, partly in both original and independent memoirs, partly in scattered and multifarious extracts, he had committed to paper an immense amount of material.
Saint-Simon's Memoires strike a most realistic note. On the one hand, he is petty, unjust to private enemies and to those who espoused public views contrary to his as well as being an incessant gossip. Yet he shows a great skill for narrative and for character-drawing; he has been compared to Tacitus, and to historians such as Livy. He is at the same time not a writer who can be "sampled" easily, inasmuch as his most characteristic passages sometimes occur in the midst of long stretches of quite uninteresting diatribe. His vocabulary was extreme and inventive; he is deemed to have first used the word "intellectual" as a noun, and "patriot" and "publicity" are also accredited as being introduced by him in their current usage.
A few critical studies of him, especially those of Charles Augustin Sainte-Beuve, are the basis of much that has been written about him. His most famous passages, such as the account of the death of the Dauphin, or of the Bed of Justice where his enemy, Louis-Auguste de Bourbon, duc du Maine, was degraded, do not give a fair idea of his talent. These are his celebrated pieces, his great "engines," as French art slang calls them. Much more noteworthy as well as more frequent are the sudden touches which he gives. The bishops are "cuistres violets" (purple pedants); "(M. de Caumartin) porte sous son manteau toute la faculte que M. de Villeroy etale sur son baudrier" (Caumartin holds under his cloak all the power that Villeroy displays on his scabbard); another politician has a "mine de chat fache" (appearance of a disgruntled cat). In short, the interest of his Memoires is in the novel and adroit use of word and phrase.
He had a profound influence on writers like Tolstoy, Barbey d' Aurevilly, Flaubert, Valle-Inclan, Proust, Mujica Lainez, and many others.
Saint-Simon married Marie-Gabrielle de Durfort, on 8 April 1695, at the Hotel de Lorges in Paris. They had three children:
Charlotte de Rouvroy (8 September 1696 – 29 September 1763) married Charles-Louis de Henin-Lietard d'Alsace, prince de Chimay; they had no children;
Jacques-Louis de Rouvroy, duc de Ruffec (29 July 1698 – 15 July 1746) married, in 1727, Catherine-Charlotte-Therese (died 1755), daughter of Antoine, 4th Duc de Gramont (widow of Philippe-Alexandre, duc de Bournonville), leaving no children;
Armand-Jean de Rouvroy (12 April 1699 – 20 May 1754) married Marie-Jeanne-Louise, daughter of Nicolas Prosper Bauyn d'Angervilliers; they had one daughter.