London Gateway is a development on the north bank of the River Thames in Thurrock, Essex, 30 miles (48 km) east of central London. It comprises a new deep-water port, which is able to handle the biggest container ships in the world, as well as one of Europe's largest logistics parks, providing access by road and railways to London and the rest of Great Britain.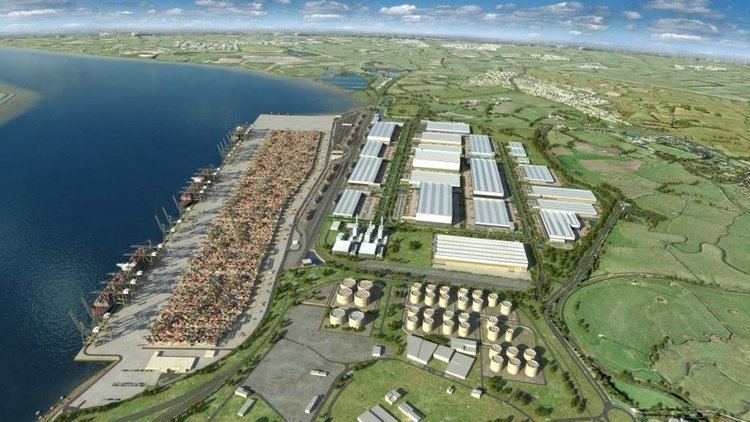 The project, being undertaken by DP World, significantly increases the capabilities of the Port of London in handling container shipping, to help meet the growing demand for container handling at Britain's ports. Construction began in February 2010, and is expected to take several years, with the port and logistics park being completed in stages. The first phase of the port opened for business on 6 November 2013 with the docking of the 58,000-tonne MOL Caledon, loaded with fruit and wine from South Africa.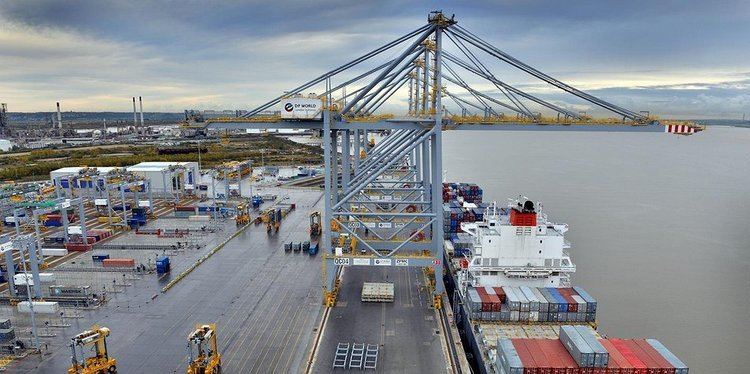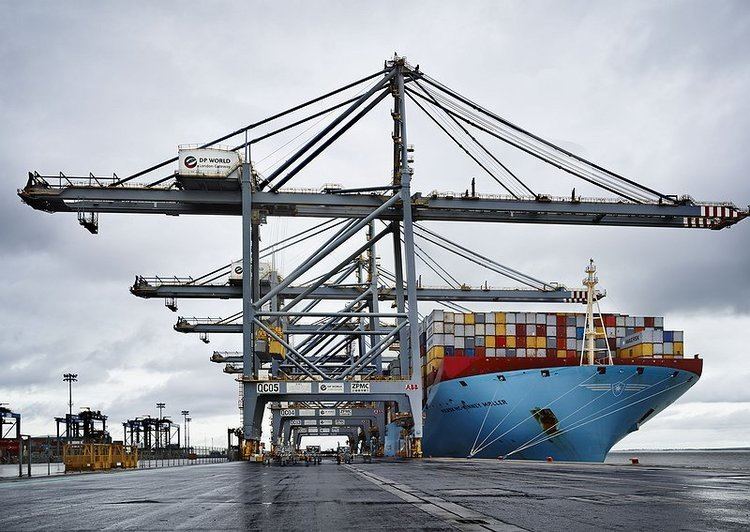 The plan for London Gateway is based on simple logistics. In 2011 the ports of Felixstowe and Southampton were the first- and second-largest ports by container traffic in the UK, with the Port of London third. London Gateway is highly automated, and able to stay open in all weathers, unlike Felixstowe and Southampton. Goods for London unloaded at Felixstowe and Southampton must be transported by road using heavy goods vehicles to localised distribution centres, then re-sorted and carried on vans to their final destination within London. Gateway, close to London and with suitable on-site distribution facilities, will lower costs and delivery times by having close, direct road access for goods to be delivered to London destinations by van.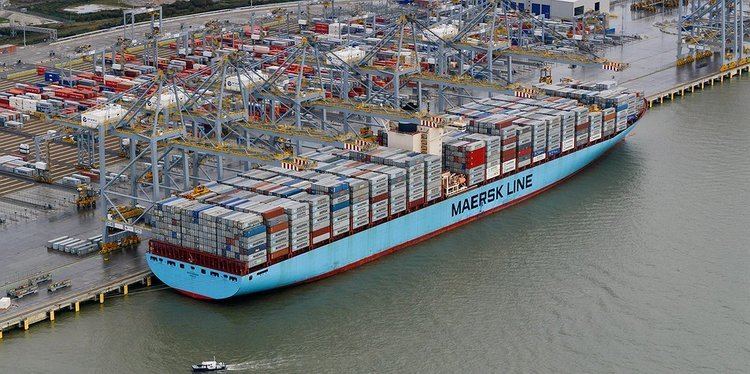 It is estimated that when the port is fully operational it will save 65m HGV-miles and take 2,000 trucks off the road per day, with economic and environmental advantages.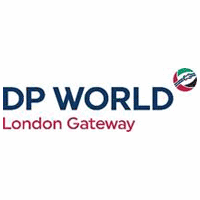 London Gateway is located on the 1,500-acre (6.1 km2) former Shell Haven site, which closed in 1999. Close to Gateway at the Medway Estuary, on the south-east side of the Isle of Grain, is the Hutchison Whampoa-owned Thamesport, a small but well-established container terminal. The Tilbury container port on the north bank, upriver of London Gateway, was previously partially owned by DP World, but was sold shortly before the development initially opened.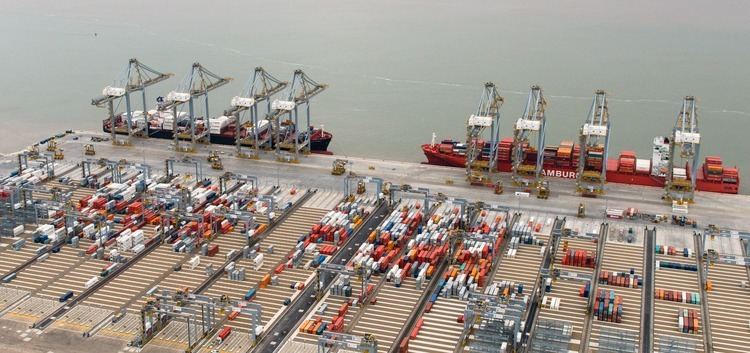 DP World received Government approval for the development of London Gateway, identified by Prime Minister Gordon Brown as one of the four economic hubs needed for the regeneration of the Thames Gateway, in May 2006.
In May 2008 the Department for Transport issued a "Harbour Empowerment Order" for London Gateway, which provided official and statutory powers for the new port and established London Gateway as a legally recognised authority.
The future of the project was less certain after Moody's downgraded DP World's financial status to 'junk' in December 2009, following the Financial crisis of 2007–2010 and associated financial problems for DP World's owners Dubai World. In January 2010 DP World announced its intention to seek a share listing on the London Stock Exchange in the second quarter of 2010, and was given the go-ahead for construction of the port.
However, the port faces difficulties. As of 2015 it had not secured a service from Asia, where the biggest ships come from. With a lot of extra capacity in Europe, rates had hit rock bottom, making it very difficult for a new port to take business away from established ones. Also, major shipping companies are increasingly grouped in alliances already committed to existing ports, and rationalising their services as they use ever bigger ships. The port is reported to have processed 300,000 containers in 2014, its first full year of operation, compared with the projected 3.5m when it is complete, reasonably successful for a new facility facing a lot of inertia from users—it is expected to take time to build a critical mass.
London Gateway port includes a 2.7 kilometres (1.7 mi) container quay, with a capacity of 3.5 million TEU a year when fully developed. The port is located on the major shipping lanes serving north west Europe, there by increasing national deep-sea port capacity for the UK. DP World is planning to invest over £1.5bn to develop the project over a 10-15 year period. It predicts that London Gateway will deliver about 12,000 new direct jobs, benefit the local and regional economy, and assist the government's Thames Gateway regeneration initiative. In addition, DP World predict that there will be over 30,000 indirect and induced jobs.
The development, if successful, will increase the capabilities of the Port of London in handling modern container shipping. DP World has stated that high-quality architecture, sustainability, and high levels of security and management will be key features of the park and will create an attractive environment for occupiers.
The distribution park at London Gateway will cover a total area of 300 hectares (740 acres). It will accommodate buildings of 1,000,000 square feet (93,000 m2) or larger. Outline planning permission was granted for a total of 9,500,000 sq ft (880,000 m2).
Road distribution will be via the A13 to Junction 30 of the M25 motorway. Some of the existing junctions had been upgraded by 2011.
Rail access is available via connection to the Tilbury Loop of the London, Tilbury and Southend Railway line. On site 25 kilometres (16 mi) of double track access will accommodate trains of up to 35 wagons long (750 metres (2,460 ft)), which will be loaded/unloaded next to the port container handling areas. Rail logistics partner DB Schenker Rail (UK) plan to run four intermodal trains per day (mainly overnight) via Barking and Gospel Oak to the West Coast Main Line. Network Rail have cleared all trains on this route to rail loading gauge W10, the same as the connecting rail access route to the Channel Tunnel, allowing 9 feet 6 inches (2.90 m) high containers to be transported. The East Coast Main Line connection to serve Doncaster and Leeds carries a smaller W8 loading gauge clearance, requiring the use of specially designed low-liner wagons to accommodate the taller containers.
Construction began in February 2010, and is expected to take several years, with the port and logistics park completed in stages. The first stage of construction was a £400 million dredging and reclamation programme, led by a joint venture between contractors Laing O'Rourke and Dredging International.
The first three of eight new quay cranes arrived in March 2013. Manufactured in Shanghai by ZPMC, they weigh 1,848 tonnes (1,819 long tons), have a boom which at 138 metres (453 ft) high is taller than the London Eye, can reach across 25 containers, and can lift up to 80 tonnes (79 long tons).
By September 2015 two of the six berths were operational, with a third well under way.
The London Gateway Port Harbour Empowerment Order 2008 permits the harbour authority to apply to a justice of the peace to appoint constables to form a police force for the port (and for justices of the peace to dismiss them). If appointed, they will have all the powers and privileges of a constable within the port area, and if they pursue someone from the port area, then they will retain the same powers of arrest as they would have if they were still in the port area. The majority of the provisions of the Police and Criminal Evidence Act 1984 were applied by the Order.
Otherwise the local territorial police force is Essex Police. The former Port of London Authority Police now exists only as the Port of Tilbury Police.
The Marine Navigation Act 2013 contains for a provision for the Chief Constable of the territorial police area in which a port constabulary is situated to give permission for those constables to act outside of the port area in relation to port policing functions, whereby they retain the powers of a constable The legislation was enacted after it was established that the Port of Dover Police had no police powers to transport a prisoner to a police custody suite outside of a 1 mile (1.6 km) radius from the edge of port property. Due to an apparent oversight, this section of the Act would not apply to London Gateway Port Police Officers. The Marine Navigation Act 2013 does apply to Port Constables attested under the Harbours, Docks and Piers Clauses Act 1847, which also provides the constables police powers within 1 mile (1.6 km) of port property. As such, there would be little benefit in attesting constables under the 2008 legislation, rather than the 1848 Act, as the Marine a Navigation Act 2013 would not apply. The alternative would be to attest any such constable under both pieces of legislation.