She was first elected to the state Senate from the 18th District in a special election held on December 6, 2014, to choose a successor to Glenn Hegar.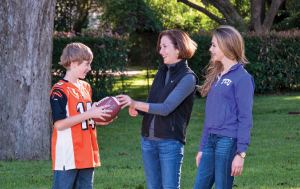 Kolkhorst is a 1988 graduate of Texas Christian University in Fort Worth, Texas, at which she studied advertising and public relations and played on the women's golf team.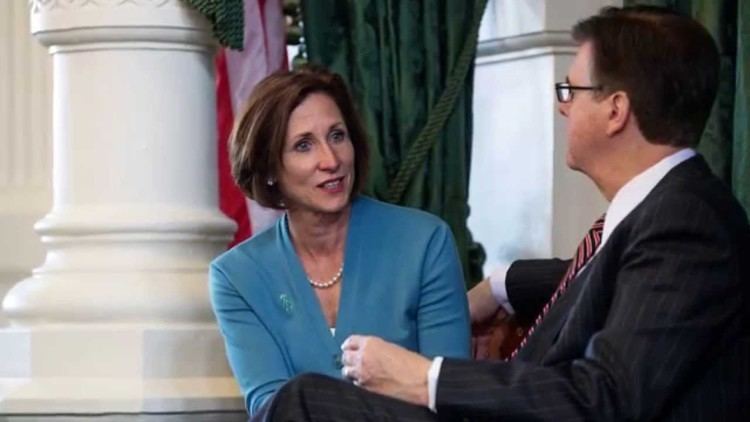 Kolkhorst is a fifth-generation Texan, with ancestral roots dating back to the Texas War of Independence. After elementary and secondary schooling in Brenham, she graduated from Texas Christian University in Fort Worth, at which she played collegiate golf from 1983–87 and was Academic All-Southwest Conference. She also served as assistant director of TCU athletics media relations after her undergraduate golf career ended.
In December 2014, Kolkhorst was elected to the Texas Senate in a special election, after previously serving fourteen years in the Texas House. She is a member of the Senate Finance Committee. She also serves as Vice-Chair of the Senate Committee on Health and Human Services.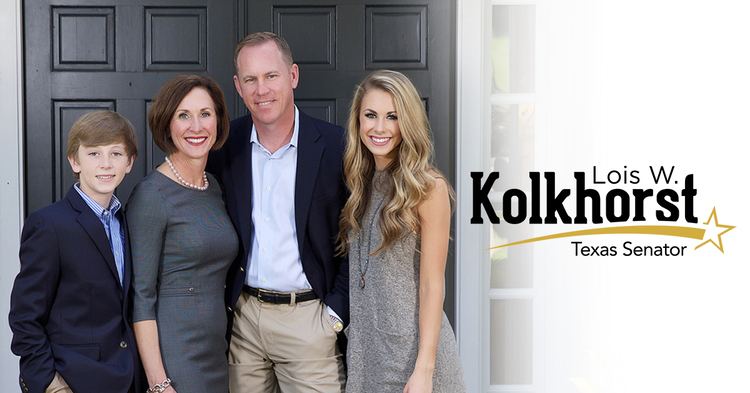 Kolkhorst is a member of the Senate Committee on Education. Representing all or part of twenty-one Texas counties, she serves on the Senate Transportation Committee as well as the Senate Select Committee on Texas Ports. Kolkhorst serves on the Senate Committee on Agriculture, Water and Rural Affairs and the Texas Agriculture Policy Board.
In 2013, she worked closely with Texas Governor Rick Perry and U.S. Senator Ted Cruz to reject a push by members of the Texas Legislature to expand Medicaid in Texas. She has been named among the "Ten Best Legislators" by Texas Monthly magazine. In her race for Senate District 18 in 2014, she received the endorsement of outgoing Governor Rick Perry, incoming Governor Greg Abbott, and incoming Comptroller Glenn Hegar.
In 2017, with the encouragement of Lieutenant Governor Dan Patrick, Kolkhorst introduced legislation in the state Senate, like that adopted in 2016 in North Carolina, to forbid cities and counties from enacting ordinances that prohibit businesses from establishing policies regarding bathrooms and dressing rooms open to the public. The bill would require transgender persons to use the rest rooms corresponding with their documented sex at birth.
On March 8, 2017, Judith Zaffirini, Kolkhorst's Democratic colleague from Laredo, cast the only dissenting vote among the members of the Senate State Affairs Committee, which approved Kolkhorst's bill, eight-to-one. Strongly opposed by business and sports interests, the measure won easy approval before the full Senate. Opponents of the measure have put their hopes in Moderate Republican Joe Straus of San Antonio, the House Speaker who is known to oppose the measure and can prevent a House roll call vote on the bill if he chooses to do so.
In a speech before a Faith and Family Day rally on the Texas State Capitol steps on March 16, Kolkhorst revealed that she had received a death threat during Senate debate on the bathroom bill: "I will tell you that I, from what is supposedly called a tolerant left and anti-bullying left, I have received emails that I would not let my children read, no matter what. My staff even withheld yesterday until the end of the day a threat on my life."
In May 2017, the group Conservative Republicans of Texas, led by Dr. Steven F. Hotze and former Harris County Republican chairman Jared Woodfill, placed a statewide call for conservative Christian candidates to run for state representative in the primary elections scheduled for March 6, 2018, against intra-party opponents of the Kolkhorst bill, on which the House has still refused to permit a roll call. Hotze called Republican opponents of the bill "spineless, yellow-belly Texas Republican state representatives who have not had the courage to ... protect the privacy and safety of their mothers, wives, daughters, and granddaughters. ... If a man does not have the courage to protect women and girls and keep them from harm's way, then he is as worthless as chaff that the wind drives away ..." Hotze questioned the extent of Republican opposition to the bill, which he claims has the support of 84 percent of Texas Republicans in a recent survey.
The May 8 deadline for House bills to be approved by House committees passed without Speaker Straus permitting a House vote to consider Kolkhorst's bathroom bill, effectively killing the legislation for the 2017 session.
On August 3, 2016, about one hundred persons joined members of the clergy in a rally at the state Capitol in support of Kolkhorst's legislation. Pastor Ericka McCrutcheon of Houston, said that "men should not have access to the showers, locker rooms, changing rooms of women and girls. It's not decent, and it does not make sense." Pastor Bill Owens, who marched for civil rights in the 1960s, said that he "marched to be able to go to the school of my choice, to get a job [for which] I was qualified. I did not march one foot, one yard, one mile for men to go in women's restrooms." Kolkhorst, however, said that she has not spoken with Speaker Straus about bringing up her bill for a vote by the full House.
Kolkhorst and her husband, James Darren "Jim" Kolkhorst, have two children. Though they reside in Brenham, the couple owns and operates Kolkhorst Petroleum in Navasota in Grimes County. The company was founded by Jim Kolkhorst's father, James Henry "Bubba" Kolkhorst.
She is a member of the St. Paul's Evangelical Lutheran Church in Brenham.