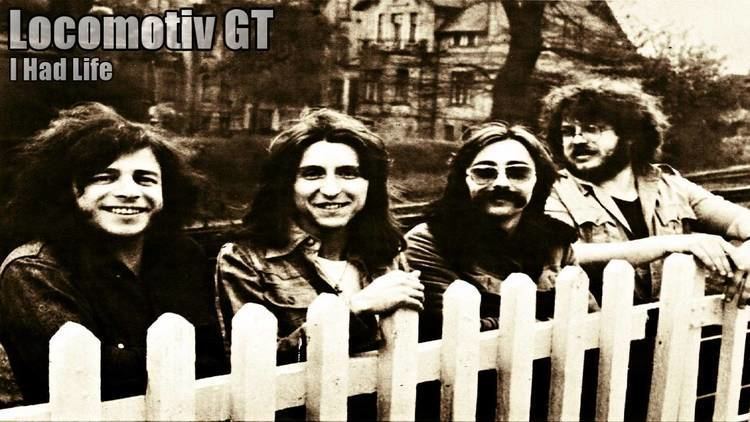 In 1970 the Hungarian Youth Magazine had assembled a super group based on the results of a reader poll; creating a fan's dream team of Hungarian popular musicians. The members of this ensemble were: Béla Radics (guitar), Zorán Sztevanovity (rhythm guitar), Károly Frenreisz (bass), Gábor Presser (organ), József Laux (drums), Ervin Fülöp (wind instruments), László Benkő (wind instruments), and János Kóbor (vocals). This was known as Supergroup I, but this line-up actually never performed together; dissolving before any live performances came to fruition. However, Frenreisz, Presser, and Laux from the supergroup decided to work together, and they formed Locomotiv GT with Frenreisz taking on the role of vocalist, and with new guitarist Tamás Barta, who had been part of Youth Magazine's next supergroup, in Budapest on April 6, 1971.
József Laux and Gábor Presser had been members of Omega (which also featured Benkő and Kóbor from the original supergroup) up until this point; and consequently left Omega in order to form Locomotiv GT. This ultimately split Omega's fan base; as Omega had been at the peak of their success, and in the forming of Locomotiv GT had now in effect became two distinct bands; with the ultimate consequence that personal relations between the members' of the two bands becoming strained. The lyrics of the LGT song Boldog vagyok ('I'm Happy') refers to this situation, to which Omega responded with the song Hűtlen Barátok ('Disloyal Friends'). In addition to the connection with Omega, Frenreisz had built his reputation in the band Metró, and guitarist in the band Hungária.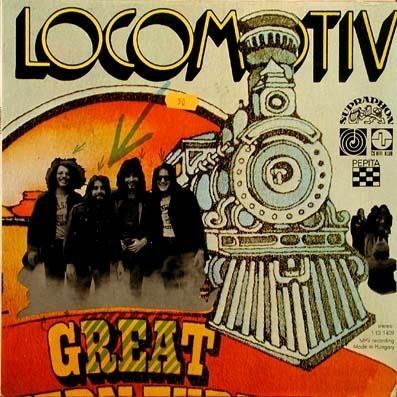 LGT's first concert was held on the Park Stage in Buda in July 1971. In August, this was followed by their first single, with Frenreisz's hit Boldog vagyok ('I'm Happy') on side A, and the Led Zeppelin –influenced Presser song Ha volna szíved ('If You Had A Heart') on side B. In October they performed together with the Tolcsvay Trió at the Horticultural College, in the opening of a club on the college premises.
The song Ezüst nyár ('Silver Summer') gave them such popularity that they were invited to Japan, to perform at the World Popular Song Festival in Tokyo, where they performed one of Frenreisz's songs, Érints meg, in its English language version (Touch Me, Love Me, Rock Me), which was a huge success at the festival. They later re-recorded the original English version in Budapest for the A side of their second single under the title Érints meg.
In December 1971 they released their self-titled debut album Locomotiv GT but in the Hungarian music scene its style still counted as experimental, with influences from the British progressive rock scene, and with the abstract creations they didn't have as much success at home as they did have abroad. In Western countries they were more popular, especially after an article that mentioned them in New Musical Express ("The new rock sensation could come from the East!"). What also contributed to their popularity abroad was the fact that Jack Bruce made an appearance on Locomotiv GT, their first LP released in the UK and the US, playing harmonica. This LP was not the same as their eponymous LP in Hungary, but consisted of songs from all three Hungarian albums released up to that point.
In May 1972 they were invited, as the only continental European band, to the Great Western Express Festival in Lincoln, England, where they performed alongside bands and artists like Genesis, the Beach Boys, Joe Cocker and the Faces.
In the autumn of 1972 they released their second album, Ringasd el magad ('Rock Yourself'), arranged in Hungary and recorded in London. They also released a single, with Barta's songs on both sides, Szeress nagyon ('Love Me Much') (with the B-side Csak egy szóra – 'Just For A Word'). They also produced an album titled Álmodj velem ('Dream with Me') and three singles for the singer Sarolta Zalatnay, and four albums for Kati Kovács.
In the meanwhile the idea came up that LGT, with their various experiences, could write the music for a musical based on Tibor Déry's An Imaginary Report on an American Pop Festival. The band agreed to do this work, but Frenreisz, who didn't want to work on the musical, left the group and founded his own band, Skorpió. He was replaced in LGT by Tamás Somló, who had graduated from a circus school, yet another former member of Omega as well as the band Non-Stop. The musical was a great success, and it was performed in five countries.
The third album Bummm!, was finished in 1973, its style being easier for the listeners to digest. With this album the band finally became a success in Hungary, too. The best known songs from the album are: Ringasd el magad, Kék asszony, Gyere, gyere ki a hegyoldalba, Ő még csak most tizennégy, Vallomás, Miénk itt a tér.
In 1973 the band again travelled to Great Britain, where they were seen on the TV and played some concerts and recorded some songs.
In 1974, Locomotiv GT (Dunhill Records 811) was released, with a three-month tour in the USA that year. Jimmy Miller, the Rolling Stones impresario, worked with them on this English language album, but the work on this album was interrupted because the People's Republic of Hungary decided it was going to ban this album. Also around this time Tamás Barta decided not to return to Hungary, opting instead to remain in the USA after the band's tour there, as he had decided that he wanted to pursue his career abroad. As a replacement, János Karácsony was brought in from the band Generál, and with his cooperation the fourth album was released in 1975. This album was called Mindig magasabbra ('Ever Higher'). Besides the title song, the best known songs from this album are: Szólj rám, ha hangosan énekelek, Neked írom a dalt, Álomarcú lány, Egy elfelejtett szó.
Between 1973 and 1976 the band also performed as the backing band for Kati Kovács, and they released the following four albums together: Kovács Kati & Locomotiv GT, Rock and roller, Közel a Naphoz, Kati. The most successful songs from this collaboration were Rock and Roller and Szólj rám, ha hangosan énekelek. They were so successful that Kovács now became one of the best liked singers in Hungary. They even had a TV show together. LGT also wrote three albums for Zorán during this period.
In 1976 the band created their next album, Locomotiv GT V., a double album, which was again banned in Hungary. It contained hits like mint A Kicsi, a Nagy, az Arthur és az Indián, Ha a csend beszélni tudna, Fiú and Mindenki. Laux had departed the band by this time so as to move to the USA in order to become a record producer and engineer there. For a tour of the DDR, he was replaced on the drums by Gábor Németh from Skorpió, and then for a successful tour of Transylvania by the drummer Gábor Szekeres from the band Atlasz, until finally the band found a permanent replacement in the young János Solti from the band Generál, and now the band would be in full bloom during the following years.
In 1977 the album Zene – Mindenki másképp csinálja was again a great success. They recorded lots of popular songs for TV use with film director Sándor Pál. Some of these songs were A Rádió, Mindenki másképp csinálja, Somló Tamás's song Boogie a zongorán, and Jóbarátok vagyunk, which was performed together with the singers Zorán and Ferenc Demjén, and the song Egy elkésett dal, written in honour of the then recently deceased actor Rudolf Somogyvári.
The same year Gábor Presser – as the first representative of rock music – was awarded the Erkel Ferenc Prize, and during this period Zorán's brother Dusán Sztevanovity began to gain an increasing role in writing lyrics for LGT. But besides their success, the four musicians in LGT experienced some setbacks, e.g. after their second tour in Romania they were banned in that country, and in addition, the band members were banned as individuals, so they had no right to enter that country. Also they were forbidden to perform in their own country.
In 1978 they put together a double album of their best works, Aranyalbum 1971–76, and they also recorded the album Mindenki, which became famous for such songs as Hirdetés, Nem adom fel, Nézd, az őrült and Mindenféle emberek.
In 1979 they were only able to release a double single, but all four songs on it became well known and very popular. These songs were: Annyi mindent nem szerettem, Pokolba már a szép szavakkal, Miénk ez a cirkusz, Veled, csak veled.
In 1980 they again released a double album, which was called Loksi (which, incidentally, is the band's nickname). This was the first album for which the band received royalties: when 25 000 copies had been sold, each member of the band would receive 0,70 forints for each additional album that was sold.
In 1983, they toured the UK, supporting 10 CC.
On July 19, 2016, bassist/vocalist Tamás Somló died, aged 68, of cancer, leaving the band's future in doubt; and the following month, on August 6, 2016, founding drummer József Laux also died, aged 73. Therefore, on the 4th of September the remaining members of the band announced the very end of LGT.
Locomotiv GT (December 1971)
Ringasd el magad (1972)
Bummm! (1973)
Mindig magasabbra (1975)
Locomotiv GT V. (1976)
Zene – Mindenki másképp csinálja (1977)
Mindenki (1978)
Loksi (1980)
Locomotiv GT X. (1982)
Ellenfél nélkül (1984)
424 – Mozdonyopera (1997)
A fiúk a kocsmába mentek (2002)
Locomotiv GT (Dunhill Records 811) (made in 1973 with songs mainly of the three first LPs; was released in 1974 in the UK and the USA)
All Aboard (follow-up to the previous album; shelved, never released in the UK or the USA due to poor sales of the previous album. released remixed and omitting two of the original Barta penned tracks in 1988 in Hungary only under the title Locomotiv GT '74 USA)
Motor City Rock (recorded in Prague and released in 1976, without a title. It was re-released in 1978 with a title and was exported to many Eastern bloc countries)
Locomotiv GT (recorded in Hungary in 1980, without a title. Was exported to West Germany and Sweden)
Too Long (English version of their tenth Hungarian LP Locomotiv GT X. (if double albums are counted as two albums). It was recorded in Budapest and London in 1982–83 and was released in the UK in 1983.
Boxing (made for EMI of songs on their 1984 maxi single Első magyar óriás kislemez and the album Ellenfél nélkül in 1985; refused by EMI)
Locomotiv GT '74 USA (remixed and edited version of All Aboard, compiled by Laux in Budapest in 1987 and released in 1988)
Locomotiv GT In Warsaw (recorded live in Poland in 1976)
None of Locomotiv GT's Western European or American releases charted.
Locomotiv GT (Argentina, 1973)
Ringasd el magad (under the title Locomotiv GT; Czechoslovakia, 1973)
Live In Warsaw (live) (Poland, 1975)
Mindig magasabbra (West Germany, 1976)
Mindenki (Czechoslovakia, 1979)
Todos (Spain, 1980)
Boldog vagyok / Ha volna szíved (1971)
Érints meg / Kenyéren és vízen (1971)
Szeress nagyon / Csak egy szóra (1972)
Hej, gyere velem / Csavargók angyala (1973)
Segíts elaludni / Mindig csak ott várok rád (1973)
Belépés nemcsak tornacipőben! — Mindenki másképp csinálja / Mozdulnod kell (1978)
Annyi mindent nem szerettem / Pokolba már a szép szavakkal / Miénk ez a cirkusz / Veled, csak veled (double single, 1979)
Első magyar óriás kislemez (1984)
Touch Me, Love Me, Rock Me / Silver Summer (1971. The existence of this single is not proven, but it is mentioned in the Lexicon of Rock Music by Péter Tardos. "Touch Me" was later released on a compilation.)
Serenade / Give Me Your Love (The Netherlands, 1972.)
Hilf mir einzuschlafen / Ich wart' auf dich irgendwo (East Germany, 1973.)
Rock Yourself / Serenade (To My Love If I Had One) (U.S., 1974. First single off the first English LP released in the same year. Includes an edited version of "Rock Yourself", both in mono and stereo version.)
She's Just 14 / Free Me (USA, 1974. Second single of the LP. Includes an edited version of "She's Just 14".)
Ringasd el magad / The World Watchmaker (Poland, 1973/1974 (?). Includes a live version of Ringasd el magad ("Rock Yourself"), probably from the festival in Sopot, 1973. The other song "The World Watchmaker" was written by Polish songwriter Tadeusz Woźniak, in original song called "Zegarmistrz Światła".)
Higher And Higher / Lady of the Night (Live versions of the songs Mindig magasabbra and Álomarcú lány, performed in Hungarian, only the single has an English title. Released around 1975/76, probably when the LP Locomotiv GT in Warsaw was released.)
Rock Yourself / Serenada — Blues (Came into being under circumstances similar to the previous. The second song is not Szerenád but rather Arra mennék én which is followed by a blues song exclusive to this release. Here Rock Yourself can be heard in English, and within it a few lines from Mindenki)
Vengerszkájá esztrádá (Soviet Union, 1978. Part of the soundtrack to Zsombolyai János's film A kenguru which contained music by LGT as well as Omega, Gemini, Skorpió, Fonográf, Bergendy, M7, Koncz Zsuzsa, Bódy Magdi, Kovács Kati, and Sarolta Zalatnay. Loksi's contribution was the English version of Álomarcú lány (Lady of the Night) but the title, Kák ti zsivjos?, appearing on the disc is in error.)
I'll Get You / Star (1979. A promotional single prepared for MIDEM, with English versions of Engedj el and Elkésett dal. Only the lyrics were newly recorded, the background music was copied from the original LP, Zene.)
Tantas cosas que no queria (1980, Spain. A single from the Todos sampler including the two songs Annyi mindent nem szerettem and Egy elfelejtett szó.)
Two Krugozor 45s (1980 and 1981, Soviet Union. Krugozor was a Soviet youth magazine which appeared monthly with an included 45. The 1980 single (issue 2, number 11) includes the two songs Rajongás (Russian: Vosztorg) as well as A Kicsi, a Nagy, az Arthur és az Indián (Russian: Mális, Velíkán, Artúr í Indéjec). The 1981 single (issue 11, number 9) includes the two songs Cabolo (Russian: Kabolo) and A dal a miénk (Russian: Pésznya nása).)
I Want To Be There / Portoriko (1983, United Kingdom. The first promotional single from Too Long.)
Too Long / Surrender To The Heat (1983, United Kingdom. The second promotional single from Too Long.)
Too Long / Surrender To The Heat (1983, United Kingdom. The promotional maxi from Too Long on which can be heard the extended version.)