Genre(s)

Maze




Arcade system

BurgerTime hardware




Developer

Data East




Cabinet

Upright




Initial release date

April 1981






Display

Raster, 240 x 240 pixels (Vertical), 8 colors




Platforms

Arcade game, Intellivision, Game Boy, Atari 2600




Publishers

Data East, Taito, Mattel, G-Mode




Similar

Data East games, Other games
Classic game room lock n chase review for intellivision
Lock 'n' Chase (ロツク・ン・チエイス) is a 1981 maze arcade game developed and published by Data East in Japan in 1981, and later published in North America by Taito. Lock 'n' Chase was Data East's response to Pac-Man. The game was licensed to Mattel who produced the Intellivision and Atari 2600 home console versions in 1982 and an Apple II version in January 1983. Telegames later re-published the game for the Atari 2600 after acquiring rights from Mattel.
Contents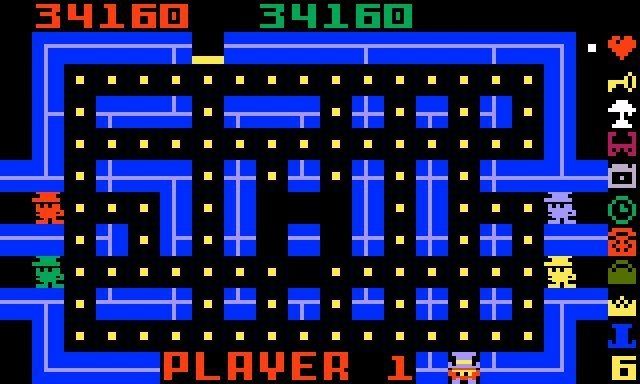 Boyographic lock n chase review
Gameplay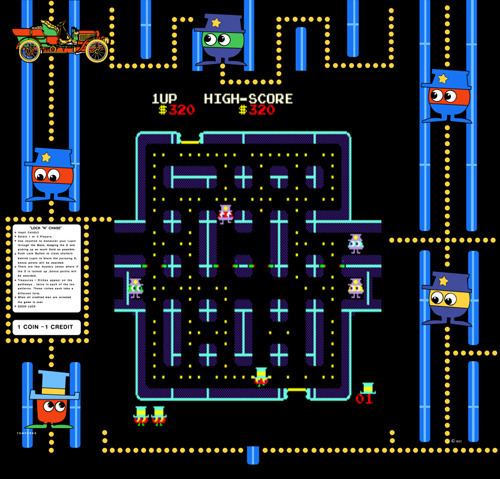 The game's main character is a thief. The object of the game is to enter a maze and collect all the coins and, if possible, any other treasure that may appear. The thief must then exit the maze (a vault) without being apprehended by the Super D (policemen). The thief can close doorways within the maze in order to temporarily trap the Super D and allow him to keep his distance from them. Only two doors can be closed at a time. The Super D policemen are named Stiffy, Scaredy, Smarty, and Silly.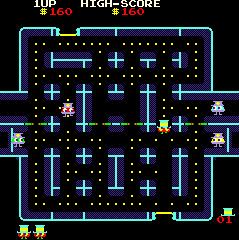 Coins (depicted as dots) are worth 20 points each. In every level of Lock 'n' Chase, there exist money bags that appear in the center of the maze randomly. Money bags are worth 500, 1000, 2000, and up to 4000 points, respectively, for each time they appear. Each level also has a specific treasure that appears near the center of the maze (much like the food items in Pac-Man). These treasures include the following items (listed respectively by level): top hat, crown, briefcase, and telephone. The first three of these treasures are worth 200 points, 300 points and 500 points, respectively. Additional treasures and their point values are revealed as the player completes successive levels.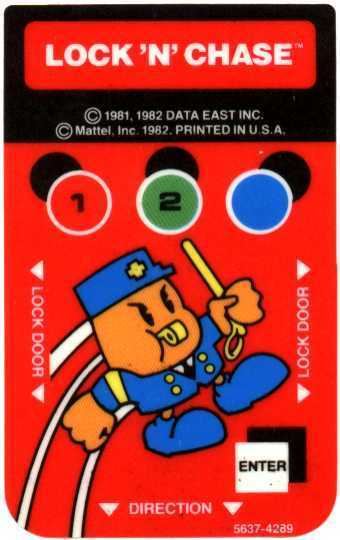 This game was released in two different arcade game versions in the US. One was part of Data East's DECO Cassette system, a convertible system designed to change games out quickly by using a cassette and special key. It was also licensed to Taito for release. This was the last Taito cabinet released in the "old style" cabinets; Taito's next arcade release, Qix, changed over to the familiar Taito cabinet style used until the mid-1980s.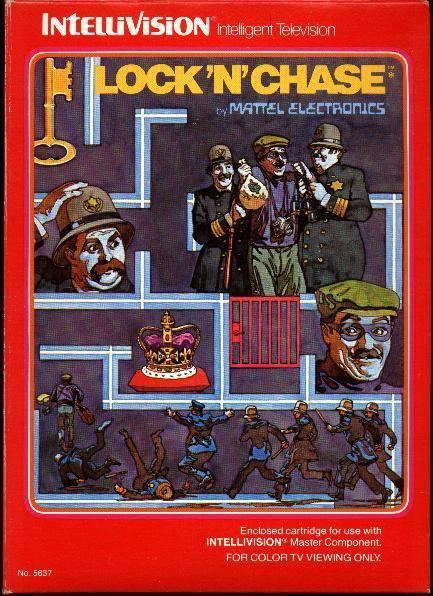 On June 4, 2010, Texas gamer Patrick Scott Patterson hit a new world record on this title at the Funspot arcade in New Hampshire.
Ports and re-releases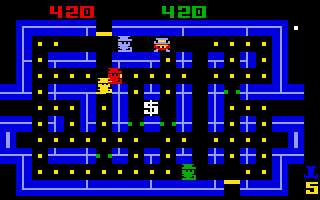 In 1990, Data East produced Lock 'N Chase for the Nintendo Game Boy system (Sun Electronics), featuring a Box Art Illustration showing the fleeing thief chased across a city backdrop by San Francisco game artist Marc Ericksen.
The original Lock 'n' Chase is included in the Nintendo Wii release Data East Arcade Classics and a release on the PlayStation Network, both in 2010. The Game Boy version was released on the Nintendo 3DS Virtual Console on January 19, 2012. More recently, a homebrew port by PCEngine was made to the ColecoVision, featuring an enhanced mode featuring music from Clu Clu Land and the NES port of Lode Runner.
References
Lock 'n' Chase Wikipedia
(Text) CC BY-SA