7.8

/

10

Alchetron

7.8

Rate This




First episode date

11 May 2009

Executive producer

Madhu Pandit Dasa







Genre

Children's television series

Similar

Krishna

, Jai Shri Krishna, Chhota Bheem, Mighty Raju, Motu Patlu

Similar

Baal Krishna , Jai Shri Krishna , Krishna (TV series)

Created by

Reliance BIG Animation Studio

Screenplay by

Jeffrey Scott

Original languages

Hindi, Tamil, Telugu, English

Distributor

Big Animation (India), Evergreen Entertainment (Worldwide)

Sound Mix

Dolby SR (Dolby 5.1)

Directed by

Vincent Edwards, Balasubramanian, Rajasekaran

Writers

Jeffrey Scott, Alok Sharma

Produced by

Sk Ashish, Madhu Pandit Dasa, Prafull Gade, Ashish S. Kulkarni, Ravi Mahapatro, Rajesh Sawhney
Little krishna manmohana hindi
Little Krishna is a 3D computer-animated series which is a co-creation between BIG Animation and India Heritage Foundation (promoted by Akshaya Patra Foundation). The series started showing on Indian television on Nickelodeon from 11 May 2009.
Contents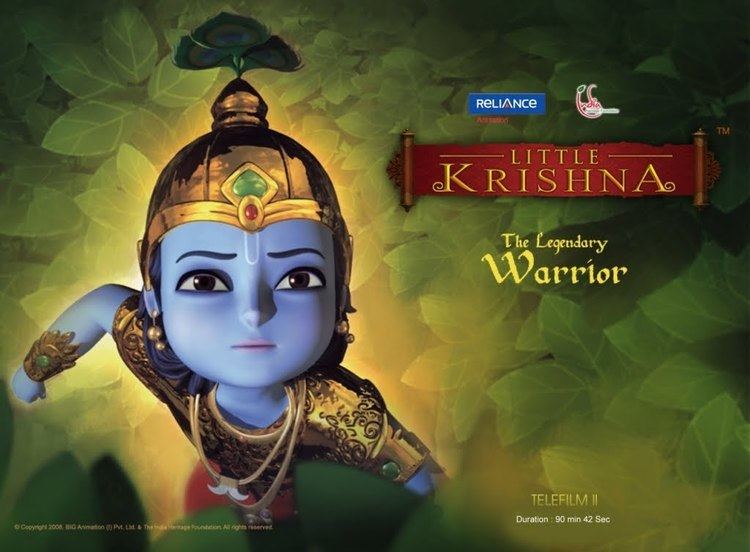 It depicts the childhood pastimes of Lord Sri Krishna, the Supreme Personality of Godhead, who appeared in the village of Vrindavana. The stories of the animated series revolve around Little Krishna, the land of Vrindavan and the life of villagers there. There are currently 13, 23-minute episodes in the series. Using the traditional tales of Krishna's childhood adventures as a foundation, the tonality of the stories is both light-hearted and, at times, serious.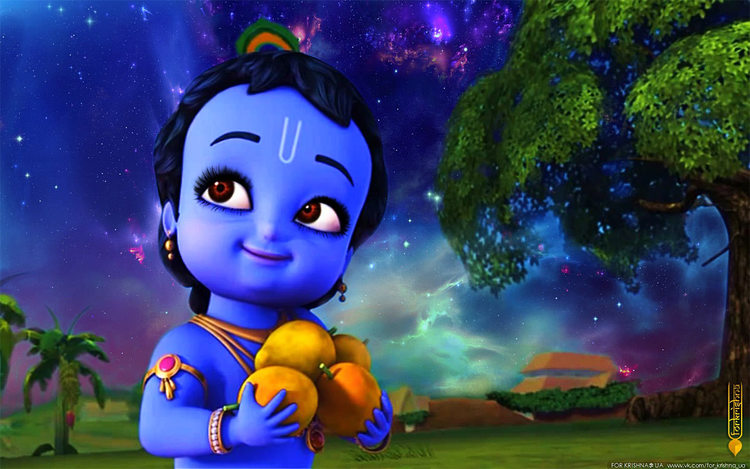 Little Krishna is a lovable and mischievous character who enjoys helping his friends and villagers. Based on the chronicles of Srimad Bhagavatam and the writings of the Six Goswamis of Vrindavana, the series is an outcome of seven years of research by the devotees of ISKCON Bangalore with two and half years of production work by BIG Animation. Scripted by Emmy Award winner Jeffrey Scott and researched by Chanchalapati Dasa, Chamari Devi Dasi and Bhaktilata Devi Dasi, the series was based on the teachings of HDG A. C. Bhaktivedanta Swami Prabhupada.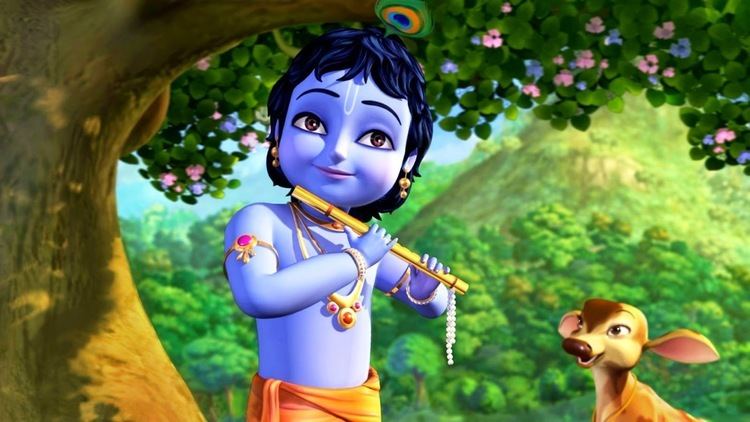 The series has a visual style, which combines Indian design motifs with classical Western styles. The design team at BIG Animation has researched every style aspect of the land of 'Vraj', where these stories took place 5000 years ago. The backgrounds, art direction, color keys and all other elements of detailing were thoroughly researched upon, unearthing every possible reference and finally deciding on the designs that will suit the contemporary formats. The series has been primarily created in English, but it has also been dubbed in several other Indian languages, including Hindi. Though it is primarily targeted at the age group of 7–9 years and for the global market at that, on the whole the series is a family entertainer. Under the able leadership of Prafull Gade (Associate Producer), who diligently married economics with creativity and Ravi Mahapatro (Line Producer) who was responsible for managing the day-to-day operations. A team of 280 artists have worked on this project which is directed by the tag team of Vincent Edwards who has earlier worked on Spider Man: TV Series and R. Balasubramaniam, while the music has been rendered by Varaprasad.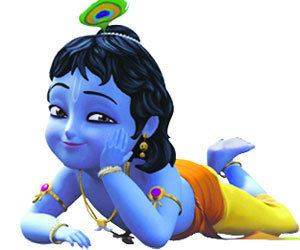 The series explores a lot of very interesting stories beyond the popularly known ones from the life of Krishna, ones that have never before been presented to the audience, thus ensuring a truly superior and exclusive content. However the death of Kamsa still not made, the audience and devotes are eager to see the fourth part.
Story Board
Little Krishna is the darling of Vrindavan, the land of peace and tranquility, which is constantly threatened by the malice of evil king Kansa. While Krishna is busy with his endless pranks and mischiefs accompanied by his friends, Kansa remains restless for he is aware that Krishna is his nemesis. As in the past, a prophecy had threatened Kansa that his evil reign is over, and a saviour will descend on earth to make Kansa meet his worst adversity in life, which is his death. The only objective of Kansa's life therefore, was to find his angel of death.
Sworn to see the end of Krishna, Kansa relentlessly sends his trusted aids, the ferocious demons to Vrindavan in order to kill Krishna. But Krishna is born to be a saviour as he crushes the deadly demons one after another with heroic poise. Kansa repeatedly fails to recognise that Little Krishna, even as a baby in the lap of His mother is still God or "The Supreme Personality of Godhead".
While the episodes of "Little Krishna" capture an epic canvas on screen with the colossal battles of good against evil, it never misses to touch the emotional chord of the narrative. While lapping up the affection of his parents and the admiration of the common mass of Vrindavan, Krishna manifests his mesmerising charms with his soulful enchanting flute that compels every living creature to dance to his tunes
Action, adventure, heroic valor, selfless deeds, emotional trysts, mischief... all packaged in a compelling story telling underlines the hallmark of the "Little Krishna" series.
Episodes
There are 13 episodes in this series.
Attack of the Serpent King (Kaliyamardhana)
The Terrible Storm (Govardhana Lila)
The Horror Cave (Aghasura)
Enchanted Picnic (Brahma Vimohana Lila)
Fire and Fury (Pralambasura and the Fire Demon)
Demon in Disguise (Vatsasura and the story of Bakula)
Deadly Donkey (Dhenukasura of Talavana)
Challenge of the Brute (Arishtasura and the story of Radhakunda)
Assault of the Lethal Bird (Bakasura)
The Charge of the Monster Horse (Keshi)
The Mystery of Vanishing Sheep (Vyomasura)
The Vicious Whirlwind (Trnavarta)
The Witch Trap (Putana)
Krishna
Krishna (Kṛṣṇa) is not a hero or villain, he is the Supreme Personality of Godhead, and can be found or seen in any place, any thing, and in every thing, everywhere. Krishna is India's most attractive super-hero. He appears in different forms at different times when the material world is tormented by evil forces and vicious demons. He conquered the hearts of the residents of Vrindavana. For him stealing butter from unsuspecting Gopis was as much child's play as killing Kamsa's powerful henchmen in their shape-shifting forms. The darling, the prankster, the savior – Krishna is adventure personified with his mesmerizing flute in one hand and the ultimate power to destroy evil on the other. He has timeless appeal and is a favorite of kids and adults alike. Krishna is unlimited in strength, beauty, wealth, fame, knowledge and renunciation and will thrill anyone who hears about his activities.
Balaram
Balaram (Balarāma) is the elder brother of Krishna, extremely responsible and protective towards the well being of Krishna. He is the incarnation of Sheshnaga he is Powerful and strong himself, known better as the most hailed wrestler in all of Vrindavan. He was an active partner in all the pastimes that Krishna and his cowherd friends enacted in Vrindavan. He is sensitive. He is the only one who is aware of how unlimitedly powerful Krishna is. Balaram praises Krishna's prowess and His abilities. His confidence in Krishna, and the amazing chemistry between them, made their relationship legendary.He's an avatar of Sheshnaga, Lord Vishnu's resting place
Madhumangal
(Madhumaṅgala) An absolute comic relief, he was one of the closest buddies of Krishna with a voracious appetite. Madhumangal was best characterised by his unsatisfying craving for butter and his lazy demeanor epitomised in his bulky physique and paunch. He was hardly seen taking any initiatives, when it comes to taking any action, but was always the frontrunner in eating stolen butter. Quintessentially an opportunist but his unconditional love for Krishna endears him to the audience.
Subala
(Subala/Shakuni) He was the conscience keeper of Krishna's troupe who would always warn before the group ventures out on any of its escapades. The youngest in the group, he was meek and hardly forceful about his beliefs and quick to submit before the decision of the group. He had a unique style of repeating the last two words of every sentence spoken by other members of the group which symbolises the way he eventually acts- following what the rest of the group has decided.
Radha
(Rādhā/Radha) She was the queen of the girlie group and a major contest for Krishna and his friends. She would often challenge Krishna as nothing but a prankster nullifying his superhero image. She was also the greatest obstacle for Krishna and his friends from stealing milk and butter. On the outside she was a tough cookie, but inside she was among the closest friends and well-wishers of Krishna. She is the real source of all Lakshmis and all female Goddesses and is the Supreme Goddess of fortune .Only by her grace and mercy can someone approach Supreme Lord Krishna . She is the energy personification of Krishna
Lalita
(Lalitā) She was also among Radha's favourite friends and one of their unmistakable gang of three girls. She too loved Radha and always took her as their leader and supported in every possible way, whether its teasing Krishna or stopping him and his friends from stealing.She is Radha's expansion and her only duty is to please Radha whom she looks upon as her mistress . She gets pleasure by serving Radha
Hamsi
(Haṁsī) She was the playful calf and pretty much a part of Krishna's gang as one of his favourites. Her playful naughtiness often asked for scolding from Krishna but with a leap in her steps she would follow the gang everywhere not willing to be left out from their adventures.
Dadhilobha
(Dadhilobha) The stories can never be told in their true flavour without Dadhilobha – the mischievous monkey and one of the closest followers of Krishna. They both seem inseparable and every time Dadhilobha appears he creates a riot of fun around him. Trusted and proactive, he was among the frontrunners in the group when it comes to stealing butter and milk and hence quiet often we find him and Madhumangal teaming up for the pranks.
Nanda
(Nanda) He is the father of Krishna and also the village-chief of Vrindavan. Krishna was his eye candy. But being a sensible and able leader he was equally concerned and protective about his subjects. They would often get blessed with his generosity. One thing that kept him worried was Krishna's safety from King Kamsa and his battery of vicious demons. Every time they attacked, Nanda while tensed about the well being of his beloved son was also equally worried about his subjects who were in a constant danger of falling prey to those vicious demons. With every conquest, his paternal love could never fathom the true super hero that his son really was.
Yashoda
(Yaśodā) As the quintessential mother of Krishna, she was maternal love manifested. She could never see any fault in her beloved son and was always there to pamper him. No amount of complaints of Krishna from the neighbouring ladies who had been subjected to Krishna's pranks will ever alter her immense love for Krishna. For her the entire world was around Krishna only. The demons and the threat on Krishna's safety would madden her with grief and concern. Even after accomplishing all the heroic acts Krishna would come back to his mother as the innocent child and Yashoda would hug and love him simply as her sweet little kid.
Kansa
(Kansa) Evil arrogant king Kansa, the main antagonist, was maternal uncle to Krishna in relationship. Destiny had it that Krishna will emerge as the angel of death for him. Terrified to face his own fall, Kansa's fear for death turned him into a ruthless cruel ruler. To secure his own life it became pivotal for him to eliminate Krishna. With this malicious motive he relentlessly kept on sending his vicious cronies, the deadly demons one after another with the single motive of Krishna's death. Each one of his plans succumbed to failure as Krishna killed all the demons resulting in bolts of panic and frustration to Kansa who could helplessly sense the approach of his angel of death.
Putana
Putana (Putanā), the mistress of darkness, the female demon with powers to fly was an expert in snatching souls in excruciating torturous ways. She was sent by Kamsa to kill Krishna who was nothing more than a toddler at that time. As an expert in camouflaging which was much needed for she was an ugly demonic lady, she took the disguise of a celestial beauty and offered her services to Krishna's mother Yashoda for breastfeeding little Krishna with her poisoned breasts. Having underestimated Krishna's powers, her heinous motive met a gruesome end as Krishna while feeding sucked the life out of her.
Trinavarta
Trinavarta (Tṛṇāvarta) the tornado demon was one of Kamsa's allies. His unprecedented power to create whirlwind for mass destruction made him one of the most fearsome evil force. Sent to destroy Krishna, he created a scary situation by uprooting and destroying everything that came in his path. Full of pride, Trinavarta twisted a vicious dark cloud of terror and gripped Krishna in his clutches. But Krishna ripped through the tornado crashing him down to his death.
Vatsasura
Vatsasura (Vatsāsura), the calf demon was one of Kamsa's favourite for his malicious nature and brutal force. He gleefully accepted the mission to execute Krishna. Vatsasura took the disguise of a demonic calf to trick Krishna into a duel. With his capabilities to manoeuvre his own shape and size, he grew into a fearsome large calf and attacked Krishna. While he could scare away the rest of Krishna's friends, Krishna stood his ground. Vatsasura with all his strength finally realised that he was no match for Krishna and finally met his end.
Bakasura
Bakasura (Bakāsura) is the Crane Demon who was provoked by Kamsa to kill Krishna in return for a lavish life thereafter. His armoured sharp beak, deadly talents and volleys of fire spitting powers had earned him the reputation of an insanely powerful monster. Even the heavenly powers seemed no match for him. Blind in greed, overconfident of his own strength he challenged Krishna and after a deadly fight managed to swallow him up. But he had undermined Krishna's abilities. Krishna managed his way out and after another bout of lethal fight he forcefully stretched out Bakasura's deadly beak and shattered it.
Aghasura
Aghasura (Aghāsura) the giant deadly serpent demon had the powers to glide in the sky and change its forms. Summoned by his master Kamsa he turned himself into a ghostly cave to allure Krishna and his friends inside with the intention of swallowing them up. He managed to trick Krishna's friends inside and trapped them in his poisonous belly. Sensing the danger, Krishna came to their rescue as Aghasura sucked Krishna in as well. But just as he was about to crush Krishna inside him, Krishna tore open Aghasura's abdomen into pieces and brought an end to the great serpent demon.
Brahma
(Brahmā) The four headed god Brahma was bestowed with the responsibility of keeping an account of all the events happening on earth. But little did he know about the great powers that Krishna possessed. In zest he mistook Krishna's supremacy as a magician's trick and challenged Krishna by kidnapping his friends. Not to be let down, Krishna in return fooled Brahma by multiplying himself in the form of his friends till Brahma realised the magnitude of Krishna's powers and bowed in front of him seeking mercy.
Dhenukasura
Dhenukasura (Dhenukāsura) was the guardian of Kamsa's prized wine orchard and a terror for any trespasser. With his deafening bray and stampede there was no mercy for anyone. He had even dwarfed the king of the Gods Indra. With his unmatched strength he shook and split the earth into two almost about throwing Indra inside the deep crevice. He reigned supreme until Krishna and Balaram challenged his might. Threatening to shatter the boys, he engaged in a violent fight on land and in the sky. Earth trembled as finally Dhenukasura got slay in the hands of Balaram while Krishna overpowers rest of his evil gang of demonic donkey cronies.
Kāliyā
Kāliyā the five-headed serpent king was blinded by hatred and rage as his toxic venom had completely shadowed his senses. He posed a deadly threat to the peaceful water lands as the mighty eagle warrior Garuda had to challenge him. Defeated, Kāliyā had to leave with his five serpent wives only to find his new abode of terror in Vrindavan, Krishna's homeland. His fearful venom started poisoning the river as commoners flew to safety. Krishna challenged his vicious motives and what followed was a titanic underwater fight between them. Finally Krishna jumped on Kāliyā's head and forced all the venom out of him stripping Kāliyā of all his powers.
Pralambasura
Pralambasura (Pralambāsura) the giant demon had a reputation of possessing brutal strength. Following Kamsa's orders he ventured out to find the blazing Fire Demon with the motive of teaming up to kill Krishna. The meeting of two old pals resulted in a mock fight to test each other's strength. Unable to find Krishna, Pralambasura mislead Balram into the forest and tried to crush him to death with his demonic strength. But with one single punch, Pralambasura died in the hands of Balaram.
Fire Demon
Fire Demon was a friend of Pralambasura and together they had the order to kill Krishna. Fire demon possessed the unique power of morphing his form into any simple burning object and emerge when needed as the monster, capable of turning everything into ashes while riding on his chariot of fire. In order to allure Krishna in his fiery trap, he set ablaze the Munjavana forest trapping Krishna's friends and their cattle. Krishna came to their rescue and extinguished the might of Fire Demon by sucking in the demon and all the fire inside him.
Indra
Indra was the arrogant and capricious demigod of rains and thunder. His wrath fell upon Vrindavan – Krishna's abode when the villagers decided to worship Govardhan hill instead of him as per Krishna's advise. Infuriated with rage and humiliation, Indra vowed to teach the people of Vrindavan a lesson and manifest his supremacy. He brought upon relentless rain and thunder resulting in floods and disaster. Krishna provided shelter to the commoners by lifting the gigantic Govardhan hill on his little finger. Indra riding on his pet elephant – the giant Airavat along with his cronies tried every trick to destroy the hill. All their thunderous powers went in vain as finally he had to taste defeat and humiliation in the hands of Krishna.
Aristasura
Aristasura (Ariṣṭāsura) the severe bull demon attacked Vrindavan confident of overpowering Krishna to fulfill his master Kamsa's wish. His demonic appearance and wild fury scared off the common people of Vrindavan. With his violent grunt and giant horns he shattered the dam and flooded everything around. But Krishna took him by his horns and flung him over. The earth trembled as they fought till Krishna swung him violently in the air and shattered his horns bringing an end to the bull demon. Also the bull thought Madhu one of Krishna's cowherd friends, was Krishna cause he held the flute in his hand.
Keshi
Keshi the horse demon went mad in fury as Krishna was killing all his demons cronies. He approached Kamsa assuring him of his own atrocious powers seeking orders to face Krishna in a combat. With revenge in his mind and full of pride for his own strength, in his pursuit he created havoc. Earth trembled under his hoofs as Krishna matched his powers and a terrible battle followed. Severely smacked and battered by Krishna, Keshi finally met his end.
Vyomasura
Vyomasura the bat demon was a vicious dark evil force hungry for destruction. He was sent by Kamsa to create disaster and kill Krishna. In his pursuit, Vyomasura had spread a veil of terror among people. Having found Krishna, Vyomasura kidnapped his friends in disguise thus trapping Krishna in a precarious situation. Sensing the opportunity, he took his real shape as Vyomasura and pounced on Krishna with vengeance. A fierce battle later Krishna crashed him down with an explosion, killing the vicious demon.
Music
The series uses the reference Soundtrack of The Lord of the Rings trilogy, especially the song "The treaming of Smeagol" and "The passage of marshes"
Release
It was released on 11 May 2009, in India.
TV release
The series was broadcast on Nickelodeon from 11 May 2009. Schedule Mon – Fri, 6:30 pm and 12:30 pm Sat & Sun, 11am, 5pm and 9 pm
Awards and nominations
Awards and nominations
Outstanding Indian Animated Content at FICCI Frames 2008.
Best Animated T.V. Series at FICCI Frames 2008.
Best Animated T.V. Episode at FICCI Frames 2008.
Best VFX in a T.V. Episode at FICCI Frames 2008.
Best 3D Animation Film at The Golden Cursor 2008.
Cast
Prachi Save Saathi as Krishna
Meghna Erande as Baby Krishna
Neil D'Monte as Nanda Maharaj
Anand Tiwari as Dadhiloba unknown episodes
Vikrant Chaturvedi as Kamsa
Soniya Nair as Balram
Cara Pareira as Krishna
Francois Castellino as Garuda
Honey Nathwani as Ganga
Nitu Chaudhry as Baby Balram
Sanjay Swami as Kamsa
Rajeshrie Sharma as Radha
Vinod Kulkarni as Aghasura
Rahul Mulani as Demons
References
Little Krishna Wikipedia
(Text) CC BY-SA