Litochoro (Greek: , Katharevousa: ?????????) is a town and a former municipality in the southern part of the Pieria regional unit, Greece. Since the 2011 local government reform it is part of the municipality Dio-Olympos, of which it is the seat and a municipal unit. It is located at the base of Mount Olympus, on the western shore of the Thermaic Gulf. The first recorded mention of Litochoro is in an account of a visit by Saint Dionysius (Greek: ????? ?????????) to Mount Olympus. The town is a popular destination for those wishing to climb Mount Olympus as almost all climbing routes begin to the southwest of the town.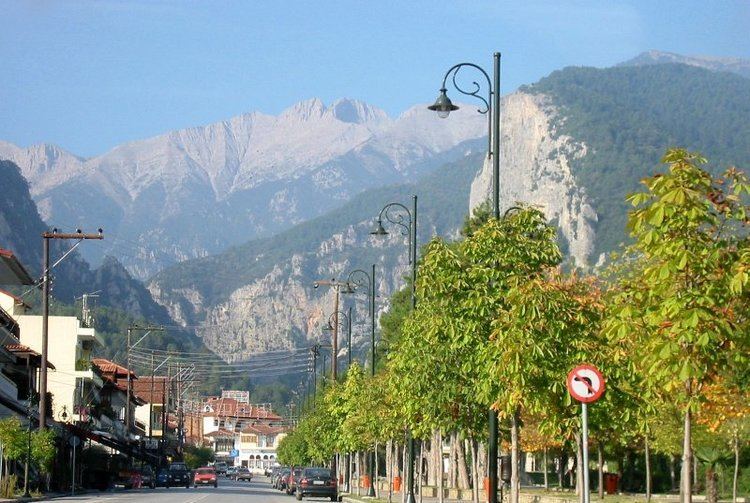 Litochoro is located 22 km S of Katerini, 90 km SSW of Thessaloniki, 58 km N of Larissa and 420 km WNW of Athens, on the eastern slopes of Mount Olympus, of mythological fame as the home of the twelve gods of Olympus. Pine, cedar and fir trees of the forests of Mount Olympus lie to the southwest and northwest. Much of the land around Litochoro, in particular to the South, remains uncultivated. Farmland is predominant to the North. Litochoro has several restaurants and cafeterias.
Litochoro has schools, banks, a post office, a harbour, a sports centre, a town hall, a hospital, a museum, a concert hall,a gym, shopping facilities and squares (plateies). There are two main churches, Agios Nikolaos in the centre and Agios Dimitrios in the North. Litochoro has one of the most traditional cemeteries of Greece, known as Agios Athanasios, in the north of the town.

Litochoro Wikipedia
(,)http://www.olympicwings.com/wp-content/gallery/impressions/litohoro.jpg(,)http://aminus3.s3.amazonaws.com/image/g0002/u00001976/i00178163/f83c927732c9ad41126f456f7eea73ee_large.jpg(,)http://extremegreece.com/wp-content/uploads/2014/11/litochoromtBiking.jpg(,)http://aminus3.s3.amazonaws.com/image/g0002/u00001976/i00178155/1362fabf87542ba134da63ff100ce40f_large.jpg(,)http://cdn.c.photoshelter.com/img-get/I0000iCEVwjsEnkI/s/750/750/01GRE-45-27-Litohoro-Mt-Olympus.jpg(,)http://static0.demotix.com/sites/default/files/imagecache/a_scale_large/4400-4/photos/1397660191-travel-photographs-of-litochoro-mount-olympus-greece_4484744.jpg(,)http://thumbs.dreamstime.com/z/town-litochoro-greece-october-small-scenic-located-base-mount-olympus-famous-its-views-october-39497460.jpg
(,)http://media-cdn.tripadvisor.com/media/photo-s/03/8f/da/d0/gastrodromio-en-olimpo.jpg(,)http://media-cdn.tripadvisor.com/media/photo-s/05/c4/8b/fb/caption.jpg(,)http://media-cdn.tripadvisor.com/media/photo-s/06/7c/bf/84/gastrodromio-en-olimpo.jpg(,)http://media-cdn.tripadvisor.com/media/photo-s/06/7c/bd/00/gastrodromio-en-olimpo.jpg(,)http://img-cdn1.iha.com/5381400002224/Vacation-rentals-Litochoro-Olympus_2.jpeg(,)http://i1.bookcdn.com/data/Photos/Big/293/29393/29393303/Litochoro-Resort-photos-Exterior.JPEG(,)http://www.emmanuiltravel.gr/upload/hotel-litohoro-olympus-resort-villas-spa-litochoro-grcka-hoteli-leto-letovanje-15.jpg(,)http://www.greekarchitects.gr/images/news/103.14.01.jpg(,)http://www.emmanuiltravel.gr/upload/hotel-litohoro-olympus-resort-villas-spa-litochoro-grcka-hoteli-leto-letovanje-02.jpg(,)http://media-cdn.tripadvisor.com/media/photo-s/06/2f/7e/04/erato-wine-restaurant.jpg(,)http://www.visitgreece.gr/deployedFiles/StaticFiles/Photos/Generic%2520Contents/Perifereia/Olympus_540_361.jpg(,)http://www.visitgreece.gr/deployedFiles/StaticFiles/Photos/Generic%2520Contents/Perifereia/Litochoro_Pieria_540_361.jpg(,)http://images.hotels-world.com/2//org/400/hotelPhoto/9185_Litohoro_Olympus_Resort_Villas__Spa.jpg(,)http://i1.bookcdn.com/data/Photos/Big/293/29393/29393297/Litochoro-Resort-photos-Exterior.JPEG