China




Yunnan


21,219 km2


Old Town of Lijiang, Lugu Lake, Jade Dragon Snow Mountain, Black Dragon Pool, Tiger Leaping Gorge



Lijiang (simplified Chinese: ; traditional Chinese: ) is a prefecture-level city in the northwest of Yunnan province, Peoples Republic of China. It has an area of 21,219 square kilometres (8,193 sq mi) and had a population of 1,244,769 at the 2010 census. Lijiang is famous for its UNESCO Heritage Site, the Old Town of Lijiang.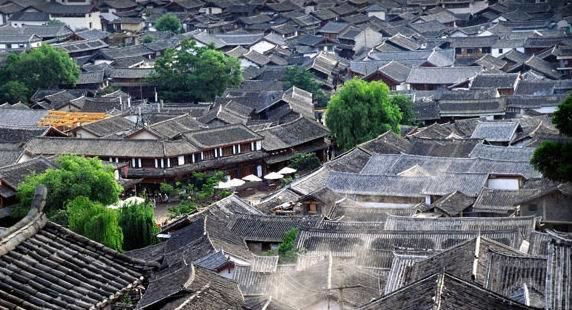 Lijiang City replaced the former administrative region of Yunan Prefecture. It was under the rule of the Mu family (??) local commanders (??) during the Ming Dynasty and Qing Dynasty.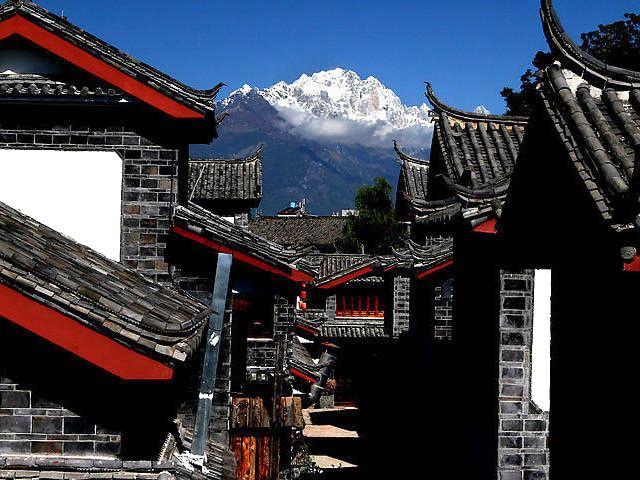 The Baisha Old Town was the political, commercial and cultural center for the local Naxi people and other ethnic groups for 400 years from the year 658 AD to 1107 AD. The Dabaoji Palace of the Baisha Fresco, very close to the Baisha Naxi Hand-made Embroidery Institute, was built in the year 658 AD in the Tang Dynasty (618 AD to 960 AD).
In ancient times, the Baisha Old Town used to be the center of silk embroidery in the southwest of China and the most important place of the Ancient Southern Silk Road, also called the Ancient Tea and Horse Road or Ancient tea route. The Ancient Southern Silk Road started from Burma, crossed Lijiang, Shangri-La County, Tibet, journeyed through Iran, the Fertile Crescent, and ultimately to the Mediterranean Sea.
Naxi women were well known for their hand-made embroidery before 1972 during the Great Cultural Revolution. The most famous Naxi masters were arrested and put in jail, some of them died in jail during the Cultural Revolution because they did hand-made embroidery only for the Naxi Emperors when they were young.
Lijiang is located in the northwestern portion of Yunnan and borders Sichuan. It is in a region where the Qinghai-Tibet Plateau and Yunnan-Guizhou Plateau converge.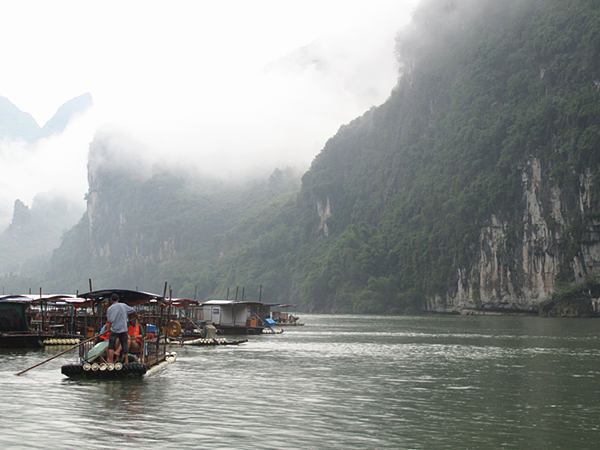 Owing to its low latitude and high elevation, the city centre of Lijiang experiences a mild subtropical highland climate (Koppen Cwb). Winters are mild and very dry and sunny (>70% possible sunshine), although average lows in December and January are just below the freezing mark; January, the coolest month, has a 24-hour average temperature of 6.0 °C (42.8 °F). Spring begins early and remains dry and sunny until late May, when there is a dramatic uptick in frequency and amount of rainfall that lasts until late September. Summers are warm, rainy (more so than it is sunny) and damp, with June, the warmest month, averaging 18.4 °C (65.1 °F). Autumn sees an abrupt reduction in rainfall and return to sunniness. The annual mean temperature is 12.70 °C (54.9 °F), while precipitation averages 968 mm (38.1 in), around 80% of which occurs from June to September. With monthly percent possible sunshine ranging from 32% in July to 80% in December, the city receives 2,463 hours of bright sunshine annually.
Lijiang Wikipedia
(,)http://www.chinabravo.com/newsimages/200952112949963.jpg(,)http://www.chinatourguide.com/china_photos/Lijiang/Attractions/Lijiang_Old_Town_m2.jpg(,)http://www.beijinghikers.com/photos/LijiangShangriLaYunnan/Lijiang-Old-City-roofs_608x405.jpg(,)https://s3-ap-southeast-1.amazonaws.com/halaltrip/attraction/89495-lijiang-old-town_l.jpg(,)http://media-cdn.tripadvisor.com/media/photo-s/02/30/22/2d/lijiang-old-town.jpg(,)http://springyunnan.com/upfiles/201003/20100318162531460.jpg(,)https://nccosl2010.files.wordpress.com/2010/12/lijiang-old-town13.jpg(,)http://www.ggberry.com/images/travel/lijiang/lijiang_old_town_roof.jpg
(,)http://worldheritage.routes.travel/wp-content/uploads/2013/05/old-town-lijiang-4.jpg(,)http://images.china.cn/attachement/jpg/site1007/20130705/001422373e1913405f913e.jpg(,)http://worldheritage.routes.travel/wp-content/uploads/2013/05/old-town-lijiang-1.jpg(,)http://www.paintingschinese.com/chinese-paintings-picture/chinese-brush-paintings/2/br-0687b.jpg(,)http://gfx9.com/images/contents/y/u/yunnan-lijiang-landscape-high-resolution-images0.jpg(,)http://www.cultural-china.com/chinaWH/images/exbig_images/90529b6196b9d86d2894ed2a374433ca.jpg(,)http://www.tripchinaguide.com/public/upload/photo/jade-water-village/img_512_d20130617144438.jpg(,)http://www.chinatourguide.com/china_photos/Lijiang/Attractions/lijiang_black_dragon_pool_green.jpg(,)https://c2.staticflickr.com/8/7093/7179146236_b8cd788218.jpg(,)http://thumbs.dreamstime.com/z/lijiang-scenery-landscape-river-guangxi-china-34943215.jpg(,)https://c2.staticflickr.com/6/5448/7179119850_feaace6e7a.jpg(,)http://thumbs.dreamstime.com/z/landscape-lijiang-china-yunnan-35063205.jpg
(,)http://www.china-tour.cn/images/Lijiang/sandeishui.jpg(,)http://www.chinatourguide.com/china_photos/lijiang/dining/lijiang_dining.jpg(,)http://www.absolutechinatours.com/UploadFiles/ImageBase/lijiang-food-salmon%2520(1).jpg(,)http://www.chinatour.com/pictures/guide/contentpic/1404888702.jpg(,)http://www.topchinatravel.com/community/blog/UploadPic/2012-11/lijiang-food-31.jpg(,)http://www.absolutechinatours.com/UploadFiles/ImageBase/lijiang-food-salmon%2520(3)(2).jpg(,)http://kaleidoscope.cultural-china.com/chinaWH/upload/upfiles/2012-12/24/food_of_lijiangyunnan87562e5f3e20a1c56f74.jpg(,)http://mydinnertoday.files.wordpress.com/2010/09/img_4066b.jpg(,)http://kaleidoscope.cultural-china.com/chinaWH/upload/upfiles/2012-12/24/food_of_lijiangyunnan1b7a047554e6cee7de6b.jpg(,)http://www.tour-beijing.com/lijiang_yunnan_dining/Lijiang%2520Food.jpg