Life in a metro i official trailer 2007 i kangana ranaut i shilpa shetty irrfan khan
Life in a... Metro is a 2007 Indian musical drama film co-produced, written and directed by Anurag Basu, set in Mumbai, featuring an ensemble cast of Dharmendra, Nafisa Ali, Shilpa Shetty, Shiney Ahuja, Kay Kay Menon, Kangana Ranaut, Sharman Joshi, Konkona Sen Sharma and Irrfan Khan. The music is composed by Pritam with lyrics by Sayeed Quadri. The film was released on 11 May 2007. It narrates the lives of nine people living in Mumbai and deals with topics like extramarital affairs, sanctity of marriage, and love. The film was critically acclaimed for its story and screenplay. The general plot and a number of characters are based on two classic films, The Apartment and Brief Encounter.
Contents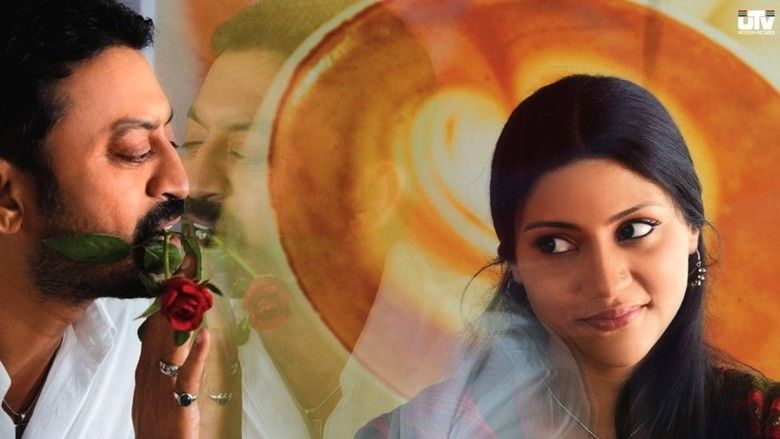 Synopsis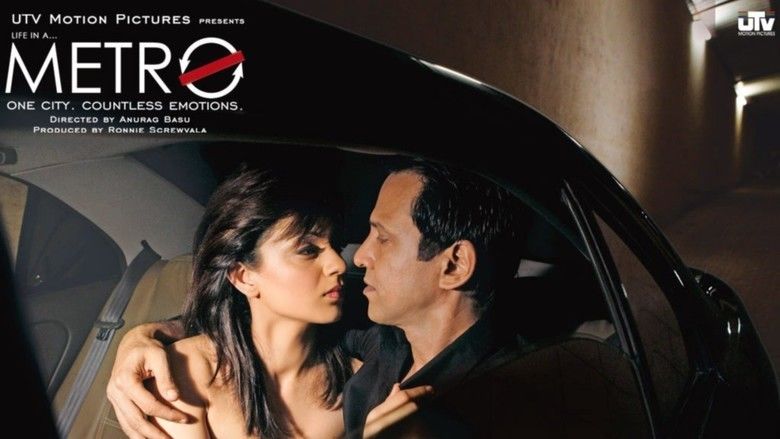 Rahul (Sharman Joshi) is a young man with dreams, working as a call center executive in a BPO in Mumbai. He silently loves Neha (Kangana Ranaut), a smart young woman who has made it up the ranks in a very short time, due to her relationship with her boss, Ranjeet (Kay Kay Menon).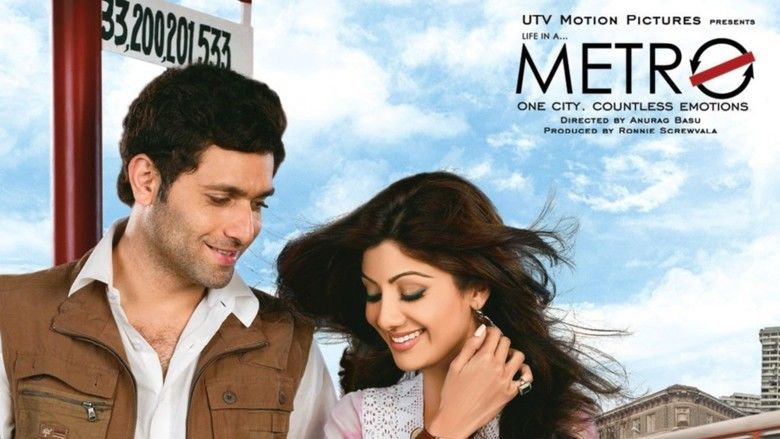 In his 30s, Ranjeet is married to Shikha (Shilpa Shetty) and has a six-year-old daughter. Shikha is well educated and a trained dancer. Ranjeet and Shikha decided that she should stay at home and take care of the house and their child. Their eight-year marriage has turned loveless and bitter.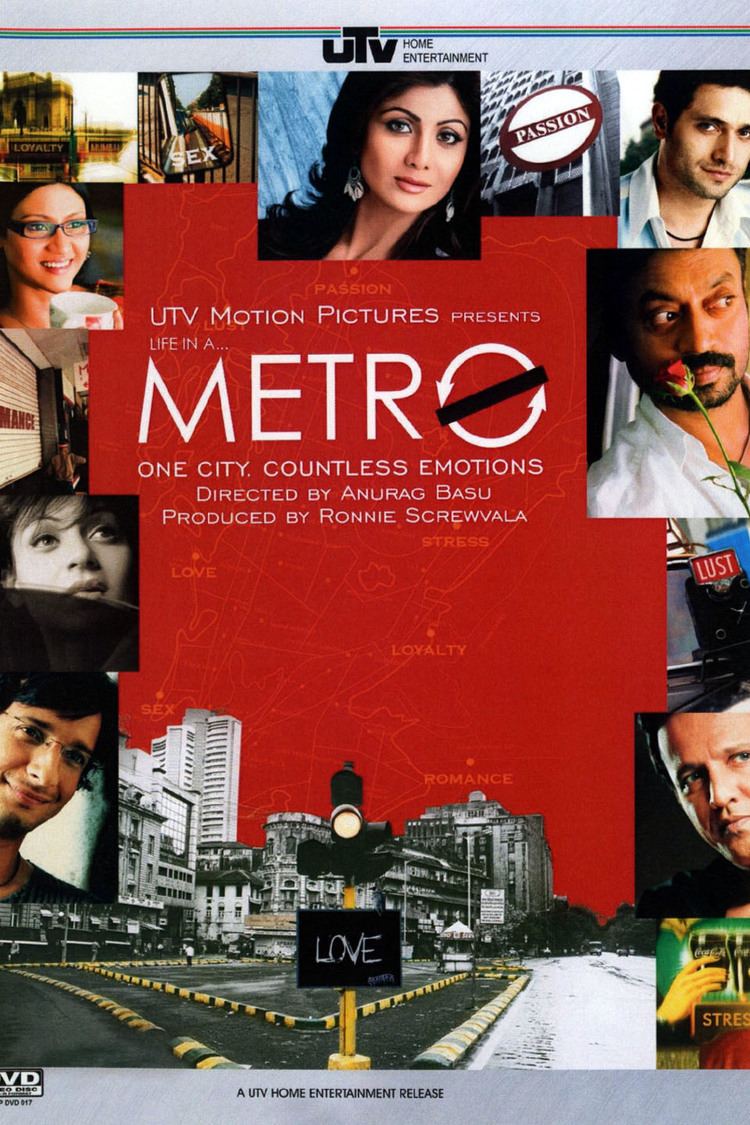 Neglected by an indifferent husband and bogged down by family chores, Shikha is attracted to maverick Akash (Shiney Ahuja). Akash is a struggling theater artist who is separated from his wife. Akash and Shikha's relationship starts as friendship and almost blossoms romantically, until Shikha feels guilty and cannot cross the limits that she has fervently guarded for years.
Amol (Dharmendra) is a 70-year-old man who has returned to India after 40 years to spend his last few years with his first love, Shivani (Nafisa Ali), who is also Shikha's former dance teacher.
Shikha's sister and Neha's roommate Shruti (Konkona Sen Sharma) works in at Radio Mirchi as a producer. She is 28 and desperate to get married. She meets Monty (Irrfan Khan) through a matrimonial site, but she is unimpressed by the straightforward and socially inept Monty. While Monty likes her and is ready to marry her, she declines when she finds him ogling her. She is, however, dreamy-eyed about her RJ, Rishi K. Her boss hooks her up with Rishi K, and her relationship with him blossoms.
Rahul has a novel strategy to rise up the ladder of success. He provides his flat to his superiors at the office, where they can safely bring their mistresses, girlfriends or prostitutes, in return for recommendation for his promotion. Ranjeet uses the flat to meet Neha.
Amidst one of their escapades in Rahul's flat, Neha asks Ranjeet about their future, which leads to an argument. He insults her and leaves. Indignant, she attempts suicide. Rahul finds her lying unconscious and saves her. He brings her back to his house, which brings them closer.
Shruti is heartbroken when she discovers that Rishi K is gay. She leaves the job and gets a new one where she again meets Monty. Slowly, they become friends. Meanwhile, Shruti learns about Ranjeet and Neha. Ranjeet panics and confesses to Shikha of his two-year affair with Neha. An already guilt-stricken Shikha cannot hold it in any longer and tells him about her emotional relationship with Akash. Ranjeet is shocked and angry, and decides to leave his wife.
Shivani dies. Amol regrets the decision to leave Shivani 40 years back, stressing the importance of love to Shikha and Shruti. Shruti realizes that she loves Monty and tells him so just as he is about to go for his wedding. Meanwhile, Akash decides to leave the country and asks Shikha to join him. On the other hand, Rahul is disillusioned with the way the metro has treated him and decides to resign and leave the city. Neha realizes that Rahul really loves her and follows him to the station. Ranjeet returns to Shikha, who is just about to leave for the station to see Akash.
Neha chases Rahul. Monty chases Shruti. Shikha comes to the station but not to accompany Akash. She wishes him good luck, tells him that she will miss him.
While the credits roll, we are shown Akash still roaming the streets of Mumbai, Shikha and Ranjeet are in a happier marriage, and Rahul is living happily with Neha. Shruti and Monty are also happily married and have a kid.
Cast
Dharmendra as Amol
Kay Kay Menon as Ranjeet
Irrfan Khan as Monty
Sharman Joshi as Rahul
Shiney Ahuja as Akash
Nafisa Ali as Shivani
Shilpa Shetty as Shikha
Konkona Sen Sharma as Shruti
Kangana Ranaut as Neha
Ashwin Mushran as Shruti's Boss
Sumit as director
Box office
Life in a... Metro was the 26th highest grossing Bollywood film of 2007, grossing ₹227.5 million (US$3.5 million) and became a semi-hit at the box office, despite taking a below average opening.
Soundtrack
The soundtrack was released on 21 August 2007. Life In A... Metro's music was composed by Pritam with lyrics by Sayeed Quadri, Amitabh Verma and Sandeep Srivastava. Bob Dylan's "I Want You" plays in the background when Shruti and Rishi are at a vending machine and Shruti mistakes Rishi to be gesturing and speaking with her. The song does not appear on the soundtrack. According to the Indian trade website Box Office India, with around 11,00,000 units sold, this film's soundtrack album was the year's twelfth highest-selling.
Production
The song, "Alvida" was composed by Pritam back in 90's when he was still struggling.
Metro Band
Pritam formed the band Metro with Suhail Kaul and the Bangladeshi singer Fahruk Mahfuz Anam aka James that performed the songs in the movie.
In the film, this rock band led by Pritam plays at important junctures and takes the story forward. This is considered to be a first in Indian film. The music score in Life In A... Metro is heavily rock-oriented. The four-members were Pritam, Suhail Kaul, Soham Chakraborty and Bangladeshi singer James.
Awards
2008 Filmfare Awards
Best Supporting Actress – Konkona Sen Sharma
Best Supporting Actor – Irrfan Khan
Best Screenplay – Anurag Basu
2008 Zee Cine Award
Zee Cine Award for Best Actor in a Supporting Role - Female – Shilpa Shetty
2008 IIFA Awards
Best Supporting Actress – Konkona Sen Sharma
Best Supporting Actor – Irrfan Khan
Best Screenplay – Anurag Basu (jointly with Jaideep Sahni for Chak De India)
Other awards
2008 Star Screen Award for Best Comedian – Irrfan Khan
2008 Stardust Breakthrough Performance Award (Female) – Kangana Ranaut
References
Life in a... Metro Wikipedia
(Text) CC BY-SA
Life in a... Metro IMDb
Life in a... Metro themoviedb.org