Cause of death

Heart attack




Name

Libertad Lamarque




Nationality

ArgentineMexican




Role

Actress




Occupation

Actress, singer




Children

Mirtha Romero




Years active

1930-2000








Full Name

Libertad Lamarque Bouza




Born

November 24, 1908 (

1908-11-24

) Rosario, Santa Fe Province, Argentina


Spouse(s)

Emilio Romero (1926-1945)Alfredo Malerba (1945-1994) (his death)


Awards

Golden Ariel Award 2000


Movies and TV shows

La usurpadora, Circus Cavalcade, Gran Casino, Help Me to Live, ¡Tango!


Died

12 December 2000 (aged 92) Mexico City, Mexico




Similar

Alfredo Malerba, Hugo del Carril, Tita Merello
QUE FUE DE LIBERTAD LAMARQUE!! Actriz y Cantante
Libertad Lamarque ([liβerˈtað laˈmarke]); (Rosario, November 24, 1908 – Mexico City, December 12, 2000) was an Argentine actress and singer, one of the icons of the Golden Age of Argentine and Mexican cinema. She achieved fame throughout Latin America, and became known as "La Novia de América" ("The Sweetheart of the Americas"). By the time she died in 2000, she had appeared in 65 films (21 filmed in Argentina, 45 in Mexico and one in Spain) and six soap operas, had recorded over 800 songs and had made innumerable theatrical appearances.
Contents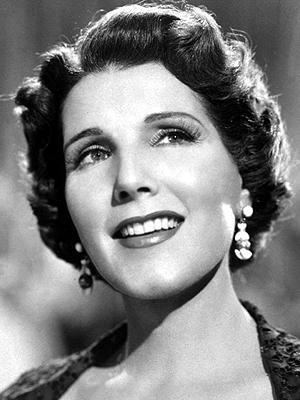 Jose nanni con irene lopez homenaje a libertad lamarque
Biography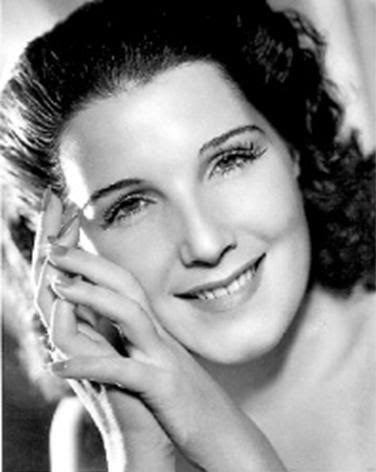 Libertad Lamarque was born November 24, 1908 in Rosario, Santa Fe Province, Argentina to Gaudencio Lamarque and Josefa Bouza. She was named Libertad (Liberty) because at the time of her birth, her father, a Uruguayan anarchist of French descent, was imprisoned and pleading for release.
Early career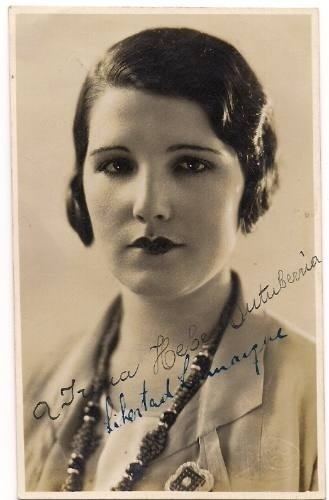 At the age of 7, Lamarque won first prize in a stage competition, and participated with a group of street singers that made tours of nearby cities. In 1923, she appeared in her first professional role, the stage show "Madre Tierra". Her local acclaim convinced her parents that the family should relocate to Buenos Aires, where Libertad's chances of a career would be better. The family hung their hopes on a letter of introduction from a local journalist to the owner of the National Theatre, Pascual Carcavallo. It proved successful, as in 1926 Libertad was hired to sing in the choir and given a one-year contract. Her debut was in a play called "La muchacha de Montmartre" ("The Girl from Montmartre") by José A. Saldías, where she sang as part of a trio with Olinda Bozán and Antonia Volpe, to the guitar accompaniment of Rafael Iriarte. Within a couple of months, she had begun singing on Radio Prieto and was signed for record production with Victor Records, which released her first album, Gaucho Sol, on 26 September 1926, as well as the single "Chilenito".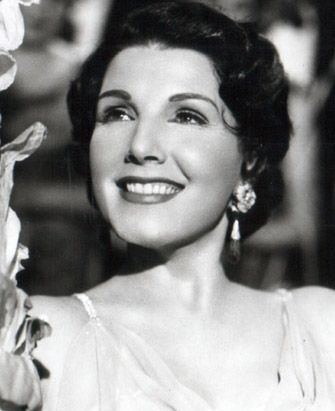 In 1929 she began working in Alberto Vaccarezza's, El conventillo de la Paloma ("The Tenement of the Dove"), which was about the life of a girl Doce Pesos, living in an immigrant tenement house. After two years and 1,000 performances, Lamarque quit the show to focus on her music career. She traveled through several provinces of Argentina and through neighboring Paraguay accompanied by the guitarists Gregorio Rivero, Angel Las Heras and Nicolás Ferrari. In 1930, following this tour she entered a competition held at the Teatro Colón in Buenos Aires, won first prize for her performances of the tangos "La cumparsita" and "Tocaneando", and earned the title "Queen of Tango". She capped this productive music cycle by performing Oscar Straus's "Tres valses" ("Three Waltzes"), an adaptation of the operetta, with Chilean singer Choly Mur.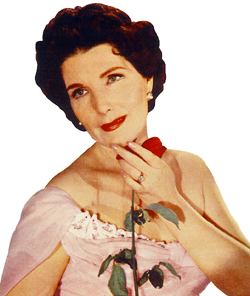 In the mid-30s Lamarque was accompanied by a trio of musicians who were regarded as being amongst the best of the age, including bandoneon player Héctor María Artola, violinist Antonio Rodio, and pianist, Alfredo Malerba, who would become her second husband. She shone in works that were painful and romantic, such as "En esta tarde gris" (In this gray afternoon), "Sombras, nada más" (Shadows, nothing else), "Tristezas de la calle Corrientes" (Sorrows of Corrientes Street) or "Caserón de tejas" (Mansion of Tiles) and two of her best, "Canción desesperada" (Desperate Song) and "Sin palabras" (Without words). Many of her best songs were by composer Enrique Santos Discepolo because they particularly suited her style.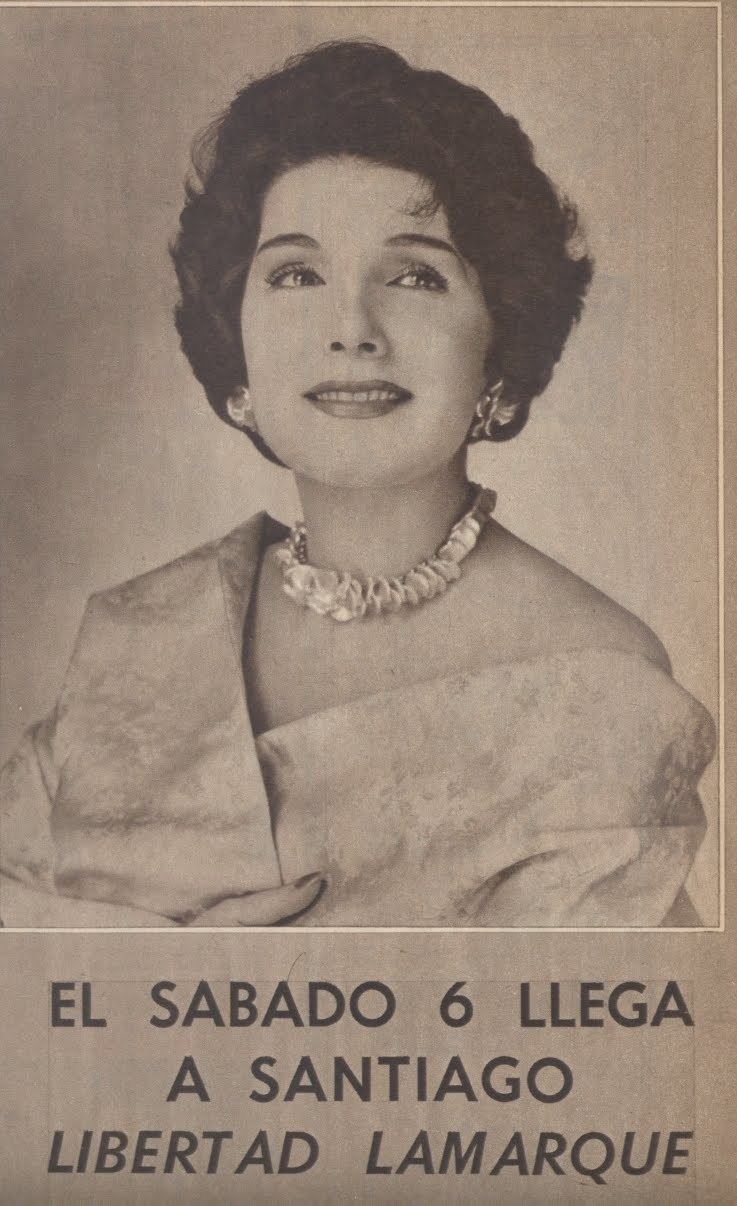 She filmed "Adiós, Argentina" directed by Italian Mario Parpagnoli in 1929, which was released the following year, and the first Argentine film with sound ¡Tango! in 1932, which resulted in her being the first singer to be recorded for a sound film in Argentina. Lamarque was a light soprano with a vocal range from approximately middle C (C4) to "high A" (A5). After ¡Tango! 's release in 1933, a string of films followed, including El alma del bandoneon (1935), Ayúdame a vivir (1936), Besos brujos (1937), La ley que olvidaron (1937), Madreselva (1938), Puerta cerrada (1939), Caminito de la gloria (1939), La casa del recuerdo (1940), Cita en la frontera(1940), Una vez en la vida (1941), Yo conocí a esa mujer (1942), En el viejo Buenos Aires (1942), Eclipse de sol (1942), El fin de la noche (1944), La cabalgata del circo (1945) and many more. Her best film roles, much like her music, allowed her to explore pain and resilience. Often defiant, usually mothers or abandoned women, her characters overcame life's tragedies by their own talents. She was not afraid of depicting negative roles, but she was always careful to maintain respectability.
Legendary rift with Eva Perón
Legend has it that Lamarque left Argentina because she had been blacklisted by its First Lady, Eva Perón. Marysa Navarro and Nicholas Frasier, authors of Evita: The Real Life of Eva Perón, however, contend that this is not likely. They argue that Lamarque moved to Mexico, where she was already adored by the audiences, because Mexican cinema was in a better state during the 1940s and '50s than Argentine cinema. The authors also point out that Lamarque traveled freely between Argentina and Mexico during the lifetime of Eva Perón and beyond, which does not support the blacklisting legend.
Lamarque herself denied during her lifetime certain aspects of the legend, especially the reports that she had slapped Eva on the set of La cabalgata del circo. In her 1986 autobiography she flatly denied the allegations and explained that she was simply mortified by Eva's lack of discipline during production of the film. According to Lamarque, Eva refused to take her work seriously and always arrived late or stalled the filming for trivial personal reasons. Complaints to either the producer or the director produced no result, as they were giving Eva preferential treatment as the girlfriend of Juan Perón. By 1945, Eva and Juan Perón were ensconced in the Presidential Palace, rumors circulated that Evita had forbidden radio stations and film studios to play Lamarque's music or hire her, and Lamarque's films, music and publicity in Argentina seemed to have come to and end.
Relocation to Mexico
Between January and February 1946, Lamarque appeared in her first tour of Cuba, which was listed as the artistic event of the season. On January 7, she debuted in the Teatro América with a varied repertoire, but closed the show with "Facundo" by the Cuban Eliseo Grenet to much applause. She performed shows daily, sometimes twice a day and on her final performance at Teatro América, January 20, she held three performances. She also performed at Camaguey, Ciego de Avila, Santa Clara, Holguin and Santiago de Cuba; visited hospitals and schools; and her farewell performance at the Municipal Amphitheatre of Havana was said to have been attended by 20,000 fans. It was on this trip that the Cuban press first dubbed her America's Sweetheart.
Just before the Cuban trip, Hollywood had offered Lamarque a seven-year contract but she refused it as she did not speak English and was afraid she would be taken advantage of. Despite her fears of working in the US, Lamarque sold out Carnegie Hall for a 1947 performance. When Mexico, on the other hand, offered her a picture deal to appear with legendary Spanish filmmaker Luis Buñuel, she agreed. and moved to Mexico in 1946. The picture, "Gran Casino" co-starring Jorge Negrete was a flop, but other roles followed, such as Soledad (1947), La dama del velo (1948), Huellas de un pasado (1950), Mujeres sin lágrimas (1951), Nunca es tarde para amar (1952), Ansiedad (1952), and Rostros olvidados (1952). Some of her best work during this period was in Otra primavera, filmed in 1949, La loca (1951) and Cuando me vaya (1953); for each of these she was nominated for a Best actress Ariel Award in 1951, 1953, and 1955, respectively.
Some of her last movies included Bodas de oro (1955), Amor de sombra (1959), Yo pecador (1959), Rosas blancas para mi hermana negra (1969), with Cuban singer Eusebia Cosme and her last two Argentine films, La sonrisa de mamá (1972) and La mamá de la novia (1978). But as she wound down her movie career, she began touring with music again. In the late 1950s, she did a concert tour with Puerto Rican singer Jesús Quiñones Ledesma and worked in Chile, Puerto Rico, Venezuela, Dominican Republic, Guatemala, El Salvador, Honduras and returned to Cuba to do theater and record a several albums.
She returned to Argentina after Evita's death and was the first person to bring a Spanish version of "Hello Dolly" to Latin audiences at a 1967 performance at the Teatro Nacional in Buenos Aires, which she also later performed in Mexico in 1968 staged by Manolo Fabregás. In 1982 she starred in the musical revue, "Libertad Lamarque, ¿es una mujer de suerte?" at the Teatro Lola Membrives in Buenos Aires. She wrote the script, which was adapted by Nicolás Carreras under the musical direction of Oscar Cardozo Ocampo. In 1988, Lamarque participated in the season at Mar del Plata's Teatro Opera with the musical "A todo tango II" under the direction of José Colángelo.
In the 1960s she appeared in several episodes of a television show called "Saturday Circular" with Nicholas Mancera and in 1961, she filmed Así era mi madre, her only Spanish film. Her first venture into soap operas came in Venezuela, when she was offered a role in Esmeralda in 1972. That was followed by another Venezuelan production called "Mamá". In 1980 she began the first of her Mexican telenovelas, "Soledad", followed by her role in "Carita de Angel" at the age of 91 where she played as a Mother superior. Her last role, as la abuela Piedad in "La Usurpadora" (The Usurper) took place in 1998 - two years before her death.
Lamarque received an award in 1978 from Venezuelan President Carlos Andres Perez for her contributions to Latin American culture and in 1980 and shared a Critic's Choice Award with Maria Félix. In 1985 she received the Konex Platinum Award for Best Tango Singer in Argentina. In 1988, she put her hand prints in the "Walk of Fame of the Hermitage Hotel". In 1989, she was honored at the Festival of San Sebastian, Spain, for her film achievements and was recognized by the Caesar Awards given by the Association of American theater to Latin American artists in Los Angeles. That same year, a tile bearing her name placed in the "Sidewalk of Latin Stars" in Miami and a tribute was held for her at the Autumn Festival of Paris. She was appointed "Illustrious citizen of the city of Buenos Aires" in 1990 and on 15 November 1991, a few days before her birthday, the Municipal Council of Rosario granted her a similar distinction. Lamarque was honored in 1993 by "Celebrando Magazine", a Spanish-language publication which is nationally distributed in the US, for her 70 years in film, theater and music and her philanthropy. In 1998, she was appointed as Honorary Cultural Advisor and designated as a Cultural Legend in Buenos Aires.
Last Years and Death
In 1996 Libertad moved to the United States and settled in her Coral Gables home in Miami, Florida, but often flew to Mexico City to attend her professional appointments, and to Buenos Aires as well, once her daughter, grandsons and great-grandsons lived there. Ms. Lamarque had a notorious vitality, despite reaching 90 years old.
In 1998 Libertad Lamarque featured the soap opera La Usurpadora, where she played Ms. Piedad Bracho. The soap opera was a huge success in Mexico and in many countries in Latin America. Her last role on the TV was on the telenovela Carita de Ángel, as the Mother Superior. She was overjoyed by taking part on these projects.
In the early days of December 2000, Libertad Lamarque was rushed to Santa Elena Hospital after feeling sick and having difficulties to breathe. She died aged 92 in December 12, 2000, in Mexico City, Mexico, from pneumonia. Her only daughter, Mirtha Libertad Lamarque Romero Deluca, died in October 19, 2014, aged 86.
Personal life
In 1926, Lamarque married Emilio Romero and had a daughter, Mirtha, with him before divorcing in 1945. Divorce was not possible at that time in Argentina and though the marriage was quickly over, it would take 12 years to officially be ended. In 1935, she suffered several personal crises which led to a suicide attempt in Chile. She attempted to throw herself out of a hotel window, but an awning broke her fall. Shortly thereafter, her estranged husband kidnapped their daughter and took Mirtha to Uruguay: A group of friends, including Alfredo Malerba, and her attorney were able to help her regain custody. Lamarque's second husband was Alfredo Malerba, with whom she was married for nearly 50 years, until his death.
Awards
Best Foreign Actress, "Puerta cerrada", 1940, Zagreb WON
Best Actress, "Otra primavera", 1951, Ariel nomination
Best Actress, "La loca", 1953, Ariel nomination
Best Actress, "Cuando me vaya", 1955, Ariel nomination
Critic's Choice Award, Won shared award with Maria Félix, 1980
Konex Platinum Award, Best Tango Singer, 1985, Argentina WON
Lifetime Achievement, 2000 Ariel WON
Music
"Gaucho sol" - LP (1926)
"Chilenito" - single (1926)
"Botellero" / "Mi Caballo Jerezano" - single (1927)
"Mate Amorgo" / "Idilio Trunco" - single (1928)
"La Dolores" / "Tanita De La Proa" - single (1929)
"Sol De Mi Tierra" / "No Seas Asi" - single (1929)
"El Niño De Las Monjas" / "Doña Nicanora" - single (1930)
"No Has Perdido La Veguenza" / "Goya" - single (1930)
"Soñar Y Nada Mas" / "Tristeza Marina" - single (1943)
"Delicias Musicales" - LP (?)
"Delicias Musicales (Volumen II)" - LP (1958)
"Chansons Du Film Mon Ami Joselito" - EP (1962)
"Ayúdame A Vivir / Caminito / Besos Brujos / Madreselva" - EP (1969)
"Libertad Lamarque Canta Los Tangos De Agustín Lara" - LP (1969)
"Somos Novios" - LP (1973)
"Los Tangos de Agustin Lara" - LP (1977)
"Delicias Musicales" - LP (1985)
"Libertad Lamarque Sings Songs Of Maria Grever" - LP (1986)
"En 1988 !Canta Asi!" - LP (1990)
Autobiography
Lamarque, Libertad. "Libertad Lamarque" Javier Vergara Publishing: Buenos Aires, Argentina. (1986) (In Spanish) (ISBN 950-1-505-995)
Filmography
Actress
2000
Carita de ángel (TV Series)
as
Madre Superiora Piedad de la Luz
- Carita de ángel (2000) - Madre Superiora Piedad de la Luz
1998
Más allá de la usurpadora (TV Movie)
as
Abuela Piedad Bracho
1998
La usurpadora (TV Series)
as
Abuela Piedad Bracho
- Amor verdadero (1998) - Abuela Piedad Bracho
- ¡Quédate! (1998) - Abuela Piedad Bracho
- El perdón de los Bracho (1998) - Abuela Piedad Bracho
- La confesión acerca de Willy (1998) - Abuela Piedad Bracho
- El terrible accidente (1998) - Abuela Piedad Bracho
- Por hablar de más (1998) - Abuela Piedad Bracho
- Propuesta inesperada (1998) - Abuela Piedad Bracho
- Un millón de dólares (1998) - Abuela Piedad Bracho
- Se fue de viaje (1998) - Abuela Piedad Bracho
- Puede caminar (1998) - Abuela Piedad Bracho
- El enfrentamiento en la fábrica (1998) - Abuela Piedad Bracho
- Encuentro inesperado (1998) - Abuela Piedad Bracho
- La advertencia de Paola (1998) - Abuela Piedad Bracho
- Amar y ser amada (1998) - Abuela Piedad Bracho
- El pacto en contra de los Bracho (1998) - Abuela Piedad Bracho
- Estoy arrepentida (1998) - Abuela Piedad Bracho
- Las verdaderas intenciones (1998) - Abuela Piedad Bracho
- Protege a Carlitos (1998) - Abuela Piedad Bracho
- ¿Quién es Paola? (1998) - Abuela Piedad Bracho
- El veredicto final (1998) - Abuela Piedad Bracho
- Osvaldo pide el divorcio (1998) - Abuela Piedad Bracho
- Proposición sentimental (1998) - Abuela Piedad Bracho
- El testigo en el juicio (1998) - Abuela Piedad Bracho
- El juicio de Paulina (1998) - Abuela Piedad Bracho
- La declaración de Luciano (1998) - Abuela Piedad Bracho
- La búsqueda del diario (1998) - Abuela Piedad Bracho
- Cásate con Verónica (1998) - Abuela Piedad Bracho
- La prueba contra Paola (1998) - Abuela Piedad Bracho
- Estefanía y su bebé (1998) - Abuela Piedad Bracho
- Regresar con mi familia (1998) - Abuela Piedad Bracho
- Enamorado de Paulina (1998) - Abuela Piedad Bracho
- Miente una vez más (1998) - Abuela Piedad Bracho
- Donato está dispuesto a ayudar (1998) - Abuela Piedad Bracho
- Ayúdame a liberarla (1998) - Abuela Piedad Bracho
- La visita de Carlitos (1998) - Abuela Piedad Bracho
- Di la verdad (1998) - Abuela Piedad Bracho
- El desmayo (1998) - Abuela Piedad Bracho
- Lo que descubre Elvira (1998) - Abuela Piedad Bracho
- El cambio de Carlos Daniel (1998) - Abuela Piedad Bracho
- El nuevo abogado (1998) - Abuela Piedad Bracho
- Cárcel de mujeres (1998) - Abuela Piedad Bracho
- Pruebas de ADN (1998) - Abuela Piedad Bracho
- Intrigas contra Paulina (1998) - Abuela Piedad Bracho
- Entregarse a la policía (1998) - Abuela Piedad Bracho
- El mensaje anónimo (1998) - Abuela Piedad Bracho
- ¿Es verdad que me quieres? (1998) - Abuela Piedad Bracho
- El paradero de la usurpadora (1998) - Abuela Piedad Bracho
- Amenaza de muerte (1998) - Abuela Piedad Bracho
- Cásate con Paulina (1998) - Abuela Piedad Bracho
- Aviso a la policía (1998) - Abuela Piedad Bracho
- ¡Demuéstramelo! (1998) - Abuela Piedad Bracho
- Willy y Viviana (1998) - Abuela Piedad Bracho
- ¿Te casarías conmigo? (1998) - Abuela Piedad Bracho
- Vuelve por favor (1998) - Abuela Piedad Bracho
- La petición (1998) - Abuela Piedad Bracho
- Carta jamás leída (1998) - Abuela Piedad Bracho
- No es lo que parece (1998) - Abuela Piedad Bracho
- En el fondo está enamorado (1998) - Abuela Piedad Bracho
- A escondidas de Chabela (1998) - Abuela Piedad Bracho
- Cenobia se comunica con Carlos Daniel (1998) - Abuela Piedad Bracho
- Lalita confunde a Paulina (1998) - Abuela Piedad Bracho
- La propuesta de Douglas (1998) - Abuela Piedad Bracho
- La confesión de amor (1998) - Abuela Piedad Bracho
- Lourdes cuestiona a Osvaldo (1998) - Abuela Piedad Bracho
- Por ella soy capaz de todo (1998) - Abuela Piedad Bracho
- Las contradicciones (1998) - Abuela Piedad Bracho
- Juego sucio (1998) - Abuela Piedad Bracho
- La desaparición de Carlitos (1998) - Abuela Piedad Bracho
- El diario de Paola (1998) - Abuela Piedad Bracho
- Carlos Daniel sabe la verdad (1998) - Abuela Piedad Bracho
- Cambio de actitud (1998) - Abuela Piedad Bracho
- Paulina es mejor que Paola (1998) - Abuela Piedad Bracho
- Las dudas de Rodrigo (1998) - Abuela Piedad Bracho
- Cuéntame de tu viaje (1998) - Abuela Piedad Bracho
- Interés en Verónica (1998) - Abuela Piedad Bracho
- Viviana y la usurpadora (1998) - Abuela Piedad Bracho
- Donato se entera de la verdad (1998) - Abuela Piedad Bracho
- Estefanía acusa a Paola (1998) - Abuela Piedad Bracho
- La carta de Paola (1998) - Abuela Piedad Bracho
- La promesa de Carlos Daniel (1998) - Abuela Piedad Bracho
- Infidelidad en la fábrica (1998) - Abuela Piedad Bracho
- La hermana gemela (1998) - Abuela Piedad Bracho
- Yo soy la verdadera Paola Bracho (1998) - Abuela Piedad Bracho
- Cambios drásticos (1998) - Abuela Piedad Bracho
- El millonario Douglas (1998) - Abuela Piedad Bracho
- El telegrama de Paola (1998) - Abuela Piedad Bracho
- La amenaza de Fidelina (1998) - Abuela Piedad Bracho
- La llamada intrigosa (1998) - Abuela Piedad Bracho
- ¿Estás celosa? (1998) - Abuela Piedad Bracho
- De mal en peor (1998) - Abuela Piedad Bracho
- La verdad sobre Paulina (1998) - Abuela Piedad Bracho
- La usurpadora en la empresa (1998) - Abuela Piedad Bracho
- El cuadro de Donato (1998) - Abuela Piedad Bracho
- Veamos quién gana la guerra (1998) - Abuela Piedad Bracho
- Tu propuesta de divorcio (1998) - Abuela Piedad Bracho
- Las sospechas de Donato (1998) - Abuela Piedad Bracho
- Peligro de muerte (1998) - Abuela Piedad Bracho
- No eres Paola (1998) - Abuela Piedad Bracho
- ¿Por qué has cambiado? (1998) - Abuela Piedad Bracho
- Los Bracho (1998) - Abuela Piedad Bracho
- Poner a prueba (1998) - Abuela Piedad Bracho
- Desesperada (1998) - Abuela Piedad Bracho
1992
El programa de Hermida (TV Series)
- Episode dated 3 May 1992 (1992)
1983
Amada (TV Series)
as
Amada
1980
Soledad (TV Series)
as
Soledad
1974
Mamá (TV Series)
as
Soledad
1975
La loca de los milagros
as
Aurora Durban
1974
Negro es un bello color
as
Eugenia
1972
Hoy he soñado con Dios
as
Lina Alonso
1972
La sonrisa de mamá
as
Angéloca Zamora
1970
Esmeralda (TV Series)
as
Sister Piedad
- Episode #1.3 (1970) - Sister Piedad
- Episode #1.2 (1970) - Sister Piedad
- Episode #1.1 (1970) - Sister Piedad
1970
Rosas blancas para mi hermana negra
as
Laura
1969
El hijo pródigo
as
Alegría Román
1965
The Children That I Dreamed
as
Mariana
1965
Canta mi corazón
as
Luisa Lamas
1964
Canción del alma
as
María Maragón
1962
El cielo y la tierra
as
Sor Lucero / Hermana María de la Luz
1962
El pecado de una madre
as
Ana María
1960
Amor en la sombra
as
Claudia Montes
1959
Yo pecador
as
Doña Virginia, madre de José
1959
Mis padres se divorcian
as
Diana Valdés
1958
Sabrás que te quiero
as
Amelia Rey / Mónica / Gabriela
1958
Cuatro copas
as
Eugenia Pavel
1957
La mujer que no tuvo infancia
as
Rosaura
1956
Historia de un amor
as
Elena Ramos
1955
Escuela de música
as
Laura Galván
1954
Si volvieras a mi
as
Alejandra
1954
Cuando me vaya
as
María Grever
1954
La infame
as
Cristina Ferrán
1953
Reportaje
as
Cantante Cabaret
1953
Ansiedad
as
María de Lara
1953
Nunca es tarde para amar
as
Malisa Morales
1953
Acuérdate de vivir
as
Yolanda
1952
Rostros olvidados
as
Rosario Velazquez
1952
Te sigo esperando
as
Elena Montesinos
1952
La loca
as
Elena Prim viuda de Villaseñor
1951
La mujer sin lágrimas
as
Consuelo
1951
La marquesa del barrio
as
Cristina Payares / La Marquesa
1950
Huellas del pasado
as
Isabel / Issa Valetti
1949
La dama del velo
as
Andrea del Monte
1947
Soledad
as
Soledad Somellera / Cristina Palermo
1947
Gran Casino
as
Mercedes Irigoyen
1947
Romance musical
as
Mercedes 'Mecha' Garay
1945
Circus Cavalcade
as
Nita Arletty
1944
El fin de la noche
as
Lola Morel
1943
Eclipse de sol
as
Sol Bernal
1942
En el viejo Buenos Aires
1942
Yo conocí a esa mujer
1939
Closed Door
as
Nina Miranda
1938
Honeysuckle
as
Blanca / Gloria Selva
1938
The Law They Forgot
as
María
1937
Bewitching Kisses
as
Marga
1936
Help Me to Live
as
Luisita
1935
The Soul of the Accordion
as
Elda
1930
Adiós Argentina
as
Bride of Homeless
Writer
Soundtrack
2000
Carita de ángel (TV Series) (performer - 175 episodes)
- Carita de ángel (2000) - (performer: "Carita de Ángel")
1980
Soledad (TV Series) (performer - 284 episodes)
1965
The Children That I Dreamed (performer: "El ratón vaquero")
1960
Amor en la sombra (performer: "Adios pampa mía", "Bandoneón arrabalero", "Mi Buenos Aires querido", "Galleguita", "Adios" (as "Adios amor"), "De mi barrio", "Ladrillo", "Mama yo quiero un novio", "Una más", "Nunca" (as "Yo sé que nunca"))
1959
Yo pecador (performer: "Lejos de tí", "Toronjil de plata", "Lejos de tÍ")
1956
Historia de un amor (performer: "Historia de un Amor")
1955
Escuela de música (performer: "Lamento Jarocho", "La Cumbancha", "Estrellita", "Guadalajara", "Nocturnal", "Brasil" (Aquarela do Brasil), "El Manicero", "Alma Llanera", "A media luz", "Lamento Borincano", "Cha Cha Chavela")
1947
Gran Casino (performer: "El choclo", "Loca", "El reflector del amor")
1936
Help Me to Live (performer: "Tu cariño" (Tango), "Canto a la vida" (Marcha), "Ayúdame a vivir", "Arrepentido" (Tango))
Self
1996
Biography (TV Series documentary)
as
Self
- Evita Peròn: The Woman Behind the Myth (1996) - Self
1996
Almorzando con Mirtha Legrand (TV Series)
as
Self - Guest
- Episode dated 21 November 1996 (1996) - Self - Guest
1996
Hola Susana (TV Series)
as
Self - Guest
- Episode dated 6 November 1996 (1996) - Self - Guest
1996
To the Heart (Documentary)
1982
Las 24 horas de Malvinas (TV Special)
as
Self
1979
México de mis amores (Documentary)
as
Self
1962
Sábados circulares de Mancera (TV Series)
as
Self
- Episode #1.3 (1964) - Self
- Episode #1.2 (1964) - Self
- Episode #1.1 (1962) - Self
1964
Show de Libertad Lamarque (TV Series)
as
Self - Host
- Episode #1.3 (1964) - Self - Host
- Episode #1.2 (1964) - Self - Host
- Episode #1.1 (1964) - Self - Host
Archive Footage
2013
1002 Momentos de la tele (TV Series)
as
Self
- Episode #1.10 (2013) - Self
2005
Aunque usted no lo viera (TV Series)
as
Self
- Episode dated 13 September 2005 (2005) - Self
2005
Marga Lopez... La señora del estelar (TV Movie documentary)
as
Self
1966
La vida de Pedro Infante
References
Libertad Lamarque Wikipedia
(Text) CC BY-SA