Original language(s)

Mandarin

Language

Standard Mandarin

Genres

Romance novel, Melodrama




Also known as

Liang Sheng, Can We Not Be Sad

Based on

Liang Sheng Can We Not Be Laden With Grief by Le Xiao Mi

Starring

Ma Tianyu, Sun Yi, Wallace Chung

Similar

Princess Agents, General and I, Tribes and Empires‑Storm of Prophe, Fifteen Years to Wait for M, Liechang
[Eng] Wallace Chung's Liang Sheng, Can We Not Be Sad Trailer- 凉生我们可不可以不忧伤 钟汉良 马天宇 孙怡
Liang Sheng, Can We Not Be Laden With Grief (Chinese: 凉生,我们可不可以不忧伤) is an upcoming romance melodrama starring Ma Tianyu, Sun Yi and Wallace Chung, based on Le Xiao Mi's novel of the same name, It will air on Hunan TV in 2017.
Contents
Plot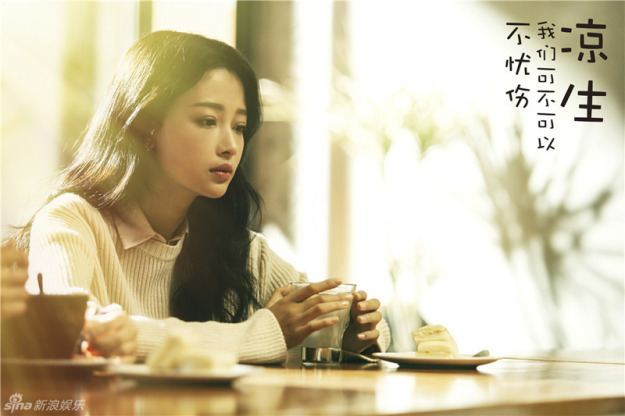 Because of their family situation and hard life, Jiang Sheng (Sun Yi) and her older half-brother Liang Sheng (Ma Tianyu) leans on each other to survive. Even though materialistic substance was scarce, the greatest happiness for both of them was to be by each other's side, and they start to develop feelings beyond their control. However, they choose to hide their feelings because their love is against ethics and morals.
After a car incident in their university days, Liang Sheng disappears. With the accompaniment of Cheng Tianyou (Wallace Chung), Jiang Sheng searches high and low for Liang Sheng. Tianyou also falls in love with the seemingly normal but extraordinary Jiang Sheng. Eventually, Jiang Sheng returns Tianyou's devoted feelings, and they eventually got married. However, the reappearance of Liang Sheng complicates things, as he was revealed to be Tianyou's cousin. Later, Jiang Sheng discovers that Liang Sheng has cancer. In order to stay by his side, Jiang Sheng gives up the opportunity to further her studies, and sacrificed the love between her and Tianyou. As Liang Sheng starts to recover, he finally decided to confess his love to Jiang Sheng, but was rejected by her. After a series of tribulations, Jiang Sheng finally realizes the true meaning of life and love, and decides to pursue her true heart.
Cast
Ma Tianyu as Liang Sheng
Roy Wang as young Liang Sheng
Sun Yi as Jiang Sheng
Wallace Chung as Cheng Tianyou
Wang Junkai as young Tianyou
Alan Yu as Cheng Tianen
Zoey Meng as Ning Weiyang
Lu Ruo as Bei Xiaowu
Wang Zhi as Ning Xin
Zhang Xiaochen as Lu Wenjun
Wang Herun as Jin Ling
Li Meng as Xiao Jiu
Wang Yizhe as Ba Bao
Nile Telong as Ke Xiaorou
Xu Fanxi as Jiang Sheng's mother
References
Liang Sheng, Can We Not Be Sad Wikipedia
(Text) CC BY-SA