Cause of death

Heart attack




Siblings

Frederica Amelia Barker




Full Name

Alexander Crichlow Barker, Jr.

Born

May 8, 1919 (

1919-05-08

)

Rye, New York, U.S.

Died

May 11, 1973, New York City, New York, United States

Spouse

Carmen Cervera (m. 1965–1973)

Children

Christopher Barker, Lynn Thurlow Barker, Alexander Crichlow Barker III

Movies

Apache Gold, Old Shatterhand, Treasure of the Silver Lake, Winnetou: The Last Shot, Last of the Renegades




Similar People

Pierre Brice, Ralf Wolter, Karl May, Harald Reinl, Marie Versini
Alexander Crichlow "Lex" Barker Jr. (May 8, 1919 – May 11, 1973) was an American actor best known for playing Tarzan of the Apes and leading characters from Karl May's novels.
Contents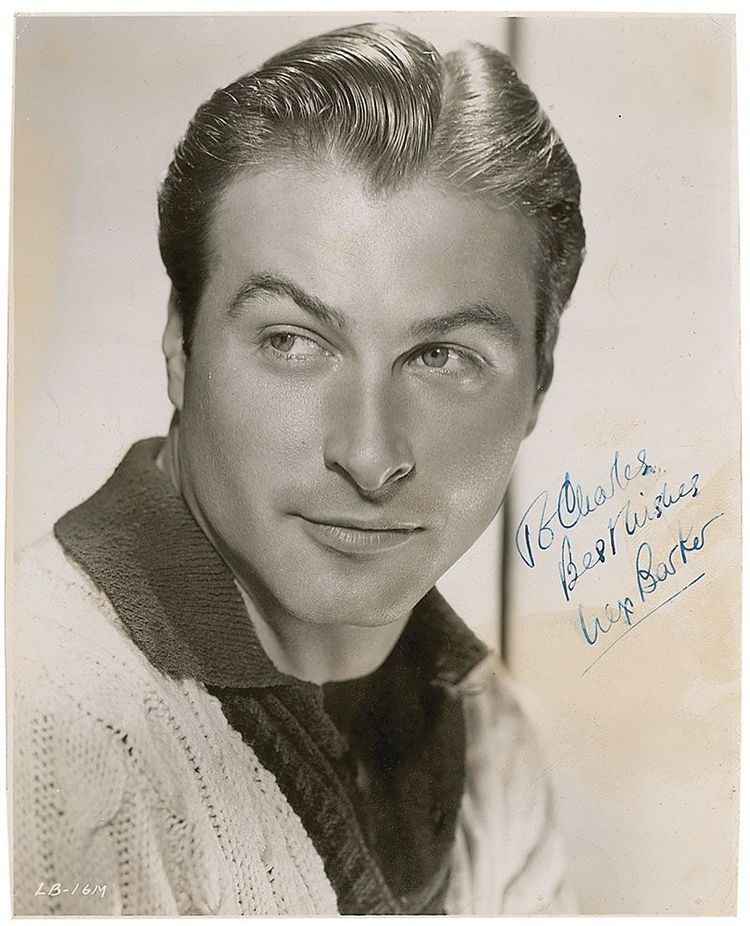 Youth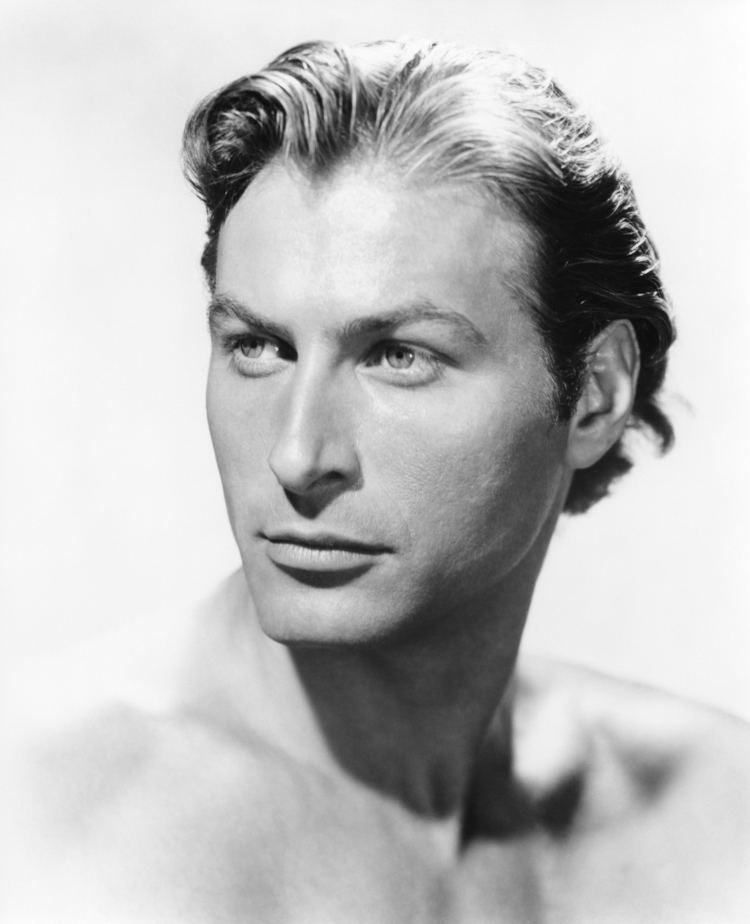 Alexander Crichlow Barker, Jr. was born on May 8, 1919 in Rye, New York. He was the second child of Alexander Crichlow Barker, Sr., a wealthy Canadian-born building contractor, and his American wife, the former Marion Thornton Beals.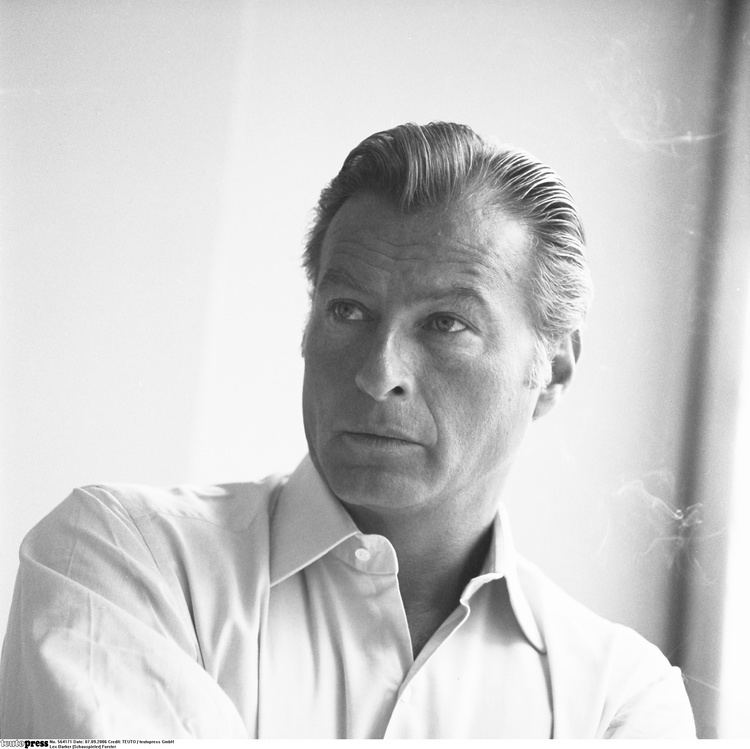 His father later worked as a stockbroker. Barker had an elder sister, Frederica Amelia "Freddie" Barlow (1917–1980). She was married three times, to Frederic Clifton Soldwedel, Richard Neuhaufer, and Robert Henry Schlesinger. Raised in New York City and Port Chester, New York, Lex Barker attended the Fessenden School and graduated from Phillips Exeter Academy. He played football as well as the oboe. He attended Princeton University, but dropped out to join a theatrical stock company, much to the chagrin of his family.
Career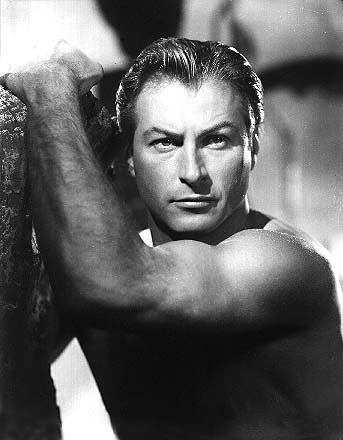 Barker made it to Broadway once, in a small role in a short run of Shakespeare's The Merry Wives of Windsor in 1938. He also had a small role in Orson Welles's disastrous Five Kings, which met with so many problems in Boston and Philadelphia that it never made it into New York City.
In February 1941, ten months before the attack on Pearl Harbor, Barker left his fledgling acting career and enlisted in the US Army. He rose to the rank of major during the war. He was wounded in action (in the head and leg) fighting in Sicily.
Back in the USA, he recuperated at an Arkansas military hospital, then upon his discharge from service, traveled to Los Angeles. Within a short time, he landed a small role in his first film, Doll Face (1945). A string of small roles followed, the best of which was as Emmett Dalton in the Western Return of the Bad Men (1948). Barker soon found the role that would bring him fame.
In Tarzan's Magic Fountain (1949), Barker became the tenth official Tarzan of the movies. His blond, handsome, and intelligent appearance, as well as his athletic, now 6'4" frame, helped make him popular in the role Johnny Weissmuller had made his own for sixteen years. Barker made only five Tarzan films, but he remains one of the actors best known for the role. In 1957, as he found it harder to find work in American films, Barker moved to Europe (he spoke French, Italian, Spanish, and some German), where he found popularity and starred in over 40 European films, including two movies based on the novels by Italian author Emilio Salgari (1862–1911). In Italy, he also had a short but compelling role as Anita Ekberg's fiancé in Federico Fellini's La Dolce Vita (1960).
In Germany, he had his greatest success. There he starred in two movies based on the "Doctor Mabuse" stories (formerly filmed by Fritz Lang), in the movies Doctor Sibelius and Breakfast in Bed, and in 12 movies based on novels by German author Karl May (1842–1912), playing such well-known May characters as Old Shatterhand (seven movies), Kara Ben Nemsi (three movies), and Dr. Karl Sternau (two movies).
In 1966, Barker was awarded the "Bambi Award" as "Best Foreign Actor" in Germany, where he was a major, very popular, star. He even recorded two songs in German: "Ich bin morgen auf dem Weg zu dir" ("I'll be on the way to you tomorrow", composed by Martin Böttcher, the composer of some of the soundtracks of the Karl May movies) and "Mädchen in Samt und Seide" ("Girl in Silk and Velvet", composed by Werner Scharfenberger). He returned to the United States occasionally and made a handful of guest appearances on American television episodes, but Europe, and especially Germany, was his professional home for the remainder of his life.
Personal life
Barker was married five times:
Constance Rhodes Thurlow (1918-1975) (married June 27, 1942–divorced 1950). She was a daughter of Leon Rhodes Thurlow, a vice president of the Decorated Metal Manufacturing Company. They had one daughter, Lynn Thurlow Barker (April 11, 1943 – 2010) and a son, Alexander "Zan" Crichlow Barker III (March 25, 1947 – October 2, 2012). In 1952 Constance Barker married her second husband, John Lawrence Adams, a descendant of John Quincy Adams.
Actress Arlene Dahl (married 1951–divorced 1952)
Actress Lana Turner (married September 8, 1953–divorced July 22, 1957). In Detour: A Hollywood Tragedy - My Life With Lana Turner, My Mother (1988), written by Turner's daughter Cheryl Crane, Crane claimed Barker repeatedly molested and raped her from the ages of 10 to 13, and that it was after she informed her mother of this that they divorced. According to Crane, Turner ordered him out of the house at gunpoint the morning after she learned of this.
Irene Labhardt (married 1957–Dead (Leukemia) in 1962), a Swiss actress. They had one son, Christopher (born 1960), who became an actor and singer.
Tita Cervera (married 1965–divorced 1972, although divorce not deemed legally valid). Voted Miss Spain in 1962, Tita Barker later became the wife of movie producer Espartaco Santoni in 1975 (the marriage turned out to be bigamous) and later still, in 1985, the fifth and final wife of billionaire art collector Baron Hans Heinrich Thyssen-Bornemisza.
Death
Barker died three days after his 54th birthday, on May 11, 1973, of a heart attack while walking down a street in New York City on his way to meet his fiancée, actress Karen Kondazian. The funeral was in New York. He was cremated and the ashes were taken by Tita Cervera, his last wife, to Spain.
Discography
"Ich bin morgen auf dem Weg zu dir" / "Mädchen in Samt und Seide" 1965, Single, Decca D 19 725
Winnetou du warst mein Freund 1996, CD, Bear Family Records
Filmography
Actor
1972
Night Gallery (TV Series)
as
Charlie McKinley (segment "The Waiting Room")
- The Waiting Room/Last Rites for a Dead Druid (1972) - Charlie McKinley (segment "The Waiting Room")
1971
Die Rudi Carrell Show (TV Series)
as
Old Shatterhand
- Schule (1971) - Old Shatterhand
1971
The F.B.I. (TV Series)
as
Owen Stuart
- Three-Way Split (1971) - Owen Stuart
1971
The Name of the Game (TV Series)
as
Will Cheyenne
- The Man Who Killed a Ghost (1971) - Will Cheyenne
1970
Wenn du bei mir bist
as
Kapitän Hannes Schneider
1969
It Takes a Thief (TV Series)
as
Kurt 'Matt' Matson
- The King of Thieves (1969) - Kurt 'Matt' Matson
1968
The Valley of Death
as
Old Shatterhand
1967
The Torture Chamber of Dr. Sadism
as
Roger Mont Elise / Roger von Marienberg
1967
Mister Dynamit - Morgen küßt euch der Tod
as
Bob Urban / Mr. Dynamit
1967
Woman Times Seven
as
Rik (segment "Super Simone")
1966
Winnetou and the Crossbreed
as
Old Shatterhand
1966
Killer's Carnival
as
Glenn Cassidy (Rio segment)
1966
Who Killed Johnny R.?
as
Sam Dobie / Johnny Ringo
1965
Kingdom of the Silver Lion
as
Kara Ben Nemsi
1965
Winnetou: The Last Shot
as
Old Shatterhand
1965
Wild Kurdistan
as
Kara Ben Nemsi
1965
Place Called Glory City
as
Clint Brenner
1965
24 Hours to Kill
as
The Crew: Jamie Faulkner
1965
Pyramid of the Sun God
as
Dr. Karl Sternau
1965
Treasure of the Aztecs
as
Dr. Karl Sternau
1964
Winnetou: The Red Gentleman
as
Old Shatterhand
1964
The Yellow One
as
Kara Ben Nemsi
1964
Code 7, Victim 5
as
Steve Martin
1964
Old Shatterhand
as
Old Shatterhand
1963
Winnetou
as
Old Shatterhand
1963
Il mistero del tempio indiano
as
Maj. Ford
1963
Kali Yug, la dea della vendetta
as
Maj. Ford
1963
The Executioner of Venice
as
Sandrigo Bembo
1963
The Death Eye of Ceylon
as
Larry Stone
1963
Breakfast in Bed
as
Victor H. Armstrong
1963
Berlin-Melodie - Vom Zille-Ball zum Jazzlokal (TV Movie)(rumored)
1962
The Treasure of the Silver Lake
as
Old Shatterhand
1962
Frauenarzt Dr. Sibelius
as
Dr. Georg Sibelius
1962
The Invisible Dr. Mabuse
as
FBI-Agent Joe Como
1961
The Return of Dr. Mabuse
as
Joe Como - alias 'Nick Scappio', alias 'Bob Arco'
1961
The Secret of the Black Falcon
as
Captain Don Carlos de Herrera
1961
El secreto de los hombres azules
as
Fred
1960
Robin Hood and the Pirates
as
Robin Hood
1960
Pirates of the Coast
as
Luis Monterrey
1960
Il cavaliere dai cento volti
as
Riccardo d'Arce
1960
Tales of the Vikings (TV Series)
as
König Gordar
- The Shield (1960) - König Gordar
1960
La Dolce Vita
as
Robert - marito di Sylvia
1960
Terror of the Red Mask
as
Marco
1959
Mission in Morocco
as
Bruce Reynolds
1959
The Pirate and the Slave Girl
as
Dragon Drakut
1959
Son of the Red Corsair
as
Il conte Enrico di Ventimiglia
1958
Captain Falcon
as
Pietro, detto Capitan Fuoco
1958
Female Fiends
as
Peter Chance
1957
The Deerslayer
as
Deerslayer
1957
Jungle Heat
as
Dr. Jim Ransom
1957
The Girl in Black Stockings
as
David Hewson
1957
The Girl in the Kremlin
as
Steve Anderson
1957
War Drums
as
Mangas Coloradas
1956
Studio 57 (TV Series)
as
Brad / Robin Ridour
- Outpost (1957) - Brad
- The Old Lady's Tears (1956) - Robin Ridour
1956
Away All Boats
as
Cmdr. Quigley
1956
The Price of Fear
as
Dave Barrett
1956
Lux Video Theatre (TV Series)
as
Stephen Dexter
- Hired Wife (1956) - Stephen Dexter
1955
Duel on the Mississippi
as
André Tulane
1955
The Man from Bitter Ridge
as
Jeff Carr
1954
The Yellow Mountain
as
Andy Martin
1954
Black Devils of Kali
as
Tramal Naik
1954
Mystery of the Black Jungle
as
Tremal-Naik
1953
Thunder Over the Plains
as
Capt. Bill Hodges
1953
Tarzan and the She-Devil
as
Tarzan
1952
Battles of Chief Pontiac
as
Lt. Kent McIntire
1952
Tales of Tomorrow (TV Series)
as
Kurt
- Red Dust (1952) - Kurt
1952
Tarzan's Savage Fury
as
Tarzan
1950
Tarzan and the Slave Girl
as
Tarzan
1949
Tarzan's Magic Fountain
as
Tarzan
1948
Return of the Bad Men
as
Emmett Dalton
1948
The Velvet Touch
as
Paul Banton
1948
Mr. Blandings Builds His Dream House
as
Carpenter Foreman
1947
Dick Tracy Meets Gruesome
as
City Hospital Driver (uncredited)
1947
Unconquered
as
Royal American Officer (uncredited)
1947
Under the Tonto Rim
as
Deputy Joe
1947
The Farmer's Daughter
as
Olaf
1946
Cloak and Dagger
as
Man Rescued at End (uncredited)
1946
Two Guys from Milwaukee
as
Fred - the Usher (uncredited)
1946
Do You Love Me
as
Party Guest (uncredited)
1945
Doll Face
as
Jack - Coast Guardsman (uncredited)
Self
1972
Appelez-moi Lise (TV Series)
as
Self (1973)
1971
The Merv Griffin Show (TV Series)
as
Self
- Marriage (1972) - Self
- Thor Heyerdahl, Otis Carney, Lex Barker, Pamela Mason, Linda Ronstadt (1972) - Self
- Hugh Downs (1971) - Self
- Tarzan Actors with guests Johnny Weismuller, Buster Crabbe, Ron Ely, Jock Mahoney, Lex Barker, James Pierce, Gardner McKay (1971) - Self
1969
Stars in der Manege (TV Series documentary)
as
Self
- 1969 (I) (1969) - Self
1969
Neues aus der Welt des Films (TV Series)
as
Self
- Episode #5.1 (1969) - Self
1968
Der goldene Schuß (TV Series)
as
Self
- Episode dated 25 January 1968 (1968) - Self
1967
Hinter der Leinwand (TV Series documentary)
as
Self
- Episode dated 9 July 1967 (1967) - Self
1965
Charly May (Documentary short)
as
Self (uncredited)
1965
...Geist und ein wenig Glück (TV Movie documentary)
as
Self
1963
Winnetou in den Schluchten des Balkan (TV Movie documentary)
as
Self
1960
Reflets de Cannes (TV Series documentary)
as
Self
- Episode dated 19 May 1960 (1960) - Self
1959
Die Abendschau (TV Series documentary)
as
Self
- Interview mit Lex Barker (1959) - Self
1956
It Could Be You (TV Series)
as
Self
- Episode dated 23 August 1956 (1956) - Self
1956
Lux Video Theatre (TV Series)
as
Self - Intermission guest
- The Corrigan Case (1956) - Self - Intermission guest
1956
Climax! (TV Series)
as
Self
- The Louella Parsons Story (1956) - Self
1954
The 26th Annual Academy Awards (TV Special)
as
Self - Presenter
1952
The Linkletter Show (TV Series)
as
Self
- Episode #1.57 (1952) - Self
1952
The Bob Hope Show (TV Series)
as
Self
- Sid Caesar, Imogene Coca, Jimmy Durante, Rex Harrison, Lili Palmer, Eddie Cantor, Faye Emerson, Janis Paige, Jinx Falkenburg, Ted McCrary, Lex Barker, Arlene Dahl (1952) - Self
1952
That Reminds Me (TV Series)
as
Self
- Episode dated 27 February 1952 (1952) - Self
1951
Screen Snapshots: Jimmy McHugh's Song Party (Short)
as
Self
Archive Footage
2020
The Truth About La Dolce Vita (Documentary)
as
Robert - marito di Sylvia (uncredited)
2020
Cane Fire (Documentary)
as
Dr. Jim Ransom in Jungle Heat
2020
The Last Movie Painter (Documentary)
as
Self (uncredited)
2018
Hollywood, la vie rêvée de Lana Turner (TV Movie documentary)
as
Self
2016
Mythos Winnetou (TV Movie documentary)
as
Self - Old Shatterhand
2016
Roy Black. Eine Legende. Unvergessen. (TV Movie documentary)
as
Kapitän Hannes Schneider (uncredited)
2010
Lex Barker Documentary (Documentary)
as
Self
2010
Terra X - Rätsel alter Weltkulturen (TV Series documentary)
as
Old Shatterhand / Kara Ben Nemsi
- Karl May. Das letzte Rätsel (2010) - Old Shatterhand / Kara Ben Nemsi
2006
El genio tranquilo
as
Ristol
2004
Auf den Spuren Winnetous (TV Movie documentary)
2003
Dorothy Dandridge: An American Beauty (TV Movie documentary)
as
Tarzan (clip from Tarzan's Peril (1951))
2003
Sendung ohne Namen (TV Series)
- Angst vor der Zukunft? (2003)
2001
Timeless Cinema (TV Movie documentary)
as
Self (uncredited)
2001
Marlene Dietrich: Her Own Song (Documentary)
as
Self (uncredited)
1999
Biography (TV Series documentary)
as
Tarzan (clip from Tarzan's Peril (1951))
- Dorothy Dandridge: Little Girl Lost (1999) - Tarzan (clip from Tarzan's Peril (1951))
1996
Tarzan at the Movies, Part 2: The Many Faces of Tarzan (Video documentary short)
1977
Kolossal - i magnifici Macisti (Documentary)
as
Dragon Drakut (as L. Barker)
1965
Freispruch für Old Shatterhand - Ein Dokumentarspiel über den Prozeß Karl Mays gegen Rudolf Lebius (TV Movie)
as
Old Shatterhand / Kara Ben Nemsi (uncredited)
References
Lex Barker Wikipedia
(Text) CC BY-SA