Occupation

Actress, writer




Role

Actress




Years active

1964–present




Height

1.66 m





Partner(s)

Rowan Atkinson (1984)




Spouse

Lee Chapman (m. 1988)




Name

Leslie Ash




Siblings

Debbie Ash







Born

19 February 1960 (age 63) (

1960-02-19

)

Clapham, London, England




Children

Joseph Chapman, Max Chapman




Movies and TV shows

Men Behaving Badly, Quadrophenia, Where the Heart Is, CATS Eyes, The Tube




Similar People

Lee Chapman, Caroline Quentin, Rowan Atkinson, Phil Daniels, Neil Morrissey
Leslie Ash On Her MRSA Recovery | Lorraine
Leslie Ash (born 19 February 1960) is an English actress. She is best known for her role as Deborah Burton in the BBC sitcom Men Behaving Badly, Vanessa Lytton in the BBC medical drama Holby City from 2009 to 2010 and Karen Buckley in the ITV drama Where the Heart Is from 2000 to 2003. Her book My Life Behaving Badly: The Autobiography was published in 2007.
Contents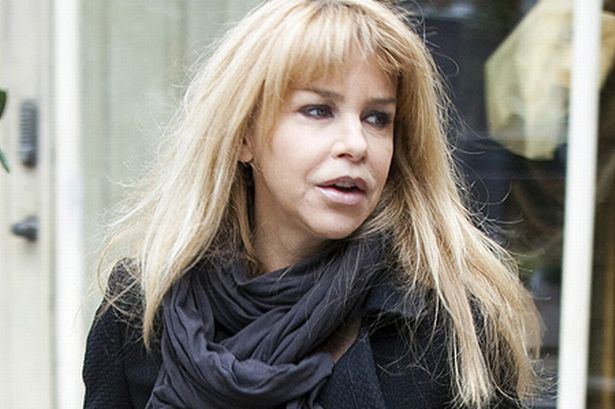 Early career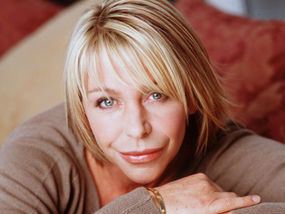 Ash was born in Henley-on-Thames, Oxfordshire, and first appeared on British television in 1964 at the age of four asking "Mummy, why are your hands so soft?" in an advertisement for the washing-up product Fairy Liquid. She was educated at the independent Italia Conti Academy stage school, and then started a career as a fashion model appearing on the cover of a number of teenager magazines, including Pink, and Jackie, for which she was photographed by David Bailey.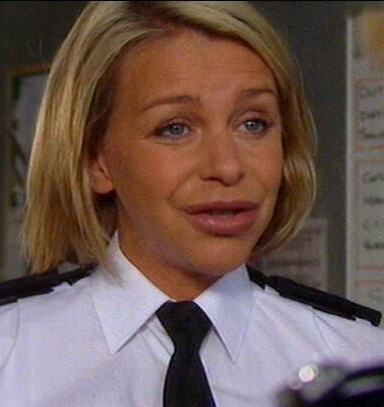 Having appeared with her sister Debbie in the 1978 British slapstick comedy Rosie Dixon – Night Nurse; her first major film role was playing the romantic lead in Quadrophenia in 1979. In 1980, Ash appeared in the Iron Maiden music video, "Women in Uniform". In 1983, she played Julie Morgan, alias Juletta Shane, in Curse of the Pink Panther. In 1983, she also appeared opposite Nicky Henson as Nancy in the ITV situation comedy The Happy Apple playing a secretary whose opinions successfully reflected public opinion. She then played a regular role in crime series C.A.T.S. Eyes.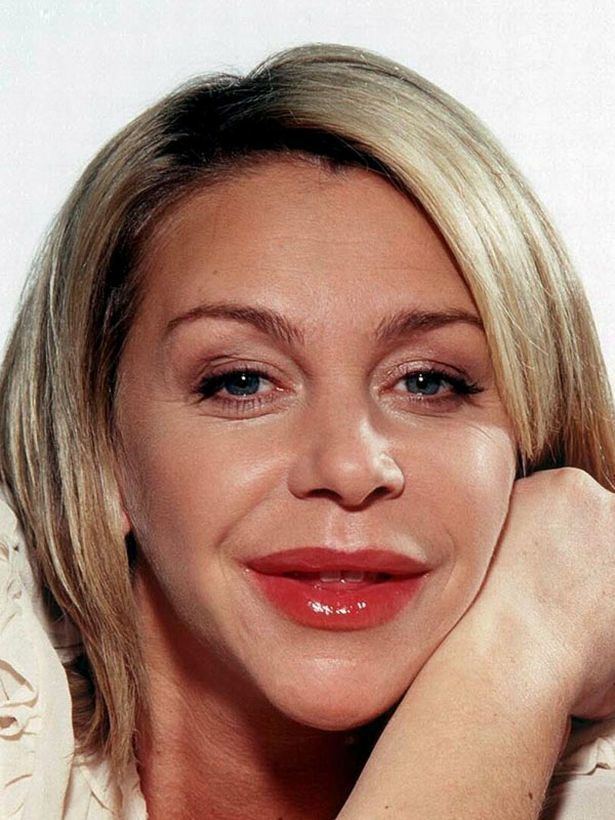 In 1987, Ash appeared in the first episode of the third series of the ITV Home to Roost. The episode was entitled Human Interest, and Ash played the role of the flamboyant cleaner, Susie Perkins.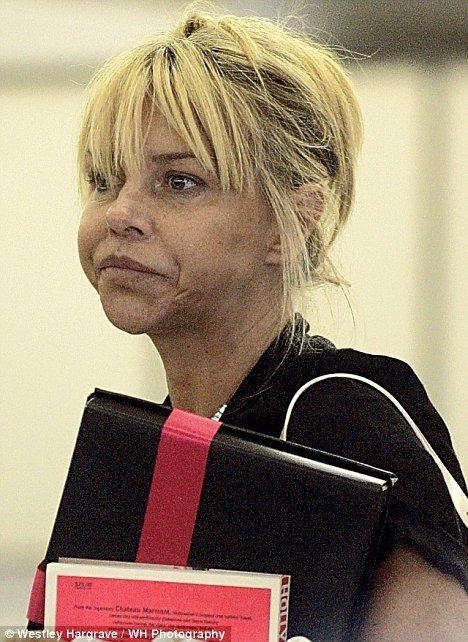 Ash's best known role was playing Neil Morrissey's romantic interest Deborah (Debs) in the situation comedy Men Behaving Badly. She continued in the role for six series. She subsequently acted in BBC police drama Merseybeat and the ITV drama Where the Heart Is.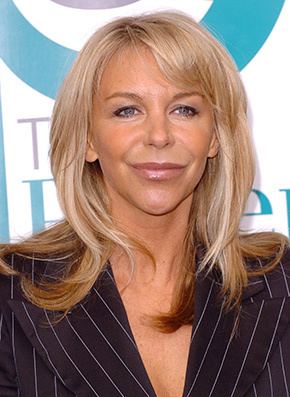 In 1996, during her time on Men Behaving Badly, Leslie released a single "Tell Him" with co-star Caroline Quentin, under the name of "Quentin & Ash". It reached number 25 in the UK singles chart.
Later work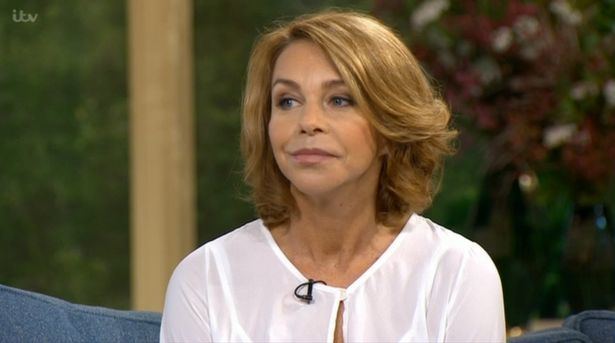 Ash appeared in BBC Radio 4's comic radio series, Vent (2007), alongside Neil Pearson, Fiona Allen and Josie Lawrence.
In May 2008, Ash worked with Transparent Television to make a documentary about the unregulated cosmetic beauty industry whilst exploring her own experiences. The programme, Leslie Ash: Face to Face was broadcast on ITV on 23 September 2008.
In 2009 it was announced that Ash would join the cast of BBC medical drama, Holby City from October 2009, playing the role of executive Vanessa Lytton. In 2009, Ash appeared on daytime TV panel programme Loose Women to discuss her new role in Holby City and her previous health problems. Leslie reappeared on Loose Women on 17 February 2012 where she discussed her new on stage tour of All the Single Ladies where she stars alongside Brooke Kinsella and Tara Flynn.
In 2014, Leslie appeared and was a contestant on the BBC programme, Celebrity Masterchef.
Personal life
Ash is married to former footballer Lee Chapman, and they have two sons. Her sister is former 'Hot Gossip' dancer Debbie Ash, who has a child with former stunt motorcyclist Eddie Kidd. They appeared together as sisters in Rosie Dixon – Night Nurse.
Health problems
Ash contracted toxoplasmosis two months into her pregnancy in France, where toxoplasmosis is more common than the United Kingdom. She told the BBC that she wished to raise awareness of this as an issue in Britain.
Ash was hospitalised at the Chelsea and Westminster Hospital in April 2004 after suffering two cracked ribs, saying she fell off her bed on to a table during sex with her husband. She was discharged after only a few days, but was readmitted after losing all feeling in her legs. In June 2004 while she was still in hospital, it was announced that a staphylococcus aureus infection might have rendered her permanently unable to walk.
In late August, Ash was seen taking some steps with the assistance of crutches. Ash appeared on the British Soap Awards in May 2006, walking unaided, but still clearly impaired two years after her illness. In January 2007 Ash confirmed she was suing the hospital. Papers lodged at the High Court asserted that Ash would never return to active TV roles. The hospital admitted breach of duty over part of her treatment but denied responsibility for the extent of her injuries and in January 2008 paid out a record £5m compensation payout in an out-of-court settlement. Steve Walker, chief executive of the NHS Litigation Authority, said the payout set a new record for compensation following a hospital-acquired infection. The previous highest amount was £500,000. The high amount was justified by the NHS compensation body as being "because of the amount Leslie was earning at the time she fell ill and takes into account how much she might have earned in the future". Ash now calls for cleaner hospitals as a result of her experiences and regularly addresses audiences of healthcare officials on the subject.
She played the character of Vanessa Lytton in the BBC series Holby City from 13 October 2009 to 6 April 2010.
Lip implants
In her thirties, Ash had a collagen injection to 'plump up' her lips. When she was forty she decided to repeat the procedure with the same plastic surgeon, the mother of a Venezuelan friend. In the second procedure, liquid silicone was injected resulting in extreme swelling of her lips, a condition dubbed a "trout pout" in the press. Subsequent medical analysis showed that the silicone had set and the condition is permanent. During this time Ash starred in a series of advertisements for the DIY chain Homebase (again, with Neil Morrissey) and starred in Merseybeat, which evoked further ridicule from the media about her appearance.
Ash has since spoken out about the press ridicule she has received as a result of her botched implants, commenting: "If I'd lost a leg in a car crash, people wouldn't have felt able to take the mickey out of me so mercilessly....People don't laugh at Heather Mills because she lost a leg."
News of the World legal action
Ash and Chapman sued the News of the World for breach of privacy over suspicions that their voicemails, and those of their two sons, were illegally accessed by private investigator, Glenn Mulcaire. They wrote to the police over their suspicions, and the police informed them that there were four pieces of paper referring to Ash in Mulcaire's notebooks, and five items relating to Chapman. There were further items relating to their children.
In August 2011, Ash and Chapman settled a claim against the paper and Mulcaire for an undisclosed sum and received an apology. They planned to take action against other newspapers.
Filmography
Actress
-
Gin and It (TV Movie) (completed)
as
Theresa
2022
Sky Comedy Shorts (TV Mini Series)
as
Lynn
- Past Caring - Lynn
2021
Casualty (TV Series)
as
Vanessa Lytton
- Episode #35.26 (2021) - Vanessa Lytton
2021
Doctors (TV Series)
as
Mary McRae
- A Grave Affair (2021) - Mary McRae
2021
Fallen Angel (TV Series)
as
Theresa Jones
2020
Nothing to Declare (TV Series)
as
Clare's Mum
- Episodes 3 & 4 (2020) - Clare's Mum
2020
Trickster (TV Series)
as
Joan
- Episodes 15 (2020) - Joan
- Episodes 13 &14 (2020) - Joan
- Episodes 11 &12 (2020) - Joan
- Episodes 9 & 10 (2020) - Joan
- Episodes 7 & 8 (2020) - Joan
- Episodes 5 & 6 (2020) - Joan
- Episodes 3 & 4 (2020) - Joan
- Episodes 1 & 2 (2020) - Joan
2020
Sins of the Father (Video)
as
Older Polly
2020
Broke (TV Series)
as
Sonia
- Episode 11 (2020) - Sonia
- Episodes 9 & 10 (2020) - Sonia
- Episodes 7 & 8 (2020) - Sonia
- Episodes 5 & 6 (2020) - Sonia
- Episodes 3 & 4 (2020) - Sonia
- Episodes 1 & 2 (2020) - Sonia
2009
Holby City (TV Series)
as
Vanessa Lytton
- For the Greater Good (2010) - Vanessa Lytton
- Enemies Closer (2010) - Vanessa Lytton
- Tipping Point (2010) - Vanessa Lytton
- Faith No More (2010) - Vanessa Lytton
- The Butterfly Effect: Part Two (2010) - Vanessa Lytton
- The Butterfly Effect: Part One (2010) - Vanessa Lytton
- A Glorious Reunion (2010) - Vanessa Lytton
- Talk to Me (2010) - Vanessa Lytton
- Resolutions (2009) - Vanessa Lytton
- Now We Are Lonely (2009) - Vanessa Lytton
- And That's What Really Hurts (2009) - Vanessa Lytton
- Break Away (2009) - Vanessa Lytton
- To Have and to Hold (2009) - Vanessa Lytton
- The Professionals (2009) - Vanessa Lytton
- Myself, Coming Back (2009) - Vanessa Lytton
- The Hands That Rock the Cradle: Part 2 (2009) - Vanessa Lytton
- The Hands That Rock the Cradle: Part 1 (2009) - Vanessa Lytton
- The Spirit Dancing (2009) - Vanessa Lytton
2009
Doctor Who: The Eighth Doctor Adventures (TV Series)
as
Marion Fleming / Hope
- An Earthly Child (2009) - Marion Fleming / Hope (voice)
2004
The All Star Comedy Show (TV Movie)
as
Various Roles
2003
Merseybeat (TV Series)
as
Insp. Charlie Eden
- Day of Reckoning (2004) - Insp. Charlie Eden
- Distant Vices (2004) - Insp. Charlie Eden
- Repeat Offender (2004) - Insp. Charlie Eden
- Angels with Dirty Faces (2003) - Insp. Charlie Eden
- True Colors (2003) - Insp. Charlie Eden
- Broken Dreams (2003) - Insp. Charlie Eden
- Warrior Moon (2003) - Insp. Charlie Eden
- Hearts and Minds (2003) - Insp. Charlie Eden
- Peace for the Wicked (2003) - Insp. Charlie Eden
- Love Hurts (2003) - Insp. Charlie Eden
- The Thirty-Third Degree (2003) - Insp. Charlie Eden
- Precious Illusions (2003) - Insp. Charlie Eden
- Only the Lonely (2003) - Insp. Charlie Eden
2003
Judge John Deed (TV Series)
as
Jan Dobbs
- Judicial Review (2003) - Jan Dobbs
2000
Where the Heart Is (TV Series)
as
Karen Buckley
- Love Hurts (2003) - Karen Buckley
- The Need of You (2003) - Karen Buckley
- The Games We Play (2003) - Karen Buckley
- My Way (2003) - Karen Buckley
- Extra Time (2002) - Karen Buckley
- Count on Me (2002) - Karen Buckley
- Flesh and Blood (2002) - Karen Buckley
- Never Alone (2002) - Karen Buckley
- Don't Let Go (2002) - Karen Buckley
- Hold My Hand (2002) - Karen Buckley
- United We Stand (2002) - Karen Buckley
- In Your Dreams (2002) - Karen Buckley
- Trust (2002) - Karen Buckley
- Happy Returns (2002) - Karen Buckley
- Relative Strangers (2002) - Karen Buckley
- No Turning Back (2002) - Karen Buckley
- The Team (2001) - Karen Buckley
- Cats and Dogs (2001) - Karen Buckley
- Sticks and Stones (2001) - Karen Buckley
- Declaration (2001) - Karen Buckley
- As Time Goes By (2001) - Karen Buckley
- Temptation (2001) - Karen Buckley
- Too Much Too Young (2001) - Karen Buckley
- Damage (2001) - Karen Buckley
- Pound of Flesh (2001) - Karen Buckley
- Faith (2001) - Karen Buckley
- Home to Roost (2001) - Karen Buckley
- The Ties That Bind (2001) - Karen Buckley
- Choices (2001) - Karen Buckley
- Sanctuary (2001) - Karen Buckley
- Runaways (2001) - Karen Buckley
- Happiness (2001) - Karen Buckley
- The Field (2000) - Karen Buckley
- Getting Better (2000) - Karen Buckley
- Legacy (2000) - Karen Buckley
- Modern Love (2000) - Karen Buckley
- Over the Rainbow (2000) - Karen Buckley
- Idle Hands (2000) - Karen Buckley
- Friends in Need (2000) - Karen Buckley
- A Good Day (2000) - Karen Buckley
2000
Full Mountie (TV Series)
as
Flight Attendant
- Episode #1.2 (2000) - Flight Attendant
1992
British Men Behaving Badly (TV Series)
as
Deborah
- Delivery (1998) - Deborah
- Gary in Love (1998) - Deborah
- Performance (1998) - Deborah
- Jingle B***s! (1997) - Deborah
- Sofa (1997) - Deborah
- Ten (1997) - Deborah
- Watching TV (1997) - Deborah
- Jealousy (1997) - Deborah
- Wedding (1997) - Deborah
- Stag Night (1997) - Deborah
- Home Made Sauna (1996) - Deborah
- Rich and Fat (1996) - Deborah
- Cardigan (1996) - Deborah
- Your Mate v Your Bird (1996) - Deborah
- Cowardice (1996) - Deborah
- The Good Pub Guide (1996) - Deborah
- Hair (1996) - Deborah
- Playing Away (1995) - Deborah
- In Bed with Dorothy (1995) - Deborah
- Drunk (1995) - Deborah
- Three Girlfriends (1995) - Deborah
- Pornography (1995) - Deborah
- Infidelity (1995) - Deborah
- Babies (1995) - Deborah
- Marriage (1994) - Deborah
- Cleaning Lady (1994) - Deborah
- Weekend (1994) - Deborah
- Casualties (1994) - Deborah
- Bed (1994) - Deborah
- Lovers (1994) - Deborah
- People Behaving Irritatingly (1992) - Deborah
- Going Nowhere (1992) - Deborah
- Troublesome Twelve Inch (1992) - Deborah
- How to Dump Your Girlfriend (1992) - Deborah
- Rent Boy (1992) - Deborah
- Gary and Tony (1992) - Deborah
- My Brilliant Career (1992) - Deborah
- Sex & Violence (1992) - Deborah
- Animals (1992) - Deborah
- Alarms and Setbacks (1992) - Deborah
- The Bet (1992) - Deborah
- Intruders (1992) - Deborah
1997
Bugs (TV Series)
as
Kitty McHaig
- The Revenge Effect (1997) - Kitty McHaig
- Blaze of Glory (1997) - Kitty McHaig
1997
Get Fit with Brittas (TV Series)
as
Leslie Ash
- The Great Outdoors (1997) - Leslie Ash (as Lesley Ash)
1996
The Paul Merton Show (TV Movie)
1993
Stay Lucky (TV Series)
as
Jo Blake
- One Jump Ahead (1993) - Jo Blake
- Sand Dancer (1993) - Jo Blake
- Blowing Bubbles (1993) - Jo Blake
1992
Haggard (TV Series)
as
Dickon
- Wicked Lady (1992) - Dickon
1992
Love Hurts (TV Series)
as
Val
- Stormy Weather (1992) - Val
- Cured (1992) - Val
1991
Perfect Scoundrels (TV Series)
as
Daisy Garland
- My Fair Daisy (1991) - Daisy Garland
1989
The Bill (TV Series)
as
Lorraine Gaynor
- Traffic (1989) - Lorraine Gaynor
1988
Natural Causes (TV Movie)
as
Angie
1987
The Marksman (TV Mini Series)
as
Hazel
- Episode #1.3 (1987) - Hazel
- Episode #1.2 (1987) - Hazel
- Episode #1.1 (1987) - Hazel
1987
Home to Roost (TV Series)
as
Susie Perkins
- Human Interest (1987) - Susie Perkins
1985
C.A.T.S. Eyes (TV Series)
as
Fred / Fred Smith
- Backlash (1987) - Fred
- Family Tradition (1987) - Fred
- A Naval Affair (1987) - Fred
- The Big Burn (1987) - Fred (uncredited)
- Country Weekend (1987) - Fred
- Carrier Pigeon (1987) - Fred
- Twelve Bar Blues (1987) - Fred
- Tranmere Dan and Tokyo Joe (1986) - Fred
- Crack Up (1986) - Fred
- Honeytrap (1986) - Fred
- Fit (1986) - Fred
- Freezeheat (1986) - Fred
- Passage Hawk (1986) - Fred
- Rough Trip (1986) - Fred
- Good as New (1986) - Fred
- Hit List (1986) - Fred
- Powerline (1986) - Fred
- One Away (1986) - Fred
- Blue for Danger (1985) - Fred Smith
- Fingers (1985) - Fred Smith
- Love Byte (1985) - Fred Smith
- My Father Knew Lloyd Mbotu (1985) - Fred Smith
- The Double Dutch Deal (1985) - Fred Smith
- Frightmare (1985) - Fred Smith
- Cross My Palm with Silver (1985) - Fred Smith
- Something Nasty Down Below (1985) - Fred Smith
- Under Plain Cover (1985) - Fred Smith
- With Vinegar and Brown Paper (1985) - Fred Smith
- The Black Magic Man (1985) - Fred Smith
- Goodbye Jenny Wren (1985) - Fred Smith
1986
Roland Rat: The Series (TV Series)
- Episode #1.10 (1986)
1984
Murder: Ultimate Grounds for Divorce
as
Philipa
1983
The Two Ronnies (TV Series)
as
Melissa Winthrop
- Episode #10.1 (1983) - Melissa Winthrop
1983
The Balance of Nature (TV Movie)
as
Dawn Winch
1983
Curse of the Pink Panther
as
Juleta Shane (AKA Julie Morgan)
1983
The Happy Apple (TV Series)
as
Nancy Gray
- Lifetime Guarantee (1983) - Nancy Gray
- Never Knowingly Undersold (1983) - Nancy Gray
- Allow 28 Days for Delivery (1983) - Nancy Gray
- Money Back If Not Delighted (1983) - Nancy Gray
- Free Trial Offer (1983) - Nancy Gray
- The Large Economy Size (1983) - Nancy Gray
- Everything Must Go (1983) - Nancy Gray
1983
Dead on Time (Short)
as
Girl in Cafe
1982
Outside Edge (TV Movie)
as
Sharon
1982
Shelley (TV Series)
as
Patsi / Girl With Baby
- When the Chip Hits the Fan (1982) - Patsi
- Credit Where Credit's Due (1982) - Girl With Baby
1982
Holding the Fort (TV Series)
as
Cyd
- News from the Front (1982) - Cyd
1982
La ronde (TV Movie)
as
The Prostitute
1981
Seconds Out (TV Series)
as
Hazel
- The Final Round (1982) - Hazel
- Round 12 (1982) - Hazel
- Round 11 (1982) - Hazel
- Round 10 (1981) - Hazel
- Round 9 (1981) - Hazel
1981
World's End (TV Series)
as
Ring-a-ding
- Episode #1.11 (1981) - Ring-a-ding
- Episode #1.10 (1981) - Ring-a-ding
1981
Plays for Pleasure (TV Series)
as
Ros Bedwell
- Cupid's Darts (1981) - Ros Bedwell
1980
Dire Straits: Tunnel of Love (Music Video)
as
Pretty woman
1980
The Gentle Touch (TV Series)
as
Maureen
- Hammer (1980) - Maureen
1978
Rosie Dixon - Night Nurse
as
Natalie Dixon
1974
The Boy with Two Heads (TV Series)
as
Jill Page
- The Mysterious Box (1974) - Jill Page
- The Secret Cave (1974) - Jill Page
- The Magic Football (1974) - Jill Page
- Farewell to Chico (1974) - Jill Page
- Chico makes the Rain (1974) - Jill Page
- Chico Makes Magic (1974) - Jill Page
- Chase for Chico (1974) - Jill Page
Producer
2020
Trickster (TV Series) (executive producer - 8 episodes)
- Episodes 15 (2020) - (executive producer)
- Episodes 13 &14 (2020) - (executive producer)
- Episodes 11 &12 (2020) - (executive producer)
- Episodes 9 & 10 (2020) - (executive producer)
- Episodes 7 & 8 (2020) - (executive producer)
- Episodes 5 & 6 (2020) - (executive producer)
- Episodes 3 & 4 (2020) - (executive producer)
- Episodes 1 & 2 (2020) - (executive producer)
2020
Sins of the Father (Video) (executive producer)
2020
The Doll Maker (TV Series) (executive producer - 6 episodes)
- Episode 11 (2020) - (executive producer)
- Episodes 9 & 10 (2020) - (executive producer)
- Episodes 7 & 8 (2020) - (executive producer)
- Episodes 5 & 6 (2020) - (executive producer)
- Episodes 3 & 4 (2020) - (executive producer)
- Episodes 1 & 2 (2020) - (executive producer)
2020
Run (TV Series) (executive producer - 4 episodes)
- Episodes 10 & 11 (2020) - (executive producer)
- Episodes 7, 8 & 9 (2020) - (executive producer)
- Episodes 4, 5 & 6 (2020) - (executive producer)
- Episodes 1, 2 & 3 (2020) - (executive producer)
2020
The Accidental Medium (TV Series) (executive producer - 6 episodes)
- Episode 11 (2020) - (executive producer)
- Episodes 9 & 10 (2020) - (executive producer)
- Episodes 7 & 8 (2020) - (executive producer)
- Episodes 5 & 6 (2020) - (executive producer)
- Episodes 3 & 4 (2020) - (executive producer)
- Episodes 1 & 2 (2020) - (executive producer)
2020
Gin & IT: En Castellano (Video) (executive producer)
2020
Broke (TV Series) (executive producer - 6 episodes)
- Episode 11 (2020) - (executive producer)
- Episodes 9 & 10 (2020) - (executive producer)
- Episodes 7 & 8 (2020) - (executive producer)
- Episodes 5 & 6 (2020) - (executive producer)
- Episodes 3 & 4 (2020) - (executive producer)
- Episodes 1 & 2 (2020) - (executive producer)
Self
2015
Pointless Celebrities (TV Series)
as
Self - Contestant
- Special (2021) - Self - Contestant
- British Film (2015) - Self - Contestant
2005
Loose Women (TV Series)
as
Self
- Episode #25.196 (2021) - Self
- Episode #20.160 (2016) - Self
- Episode #16.114 (2012) - Self
- Episode #14.31 (2009) - Self
- Episode #12.5 (2007) - Self
- Episode #8.31 (2005) - Self
2020
Back to the... (TV Mini Series documentary)
as
Self
- 80s with Lenny Henry (2020) - Self
2019
Good Morning Britain (TV Series)
as
Self - Guest
- Episode dated 10 December 2019 (2019) - Self - Guest (uncredited)
2019
Quadrophenia: Our Generation (TV Movie documentary)
as
Self
2019
Quadrophenia Reunited: 40 Years On (TV Special)
as
Self
2019
Lorraine (TV Series)
as
Self - Guest
- Episode dated 18 September 2019 (2019) - Self - Guest
2019
The Comedy Years (TV Series documentary)
as
Self - Comedy Actress
- 1984 (2019) - Self - Comedy Actress
- 1979 (2019) - Self - Comedy Actress
2019
Meridian Tonight (TV Series)
as
Self
- Episode dated 25 March 2019 (2019) - Self
2016
Celebrity Chase (TV Series)
as
Self - Contestant
- Episode #6.7 (2016) - Self - Contestant
2016
Europe: The Final Debate with Jeremy Paxman (TV Special)
as
Self (uncredited)
2014
Greatest Ever Sitcoms (TV Movie documentary)
as
Self
2014
Celebrity Masterchef (TV Series)
as
Self
- Episode #9.1 (2014) - Self
2012
Emergency Abroad (TV Series documentary)
as
Narrator
2012
The Wright Stuff (TV Series)
as
Self - Guest Panelist
- Episode #17.54 (2012) - Self - Guest Panelist
2011
Sitcom Does... (TV Mini Series documentary)
as
Self
- Christmas (2011) - Self
- Friendship (2011) - Self
- Romance (2011) - Self
2009
Live from Studio Five (TV Series)
as
Self
- Episode #1.23 (2009) - Self
2009
Daily Cooks Challenge (TV Series)
as
Self
- Episode #3.22 (2009) - Self
2007
The One Show (TV Series)
as
Self / Self - Presenter
- Episode dated 14 April 2009 (2009) - Self
- Episode dated 7 September 2007 (2007) - Self - Presenter
2008
The Greatest Christmas Comedy Moments (TV Movie documentary)
as
Self (as Lesley Ash)
2007
Would I Lie to You? (TV Series)
as
Self
- Episode #1.4 (2007) - Self
2006
A Way of Life: Making Quadrophenia (Video documentary)
as
Self
2006
Best Ever Ads 2 (TV Movie documentary)
as
Self
2006
The British Soap Awards 2006 (TV Special)
as
Self - Presenter
2006
TV Burp (TV Series)
as
Self
- Episode #5.8 (2006) - Self
2006
Ireland: am (TV Series)
as
Self
- Episode #6.99 (2006) - Self
2005
Richard & Judy (TV Series)
as
Self
- Episode dated 19 July 2005 (2005) - Self
2004
Call My Bluff (TV Series)
as
Self
- Episode dated 5 June 2005 (2005) - Self
- Episode #12.1 (2004) - Self
2005
GMTV (TV Series)
as
Self
- Episode dated 8 March 2005 (2005) - Self
2005
The Keith Barret Show (TV Series)
as
Self
- Episode #2.1 (2005) - Self
2004
Britain's Best Sitcom (TV Series)
as
Self
- The Live Final (2004) - Self
2003
Friday Night with Jonathan Ross (TV Series)
as
Self
- Episode #5.10 (2003) - Self
2003
Comedy Connections (TV Series documentary)
as
Self / Deborah
- Men Behaving Badly (2003) - Self / Deborah
2003
The Sitcom Story (TV Series documentary)
as
Self
- Episode #1.2 (2003) - Self
2003
Life After the Square (TV Movie documentary)
as
Narrator
2003
The All New Harry Hill Show (TV Series)
as
Self
- Episode #1.4 (2003) - Self
1996
This Is Your Life (TV Series documentary)
as
Self
- John McArdle (2003) - Self
- Mark Wingett (2000) - Self
- Toyah Willcox (1996) - Self
2002
This Morning (TV Series)
as
Self
- Episode dated 19 April 2002 (2002) - Self
2001
Jumpers for Goalposts (TV Series)
as
Self
- Episode #1.2 (2001) - Self
2000
Quadrophenia: Featurette (Video documentary short)
1999
The Laurence Olivier Awards 1999 (TV Special)
as
Self - Presenter: Best Supporting Actor
1999
Television's Greatest Hits (TV Series documentary)
as
Self
- Episode #3.5 (1999) - Self
1999
It's Only TV... But I Like It (TV Series)
as
Self
- Episode #1.3 (1999) - Self
1999
Laughter in the House: The Story of British Sitcom (TV Mini Series documentary)
as
Self / 'Deborah'
1998
Late Lunch (TV Series)
as
Self
- Late Lunch Behaving Badly (1998) - Self
1998
Children in Need (TV Series)
as
Self
- Episode #19.1 (1998) - Self
1998
Truly, Madly, Single (TV Movie documentary)
as
Self - Presenter
1998
Fantasy World Cup (TV Series)
as
Self
- Episode #1.3 (1998) - Self
1997
Holiday (TV Series documentary)
as
Self
- Episode #30.11 (1997) - Self
1997
Dinner Dates (TV Series)
as
Self - Presenter
- Episode #1.1 (1997) - Self - Presenter
1997
An Audience with Elton John (TV Special)
as
Self
1997
The Bookworm (TV Series)
as
Self
- Episode #4.6 (1997) - Self
1997
Light Lunch (TV Series)
as
Self
- An Awfully Well Behaved Lunch (1997) - Self
1996
The O-Zone (TV Series)
as
Self
- Oasis Knebworth Special (1996) - Self
1996
The Chart Show (TV Series)
as
Self - Interviewee
- Episode dated 29 June 1996 (1996) - Self - Interviewee
1996
Saturday Live (TV Series)
as
Self
- Episode #1.4 (1996) - Self
1995
The Richard Whiteley Show (TV Series)
as
Self - Guest
1995
Shooting Stars (TV Series)
as
Self
- Episode #1.4 (1995) - Self
1995
Going for a Song (TV Series documentary)
as
Self - Team Captain
- Episode #1.1 (1995) - Self - Team Captain
1992
That's Showbusiness (TV Series)
as
Self - Panelist
- Episode #7.19 (1995) - Self - Panelist
- Episode #4.2 (1992) - Self - Panelist
1994
Harry Enfield and Chums (TV Series)
as
Self - Special Guest Star
- Episode #1.5 (1994) - Self - Special Guest Star
1994
Noel's House Party (TV Series)
as
Self
- Episode #4.6 (1994) - Self
1994
An Audience with Jimmy Tarbuck (TV Special documentary)
as
Self - Audience Member
1988
Bobby Davro's TV Weekly (TV Series)
as
Self
- Episode #2.1 (1988) - Self
1986
Driving Force '86 (TV Movie)
as
Self
1986
Sporting Chance (TV Series)
as
Self
- Episode #2.2 (1986) - Self
- Episode #2.1 (1986) - Self
1983
Blankety Blank (TV Series)
as
Self
- Episode #9.19 (1986) - Self
- Episode #8.9 (1985) - Self
- Episode #6.4 (1983) - Self
1985
Television Scrabble (TV Series)
as
Self
- Episode #2.41 (1985) - Self
1983
The Tube (TV Series)
as
Self - Presenter
- The Midsummer Night's Tube (1984) - Self - Presenter
1982
Give Us a Clue (TV Series)
as
Self - Panellist
- Episode #6.3 (1983) - Self - Panellist
- Episode #5.16 (1982) - Self - Panellist
- Episode #4.18 (1982) - Self - Panellist
Archive Footage
2019
Greatest Chocolate Adverts of All Time (TV Movie documentary)
as
Ritter Sport Advert
2000
The 100 Greatest TV Ads (TV Special)
1999
The Two Ronnies at the Movies (TV Movie)
References
Leslie Ash Wikipedia
CC BY-SA