Leshan, formerly known as Jiading, is a prefecture-level city located at the confluence of the Dadu and Min rivers in Sichuan Province, China. Leshan is located on the southwestern fringe of the Red Basin in southern Sichuan, about 120 km (75 mi) from Chengdu. At the 2010 census, its population was 3,235,759 whom 662,814 lived in the built-up (or metro) area made of Shizhong district, as Wutongqiao and Jinkouhe districts are not conurbated yet.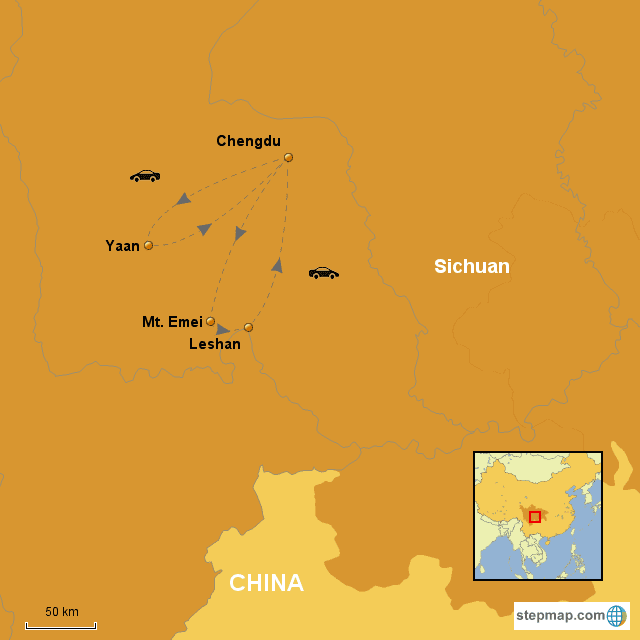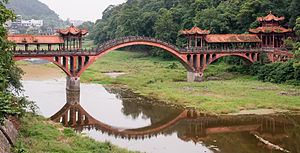 In 1996, the Mount Emei Scenic Area, including the Leshan Giant Buddha, the largest stone-carved buddha in the world, was declared a World Heritage Site by UNESCO.
Mount Emei is located within the county-level city of Emeishan, which is under the administrative jurisdiction of Leshan.
The ancestral home of Chinese writer, academic and politician Guo Moruo is preserved in the Shawan District of Leshan.
The Leshan dialect, part of the Southern linguistic system, is very different from the dialects of other cities in the province of Sichuan, which belong to the Northern system. Some researchers say the pronunciation of Leshan dialect represents an archaic form of Chinese pronunciation.
Falling into the Sichuan cuisine family, Leshan is noted for its food culture in that it has all the street food from its surrounding areas, which has made it the one-stop street food city. Typical specialties include:
Ma-La-Tang 麻辣烫 - Hot and spicy soup
Bo-Bo-Ji 钵钵鸡 - Bobo chicken
Shao-Kao 烧烤 - Street barbecue
Qian-Wei Bao-Bing 犍为薄饼 - Qianwei Pancakes
Dou-Fu-nao 豆腐脑 -
There is a passenger rail line that serves the Mianyang–Chengdu–Leshan inter-city area.
The Chengdu-Leshan Freeway with a total length of 160 kilometers, was finished on January 14, 2000. This Freeway has since become very important to the city's development.
Leshan Normal University and Leshan Vocational & Technical College are two government-fund colleges in the city.
Leshan has a monsoon-influenced humid subtropical climate (Köppen Cwa) and is largely mild and humid. Winter is short, mild and dry, with a January average of 7.1 °C (44.8 °F), and while frost may occur, snow is rare. Summers are long, hot and humid, with highs often exceeding 30 °C (86 °F), yet extended heat waves are rare. The daily average in July and August is around 26 °C (79 °F). Rainfall is light in winter and can be heavy in summer, and more than 70% of the annual total occurs from June to September.
Leshan
Hervey Bay, Queensland, Australia
Gilbert, Arizona, United States
Ichikawa, Chiba, Japan