South Africa




Afrikaans


66.94 km2


Waterberg




1960



Lephalale or Ellisras is a coal mining town in the Limpopo province of South Africa immediately east of the Waterberg Coalfield. The town was established as Ellisras in 1960 and named after the original farm owners, Patrick Ellis and Piet Erasmus. In 2002, Ellisras was renamed Lephalale by the provincial government of Limpopo, after the main river that crosses the municipality. Lephalale is divided into three main subsections, Lephalale, Onverwacht and Marapong. Lephalale is derived from the [Setswana] meaning "to flow".
Late Iron Age cattle posts belonging to the Letsibogo ceramic facies have been found in the area. Some rock engravings at Nelsonkop have been recorded.
Lephalale is situated between 23°30 and 24°00 south latitude and 27°30 and 28°00 east longitude and the town is positioned west of the Mokolo river, a tributary to the Limpopo river, 820 meters above sea level.
The Economy of Lephalale is dominated by mining, electricity production, tourism, agriculture and game farming.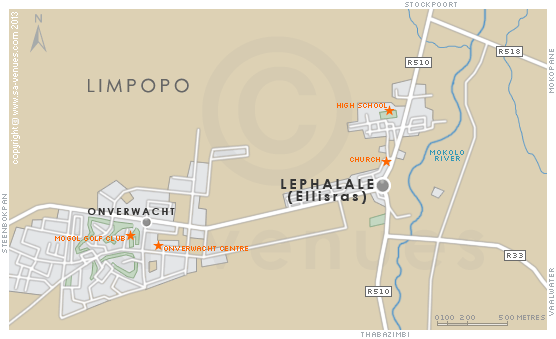 The Bushveld Festival takes place in early July. The festival includes cattle shows, a game auction, horse jumping, dog shows, agricultural activities, a three-day 4x4 competition, a game farms expo, hunting opportunities, bird and tree identification competitions, traditional food, live music, a beer tent and huge camp fires.
Lephalale Wikipedia
(,)http://dm62zza9c93u.cloudfront.net/styles/overlay_image_1280_or_1024/s3/L72A8600.JPG%3Fitok%3DtX7pOztp(,)http://dm62zza9c93u.cloudfront.net/styles/overlay_image_1280_or_1024/s3/L72A8577.JPG%3Fitok%3DtIKGbvHj(,)http://upload.wikimedia.org/wikipedia/commons/b/be/Medupi_Power_Station_Lephalale.jpg(,)http://cdnbakmi.kaltura.com/p/1054541/sp/105454100/thumbnail/entry_id/1_wfx1am2h/version/100001/acv/291/width/600/height/360(,)http://cranbrook.co.za/wp-content/uploads/2011/01/Shareholding.jpg(,)http://www.timeslive.co.za/incoming/2011/12/22/mozambique-spitting-cobra.jpg/ALTERNATES/crop_630x400/Mozambique%2BSpitting%2BCobra.jpg(,)http://news.cheapflighthouse.co.uk/wp-content/uploads/2014/01/Lephalale.jpg(,)http://upload.wikimedia.org/wikipedia/commons/7/71/Map_of_Limpopo_with_Lephalale_highlighted_(2011).svg(,)http://www.ldrt.gov.za/LPFDB/images/waterberg-15.png(,)http://aviation-safety.net/photodata/490accf30ba06Donkerhoek%2520Airstrip.jpg(,)http://www.safarinow.com/db/id/845319/g210496.jpg(,)http://www.seeitmarket.com/wp-content/uploads/2015/01/german-dax-symmetrical-triangle-january-12-2015.png(,)http://www.safarinow.com/db/id/1866173/g478842.jpg(,)http://i.imgur.com/mjC1SHz.jpg(,)http://www.limpopohappenings.co.za/images_index/elephants.jpg(,)http://misfits.no-ip.org/pictures/southafrica/floridalook.jpg(,)http://cdnbakmi.kaltura.com/p/1054541/sp/105454100/thumbnail/entry_id/0_r4i0ta5k/version/100002/acv/292/width/600/height/360
(,)http://images5.backpage.com/imager/u/large/102774998/1-130525094312a4.jpg(,)http://images5.backpage.com/imager/u/large/102774935/9-130R3112JL59.jpg(,)http://images6.backpage.com/imager/u/large/102774936/1098131_345260522274959_528309269_n.jpg(,)http://images4.backpage.com/imager/u/large/109633007/EXCAVATOR_3-7_DAYS_TRAINING..jpg(,)http://www.forty-two.travel/images/destinations/limpopo/LEPHALALE.jpg(,)http://www.roomsforafrica.com/images/lephalale_mogol_river.jpg(,)http://www.keta.co.za/system/images/BAhbB1sHOgZmSSIrMjAxMy8wNC8yNi8xNy8zMC80My85MzMvbGFuZHNjYXBlMS5qcGcGOgZFVFsIOgZwOgp0aHVtYkkiDjEyODB4MTAyNAY7BlQ/landscape1.jpg
(,)http://media-cdn.tripadvisor.com/media/photo-s/07/18/08/0c/machauka-restaurant.jpg(,)http://telefinder.co.za/wp-content/uploads/2014/11/PSG-Versekering-Lephalale-Featured-Image.png(,)http://i.ebayimg.com/00/s/NDc3WDgwMA%3D%3D/z/bEgAAOSwiCRUcFYk/%24_20.JPG(,)http://www.lephalaletourism.co.za/images/logo.jpg(,)http://kwikweb.co.za/monreve/photos/topbannermonreve31267.jpg
(,)http://www.sa-venues.com/maps/atlas/lim_lephalale.gif(,)http://www.sa-venues.com/attractionslm/gallery/617/1.jpg(,)http://www.where2stay-southafrica.com/venue_images/1326798455_W2SSA_Hoedspruit-Wildfees-Festival-Limpopo-Where2Stay.jpg(,)http://www.waterberg24.co.za/directory/files/logo/1151.jpg(,)http://www.sahomes4sale.co.za/Images1/ONV025VACANT%2520LAND%2520IMG.jpg(,)http://www.where2stay-southafrica.com/venue_images/1263314911_offer_Where2stay-southAfrica%2520Oyster%2520Festival%2520Knysna.jpg
(,)http://www.safarinow.com/db/id/10303/g186773.jpg(,)http://www.lephalale.gov.za/images/banner3.gif(,)http://www.waterberg24.co.za/directory/files/logo/828.jpg