Covid-19
Leonid Parfyonov




Journalist





Russian




Elena Chekalova (m. 1987)







Zvorykin-Muromets, Generation P, Minuta slavy




Ivan Parfyonov, Maria Parfyonova




Gennadiy Parfyonov, Alvina Parfyonova




Vasya Oblomov, Kseniya Sobchak, Vladimir Posner, Victor Ginzburg
Leonid Gennadievich Parfyonov (Russian: Леонид Геннадьевич Парфёнов, born January 26, 1960, Cherepovets, Vologda Oblast) is a Russian veteran journalist, news presenter, TV producer and author of many popular documentary TV shows. Parfyonov is best known for his studio work and productions for the NTV (of which he was Producer General between 1997 and 1999) until that TV channel was subdued by the government-owned Gazprom Media. From December 3, 2004 until December 20, 2007 he was an Editor-in-Chief of Russky Newsweek, Russian edition of Newsweek.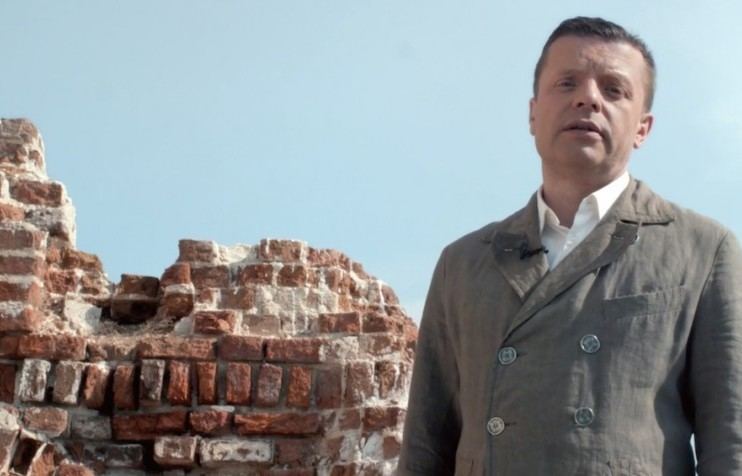 As the author and narrator of the daily culture news TV show Namedni on NTV, Parfyonov produced the line of popular history TV documentaries which he narrated and hosted on-site of almost each event portrayed. The series achieved great success and were repeatedly broadcast for years after premiere.
Namedni 1961-1991: Nasha Era (1997) (Russian:

"Намедни 1961-1991: Наша Эра"

, literally "Recently: Our Era") and 2003 sequel Namedni 1961-2003: Novaya Era (Russian:

"Намедни 1961-2003: Новая Эра"

, literally ("Recently: New Era") are TV series recapping the History of the Soviet Union and modern Russia since 1961 in 42 year-part manner.
Rossiyskaya Imperiya (Russian:

"Российская Империя"

, literally "Russian Empire") (2000—2003) is a similar, but larger-span project dedicated to the History of Russian Empire starting with the Peter the Great rule. The series also used animation and additional narration by famous stage actress Alla Demidova.
Noveyshaya Istoriya. Semnadtsat mgnoveniy 25 let spustia (Russian:

Новейшая история. Семнадцать мгновений весны 25 лет спустя

) (1998) and Noveyshaya Istoriya. Mesto vstrechi, 20 let spustia (Russian:

Место встречи. 20 лет спустя

) are commemorative documentaries on the two iconic Soviet TV series:
Seventeen Moments of Spring
The Meeting Place Cannot Be Changed, putting the history of the series' creation in the wider social context of both the plot and the production eras. Parfyonov interviewed members and acquaintances of the casts and crews as well as actual police and KGB operatives.
Russia in Bloom (2013) (Russian:

"Цвет нации"

) - a documentary about Sergei Prokudin-Gorsky, a pioneer in color photography of early 20th-century Russia. Available for public viewing with English subtitles on Vimeo.
In November 2010 Parfyonov became the first recipient of the Listyev Prize, in honour of Vladislav Listyev, a Russian TV journalist who was murdered in 1995. On the live-broadcast ceremony for the prize, Parfyonov made an unexpected and emotional speech damning Russian TV community for dependence on the authorities, saying "journalists are not journalists at all but bureaucrats, following the logic of service and submission". This became a contradiction to the past, when Parfyonov had refrained from making political statements, saying "I am a professional journalist, not a professional revolutionary. My job is to report, not to climb the barricades".
TEFI award and also a special prize in 2004 - for the "Namedni 1961-2003"
4 more TEFI awards
Leonid Parfyonov Wikipedia