Birth name

Claude Russell Bridges




Years active

1956–present




Also known as

Hank Wilson




Name

Leon Russell






Born

April 2, 1942 (age 73) Lawton, Oklahoma, United States (

1942-04-02

)


Genres

Country, rock, folk, rhythm and blues, folk rock, blues rock




Occupation(s)

Musician, singer-songwriter




Instruments

Vocals, piano, organ, guitar, bass guitar, mandolin




Role

Musician · leonrussellrecords.com




Spouse

Janet Lee Constantine (m. 1983), Mary McCreary (m. 1975–1980)




Children

Sugaree Noel Bridges, Coco Bridges, Tina Rose Bridges, Honey Bridges, Teddy Jack Bridges




Albums

The Union, Life Journey, Leon Russell and the S, Wedding Album, Leon Live
Leon russell homewood session 1970 12 05
Leon Russell (born Claude Russell Bridges, April 2, 1942) is an American musician and songwriter, who has recorded as a session musician, sideman, and maintained a solo career in music.
Contents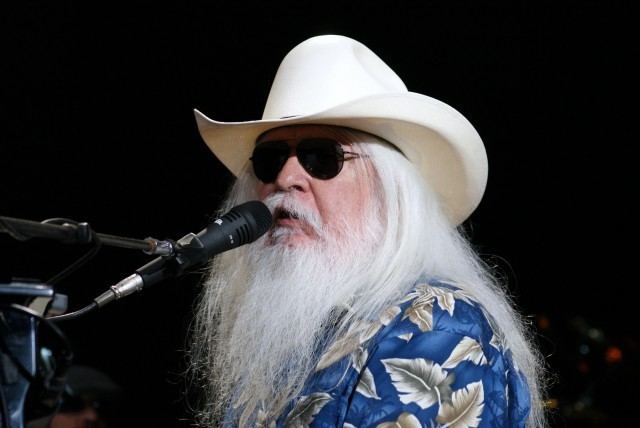 Stranger in a strange land leon russell
Overview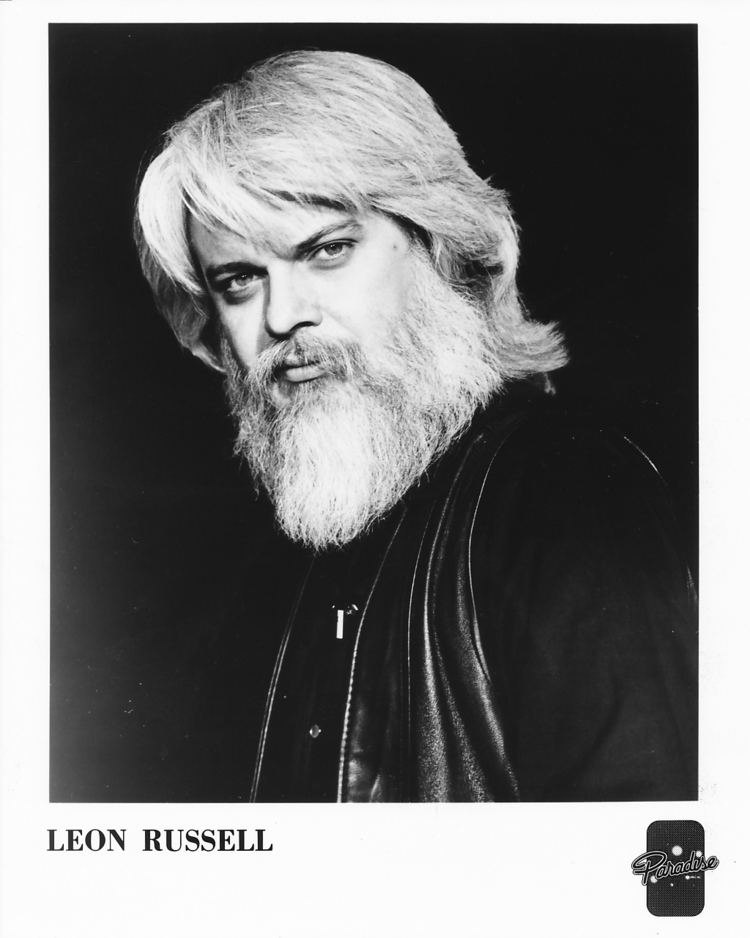 Born in Lawton, Oklahoma, United States, Russell began playing piano at the age of four. He attended Will Rogers High School in Tulsa, Oklahoma. Also at Will Rogers High School were Anita Bryant, who was one year older, and in the same 1959 class, David Gates. Russell and Gates played and recorded together as the Fencement. A few years younger, also at Will Rogers, was Elvin Bishop. At this time Russell was already performing at Tulsa nightclubs. After moving to Los Angeles, he became a session musician, working as a pianist on the recordings of many notable musical artists from the 1960s. By the late 1960s, Russell diversified, becoming successful as an arranger and songwriter. As a musician, he worked his way up from gigs as a sideman to well-known performers. By 1970, he had graduated to solo recording artist, although he never ended his previous roles within the music industry. After performing country music under the name Hank Wilson in the 1970s and 1980s, Russell had largely faded into obscurity. He re-emerged in 2010 when Elton John called on him to record an album that became The Union. The album brought renewed popularity to Russell who has since released a solo album and toured around the world.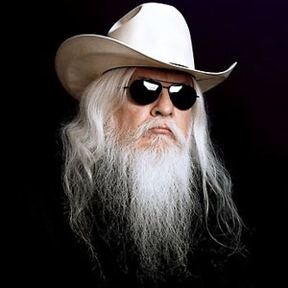 Russell was inducted into the Rock & Roll Hall of Fame on March 14, 2011. In June, 2011, Leon Russell was inducted into the Songwriters Hall of Fame
Career
Russell began his musical career at the age of 14 in the nightclubs of Tulsa, Oklahoma. He and his group the Starlighters, which included J.J. Cale, Leo Feathers, Chuck Blackwell and Johnny Williams, were instrumental in creating the style of music known as the Tulsa Sound. After settling in Los Angeles, he studied guitar with James Burton. Known mostly as a session musician early in his career, as a solo artist he has crossed genres to include rock and roll, blues, and gospel music, playing with artists as varied as Jan & Dean, Gary Lewis, George Harrison, Gram Parsons, Delaney Bramlett, Ringo Starr, Doris Day, Elton John, Ray Charles, Eric Clapton, the Byrds, Barbra Streisand, the Beach Boys, the Ventures, Willie Nelson, Badfinger, Tijuana Brass, Frank Sinatra, the Band, Bob Dylan, J.J. Cale, B.B. King, Dave Mason, Glen Campbell, Joe Cocker and the Rolling Stones.
As a first call studio musician in Los Angeles, Russell played on many of the most popular songs of the 1960s, including some by the Byrds, Gary Lewis and the Playboys, Bobby "Boris" Pickett, and Herb Alpert. He can be seen in 1964's T.A.M.I. Show, playing piano with "the Wrecking Crew" (an informal name for the top L.A. session musicians of the 1960s), sporting short, dark, slicked-back hair, in contrast to his later look. Soon after, he was hired as Snuff Garrett's assistant/creative developer, playing on numerous #1 singles, including "This Diamond Ring" by Gary Lewis and the Playboys. He wrote or co-wrote two hit songs for Gary Lewis and Playboys: Everybody Loves a Clown (which hit the Billboard Top 40 on October 9, 1965, remaining on the chart for eight weeks and rising to number 4) and She's Just My Style (which hit Billboard′s Top 40 on December 18, 1965, and rose to number 3). He played xylophone and bells on the 1966 single The Joker Went Wild, sung by Brian Hyland and penned by Bobby Russell (no relation to Leon). He also worked sessions with Dorsey Burnette and Glen Campbell on Campbell's 1967 album Gentle on My Mind, where he was credited as "Russell Bridges" on piano, and arranged and conducted the 1966 easy listening album Rhapsodies for Young Lovers by the Midnight String Quartet.
In 1958 Russell moved to Los Angeles.
In 1965 Russell released "Everybody's Talking 'Bout the Young", Russell's first solo single on Dot Records
In 1968 Smash Records released Look Inside the Asylum Choir, a studio group made of Leon Russell and Marc Benno that made The Asylum Choir.
In 1969 Leon Russell and Denny Cordell started Shelter Records, a US record label that operated from 1969 to 1981. The company established offices in both Los Angeles and Tulsa. Shelter Records used Sound City Studios for recording in its early days.
In 1969 and 1970, Russell worked as a member of Delaney & Bonnie and Friends, playing guitar and keyboards on their albums and as part of the touring band. Here he met George Harrison and others with whom he would work over the next couple of years.
Russell's first commercial success as a songwriter came when Joe Cocker recorded the song "Delta Lady" for his 1969 album, Joe Cocker! The album, co-produced and arranged by Russell, reached #11 on the Billboard 200. Russell went on to organize—using many of the musicians from Delaney & Bonnie's band—and perform in the 1970 Mad Dogs and Englishmen tour. "Superstar", co-written by Russell, was sung by Rita Coolidge on that tour and album. It later proved a success for the Carpenters, Luther Vandross, Sonic Youth and other performers.
During the Mad Dogs and Englishmen tour, Shelter Records released his 1970 solo album Leon Russell, which included the first recording of "A Song for You". This has become one of his best-known songs, with versions released by more than 40 different artists including the Carpenters, Ray Charles, Peggy Lee, Willie Nelson, Helen Reddy, Whitney Houston, Elkie Brooks, Amy Winehouse, Donny Hathaway, and Christina Aguilera. Both the Carpenters and the Temptations named an album after the song. Also in 1970, Russell played piano on Dave Mason's album, Alone Together, most notably on the song "Sad and Deep as You".
In December 1970 "Leon Russell and friends" recorded the "Homewood Sessions", broadcast as an "unscripted and unrehearsed" one-hour TV special on KCET TV (Los Angeles) and later re-broadcast several times on the Public Broadcasting System.
During the 1960s and early 1970s, Russell owned the Church Recording Studio on 3rd Street (renamed Leon Russell Road in 2010 by The Pearl District Association) in Tulsa. His former home on Grand Lake, Oklahoma, contained a dining room table and chairs made from church pews taken out of the church when it was turned into a studio.
"Prince of Peace: Radio Broadcast 1970 album is a soundboard recording of a December 1970 Fillmore East concert.
In March, 1971, Russell produced some tracks for Bob Dylan, who was experimenting with his sound. The sessions produced the single "Watching the River Flow" and "When I Paint My Masterpiece", both of which prominently featured Russell's gospel-flavored piano.
During the summer of 1971, at the invitation of former Delaney & Bonnie band-mate George Harrison, Russell played piano on Badfinger's third album, Straight Up. The piano part complemented Pete Ham and George Harrison's dual slide guitars on Badfinger's "Day After Day". The Straight Up sessions were interrupted when many of the musicians left for New York City to participate in the Concert For Bangladesh, at which Russell performed a medley of the songs "Jumpin' Jack Flash" and "Young Blood" and sang a verse on Harrison's "Beware of Darkness." Russell (on bass guitar and vocals) and Harrison (on electric guitar and vocals) also backed up Bob Dylan's set.
A busy year for Russell, 1971 also brought the Shelter Records release of Leon Russell and the Shelter People and Asylum Choir II (which was co-produced by Marc Benno) and recorded at Russell's Skyhill Studios. Leon Russell and the Shelter People went on to be Leon's first US Gold album. That same year, Russell played on recording sessions with B.B. King, Eric Clapton, and Bob Dylan.
Russell helped blues guitarist Freddie King to revive his career by collaborating with him on three of his albums for Shelter Records during the early 1970s. During those same years, Russell helped himself to a nice share of what was then called the "County and Western" market, recording and performing under the moniker Hank Wilson, and was a regular performer at Gilley's Club, the Pasadena, Texas, honkytonk made famous in Urban Cowboy.
1972 was highlighted by a large-scale concert tour by Russell and his "Shelter People" entourage. A live performance was recorded in California at the Long Beach Arena on August 28, 1972, and was released as the Leon Live album. In November 1972, Billboard cited Russell as a top concert draw and reported the '72 tour gross at almost $3 million.
In 1971 Shine a Light was a song featured on the Rolling Stones' 1972 album Exile on Main St.. A version of the song, under the title Get a Line on You, was made by Leon Russell at Olympic Studios in October 1969 with assistance from Jagger (lead vocals), Charlie Watts (drums), Leon Russell (piano), and probably also Bill Wyman (bass) and Mick Taylor (guitar). The recording was made during the recording sessions for the album Leon Russell]] (released 1970), where both Watts and Wyman contributed drums and bass to some of the tracks. However, the song "Get a Line on You" was not on the released album, but was shelved until 1993, when it finally surfaced as a bonus track on the 24K gold re-release by DCC Compact Classics (DCC Compact Classics GZS 1049).
In 1973 Leon released Leon Live album, it charted and was his third US Gold album. The album was recorded live at Long Beach Arena, August 28, 1972, a three LP release.
In Looking Back was released by Russell on Olympia Records; Everest Records, shortly after the success of his single "Tightrope", it contains instrumental tracks that were recorded in the mid-1960s, featuring Russell on harpsichord.
In 1974 he released his Carney album this was Leon's third solo studio album. The album peaked at number 2 on the Billboard 200, it had on it Tight Rope and This Masquerade. This was his second Gold album.
In 1974 Leon helped the group the Gap Band, a local group of Oklahomans musicians, kick off there notoriety. The group later became a funk-disco hit. The Gap Band backed Leon on his Stop All That Jazz album.
In 1975 Russell released Live In Japan on Shelter Records. The album was recorded live at Budokan Hall, Tokyo,Japan on November 8, 1973.
In 1975 Russell made it into the Top 40 Hits with Lady Blue on his Will O' the Wisp album. Will O' the Wisp was his four Gold album.
In 1975 Helen Reddy put Russel Bluebird song on a singles and her No Way to Treat a Lady album. The song debuted on Billboard's Hot 100 in the issue of the magazine dated July 5, and reached number 35 over the course of six weeks there. That same issue also marked its debut on the magazine's Easy Listening chart, where it spent eight weeks and peaked at number five, and on the RPM singles chart it got as high as number 51. Reddy comments on the tune, "I love Leon Russell's writing and I love this song. It was an integral part of my repertoire for nearly 30 years, and I never tired of singing it."
Russell's song, This Masquerade, the B-side of his 1972 hit single Tight Rope, went on to be recorded by numerous artists, including Helen Reddy and The Carpenters. George Benson's version of the song reached #10 on the Billboard Hot 100. In 1976 Russell was Grammy Award nomination for Song of the Year in 1977. In 1977 Benson's version of Russell's 'This Masqueradewon won a Grammy Award for Record of the Year. Leon Russell's version is part of the soundtrack for the Exorcist director William Friedkin's psychological thriller film Bug. The Bug Soundtrack was released on May 22, 2007. It also appeared in the movie The Pursuit of Happyness.
In 1976 Russell departed Shelter Records to start his own Record label, Paradise Records. Leon and other would release albums under Paradise Records.
In 1976 was the first year Russell played in Willie Nelson's Fourth of July Picnic in Gonzales, Texas.
In 1976 Russell released the Wedding Album a studio album with his then wife, Mary Russell, otherwise known as Mary McCreary. It was distributed by Warner Bros. Records. Leon and Mary Russell as producers of the album, with the exception of the final track, "Daylight", which was produced by its writer, Bobby Womack. The Wedding Album was Paradise Records' first Album.
Leon and his then-wife Mary Russell were musical guests on the May 15, 1976, episode of Saturday Night Live in its first season, hosted by Dyan Cannon.
In 1976, Russell released Hank Wilson's Back! (Vol. 1), The album was recorded at the producer, Owen Bradley's, barn studio in Nashville. The album made it into the Top Thirty Hits. Track one Roll in My Sweet Baby's Arms was minor hit.
In 1978 Russell release his Americana album, the title is credited to the mix influences that made Russell's unique Music. Released by Rhino / Warner Bros.
In 1979, after turning with Willie Nelson, Russell and Willie had a number-one hit on the Billboards country music chart with their duet of "Heartbreak Hotel". Willie and Russell released their joint duet studio country pop-rock album,One for the Road in 1979. One for the Road was his 5th Gold album.
In 1979 Leon Russell released Life And Love a LP Album on Paradise Records.
Russell spent the next two years touring with the New Grass Revival, and released two more albums with Paradise Records before the label folded. On May 15, 1980 Russell joined with New Grass Revival to record a live album at Perkins Palace in Pasadena, California, the album was released in 1981 as Leon Russell & New Grass Revival – The Live Album.
In 1981 Leon played piano on New Grass Revival's Commonwealth album.
Following up on his country theme, he made a second Hank Wilson album, Hank Wilson Vol. II released in 1984. Hank Wilson being Leon's pseudonym name. Released on Leon Russell Records.
In 1984 he released a country blues album, recorded in Hendersonville, Tennessee at his Paradise Studios, called Solid State. Released by Paradise Music.
In 1989 Leon released a self-titled album Leon Russell
In 1991 Leon released Delta Lady on Del Rack Records. Many of the songs are remixes of early recording.
In 1991 Leon released a new album Anything Can Happen recorded at Paradise Studios, released on Virgin Records. Pianist Bruce Hornsby produced this comeback album. During the late 1980s and early 1990s Hornsby worked extensively as a producer and sideman with Leon.
In 1993 Paradise Records released the LEON RUSSELL 24K GOLD DISC album. A remix of recordings done at Olympic Sound in London in 1969.
In 1995 Russel starts Leon Russell Records, an independent record label.
In 1995 Leon released the album Hymns of Christmas, with 10 instrumentals Hymns by Leon on Leon Russell Records.
In 1996 Capitol/EMI Records released the album Gimme Shelter! The Best of Leon Russell, a two CD album set with 40-tracks covering 1969 to 1992.
In 1997 Capitol/Right Stuff Records released the album Retrospective, an album with Leon's 18 all-time best songs.
In 1998 Leon released the album Hank Wilson, Vol. 3: Legend in My Time. Returning to his county artist name on Ark 21 Records.
In 1999 Leon released a new album Face in the Crowd, a blues album on Sagestone Entertainment Records.
IN 1999 Blues: Same Old Song was released on Paradise Records.
In 2000 Leon and Q Records released Live at Gilley's , a performance from September 17, 1981.
In 2001 Signature Songs was released on Leon Russell Records
In 2001 Guitar Blues was released on Leon Russell Records, Russell with the New Grass Revival.
In 2001 Rhythm & Bluegrass: Hank Wilson, Vol. 4 was released on Leon Russell Records.
In 2002 Moonlight & Love Songs was released on Leon Russell Records, an album of Russell's standards.
In 2007 Angel in Disguise released by Leon Russell Records, Russell at 65 made this Okie rock album.
In 2007 released Crazy Love album on Leon Russell Records, a Rock album.
In 2007 Russell played at Diversafest, Oklahoma's Music Conference and Festival, is an annual live event that showcased independent and emerging artists and hosted educational music industry panels and a tradeshow. Dfest takes place in the historic Blue Dome District of Tulsa, Oklahoma.
In 2008 In Your Dreams released on Leon Russell Records.
In 2008 Bad Country released on Leon Russell Records.
In 2008 Almost Piano released by Leon Russell Records.
After a number of years of reduced prominence, Russell's career was rejuvenated when Elton John sought him out for a new project. In November 2009, Russell worked together with John and Bernie Taupin on The Union, a double album record credited equally to both Russell and John. Recorded in February 2010 and produced by T-Bone Burnett, the CD was released on October 19, 2010. The Union was Leon's 6th Gold album. The recordings were interrupted in January 2010 by a health scare: Russell was hospitalized and underwent surgery for a brain fluid leak, as well as treatment for heart failure and pneumonia. On April 2, 2011, Russell and John performed together as the musical guests on Saturday Night Live. Rolling Stone placed the album in third place on its list of the 30 Best Albums of 2010. A couple of months later, Russell announced plans for a solo LP, although no specifics were given, and in October 2010 Russell and John embarked on the Union Tour. Elton John and Leon Russell also appeared on The David Letterman Show.
In 2011 the The Union film was released, a documentary film by Cameron Crowe exploring the creative process of musician Elton John and Leon Russell in the making of 2010 album The Union.
Russell's current band line-up includes long-time bass player Jackie Wessel, Brandon Holder on drums, multi-instrumentalist Beau Charron, and grandson Payton Goodner on percussion.
In 2014 Life Journey was released on Universal Records. Working with Tommy LiPuma Russell made a new album with two new sons "Big Lips" and "Down in Dixieland,".
On March 16, 2015, a restored version of the previously unreleased 1974 documentary about Russell, A Poem Is A Naked Person, by filmmaker Les Blank, was screened publicly at the South by Southwest Film Festival. The film features concert footage of Russell in New Orleans, Louisiana, and Anaheim, California, and footage of the recording sessions for the album Hank Wilson's Back.
In 2015, at the Lockn' Festival, Russell played at the Wildflower! Arts and Music Festival in Richardson, Texas.
On September 11, 2015, Russell joined alumni, Rita Coolidge, Claudia Lennear, Chris Stainton and other members of the 1970 Joe Cocker Mad Dogs and Englishmen Tour for a special tribute concert to Joe Cocker organized by the Tedeschi Trucks Band. Original tour photographer, Linda Wolf documented the reunion and performance. A full documentary of the reunion and performance will be released early 2016, directed by Jesse Lauter and Jojo Pennebaker, son of D.A. Pennebaker.
Legacy
Pixies vocalist Black Francis credits Russell with influencing his vocal style: "I realize there's a certain kind of vocalizing I do that takes its cue from Leon Russell. He sang in a southern accent but it was very blown-out and exaggerated, very free and loose."
Songs
Lady Blue
A Song for You
Tight Rope
Stranger In A Strange Land
Back to the Island
Delta Lady
This Masquerade
Out in the Woods
Hummingbird
Roll Away the Stone
If It Wasn't for Bad
Prince of Peace
A Hard Rain's A-Gonna Fall
Will O' the Wisp
Sweet Emily
Shoot Out on the Plantation
Magic Mirror
The Ballad of Mad Dogs and Englishmen
Let the Rest of the World Go By
Cajun Love Song
Crystal Closet Queen
One More Love Song
Carney
Pisces Apple Lady
Of Thee I Sing
Watching the River Flow
Rainbow in Your Eyes
If the Shoe Fits
Roll in My Sweet Baby's Arms
Bluebird
Me and Baby Jane
Roller Derby

References
Leon Russell Wikipedia
(Text) CC BY-SA