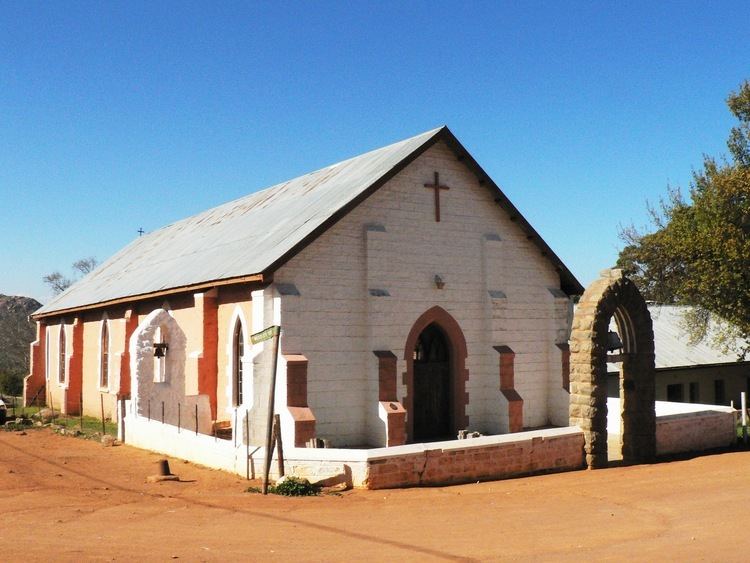 The Leliefontein massacre occurred at the Leliefontein mission station in the Northern Cape, South Africa on 31 January 1902. Boer leader Manie Maritz executed 35 indigenous inhabitants of the settlement as punishment for attacking his party when he went to interview the European missionaries in the town during the Second Boer War. Deneys Reitz described the attack as a "ruthless and unjustifiable act" and mentioned that Jan Smuts was displeased when he accompanied Reitz to the site of the massacre, afterward.
Contents
Background
The Khoikhoi were alraedy the victim of a massacre in German South West Africa along with the Herrero. Despite this, they are regarded as martial people characterised by participation in uprisings. This elicited some British attempts to pacify them and may explain why some Khoikhoi are sympathetic to Great Britain. In any case, those who participated in the ambush seem to be British loyalists.
The actions
Maritz and a companion tried to interview Methodist missionaries in town but was ambushed, "narrowly escaping with their lives". As revenge, he took a larger force and murdered the Khoikhoi in the nearby township, leaving the town desolate and the destruction also included the homes of missionaries too.
Aftermath
Smuts apparently found a copy of Immanuel Kant's Critique of Pure Reason in the ruins of the town and carried it with him for the remainder of the campaign. Although he was affected by it, he failed to take action against Maritz whose violent tendencies directly contravened his orders nor did he include blacks in South African society in the later stages of his career.
Additional reading
Western Cape Institute for Historical Research (1993). "Kronos". Kronos. University of the Western Cape. Issues 20-22.
Philip Harrison (2004). South Africa's top sites: spiritual. New Africa Books. ISBN 0-86486-564-3.
References
Leliefontein massacre Wikipedia
(Text) CC BY-SA